Get tips on picking, storing, and cooking fruits and vegetables that are in-season this month. Click on any featured piece of produce to go to its guide page with specific information.
Below the fruits & veggies you'll find a collection of recipes for this month. Each recipe uses only ingredients that are currently in-season (or available year-round).
For a full list of other months and all of the detailed produce guides, go to the in-season page.
Farmers' market recipes for July
If I am going to take the time to go to the farmers market, I want to make use of everything they have to offer.
These recipes all use ingredients that are in-season for July (or available at high quality year-round, like lemons or limes), and have a creative spin on the ingredients.
Let's start off with some appetizers
Smashed blackberry and goat cheese toasts – recipe from Wry Toast
Blackberries and blueberries get simmered with a little sugar and vanilla to make a 'smashed' jam to put on toast. Blackberries naturally have a little bitterness, but that gets tempered with sugar and cooking. More about blackberries >>
It takes a bit of work to bread and pan-fry these zucchini bites, but it's a fun way to make use of this super abundant and inexpensive summer vegetable. If you need to use up zucchini, I have more recipes.
This recipe has 3 ingredients: shrimp, harissa paste, and watermelon. You'll want a peak-season, vine-ripened watermelon for this to really make an impression.
It can be really difficult to pick out a ripe watermelon, but you should have good luck at a farmers market (and you can ask the farmer to help you pick one).
Fun fact from my watermelon guide: A lot of resources suggest thumping a watermelon and listening for a hollow sound. It's hard to even know what it should sound like, and the Watermelon Promotional Board even suggests not using that test.
This is actually a great recipe for using up some peppers that might be on the decline: roast them, puree them, then turn them into a dip.
Make this right when hot peppers start showing up in July, which is near the end of apricot season. A great way to use up all of those ripe apricots then enjoy later in the year.
Next up: salads for July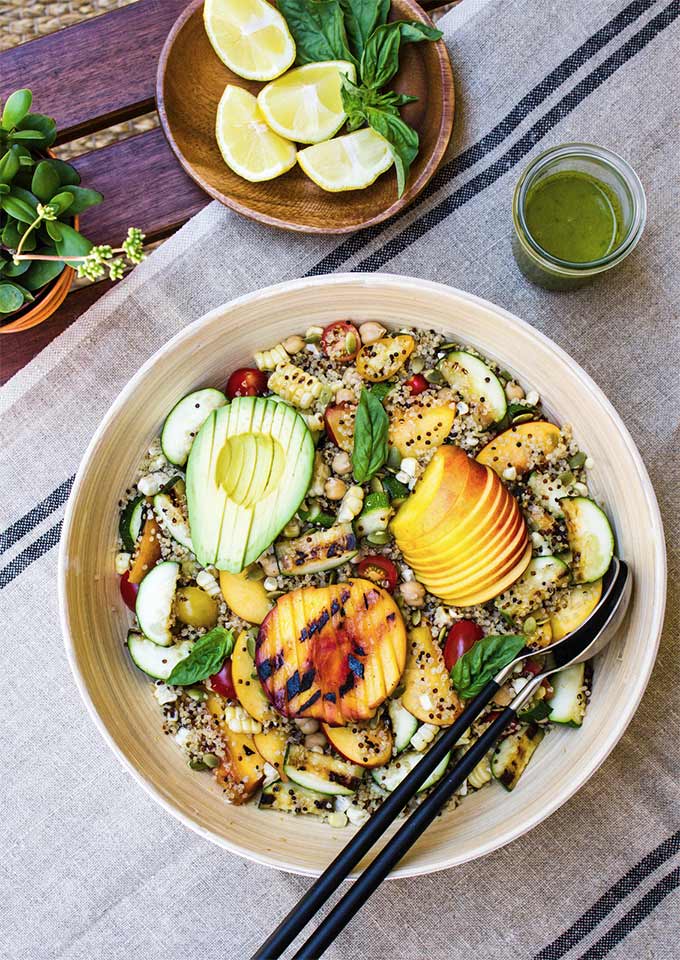 Grilled peach, corn, and zucchini salad with lemon-basil vinaigrette – recipe by The Simple Veganista
A grilled vegetarian salad to highlight summer flavors, with 15 minutes of prep work. Quinoa adds a good source of plant-based protein and the author also occasionally adds in some chickpeas for even more protein.
Ripe figs are very perishable and don't ship well which is why figs are the supermarket seem a little lackluster. The honey-syrup flavor of a perfectly ripe fig is worth the trip to the farmers market.
Unlike most fruit, where wrinkled skin is a sign of over-ripeness, plump but slightly wrinkled figs are the best kind. But pass up figs that look shrunken or ones that have sap seeping from cracks – those are overripe. Ripe figs should be used within 1-2 days. More about figs >>
Eggplant and caramelized onion grain salad grapes and walnut dressing – recipe by Whole Bite Blog
We tend to think of grapes as a fall crop, but they actually start showing up in June, and last well past the end of eggplant season.
This salad has a lot of ingredients and takes a bit of work to make, but looks well worth it. Most of the ingredients are used fresh, while the eggplant is roasted.
Eggplants are similar to mushrooms in that they act like sponges to soak up flavor. So roasting them with cinnamon, cumin, and cayenne as this recipe suggests, will add a nice punch of flavor to the salad.
Kale salad with cherries, pistachios and grilled flank steak – recipe by So Let's Hang Out
This is a quick & simple summer salad that uses up the last of the cherries before they are out of season.
Pick cherries in the store or farmers market with shiny skins and green stems attached. Wrinkling is a sign of decline. You can store cherries in your fridge for about a week. Get more cherry tips & recipes >>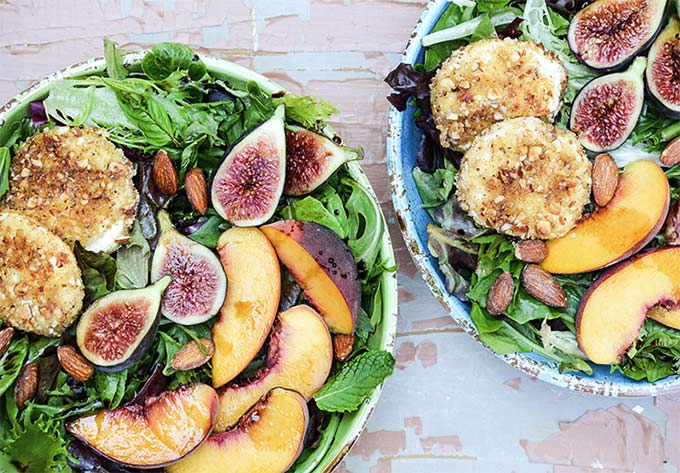 Figs, peaches, and cheese… need I say more?
Figs are in season in early summer, and again in early fall, so make this anytime figs are in season as that will overlap with Peach season.
Use an assortment of berries from the farmer's market – if they have it, it's local and in-season. Most summer berries are in season at the same time.
Main courses, some with meat, some without
Orange-herb chicken kabobs with blueberry balsamic sauce – recipe by Plating Pixels
The recipe calls for pickled jalapenos, but if you use fresh ones, you'll want to make this later in summer, when both blueberries and jalapenos are in season, usually around July.
While most citrus are winter fruits, you can find oranges year-round, the variety just differs. In summer, look for Valencia oranges.
Fire up that grill and cook some chicken and peppers. While I love that this is seasonal in July, it's worth noting that you could get away with making this in winter when you are looking for something other than squash and stews. Sub in a jar of roasted red peppers instead of the fresh ones.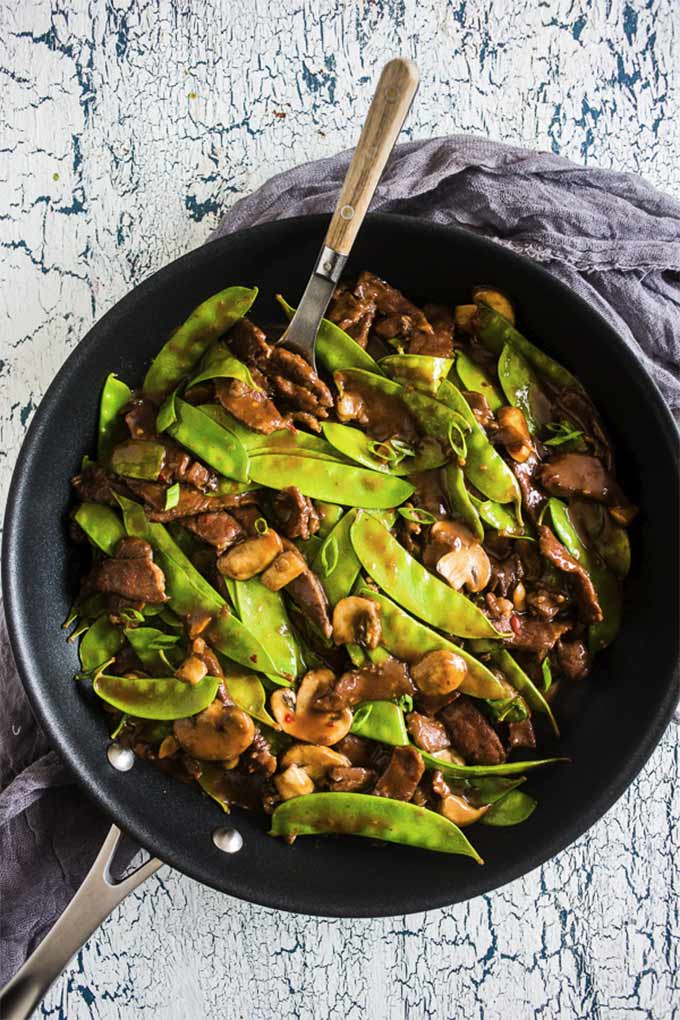 Ready in 20 minutes and a great way to use up a pound of snow peas (or even snap peas) that you find at the market. Look for pods that are plump with no wrinkles (and indication of decline). Scars on the pods are fine and are not an indication of low quality.
Plums don't get sweeter after they are picked, but since they ship better than other stone fruits (like peaches), they have a higher chance of having ripened longer on the tree. If the plums aren't soft, store them on the counter for a few days, then move to the fridge if they are soft and you aren't ready to use them.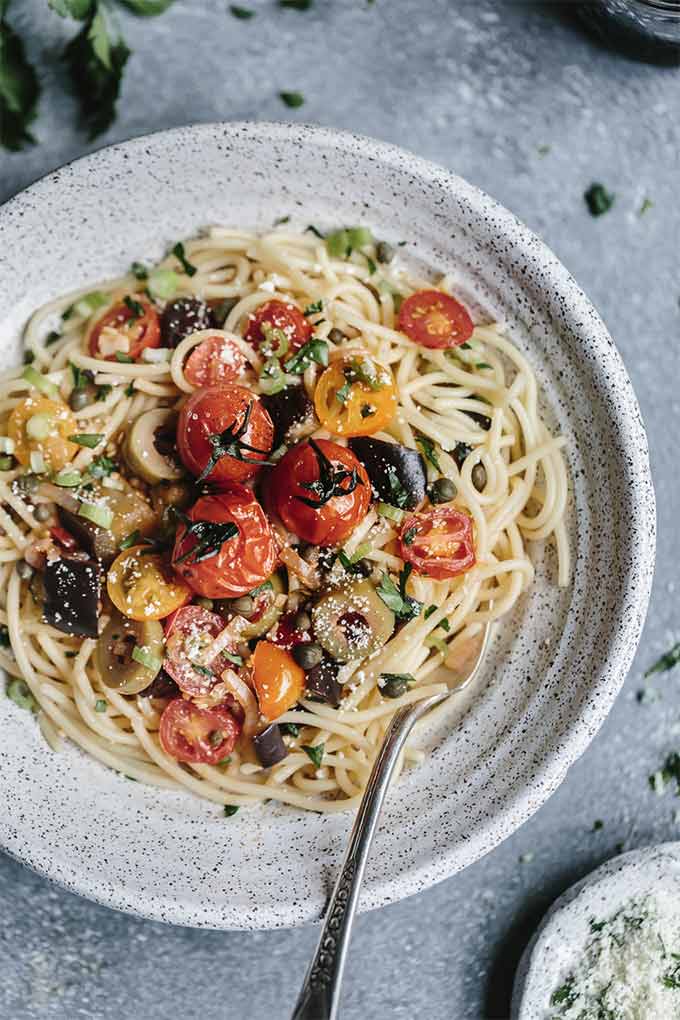 Eggplant and tomato season overlap very well! You'll want peak-season tomatoes for this dish. Different colored tomatoes do have unique flavor characteristics and I suggest mixing different varieties into this dish if possible.
Red: the classic tomato flavor
Yellow: a bit more citrusy and less acidic
Purple / brown: more earthy, often described as complex, like wine
Green: actual green tomatoes are more tart, sometimes with a sharp spicy bite (similar to arugula). These are not unripe tomatoes, but actual green varieties.
Zucchini alfredo – recipe by Damn Delicious
Zucchini noodles – you either hate them or love them for their low-carb, low-calorie count. At 200 calories per serving, this recipe is a great way to use up those zucchini.
This recipes uses fresh corn, green chilies, and tomatoes. While peak-season produce always tastes best, this strongly-seasoned dish can be forgiving with produce that isn't perfectly vine-ripened and picked that morning.
Meatball and mac & cheese filled peppers? Yes, please.
Look for large peppers that will sit well in a pan when standing upright. Any color pepper will work, although green peppers have a slightly bitter taste while the other colors are a bit sweeter. Get more bell pepper tips & recipes >>
BBQ pulled pork sandwiches with raspberry-jalapeno salsa and onion rings – recipe by No Spoon Necessary
Jalapenos are in season when it gets much warmer out, around July – so make these once jalapenos are available, otherwise sub in your favorite hot sauce or dried chilies. The recipe calls for packaged pulled pork – if you are making your own, here's a recipe to try from Stuck on Sweet.
Tomato and cucumber season conveniently overlap. All of the other ingredients are available year-round. While any tomato works, a good 'slicing' tomato is best on sandwiches. Most of the imperfectly shaped speckled or striped heirloom tomatoes you find at the market are great for slicing.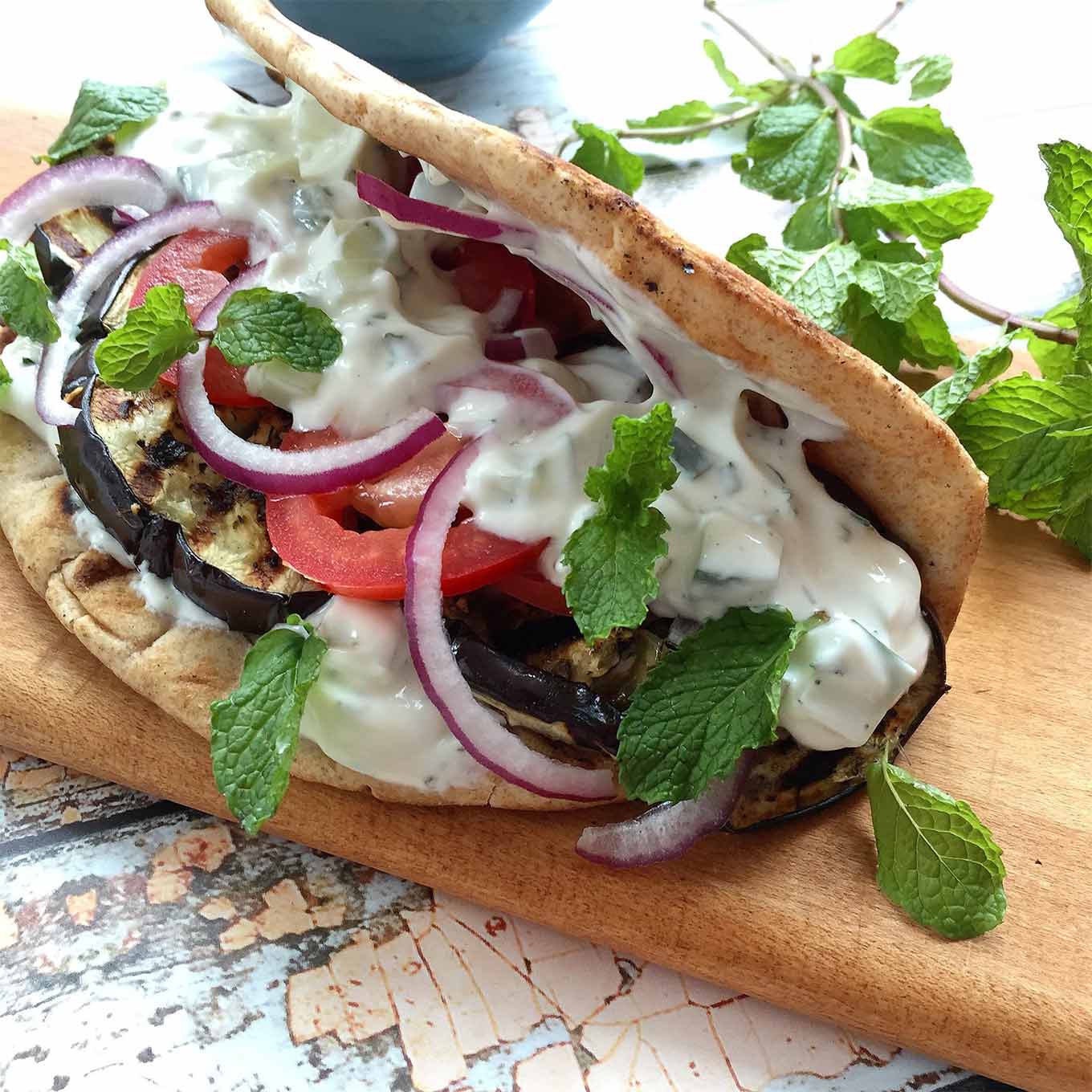 I find it incredibly difficult to make good gyro meat at home, so why not try it with eggplant? This is another recipe where eggplant is used to soak up some extra flavor, in this case, the gyro seasoning.
After you spend a few minutes cooking down the blueberries, you just layer them on some bread with brie and lemon curd. Then cook it up like a grilled cheese and you're done.
It's very hard to tell if blueberries are vine-ripened and flavorful without tasting them. This is one of the main reasons I seek them out at the farmers markets. This 'grilled cheese' would also work with blackberries or raspberries.
Shrimp tacos with apricot and strawberry salsa – recipe by Figs and Flour
A taco made for hot summer nights. Definitely get strawberries from the farmers market to avoid those flavorless disappointments that seem to be at every grocery store these days. Since strawberries are grown nationwide, they shouldn't be too hard to find.
While you're there, look for apricots as well. Ripe ones will spell apricot-y or maybe a little rose-like. Store on the counter until they are slightly soft. If you aren't ready to use them, store them in the fridge.
Don't forget the side dishes!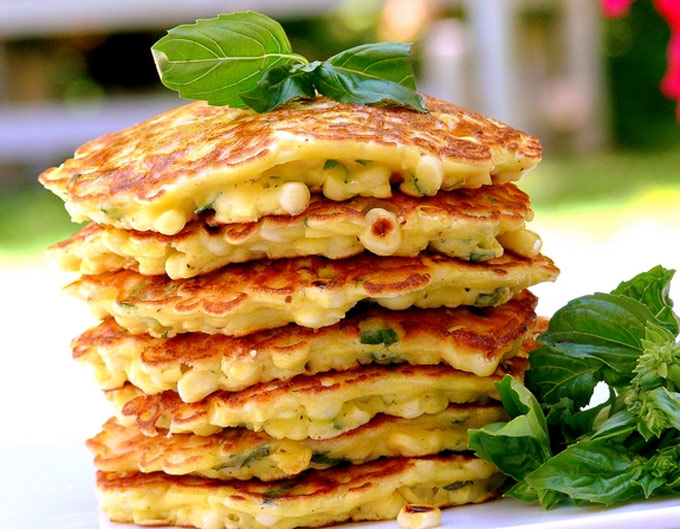 Freshly shucked corn is worth the little bit of extra effort. Look for corn with fresh-looking silks coming out of the top. If you aren't using them right away, store them in the fridge. Get more info on corn, including a video on shucking from Martha Stewart.
An easy recipe to serve for guests or put on that epic charcuterie board you've been planning. If your farmers market offers different fig varieties, grab some of each and bake them all up. Black mission figs are the most well-known: dark with a teardrop shape. Brown Turkey, Calimyrna, and Kadota are also worth trying.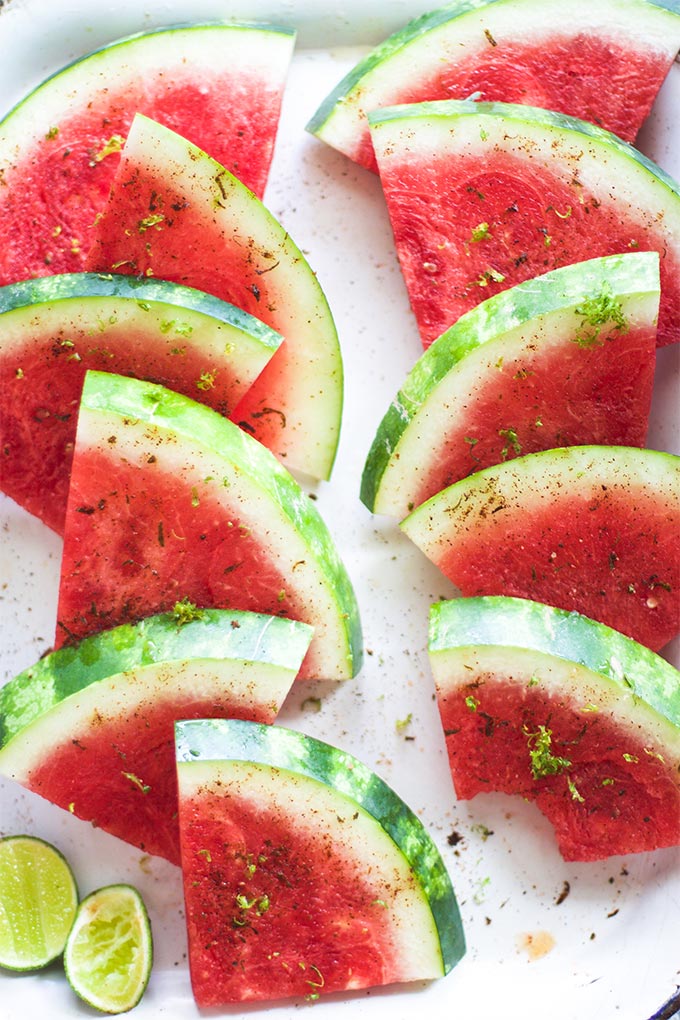 Chili lime salted watermelon – recipe by My Diary of Us
This feels like it should be a margarita, but works as an appetizer or snack too. Limes are available year round.
Bonus section: desserts & drinks
Because you can't get enough cherry galettes, here is a chocolate version that is incredible. Cherries actually transport well so it shouldn't be too hard to find pretty good ones wherever you live.
Blackberries are grown in most climates so you have a good chance of finding them at your farmers market this month. Store them in the fridge on a paper towel-lined tray to absorb excess moisture.
Blueberries are highly perishable so it's hard to find really flavorful ones at the supermarket. I like going to the farmers market for blueberries because I know I can taste them before buying.
However, muffins are very forgiving to fruit that is lacking in some flavor. Sugar and carbs can fix a lot of things 😉
This recipe will take a bit of work – you need to squeeze the pulp out of grapes and cook it down. Meanwhile you puree the skins and try to extract as much liquid from them as possible. But if you have some time, it's worth it for a grape-juice-flavored sherbert – something you won't find in stores.
This is another recipe where peak-season produce would be amazing. However, a recipe like this can give new life to produce that lacks a bit of flavor. Nothing a little sugar and bourbon can't fix.
Get more tips & recipes for blackberries and figs.
If you have an abundance of blueberries, this is the perfect excuse for an afternoon drink. One reviewer used 75% blueberries and 25% blackberries and said that was also delicious. (You could also use frozen berries in winter to escape the winter 'blues').
This recipe is made from fresh-squeezed lemons and a nectarine-ginger simple syrup. Any summer fruit can be used, not just nectarines.
This is another recipe that can use up less-flavorful fruit since it gets cooked down into a syrup.
Raspberries are so delicate, shipping is really difficult. Fortunately, they are grown across most of the US so you should have luck finding them locally near you. After you get the berries home, store them in the fridge on a paper towel-lined plate to absorb excess moisture. Also separate ones that are purple, as those are past their prime and might mold soon (so just eat them now).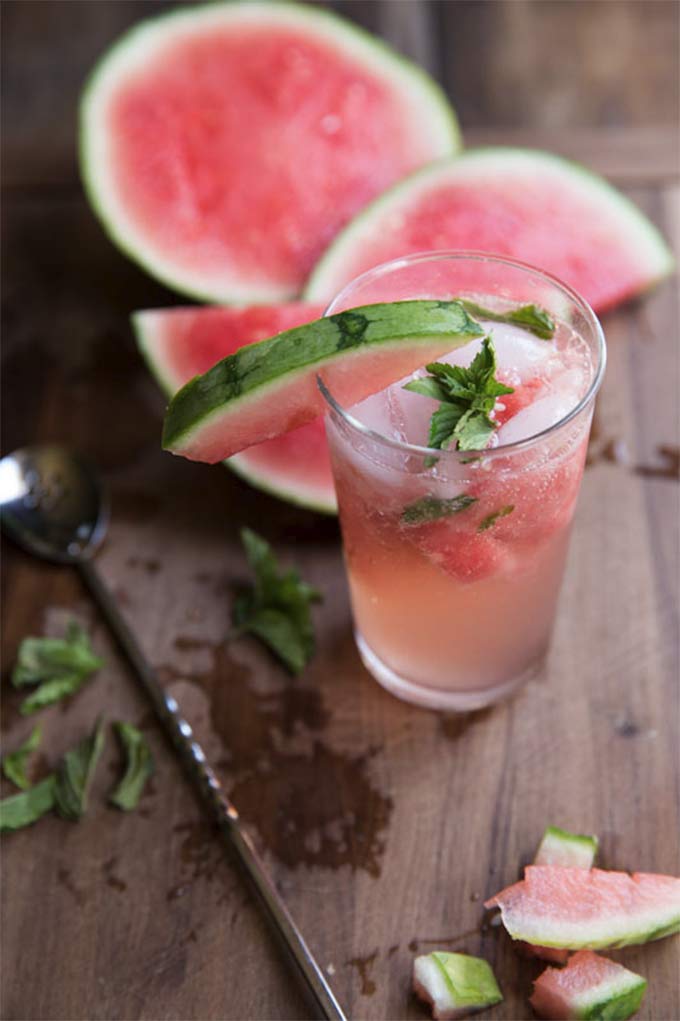 A super refreshing drink for a sunny afternoon. Throw the watermelon in a blender with some rum, simple syrup, and lime juice. Add some mint to be fancy, and you're done.
Plums are cooked down into a syrup type sauce. Figs are thrown in a blender with milk and ice cream.
If you are making this the same day you pick up the fruit, look for ones that are already ripened. Plums will feel soft under gentle pressure when ripe and figs will be plump with slightly wrinkled skin (one of the only fruits where wrinkled skin is a good sign).