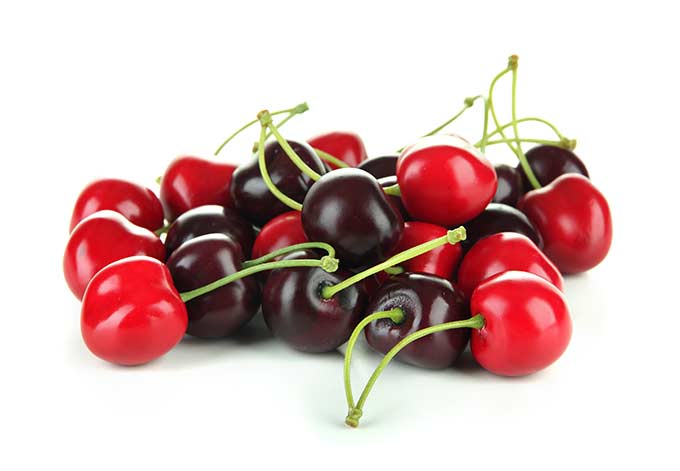 Cherries only ripen on the tree and their sweetness starts declining after harvest, so it's worth seeking out at the farmers market if you can.
When are cherries in season?
You'll find ripe cherries starting in April and ending sometime in July or August. They actually ship quite well, unlike other stone fruits (peaches, nectarines, etc) and usually arrive at stores within 2 days of being picked. This means you should be able to find high quality cherries in any part of the country.
That being said, cherries only ripen on the tree. When they are picked early, they don't have a much time to develop a full flavor or get really sweet. On top of that, cherries convert their sugars into starch once harvested. This causes a decline in sweetness the longer they are stored, which can be slowed with refrigeration.
See what else is in season at the same time: April, May, June, July, and August.
What is the difference between sweet and sour cherries?
Sweet cherries: These are better than sour cherries for eating fresh. They also work great in salads and in baking.
Bing cherries have a deep red color when ripe. Rainier cherries are yellowish with red blushes and are sometimes a bit more sweet than Bing and less acidic. These are commonly found in stores and farmers markets.
Tart (aka sour) cherries: These are most commonly used for juices, jams, and drying. Fresh sour cherries are rarely found in grocery stores but you might luck out at the farmers markets. They have a shorter season (usually mid-June through July) and spoil easier.
What are the best cherries for pies?
You can use tart / sour cherries, sweet cherries, or a mix of both. But you'll want to treat each type differently.
Sour cherries are more commonly called for in pie recipes. These recipes also use about 50% more sugar to balance out the tartness. Since fresh sour cherries can be hard to find, many recipes have instructions for using frozen packages as well. If you use frozen, be sure to thaw and drain them or the pie will be soupy.
Sweet cherries also make excellent pies and this is what I always use (because I have a cherry tree in my back yard). The pies are delicious.
A note about color: when you cut open your cherries, if the flesh is more pale than red, the cherries might cook down into a pale red, slightly brown filling (rather than the typical deep-red filling). You can do one of two things to make sure that doesn't happen:
Add a couple drops of food dye
Take a handful of cherries and half of a peeled plum (which is full of natural red dye) and blend it up. Mix that in with your cherry filling before cooking.
Cherry pie recipes
How to pick & store
To pick the best ones, look for plump, shiny skins with fresh green stems attached. Wrinkling indicates they are overripe or drying out.
Store cherries in a plastic bag in the fridge and they will last about a week.
How do you pit cherries without a cherry pitter?
I often cut around the pits and pull them out. But TheKitchn shares 3 ways to pit them (without a pitter) using a pastry tip, a paper clip, or a chopstick.
Should I buy organic?
The levels of pesticides found in non-organic cherries, by the EPA, is low. They are near organic-levels.
Consumer reports published an interactive infographic based on EPA pesticide tests. They tested the edible portions for the toxicity of each pesticide present and the amount of each pesticide. This was then turned into a report that showed the amount of servings needed to eat in a day to exceed the EPA's levels of "reasonable certainty of no harm" to your health. "Low" levels are close to organic levels.
Nutrition & benefits
Seasonal recipes
Each recipe below only uses ingredients that are in season at the same time as cherries, or ingredients that have a year-round season. Since their season overlaps with the beginning or end of other fruits and vegetables, the recipes are grouped into early season, late season, or anytime they are available.
...For late spring
While celery is easy to found year-round, it isn't technically in season during the hotter summer months. If you want to stick to strict seasonality, make this in April or May (although I'm sure this is refreshing in mid-summer, so I won't judge, promise!). Different orange varieties are available year-round.
... For summer
Peach season starts in June, so plan for this toward the end of cherry season (June / July).
... For anytime cherries are in season
A perfect breakfast to wake up to on the weekend (or maybe the right way to start a Monday?)
Perfect anytime cherries are in season (and you feel like turning on your oven!)
Kale salad with cherries, pistachios and grilled flank steak - recipe by So Let's Hang Out
Use sweet or tart cherries depending on your style (and what's available).
Because you can't get enough cherry galettes, here is a chocolate version that also looks incredible! You should try both... in the name of science!