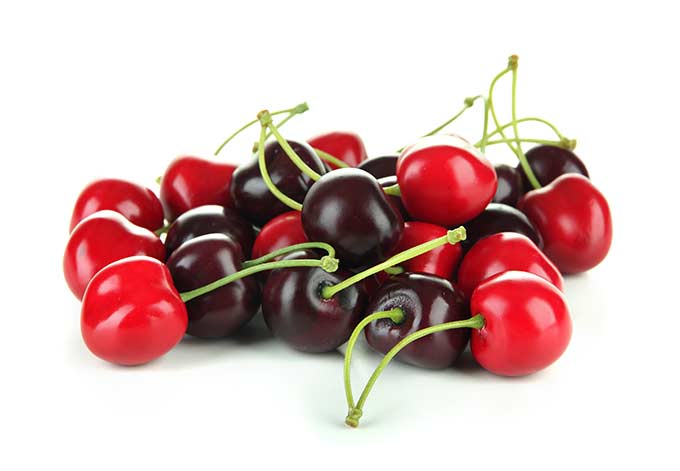 Jump to:
When are cherries in season?
Cherries are in season for a very short time. Sweet cherries are mostly grown on the West Coast, as well as Michigan (which gets milder weather on the cost of Lake Michigan).
California: cherry season starts as early as mid-April and peaks in June.
Washington, Oregon, Idaho, Utah, and Montana: the season lasts from June until August, with the peak in July.
Michigan: grows 20% of the country's sweet cherry crop, with a very short season almost entirely in July.
Other Midwest & Northeastern states, like New York, might find sweet cherries at the farmers markets starting toward the end of June and throughout July.
Other US states are likely getting cherries shipped in from the other states, and will result in higher prices
| | Apr | May | Jun | Jul | Aug |
| --- | --- | --- | --- | --- | --- |
| California | x | x | peak | x | |
| Washington | | | x | peak | x |
| Michigan | | | x | peak | |
When sweet cherries are in season
Sweet cherry trees can survive the cold winters in northern climates, but the flowers often get hit by a late frost (except on Michigan's lake front). They also don't like the heat of Southern climates.
If you can't find cherries at your local farmers markets, you're still in luck. They actually ship quite well, unlike other stone fruits (peaches, nectarines, etc) and usually arrive at stores within 2 days of being picked. This means you should be able to find high quality cherries in any part of the country.
That being said, cherries only ripen on the tree. When they are picked early, they don't have a much time to develop a full flavor or get really sweet. On top of that, cherries convert their sugars into starch once harvested. This causes a decline in sweetness the longer they are stored, which can be slowed with refrigeration.
See what else is in season at the same time: April, May, June, July, and August.
How to tell when cherries are ripe
Ripe, in-season cherries should have the following characteristics:
Firm (squishy cherries are over ripe)
Plump (wrinkled skin is a sign of decline)
If stems are attached, they should be fresh and green-ish (dry or brown stems are a sign they were picked a while ago and won't be as tasty)
Color: dark sweet cherries should be very dark red or black. Rainier cherries should be a bright yellow with blush red.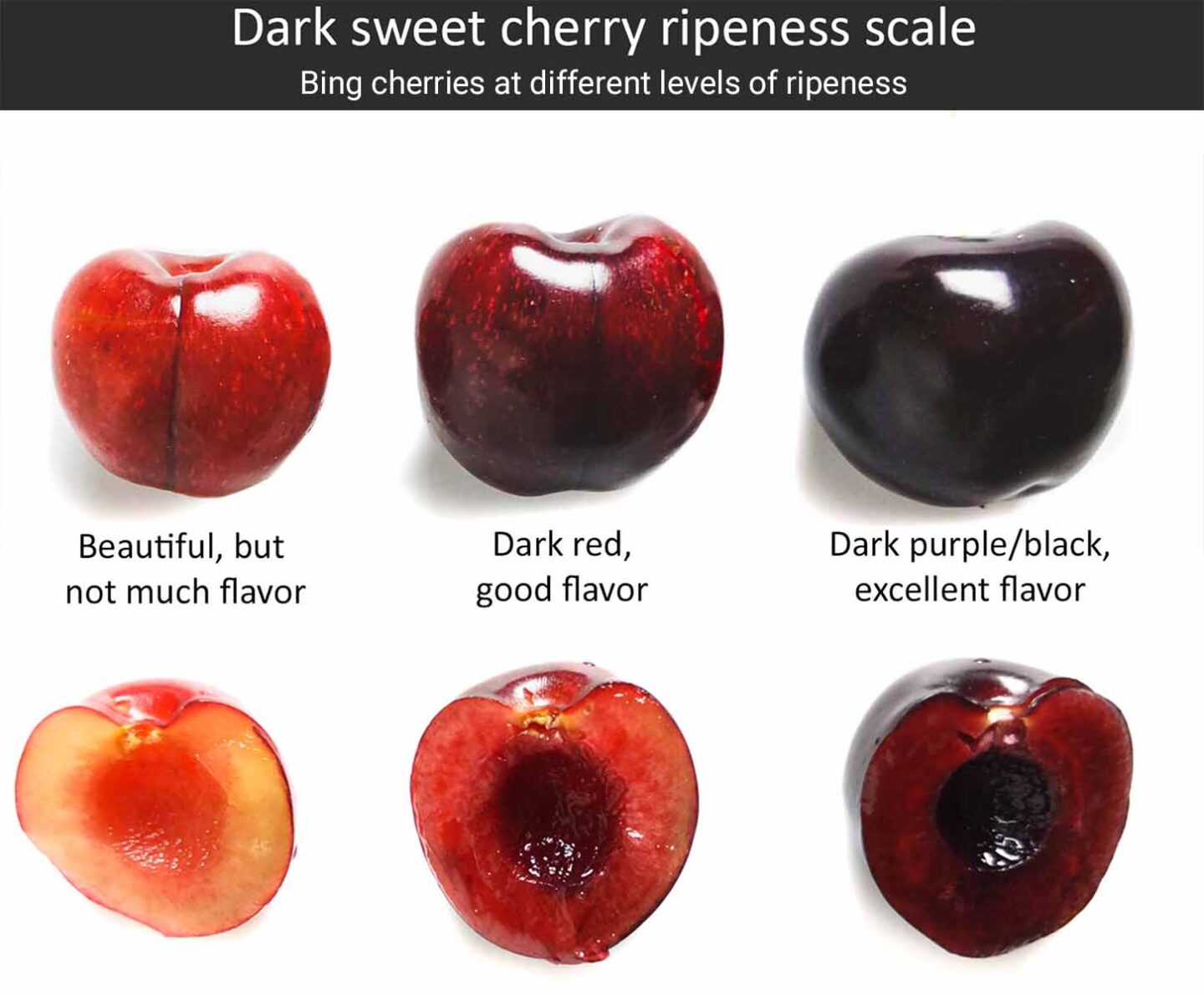 When cherries start to go bad, they wrinkle and soften, as pictured below. Both the 2021 and 2022 season was plagued with bad cherries like this as the weather was not at all cooperative. I also found cherries imported from Chile this winter (2023) that look like the picture below as well. Here's to hoping for a better 2023 season.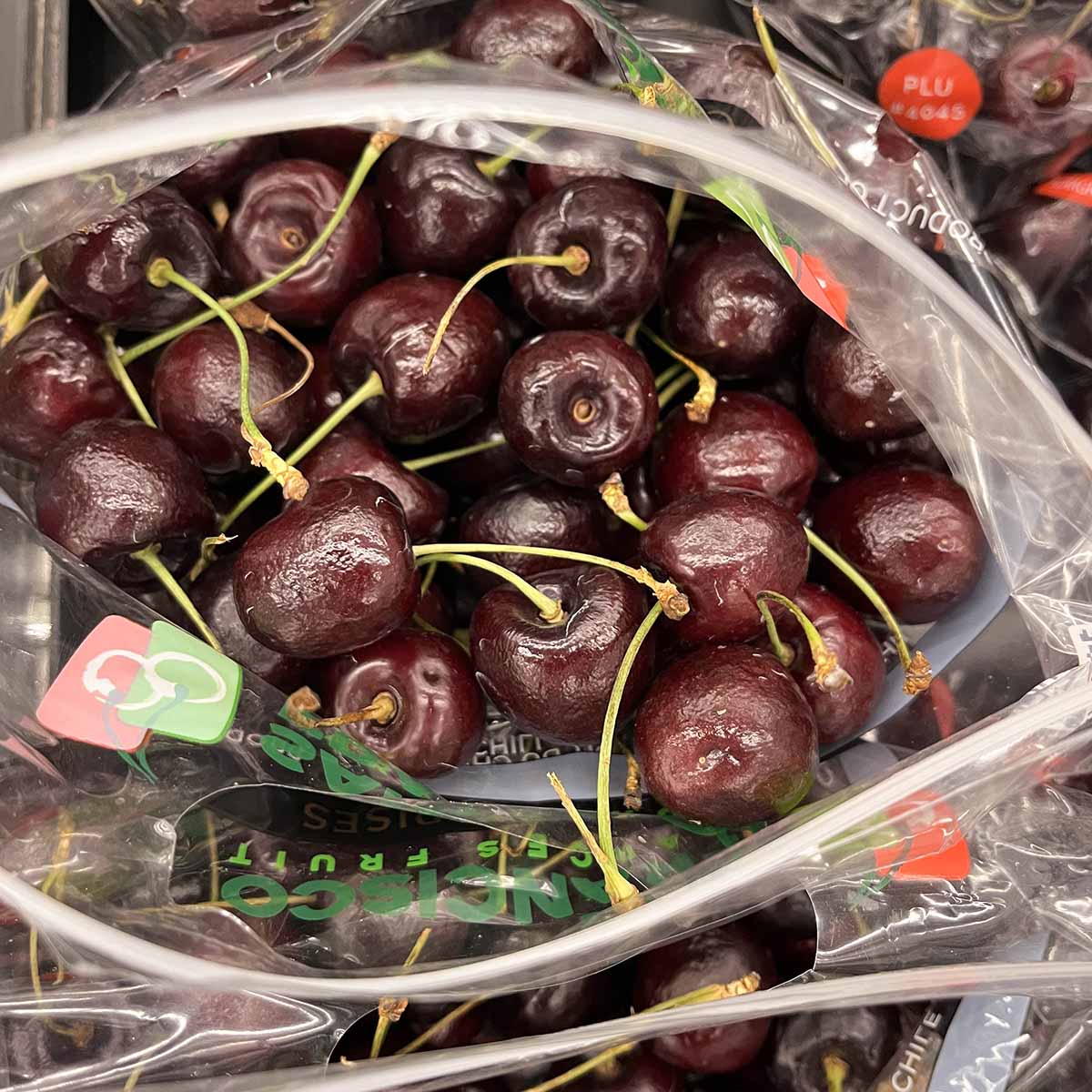 Store cherries, unwashed, in a plastic bag in the fridge and they will last about a week.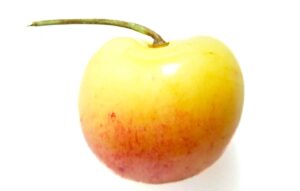 Rainier cherries
The yellow-red Rainier cherries are prized for their lower acidity and sweeter flavor.
They also tend to be more watery than the dark sweet cherries, so keep them in mind when making or cooking with them.
Rainier cherries are usually more expensive for several reasons. They are more susceptible to bad weather conditions, bruise easier, and have a shorter harvest window. All of these combined raise their costs.
What is the difference between sweet and sour cherries?
Sweet cherries: These are better than sour cherries for eating fresh. They also work great in salads and in baking.
Bing cherries have a deep red color when ripe. Rainier cherries are yellowish with red blushes and are sometimes a bit more sweet than Bing and less acidic. These are commonly found in stores and farmers markets.
Tart (aka sour) cherries: These are most commonly used for juices, jams, and drying. Fresh sour cherries are rarely found in grocery stores but you might luck out at the farmers markets. They have a shorter season (usually mid-June through July) and spoil easier.
Nutrition & benefits
Cherries, 1 cup with pits
Nutrition Facts
Cherries, 1 cup with pits
Amount per Serving
% Daily Value*
* Percent Daily Values are based on a 2000 calorie diet.
Nutrition & other information
Cherries are 12% sugar by weight. To compare:

Peaches: 10%
Grapes: 16%
Apples: 10%
Strawberries: 6%

Cherry pits are poisonous, but cases are very rare (more information at Bon Appetit)
Cherries have almond, clove, and floral aromas that get stronger when cooked. This is why you often see cherries paired with almonds when baking
What are the best cherries for pies?
You can use tart / sour cherries, sweet cherries, or a mix of both. But you'll want to treat each type differently.
Sour cherry pie recipes use about 50% more sugar to balance out the tarter fruit. Since fresh sour cherries can be hard to find, many recipes have instructions for using frozen packages as well. If you use frozen, be sure to thaw and drain them or the pie will be soupy.
Sweet cherries also make excellent pies and this is what I always use (because I have a cherry tree in my back yard). The pies are delicious.
A note about color: when you cut open your cherries, if the flesh is more pale than red, the cherries might cook down into a pale red, slightly brown filling (rather than the typical deep-red filling). You can do one of two things to make sure that doesn't happen:
Add a couple drops of food dye
Take a handful of cherries and half of a peeled plum (which is full of natural red dye) and blend it up. Mix that in with your cherry filling before cooking.
Cherry pie recipes
Seasonal recipes
As a self-proclaimed expert at using up cherries, I collected over 50 recipes from some of my favorite sources. My own tree produced 50 pounds each year and I had to get real creative to not waste them.