This guide will help you eat seasonally this month by covering:
How to pick & store each type of produce
Expected shelf life
A practical tip or two
Recipes that exclusively use fruits & vegetables currently in-season for May
You can also skip right to the May produce chart.
A note about fruit quality
The earliest of summer fruits start showing up on May, like blueberries, apricots, and early-maturing varieties of peaches and nectarines. These fruits demonstrate why seasonal produce results in better tasting food.
Stone fruits and berries stop getting sweeter the moment they are picked. However, they do continue to change color and soften, which can be very deceiving when trying to pick out the best tasting ones. It's helpful to find a source that sells tree-ripened stone fruits and vine(or bush)-ripened berries when possible.
Cherries
Early cherry varieties show up this month, with Memorial Day being a pretty reliable time to find them anywhere in the US.
How to buy & store
Buy: Look for fruits with plump, shiny skins. If stems are attached, look for green ones, indicating freshness. Avoid shriveled skins, a sign they drying out.
Store: in a plastic bag in the fridge, unwashed
Shelf life: 1 week in the fridge
Best cherries for pie
The traditional pie calls for sour cherries along with extra sugar to balance the tartness. Fresh sour cherries can be very hard to find. Sweet cherries like Bing and Ranier work great in pies as well, and require less added sugar.
Both types of cherries soften well when cooked, while retaining their shape. They both make excellent pie, so take your pick. Get a more detailed breakdown and tips for cherry pies.
Recipes
---
Strawberries
Strawberries are available year round, but have so much more flavor when they are in season. Now that it is May, you should start seeing them at your farmers markets.
How to buy & store
Buy bright red fruit with no white or green shoulders. Smell them, they should have a noticeable strawberry smell. (more on this later).
Store: place in a single-layer on a paper-towel lined plate or tray in the fridge.
Shelf life: 2-4 days
Why it's hard to find good tasting strawberries
A lot of factors contribute this fruit's disappearing flavor over the decades.
Varieties are bred and planted to resist rot and pests, regardless of their lackluster flavor
Strawberries are picked early to avoid heavy rains that can ruin a crop
They can be picked while completely white and will still turn red by the time they reach grocery stores
Strawberries stop developing flavor and sweetness once they are picked. So when they are picked early, they lose out on the chance to build up to their full flavor.
The best way to buy strawberries is from a u-pick, and the next best is from a local farmers market where you can taste a sample. Lucky for us, they grow well in most climates so you should be able to find a u-pick or farmers market with strawberries near you.
Recipes
---
Blueberries
How to buy & store
Buy blueberries that are plump with no wrinkles (which indicate they are past their prime). They should be fully blue. White or green parts of the berry indicate they were picked much too early.
Store them in the fridge on a tray in a single layer so they don't crush each other or spread mold. Don't wash before storing, only wash before you eat them.
Shelf life: a few days to a week in the fridge
How to stop blueberries from sinking to the bottom of muffins
Conventional wisdom says you should toss blueberries in flour before adding them to the muffin batter, in order to prevent them from sinking to the bottom.
But thanks to our desire to put conventional wisdom to the test, we've found this trick doesn't work. Instead, make the batter but don't add blueberries to it (yet). Fill each muffin tin 1/4 full of 'plain' batter. Then add blueberries to the remaining batter and fill the muffin tins the rest of the way.
Recipes
Raspberries
How to buy & store
Buy raspberries that are plump and bright red. Ones that turn slightly purple are past their prime. Avoid containers with juice stains, a likely indication that some of them have started to decompose.
Store them in the fridge on a tray that's lined with a paper towel to absorb any moisture. Make sure they are in a single layer so they don't crush each other. They mold fast so keep an eye out for any that are going bad and remove them from the tray.
Shelf life: 1 day in the fridge, or you might get lucky and they will last several days in the fridge.
Varieties
Different raspberry varieties are starting to show up at farmers markets and grocery stores.
Black – sweeter than the red varieties and are not the same as blackberries. They are smaller and have that typical hollow center raspberries are known for.
Purple – a cross between black and red raspberries
Golden – their flavor has hints of banana and apricot
Rose – a pink variety sold by Driscoll's (I haven't seen or tasted these, but will update you as soon as I do).
Recipes
Kiwi – last of the season
May is the last month for US-grown kiwi.
How to buy & store
Buy ripe fruits if eating right away, which are slightly soft. Buy firmer ones to hold throughout the week – they will soften over time.
Store: in fridge when ripe or to keep longer. Leave on the counter to ripen.
Shelf life: 2-4 weeks in the fridge, several days on the counter.
Kiwi ripen after harvest
Unlike most fruit, kiwi continue to ripen after they are harvested (similar to bananas). Kiwi will get softer, sweeter, and more aromatic as they continue to ripen off the vine.
Kiwi are firmer when picked before fully ripening, which means they are durable enough to stand up to shipping long distances. This means when the US kiwi season is over, we can still get kiwi from New Zealand at a similar quality (their season is opposite of the US).
Recipes
---
Grapefruit
Florida grapefruit season ends this month, but the Texas and California season lasts through summer.
Grapefruit varieties
Citrus fruit cross breed really easily, making a lot of interesting varieties. Sometimes they are a random surprise from nature, other times planned breeding from farmers. Most new grapefruit varieties are selected for an increase in sweetness over the previous generation, as well as lower bitterness (which increases the perception of sweetness).
Learn more about the different grapefruit varieties, from the popular Ruby Red to the rising star Oro Blanco.
Recipes
Rhubarb
Rhubarb, a vegetable masquerading as a fruit with its tart-sweet flavor, is a spring seasonal favorite.
Is red rhubarb sweeter?
Not necessarily. The color is dependent on the variety and doesn't indicate sweetness or ripeness. While some red varieties are sweeter than green, not all of them are. Think of it like apples, with the vast amounts of green, blush, and red, they all have their own traits.
Recipes
---
Asparagus
Asparagus are available throughout spring and early summer.
Should you snap or cut the ends off?
Traditional wisdom for removing the woody end of asparagus spears is to bend them until they snap. The idea is they will naturally break where the spear is tough.
Numerous organizations have tested this trick and sadly found it doesn't work. It is better to just cut the ends off and waste less. Oregon Live has a full article about not snapping the ends off.
Recipes
---
Artichokes
Artichokes are a labor intensive vegetable but are worth it when in season this spring.
Do I need to cut the tips off the leaves?
The purpose of cutting the tips off is to remove the thorn. Those thorns soften during cooking and a lot of home cooks don't bother cutting them off when cooking for themselves, but will cut them for guests.
---
Spring peas
Peas start showing up as early as April in some parts of the country, and by May, they should be in farmers markets everywhere.
What are the types of peas, and how to they differ?
There are three main types of peas: snap peas, snow peas, and shelling peas.
Snap and snow peas have edible pods. Snap peas are plump, sweet and crunchy. Snow peas are picked when the peas have barely formed, and the pod is still tender and edible.
Shelling peas have to be removed from their pod, as the pod is not edible. You can sometimes find labeled as English peas. These are also what you'll find in the freezer aisle.
---
Sweet onions
While regular onions can be found all year, sweet onions are only in season in spring and summer.
Sweet onion varieties
All sweet onions are pretty similar in flavor and the most widely available varieties are Vidalia (from Georgia), Maui (from Hawaii), and Walla Walla (from Washington).
Vidalia and Maui onion seasons start in April, although Maui onions can sometimes be found all year if they are imported into your area. Walla Walla onions won't start showing up until June.
---
Edible spring flowers
Chives and nasturtium are flowering this month.
What do the flowers taste like?
Nasturtium flowers and leaves are edible and both are peppery (like arugula). Chive blossoms taste like the rest of the plant: oniony.
Recipes
---
April produce chart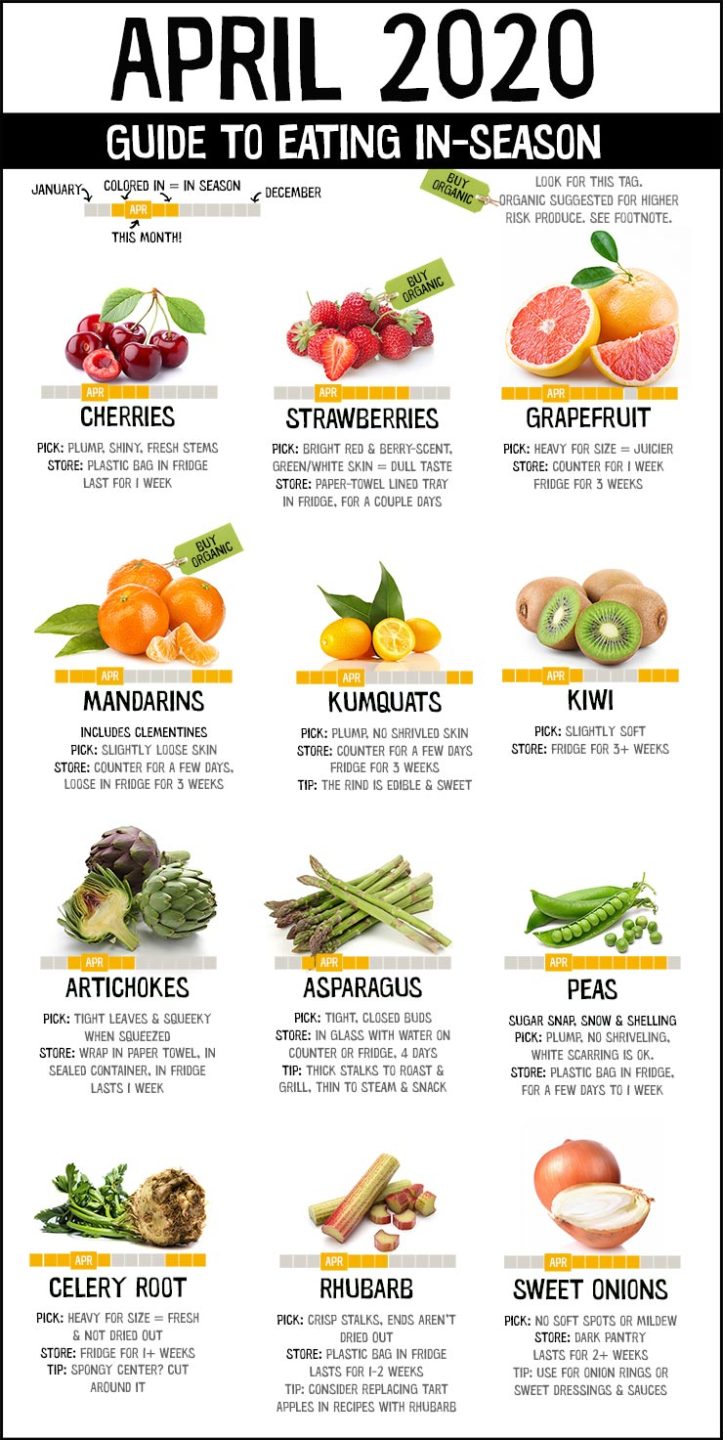 What's available year-round?
Fruits: Avocados, lemons & Limes
Vegetables: Beets, broccoli, cabbage, carrots, cauliflower, fennel, garlic, herbs, mushrooms, onion-family, potatoes, radishes, sweet potatoes, turnips, salad greens and herbs.
What's in season for May?
Check out the seasonal produce guide for May to see what's coming up soon.
Let's hear from you
What fruits and veggies are you most excited to use this month? Do you have any questions about the produce currently in season? Leave a comment or question below.
In-season recipes
Each recipe has been reviewed to make sure the ingredients are all in season for May. They start with breakfast, then lunches & dinners, snacks and sides.
Black forest overnight oats – recipe from A Virtual Vegan
Get more information and recipes for cherries.
Blueberry cake with crumb topping – recipe by My Wife Can Cook
Get more information and recipes for blueberries.
Mascarpone & rhubarb stuffed french toast – recipe from Sugar Hero
Get more information on rhubarb.
Grilled apricot and chicken skewers – recipe on My Diary of Us
Get more information and recipes for apricots.
Ohio pork tenderloin sliders with a Blackberry BBQ sauce and Herbs de Provence – recipe by Home and Plate
Get more information and recipes for blackberries.
Spring mojito stir fry with toasted bar nuts – recipe by Ask The Food Geek
Get more information and recipes for peas and asparagus.
Cherry, rosemary and balsamic roasted chicken – recipe from Heather Christo
Get more information and recipes for cherries.
Charred asparagus cream pasta with blackened lemon chicken by Half Baked Harvest
Get more information and recipes for asparagus.
Stone fruit quinoa salad – recipe by Recipe Runner
Get more information and recipes for plums, peaches, and nectarines and apricots.
Radicchio salad with radishes, prosciutto and raspberry-champagne vinaigrette on Recipe Runner, from Heather Christo's cookbook Pure Delicious
If this isn't the prettiest salad I've ever seen! Radicchio's bitterness get balanced out by the rich prosciutto and then the sweet dressing. Get more information on raspberries.
Cherry, brie, and bacon quesadillas – recipe by Use Your Noodles
Get more information and recipes for cherries.
Blueberry chicken salad – recipe by Not Starving Yet
This is a perfect mashup of celery season ending, and blueberries and shallots just beginning. Get more information and recipes for celery and blueberries, (shallots coming soon).
Mirepoix – How to make and use it by The Cooking Dish
Mirepoix is the combination of onions, celery, and carrots that make the base of a lot of dishes. Get more information and recipes for celery.
Asparagus and pea soup – recipe by Harriet Emily
Get more information and recipes for asparagus and peas.
Quinoa fritters with spring peas, feta, and cilantro-lime yogurt sauce – recipe from Immigrant's Table
Get more information and recipes for peas.
Celery root fries – recipe by Viktoria's Table
Get more information and recipes for celery root (celeriac)
Classic hummus with pine nuts, artichokes, and olive oil – recipe on Grain
Get more information and recipes for artichokes.
Bonus recipes: cocktails & desserts
Strawberry buttercream & pistachio mini cakes – recipe by Rachel Phipps
Get more information and recipes for strawberries.
Nectarine tart with lemon-mascarpone filling – recipe by The Busy Baker
Get more information and recipes for nectarines.
Grilled peaches with vanilla bean mascarpone, honey and granola – recipe by Cooking Classy
Get more information and recipes for peaches.
Save the seasonal produce guide for May
On pinterest