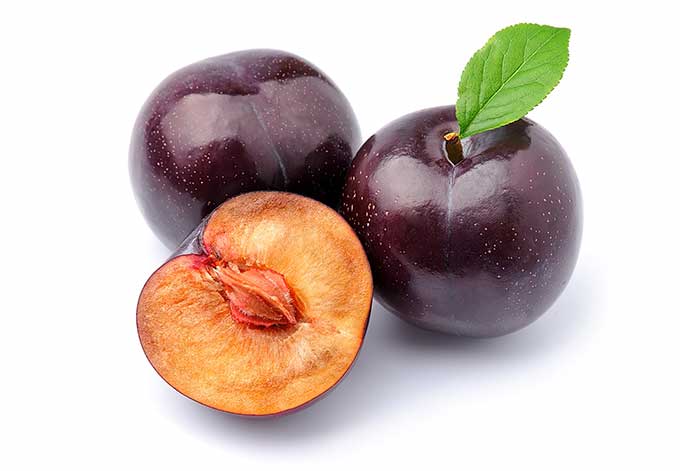 Plums don't get sweeter after they are picked, but since they ship better than other stone fruits, they have a higher chance of having ripened longer on the tree.
Plum varieties & hybrids
Prune-type plum: originating in Europe, they are usually blue-purple with firm flesh. These are used for drying into prunes as well as using to make preserves. However, some are great eaten fresh, like greengage.
Japanese plum: these are widely grown in the US and are the common fresh-eating variety you've seen in markets. They have a purple-red skin with a yellow-red, juicy flesh.
Sloe plum: these are small blue-purple plums used to make sloe gin.
Plumcot hybrid: equal parts plum and apricot, sweeter and more aromatic than regular plums.
Pluot hybrid: also a cross between a plum and an apricot, but with less apricot parentage than plumcots. These are also sweeter and more aromatic than regular plums.
When are plums in season?
Plums are in season from May through October. Check your farmers markets in July and August for local plums, picked nice and ripe!
If you can't find them at a local farmers market, don't fret. Plums stand up to shipping and handling better than peaches, nectarines, and apricots at similar firmness levels. That gives you a decent chance of finding good ones at the grocery store.
What else is in season?
See what else is in season at the same time: May, June, July, August, September, and October.
Or check out the seasonal produce that's available right now.
How to buy & store
To pick:
Look for plump fruit, paying attention to the stem end - the fuller it fills up and around, the longer it stayed on the tree. Make sure there are no wrinkles in the skin.
Ripe ones yield to gentle pressure. While they can get softer after you take them home, they do not get sweeter or more flavorful.
Should I buy organic?
If you are a cautious person and can afford it, go for it.
I couldn't find data from the EPA on pesticide-level tests for plums. However there is data for both nectarines and peaches (which tend to be grown similarly and in the same regions). Conventional (non organic) peaches are put in a 'high' risk category and nectarines in the 'medium' category.
A high risk category means you need to eat 1-5 servings in a day to exceed the "known to be safe" levels. A medium risk would take 5-10 servings to exceed that safety limit. The article, "Should I buy organic?" explains what these levels mean and takes a practical view when answering this question.
The data collected by the EPA looks at the toxicity and amount of each pesticide found in the edible portions of the fruit (not including zest). The full details can be found over on the Consumer Reports website.
To store:
Leave on the counter for a few days if they aren't yet soft (remember, this won't make them sweeter). If they are ripe, put them in the fridge and they should last for a few days.
Seasonal plum recipes
Each recipe is reviewed to make sure all ingredients are in season at the same time as plums. Based on the other ingredients' seasonality, the recipes are grouped into early season, late season, or anytime plums are in season.
...For earlier in the season
Cherries and blueberries usually come into season just before peaches, and then end mid or late summer. So make this earlier in peach season.
...For later in the season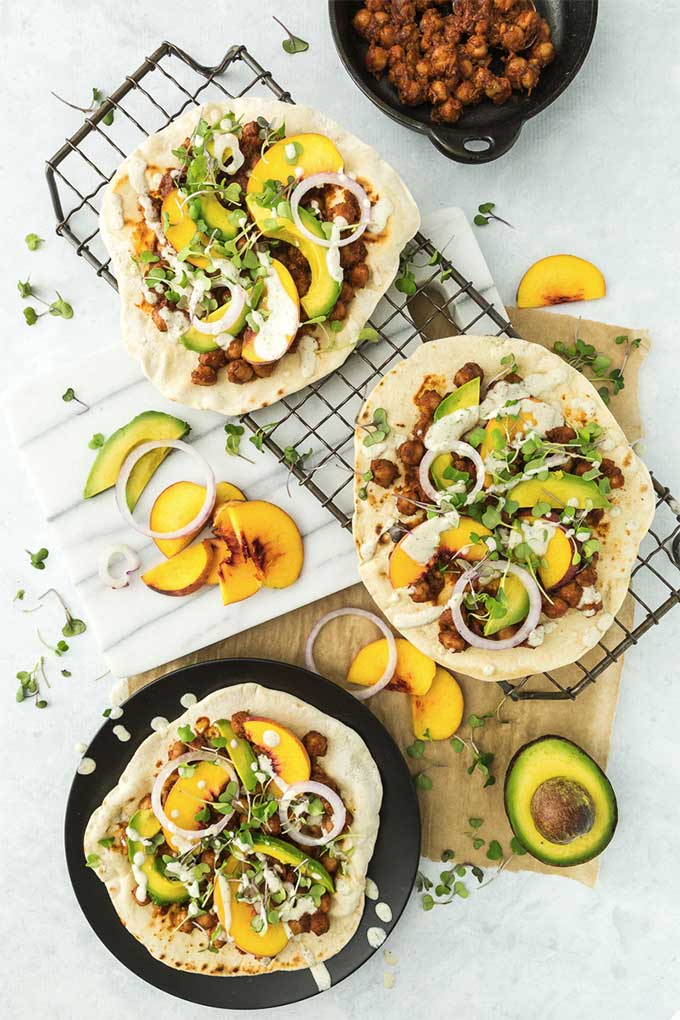 BBQ chickpea flatbread pizzas with peaches and jalapeno-plum bbq sauce - recipe by Keepin' It Kind
Jalapenos come into season mid-summer, usually around July. Once those show up, you can make this recipe. (Avocados are available year-round).
Make this when figs are in season in early fall.
...For anytime plums are in season
These stone fruits all show up in season around the same time, or use which ever types you can find.