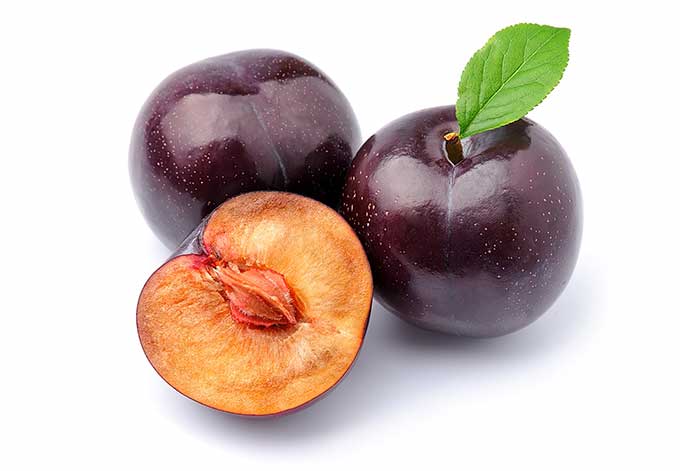 Plums don't get sweeter after they are picked, but since they ship better than other stone fruits, they have a higher chance of having ripened longer on the tree.
Jump to:
Plum varieties & hybrids
Prune-type plums: originating in Europe, they are usually blue-purple with firm flesh. These are used for drying into prunes as well as using to make preserves. However, some are great eaten fresh, like greengage.
Japanese plums: these are widely grown in the US and are the common fresh-eating variety you've seen in markets. They have a purple-red skin with a yellow-red, juicy flesh. Satsuma and Santa Rosa are popular Japanese plums.
Red plums: the skin is red or reddish purple with a yellow-red flesh. They are more tart than black plums and slightly sour. Because of this we are used more in stews or soups, and less in desserts.
Yellow plums: the skin is yellow to yellow-red with golden flesh. They tend to be sweeter, making them a good candidate for jams and desserts.
Sloe plum: these are small blue-purple plums used to make sloe gin.
Plumcot hybrid: equal parts plum and apricot, sweeter and more aromatic than regular plums.
Pluot hybrid: also a cross between a plum and an apricot, but with less apricot parentage than plumcots. These are also sweeter and more aromatic than regular plums.
When are plums in season?
Plums are in season from May through October. Check your farmers markets in July and August for local plums, picked nice and ripe!
If you can't find them at a local farmers market, don't fret. Plums stand up to shipping and handling better than peaches, nectarines, and apricots at similar firmness levels. That gives you a decent chance of finding good ones at the grocery store.
What else is in season?
See what else is in season at the same time: May, June, July, August, September, and October.
How to buy & store
To pick the best plums...
Look for plump fruit, paying attention to the stem end - the fuller it fills up and around, the longer it stayed on the tree. Make sure there are no wrinkles in the skin.
Ripe ones yield to gentle pressure. While they can get softer after you take them home, they do not get sweeter or more flavorful.
Storing plums
Leave on the counter for a few days if they aren't yet soft (remember, this won't make them sweeter). If they are ripe, put them in the fridge and they should last for a few days.
Common questions about plums
What is the white coating on plums?
That is called the 'wax bloom.' It's dusty coating that contains alcohol (among other things) and helps protect the fruit from fungus and water loss. It also contributes to the flavor.
What is the difference between plums and prunes?
There are two major differences. First, a prune is a dried plum. Second, they are usually made from a specific variety that is rarely sold for fresh eating (because they are better suited for drying).
Do plums help with constipation?
Yes, they actually do. They have sorbitol (a natural laxative) as well as a lot of fiber.
Recipes with plums
Plums aren't the summer darling of fruits and are under utilized. But that means you can easily use them to add an unexpected twist to traditional recipes.
Appetizers
Add a little unexpected sweet & tart flavor to appetizers, from galettes to baked brie.
Salads with plums
Plums mix well with other stone fruits and many other fresh summer ingredients.
Recipes for dinner
Meat and plums pair very well together, creating a sweet & savory pairing.
Sauces
Plums can be used for a sweet & sour sauce, BBQ sauce, and they also make excellent jams.
Baked goods
Cakes, pies, and donuts, oh my!
Cocktails
Add a unique twist to cocktails with seasonal plums.