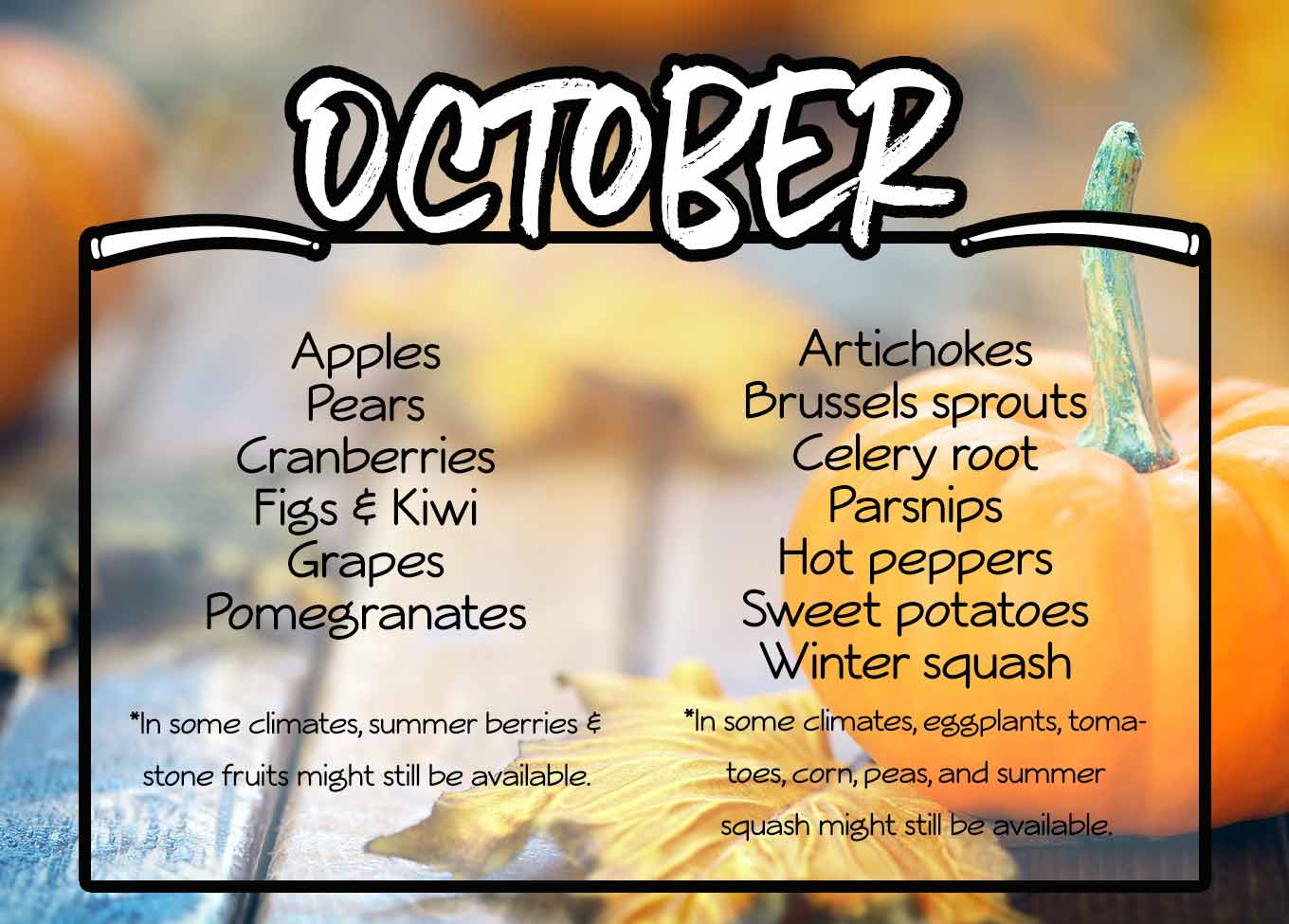 October fruits that are in-season this month include classics like apples, pears, and cranberries. But keep an eye out for last chance fruits that are almost out of season, like blackberries and some stone fruits.
Other seasonal produce for October includes vegetables like sweet potatoes, parsnips, brussels sprouts, and winter squash. Just like the available fruit, this is your last chance for in-season warm weather vegetables like tomatoes, corn, and summer squash.
Jump to:
October fruits in season
As we are enjoying the cooler October season, apples are the perfect fall fruit. There are early, mid, and late season varieties, and the mid-season apples are what to look for this month.
The best mid season apples include golden delicious (best for pies), jonathan (best for caramel apples), and cortland (great for apple sauce and salads). Try making apple sauce and apple butter this month if you have an abundance from an orchard visit or the farmers market.
Other fruits in peak season for October include pears, grapes, cranberries, and pomegranates.
Some of the summer fruits are usually still available, depending on the weather and where you live. However, the heat waves this year have sped up a lot of ripening, so late-season blackberries, peaches, nectarines, and plums might be harder to find than last year.
October vegetables in season
The most iconic vegetables in season in October are pumpkins and other winter squash like butternut and acorn varieties. Roasted pumpkin seeds are a seasonal favorite, but you can also roast seeds from any winter squash.
Brussels sprouts are readily available this month and taste less bitter when they are in season, as storage time increases bitterness.
Celery root is showing back up this month. And celery, while available all year at decent quality, is in season starting this month. If you get it from a farmers market, you might notice the fresh flavor and better texture.
Recipes for October
Get recipes for cooking with seasonal fruit this month, like grilling with blackberries, baking with apples, and roasting grapes, just to name a few.
If you're looking for even more inspiration, check out the other monthly seasonal guides.