Winter squash are perfect for stuffing, roasting, souping, stewing, and seeding. Get the scoop on each variety.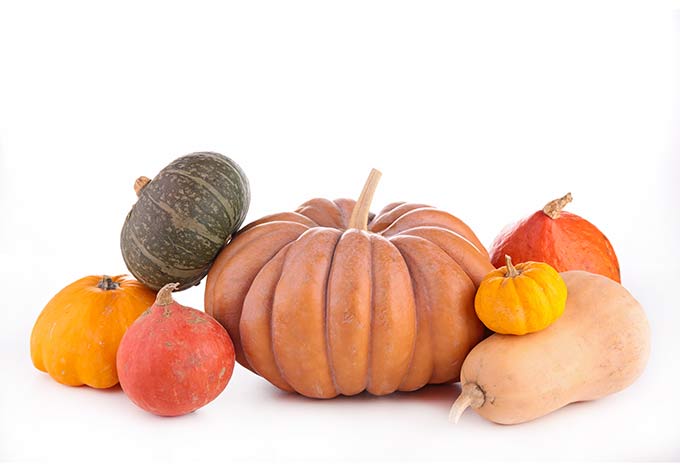 When are winter squash in season?
They start to show up in September and because of their long storage life, some varieties last through the end of winter. Store them in a cool, dry place and most will last a month, sometimes more.
See what else is in season at the same time at the farmers market: September, October, and November, and December. But you can also find them at the grocery store due to their longer storage capabilities: January, February, and March.
Different types of winter squash & their uses
Acorn squash: Edible skin makes it perfect for roasting whole, in slices and stuffing. Mild flavor. Look for a green rind with little or no orange coloring on the outside (indicating it might have fibrous flesh).
Butternut squash: Great in pureed soups, chunky stews, or cut up and roasted. Mild with a sweet taste. Here's a tutorial on efficiently peeling & cutting up butternut squash.
Delicata squash: Edible skin makes this perfect for roasting and stuffing. The flesh is similar to a sweet potato (although yellow), and a bit more earthy.
Kabocha squash: Slightly nutty and just slightly sweet flesh makes this a favorite winter squash for almost any use! The red version is sweeter.
Spaghetti squash: The flesh separates into spaghetti-like strands with raked with a fork. This makes it a trendy substitute for pasta, and also adds texture to dishes. To get long strands, cut the squash across the 'waist' because of how the flesh wraps around the inside.
Here's a tutorial on roasting spaghetti squash.
Sugar pumpkin: Use this in place of canned pumpkin puree for pies. Also perfect for stuffing and roasting.
Different uses for winter squash
Edible skin
Fully edible squash (skin and all) are always fun and take minimal prep work. Acorn squash (with pretty scalloped edges) and Delicata are fan favorites. Technically, you can eat the skin on any squash, but thicker ones are just not pleasing.
Make sure to fully scrub squash that you plan to eat with the skin, to remove any wax coating it (or buy it fresh from a farmers market). Also avoid spaghetti squash skin, as it become cracked and flaky and no one wants to eat that!
Squash bowls for soup & stuffing
Any winter squash will work, but keep in mind some are fully edible and others aren't that great. Acorn and delicata are favorites again. This time, spaghetti squash is also a good option! Scrape the flesh into strands and fill it with sauce and other vegetables (just don't eat the skin).
Tips:
Cut a tiny piece of the bottom off, so it doesn't wobble when stuffed.
Scoop out the flesh and seeds, then roast it with a generous amount of butter or oil (or the flesh will dry out). Then stuff it, pour soup in it, or serve a fall salad in it.
Make note of the shape - if the top comes in too far (like a typical pumpkin), it will be harder to eat out of it.
Roasting squash seeds
Just like pumpkin seeds, any squash seeds can be roasted in the same way. They are just as tasty as pumpkin seeds. The process is the same, except you also get to eat the flesh instead of just carving a pumpkin.
Should I buy organic?
If the squash is from the US, yes. If it is from Mexico or South America, it isn't necessary.
Consumer reports tests the amount and toxicity of pesticides found on the edible parts of produce. Winter squash from the US have high levels, where 1-5 servings in a day puts you over the amount of pesticide that is "known to be safe." Winter squash from Mexico, Honduras, and Guatemala have levels low enough to be nearly indistinguishable from organic.
I have more information on organic vs conventional produce, where I also put the amounts into context (like comparing to glass of wine).
Winter squash recipe collection - stuffed, roasted, souped, and pureed.
Each recipe below only uses ingredients that are in season at the same time as different winter squash varieties, or ingredients that have a year-round season.