The popular roasting vegetable, butternut squash, are in season in fall and store well into the winter. I grow my own butternut squash and also buy them from the local farmers market to roast, add to soups, turn into sauces, and mix into salads.
This guide shares my experience of preparing, cooking, and eating butternut squash while they are in season, along with advice from other experts.
Jump to: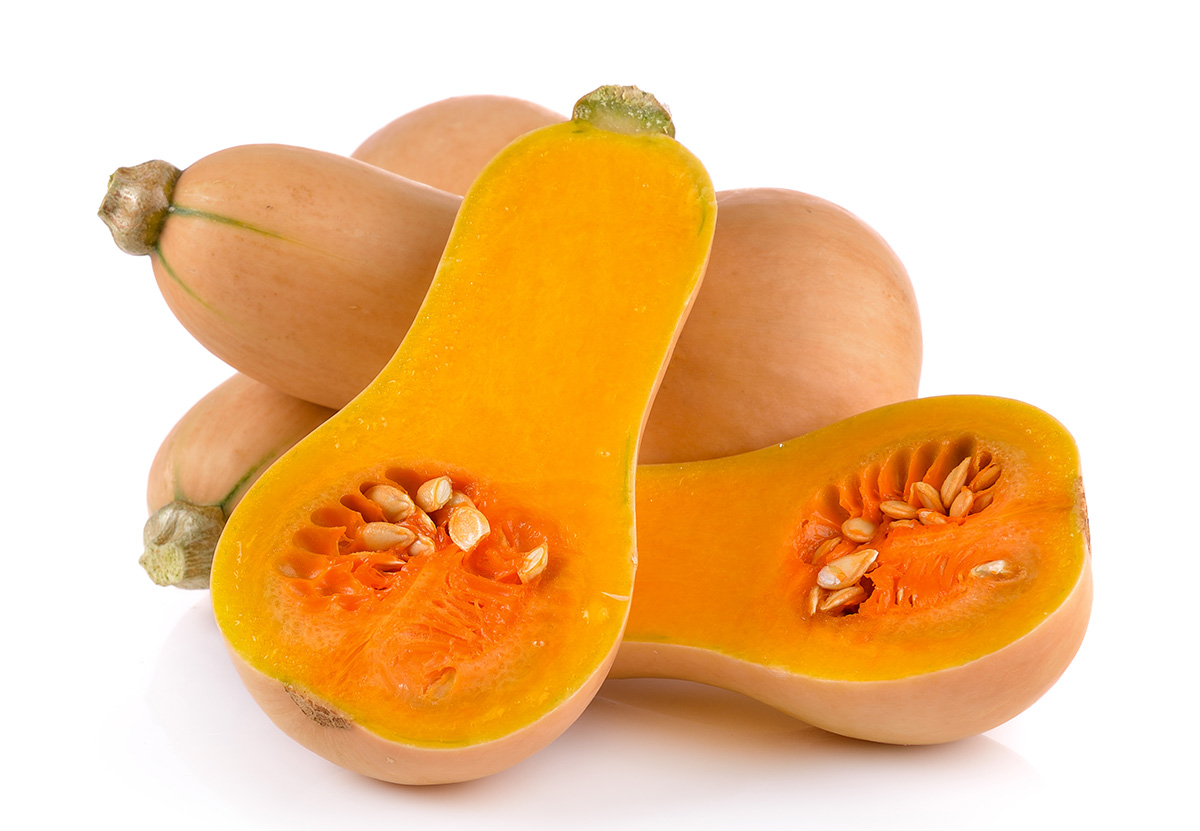 Season
Butternut squash season lasts from September into December. In warmer areas they will be ready in September, but not until October or later in cooler areas. They store for months, so you can find them at the grocery store into January, February and sometimes early March.
If you find them out of season, their quality should be acceptable because they do transport and store well. I prefer waiting until they are in season at the farmers market, so I have something new to look forward to when the weather turns chilly.
Storage
Store butternut squash (and other winter squash) in a cool, dark location with airflow, like a countertop out of direct sunlight, a pantry, or storage shelves in the basement.
Do not store in the fridge, as the cooler temperatures will actually shorten their shelf life. Oregon State explains that winter squash and pumpkins "deteriorate rapidly if stored at temperatures below 50°F."
Butternut squash stores well for 2-3 months from harvest (and up to 6 months of conditions are perfect). They are one of the best winter squash for storage, lasting much longer than honeynut, acorn, and delicata squash.
It's hard to know when they were harvested at the grocery store. On the other hand, farmers markets sell recently harvested winter squash, allowing you to stock up at the end of the season and store at home for months.
Selection
When choosing butternut squash this season, look for ones where all of the skin is tan with no green areas, which sometimes show up as vertical stripes. Green skin is a sign it was picked before fully ripe, leading to low quality flesh and shorter shelf life. Professor Rhoda Burrows from SDSU explains, "If harvested too early, the developing seed inside butternut squash will utilize nutrients stored in the flesh to mature, decreasing its eating quality."
Pick ones with the stem attached. When stems are removed, they leave the top of the butternut squash vulnerable to moisture loss and decay, because it doesn't have the thicker skin to protect it.
Flavor
What do butternut squash taste like? Their orange flesh is sweet and slightly nutty, tasting like a cross between a pumpkin and sweet potato. The sugars easily caramelize when roasted or sauteed at high heat, further bringing out the sweet, nutty flavor.
Unlike almost every other fruit or vegetable, butternut squash flavor gets better with storage, turning creamier and sweeter. That's due to the conversion of starch to sugar after harvest.
A fully mature butternut squash at harvest has flesh with 3x more starch than sugar. After several months of storage, that ratio is flipped and the flesh has 3x more sugar than starch, as shown by tests from UNH on page 4 of "The Nuts and Bolts of Eating Quality in Winter Squash (pdf)."
Butternut squash texture is creamy and smooth, perfect for pureeing into soups and sauces. If the flesh seems overly dry or stringy, it was likely stored too long, or harvested too early. It's still fine to eat, but the texture and flavor will be less than ideal. Try adding it to a hearty soup where it will be less noticeable.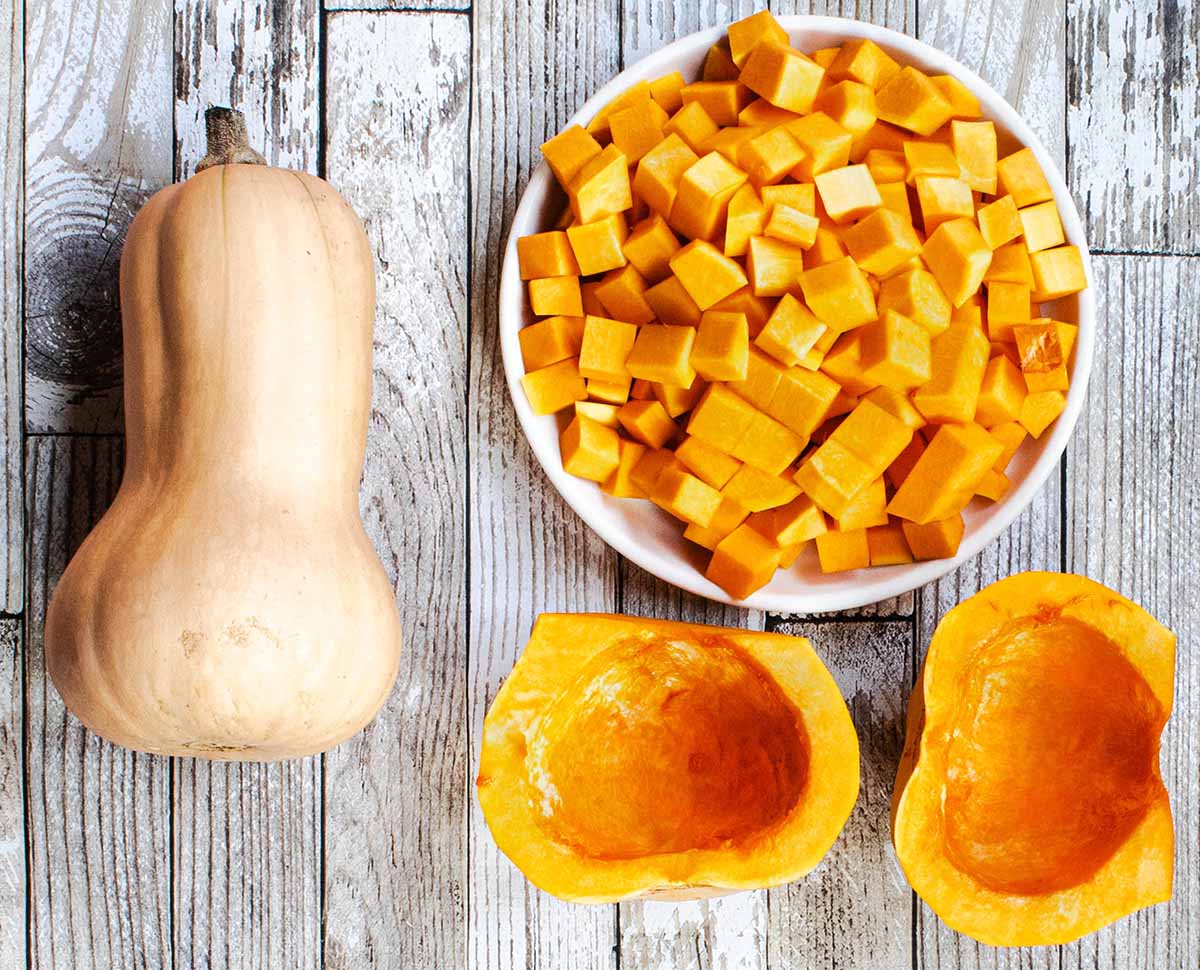 How to peel & prepare
Butternut squash are big with thick skin and dense flesh, making them hard to cut open. Use a large, sharp knife to cut them in half, making sure they are stable on the cutting board.
The skin of all winter squashes is technically edible, but most are too tough to chew and don't taste great. Butternut squash skin is not worth eating, but can be easily removed with a vegetable peeler.
The easiest way to use butternut squash is to cut it in half just above the bulbous area (cut the neck off above the waist). Then separate the halves for two different dinners. For a family of four people, do this with two butternut squashes to have enough for two dinners.
Top half: peel the skinny part and dice it or cut it into slices. Then roast, sautee, etc.
Bottom half: Leave the skin on and scoop out the seeds (which can be roasted!). Stuff the bowl section for roasting, or simply add butter and spices to roast (face up). Eat by scooping the flesh out of the skin (the skin won't taste good and will be hard to chew).
When working with butternut squash, the orange flesh can leave a sticky coating on your hands and dry out your skin. Scrub your hands well to remove the coating (I often have to rub my hands on a towel to get it all off). Some people get dry, cracked skin from contact dermatitis from butternut squash.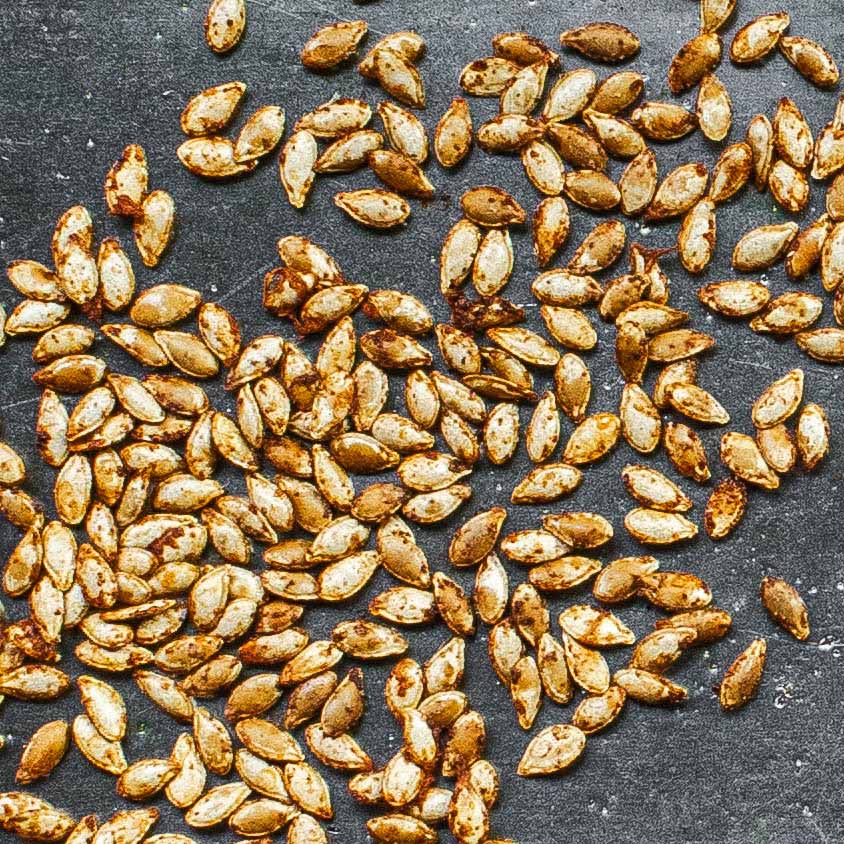 Seeds
The seeds of all winter squash are edible, including the shell. Butternut and other winter squash seeds are similar to pumpkin seeds, they just might be slightly larger or smaller.
Roasting the seeds of different types of winter squash can all be done the same way. Smaller seeds are done cooking a few minutes before larger ones, but that's really the only difference.
One butternut squash has a scant ½ cup of raw seeds and roast in about 5-7 minutes, a perfect little snack. It's worth the minimal extra effort to roast them while you are cutting up the butternut for some other recipe. Simply scoop out the seeds (no need to wash them), toss with oil and spices, and roast for 5-7 minutes:
Scoop out the seeds and (lazily) separate it from the clingy flesh. Toss the seeds in a bowl. (You can be lazy because flesh that clings to the seeds will just add extra flavor when roasted).
Without washing the seeds, add 2 teaspoons of oil to the bowl (for a half-cup of seeds), along with ½ total teaspoon of spices (like smoked paprika and garlic) and ¼ teaspoon of kosher salt. Stir. Spread on a baking tray, leaving any excess olive oil in the bowl).
Roast at 375°F for 5-7 minutes (until they are crisp).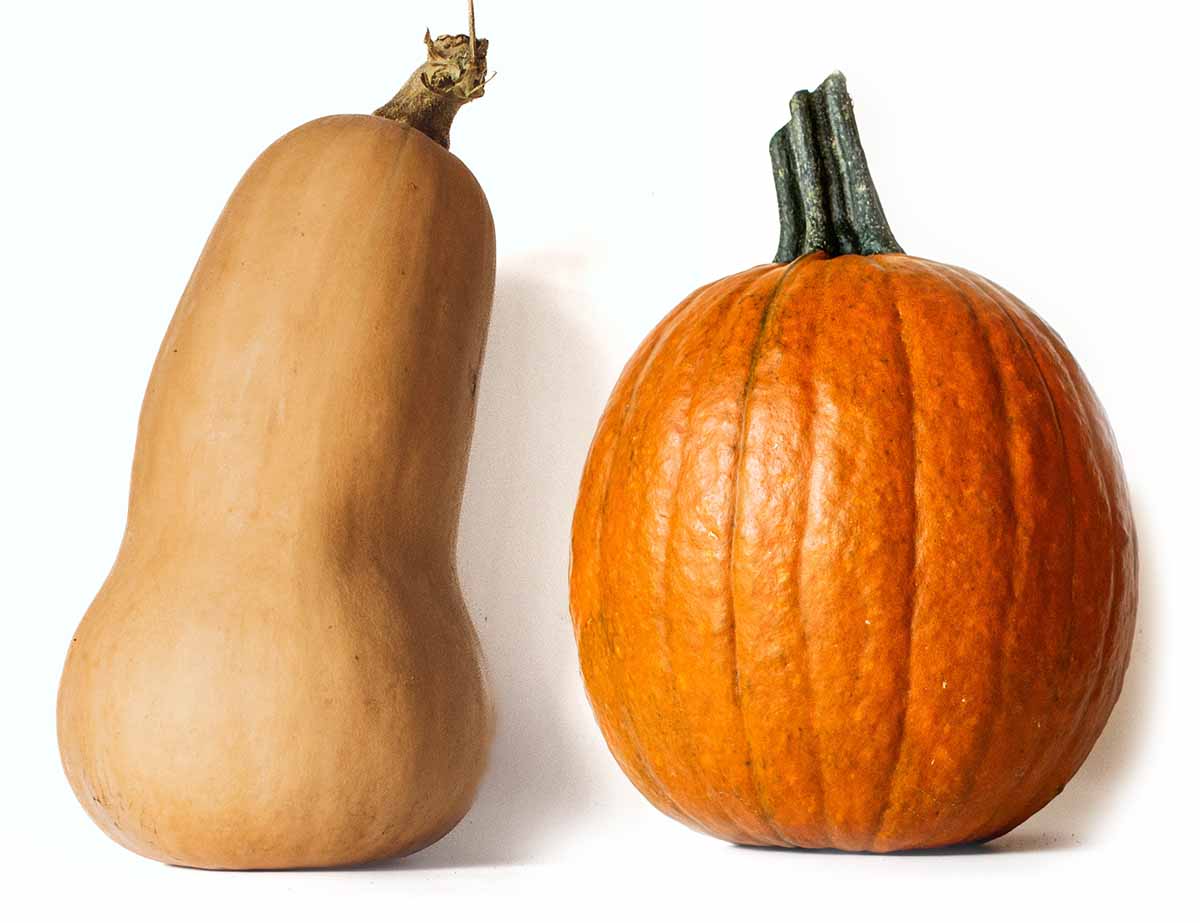 Butternut squash vs pumpkin
Butternut squash is actually called a butternut pumpkin in Australia. Both butternut squash and pumpkins are considered winter squash and classified in the same Cucurbita family. Winter squash varieties include acorn, spaghetti, delicata, and hubbard, along with butternut and pumpkin.
It's also worth noting there are two different types of pumpkins: field (carving) pumpkins used for carving (and the flesh is not great for eating), and sugar (pie) pumpkins (smaller and excellent eating quality). When talking about pumpkins for eating, I am referring to sugar pumpkins.
Butternut squash and sugar pumpkins are very similar with only slight differences:
The main difference is that while their flavor is similar, butternuts do taste slightly sweeter and nuttier.
They are both in season at the same time and store well for 2-3 months.
Both have creamy (and not stringy)
Seeds both turn crispy with a slight chewiness when roasted (carving pumpkin seeds are much chewier)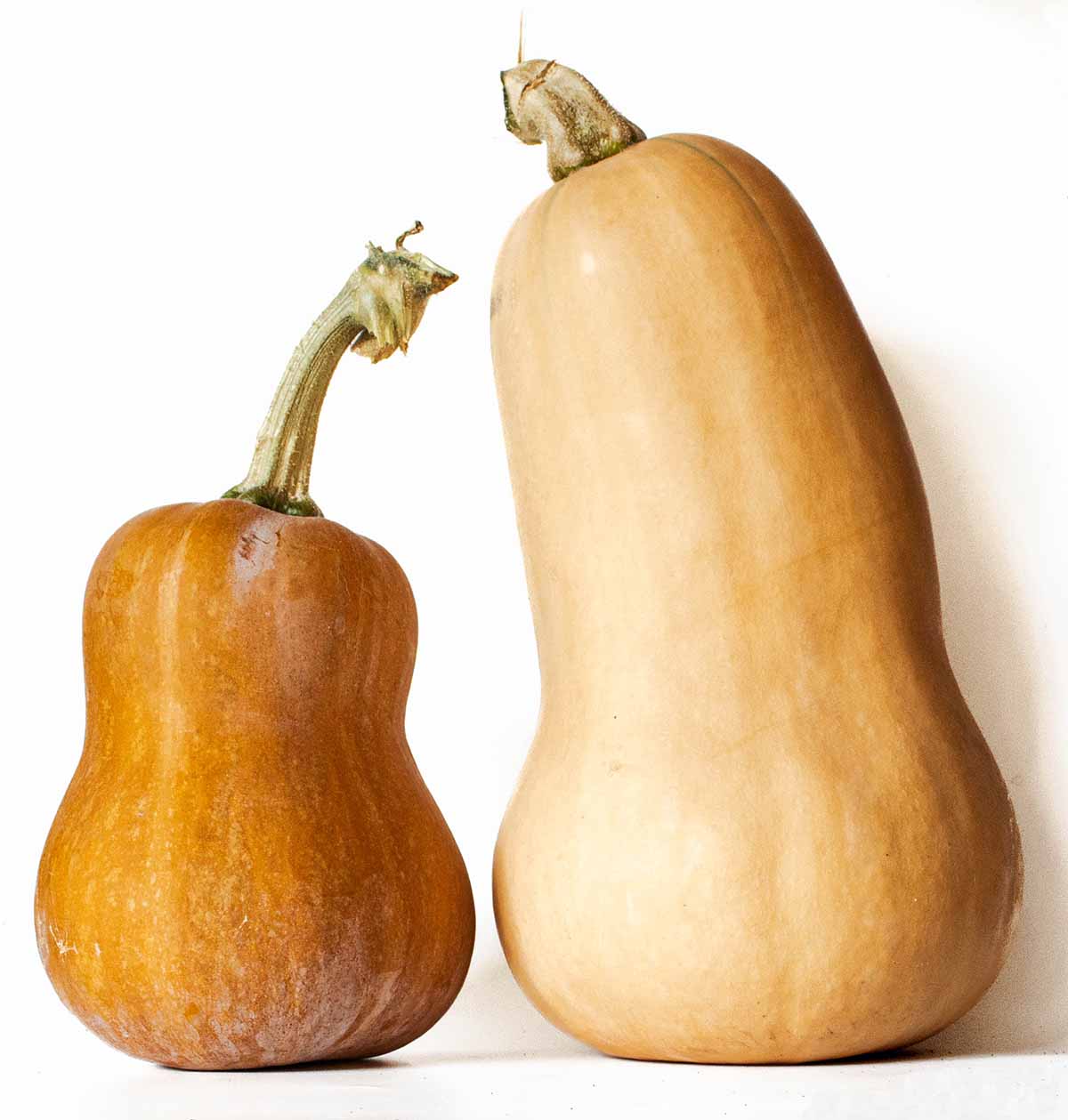 Butternut varieties
Sometimes farmers markets label the specific variety, but if not, Waltham is the most widely grown. It's the typical tan-skinned large variety you find in stores and markets.
A much smaller, related variety has been gaining popularity: honeynut squash, a cross between butternut and buttercup. It's a cute single-serving, mini butternut. It starts out dark green then turns into a rich orange as it matures. The flavor is very similar to butternut squash but it's sweeter and more intense.
More resources & seasonal guides
The winter squash guide has a general overview of different varieties. Also check out what's currently in season.