Delicata squash are a favorite winter squash, prized for their thin, edible skin and sweet, smooth flesh. They are ideal for roasting and stuffing.
Jump to:
What are delicata squash?
Delicata squash are treated as a winter squash, but actually are from the same family (Cucurbita pepo) as summer squash, including zucchini. They also go by several other names: sweet potato squash due to the similar flavor or peanut squash thanks to its shape.
The flesh is sweet and is a nice, creamy consistency when cooked (rarely stringy). The skin is thin and actually edible. If you've tried eating the skin of other winter squash varieties and found it to be unpleasant, give it one last try with delicata. It's the only winter squash skin I advise eating.
Season
Delicata squash are in season from September through December. In some warmer regions they might show up at farmers markets & grocery stores toward the end of August.
Selection
These winter squash are actually fairly easy to pick out. The skin and stripes are excellent indicators of ripeness:
Creamy skin & green stripes: these are ripe and ready to eat. They will be sweet & flavorful.
Creamy skin with orange & green stripes: not as ripe, but very commonly found in stores. They are still pretty decent in flavor and quality.
Yellow skin or fully orange stripes: these were picked too early and won't be as sweet and the flesh won't have as creamy of a consistency.
Avoid soft spots or wrinkled skin: soft spots show up when the flesh has been damaged and it will quickly rot. Wrinkled skin indicates the squash has lost a lot of moisture - they are too old and not worth buying.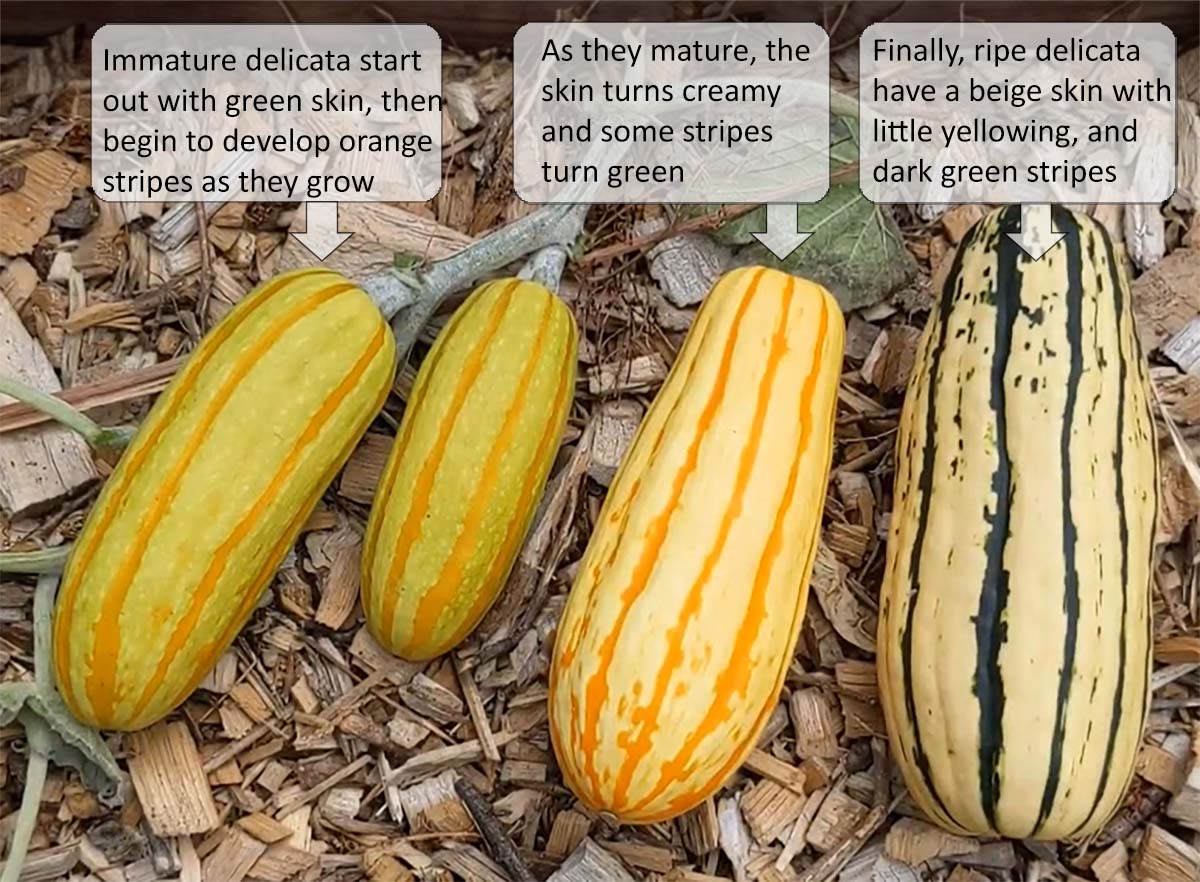 The ripeness stages of Delicata squash are explained well from Edible Garden Growers video and is worth checking out especially if you grow these yourself.
If you are using more than one squash in a recipe, be sure to pick out two (or more) that are about the same size. This ensures they all cook at the same rate so one doesn't get over or under cooked.
Storage
Some winter squash store for a long time, like butternut squash which will last for 3-6 months. However, delicata squash only store well for about a month, maybe two if you get them fresh after harvest.
Store them in a cool, dark place with good ventilation. A basement works well (but not in the same room as the furnace). If that's not an option, store them on the counter out of sunlight.
Delicata squash, along with other winter squash, should not be refrigerated. Oregon State explains that winter squash and pumpkins "deteriorate rapidly if stored at temperatures below 50°F."
However, if you cut it up, you should store it in the fridge and it will last for 3-5 days.
Flavor
The flavor and texture of delicata squash are fairly similar to sweet potatoes. The flesh is smooth and fine-grained, and they taste like a cross between a butternut squash and sweet potato with a hint of nuttiness.
A Minnesota co-op describes the flavor quite specifically: "The rich, sweet yellow flesh is flavorful and tastes like chestnuts, corn, and sweet potatoes." They are also among the favorites of annual winter squash taste tests conducted by Chef Heidi Fink.
Because of their sweet flavor, they work well with maple syrup, cider, and honey. They also pair well with pecans, walnuts, rosemary, sage, thyme, and spicy flavors like red chilis or hot honey.
Edible skin
Delicata squash have a thin skin that cooks up fairly tender and maintains its creamy, striped coloring. The skin of all winter squash is technically edible, but most are too thick to enjoy.
Once cooked, the skin of delicata squash is only slightly chewy or crispy - somewhat similar to eating a baked potato with the skin on. The skin has a more vegetable flavor that can be just slightly bitter. I like to make sure I salt the skin well before roasting.
Some recipes call for peeling delicatas, but I'd suggest otherwise. Their fluted shape makes it incredibly difficult to peel. If the recipe needs the skin removed, I'd substitute a butternut squash which is easy (enough) to peel. You could also possibly substitute sweet potatoes, depending on the recipe.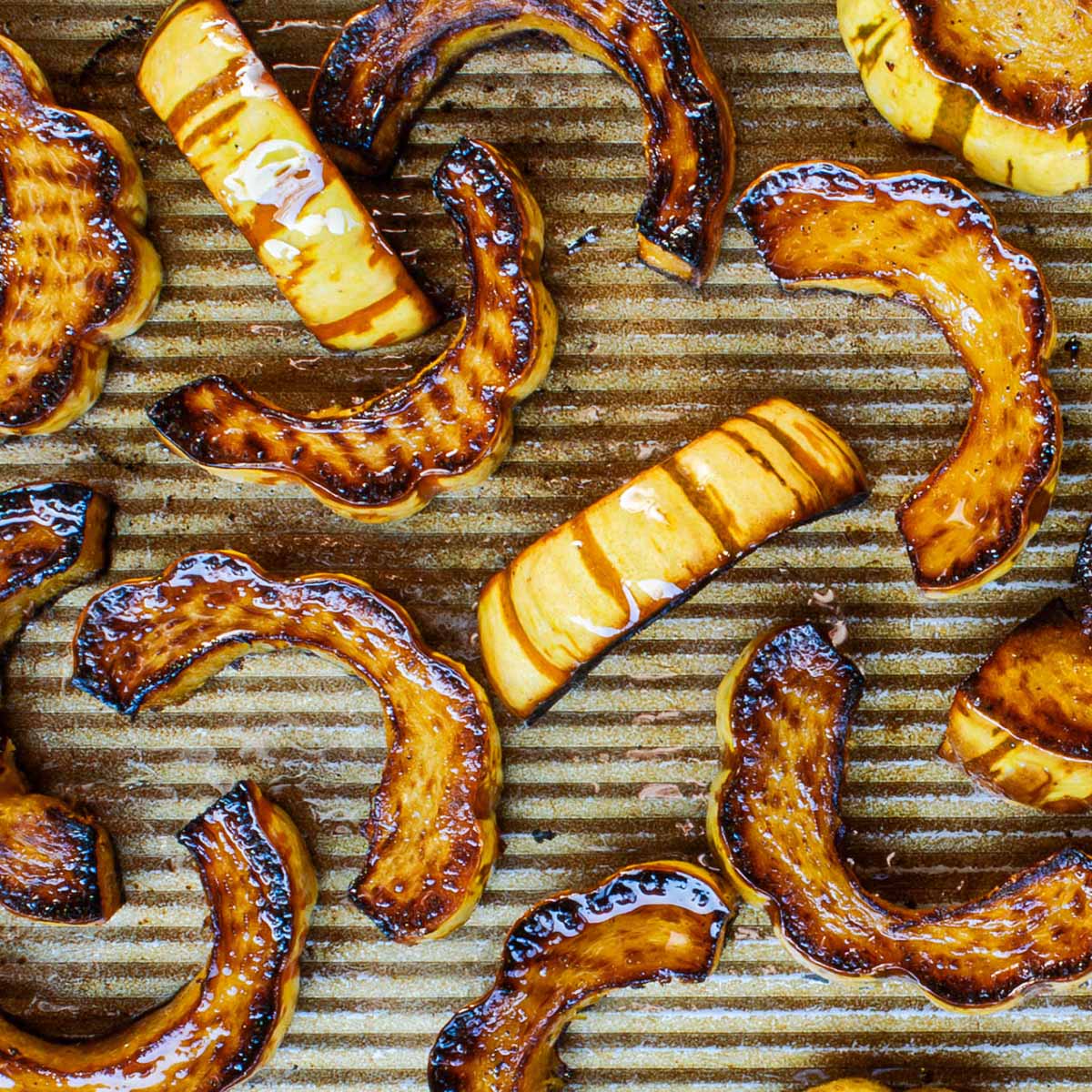 Best uses for delicata squash
The best recipes make use of the edible skin or their boat-like shape for stuffing.
Slice into 1" thick rounds for roasting. Serious Eats has a fantastic, in-depth article about the best methods for roasting delicata squash. (I found it cooked faster in my oven than they suggested, but every oven is different).
Roast or bake and add to a salad
Diced and added to stews or chilli (with the skin on, even!)
Cut in half (the long way) and used as a vessel for stuffing.
Roast the seeds
All winter squash seeds are edible and are easy to roast. A single delicata squash has a scant ⅓ cup of seeds inside.
The seeds easily separate from the flesh and don't even need to be rinsed. Toss them with 1.5 teaspoon of olive oil (per ⅓ cup of seeds), ⅛th teaspoon salt, and ¼ teaspoon spices. Roast at 375°F for 5-7 minutes (until they are crisp).
More resources & seasonal guides
If you want to grow your own delicata squash in the garden, first check out the best (and cheapest) places to buy seeds.
The winter squash guide has a general overview of different varieties. Also check out what's currently in season.