Acorn squash are treated as winter squash, but are actually part of the same family as zucchini and other summer squash - cucurbita pepo. Delicata and spaghetti squash also belong to this family, which is why they share a lot of characteristics.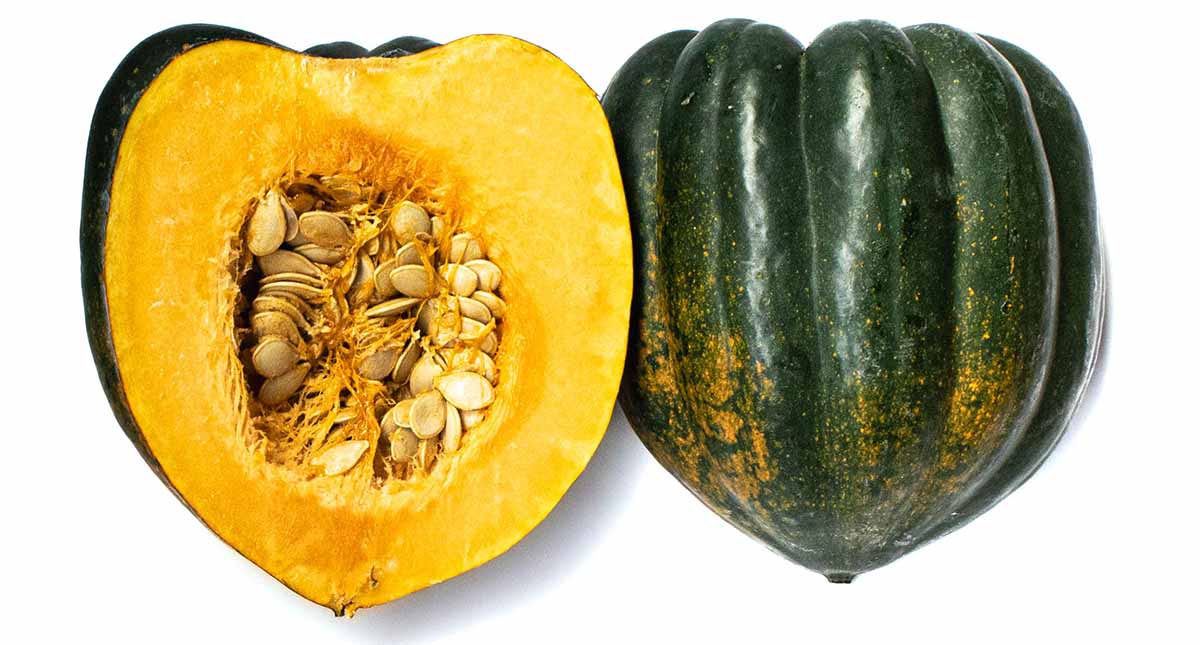 Jump to:
Season
Acorn squash are in season from September through December. Most winter squash varieties store for a long time, like 3-6 months. However, acorn squash are one of the exceptions, storing well for only 1-2 months, which is why their season is shorter.
Grocery stores often sell acorn squash outside of their season when imported from warmer countries or grown in greenhouses.
Selection & storage
Choose squash with dull, dark green skin and are heavy for their size, which indicates a higher water content and flesh that hasn't dried out. Look for the orange spot on the skin, which is where it sat on the ground - a dark orange color is a good indicator that it was picked when ripe. A faded creamy, light green, or more yellow color means it was picked too early and the flesh won't be as flavorful.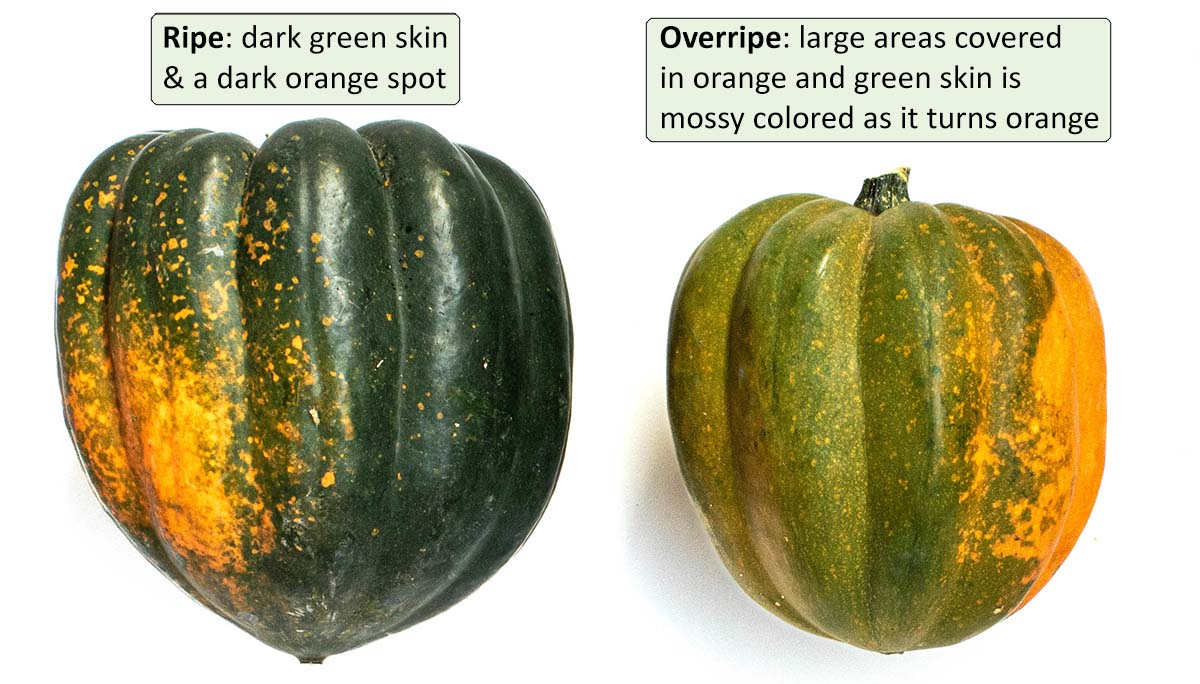 The flesh can get stringy if they are stored in temperatures below 50F. They store best between 50-60 degrees, like a cool basement. If that isn't an option, leave them on your counter out of the sunlight.
Flavor
A milder flavor than other winter squash, but still slightly sweet and nutty. The raw flesh appears spongy but turns tender when cooked. It ends up on the dryer side once cooked, so it works nicely in a stew where it can soak up some sauce.
However, if you don't like stringy flesh, you might want to avoid acorn squash. The flesh should be uniform and smooth but they often turn stringy from being harvested early or stored improperly.
Stringy flesh
Acorn squashes more commonly end up with stringy flesh, compared to other winter squash varieties. There are actually several causes of stringy flesh:
Overripe
Stored too warm
Stored too long
Overripe acorn squash flesh turns dry and stringy. A good acorn squash will have green skin with maybe a small orange patch. As it ripens, the skin turns orange so avoid buying ones that are more orange than green.
Warmer temperatures (above 55F) also cause the flesh to turn stringy, as reported by Iowa State. And finally, longer storage starts to degrade the flesh, as explained by Oregon State:
"Table Queen and other acorn-type squash can be stored satisfactorily for 1 to 2 months. With longer storage, the skin begins to turn yellow and the squash becomes stringy."

(source: Storing Pumpkin and Winter Squash at Home)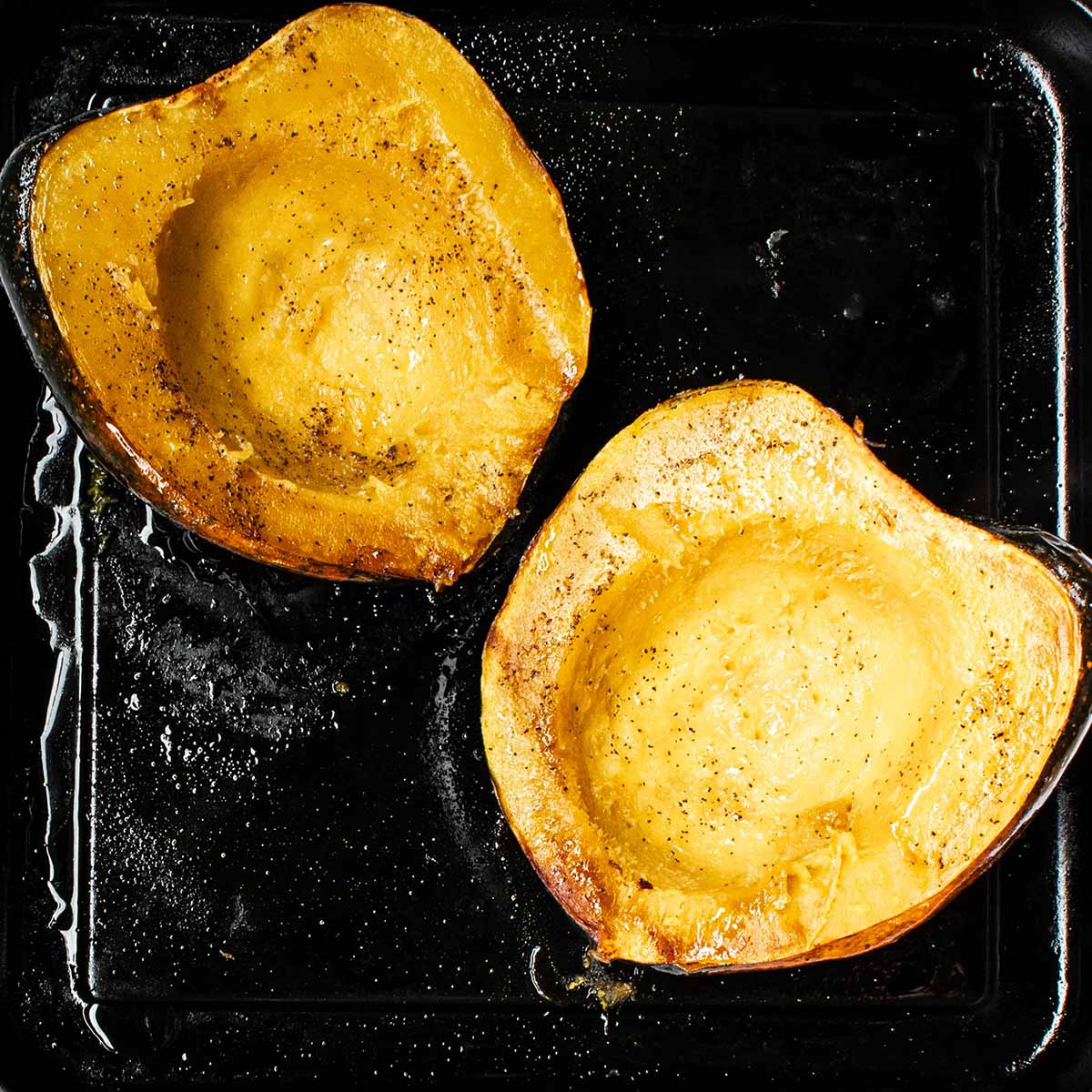 Is the skin edible?
The skin is technically edible and it's common to see people suggest eating the skin. While edible, it is a bit chewy. I'd say "it's fine," but I'd prefer to not eat the skin (unlike delicata squash skin, which is quite soft and thin).
That said, acorn squash are also very difficult to peel because it's hard to navigate around the fluted ridges.
So if the skin isn't worth eating, but too hard to peel, what are you supposed to do? Use them as an edible vessel!
Best uses
Acorn squash are perfect for stuffing, filling with soup, or as a cute presentation for serving a party dip. Their hollow centers are large enough to hold a generous serving: ¾ - 1 cup when kept whole, with just the top removed.
Try using acorn squash as a bowl:
An edible soup bowl: cut in half and roast. Fill with soup.
To serve dip: cut a tiny portion of the bottom off, just enough to stabilize it. Cut the top off enough to reach the cavity. Scoop out the seeds, then roast.
Stuffed: cut in half, then stuffed with sausage, rice, or actual stuffing, and baked.
As a salad bowl: cut in half and roast. Then fill with a salad (pairs well with a maple or balsamic dressing).
Seeds
Acorn squash seeds are edible, just like pumpkin seeds and other winter squashes.
There are fewer seeds than a large carving pumpkin, but still worth the time to roast them. The cavity flesh is wet and the seeds cling to it more than other winter squash (butternut and delicata seeds separate so easily they don't need to be rinsed off!).
A small acorn squash has about ¼ cup of seeds, and larger ones have about ⅓ cup.
Scoop out seeds and separate them from the flesh. Rinse.
Since they are wet, toss them on a baking sheet and place in the oven while it preheats for 3-5 minutes, enough to dry them out.
Mix olive oil with spices, toss with seeds (use 1 tablespoon oil per cup of seeds and ¾ teaspoon of spices, and ¼ teaspoon salt).
Roast at 375°F for 5-10 minutes (until they are crisp).
Roasted acorn squash seeds make a great snack or a crunchy salad topping.
More resources & seasonal guides
The winter squash guide has a general overview of different varieties. Also check out what's currently in season.