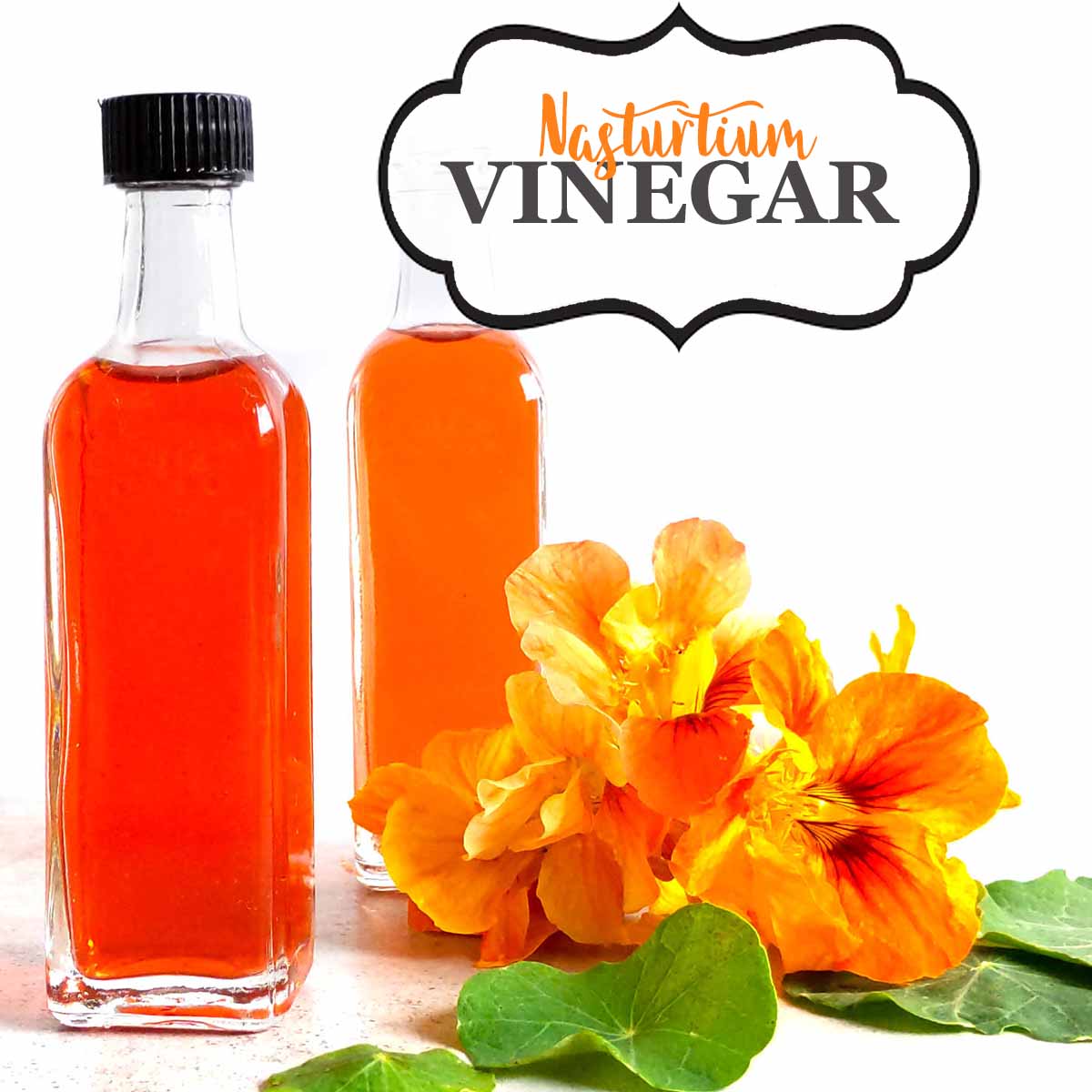 Homemade nasturtium vinegar has that classic peppery flavor and can be used just as regular vinegar. I use it all summer to make salad dressings and dash it into soups or on top of vegetables that need a splash of flavor.
New to working with nasturtiums? They have a very peppery taste, not unlike arugula. The leaves are great in salads or turned into a pesto. The flowers a pretty topped on a salad, cake, or infused into vinegar. The stems make an excellent chive replacement. Even the seeds are edible when pickled and used like capers.
They are easy to grow from seed in most parts of the US - my favorite to grow are the Tall Trailing Mix.
Jump to:

Use nasturtium flowers or leaves?
Vinegar can be infused with just the flowers, just the leaves, or both, with subtle differences in flavor.
Leaves: impart their peppery flavor plus a little earthiness. They transfer almost no color to the vinegar. Stems can also be included.
Flowers: impart their peppery flavor with no earthiness. They transfer significant amount of color, dependent on the color of the flowers you use.
Leaves + flowers: somewhere in between the two in both flavor and color. The color is lighter because their is a lower ratio of flowers to vinegar (so less 'dye' so to speak).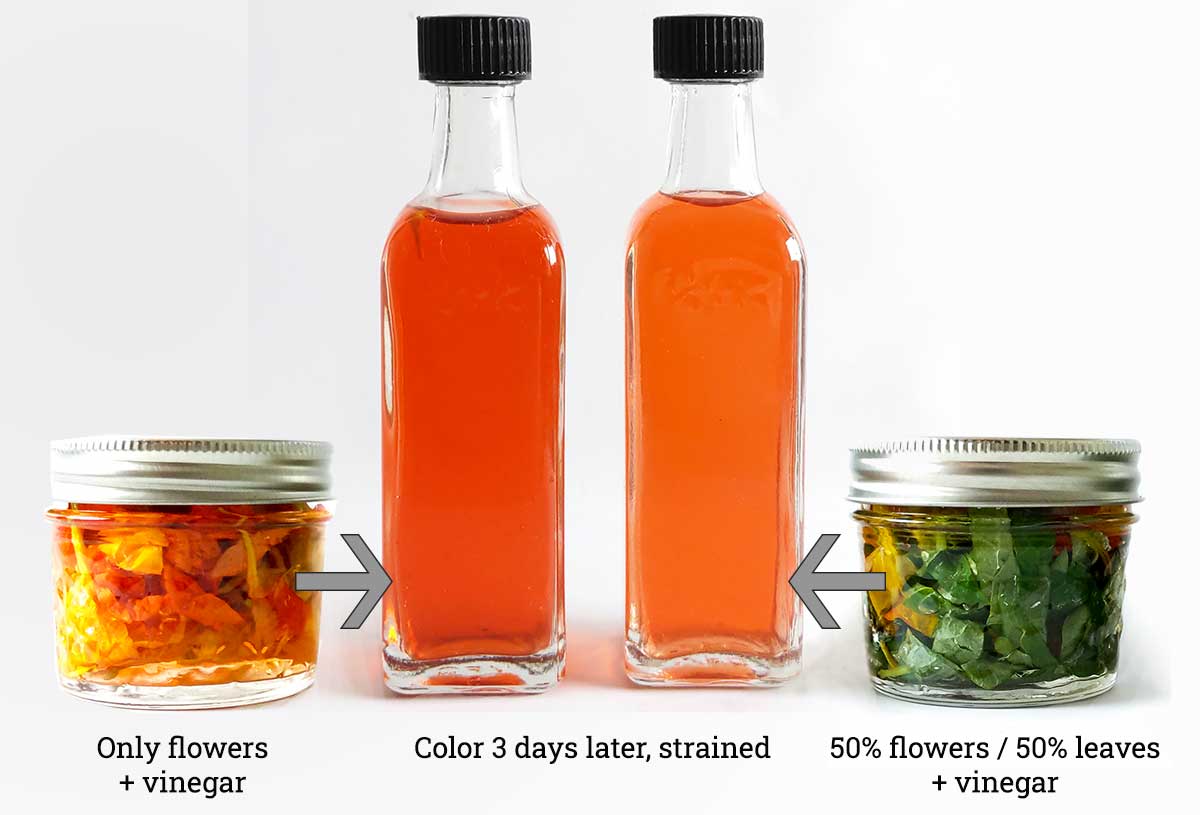 It's important to shake the flowers (and leaves) in a colander to remove bugs.
Best type of vinegar
I can't help myself and always go fancy when I am using my own home-grown plants. I like using white wine vinegar (or even champagne vinegar) as the base. It has a mild flavor with just the right amount of acidity.
Basic white distilled vinegar: made from grain alcohol and has a very sharp, acidic flavor.
White wine vinegar: made from white wine and has a more mellow flavor than basic distilled
Champagne vinegar: very similar in flavor to white wine vinegar
Apple cider vinegar: even less acidic that white wine vinegar, but with a stronger flavor, and usually yellow-ish in color.
Red wine vinegar and balsamic vinegar (even white balsamic) are not advised because they already have too much flavor, and the nasturtium infusion won't come through as well.
How long does homemade vinegar last?
Homemade vinegar will last about 3 months in a dark cabinet, or 6-8 months in the fridge. While white distilled vinegar lasts almost indefinitely, homemade vinegar has added elements that can make it spoil faster.
For proper storage, start the infusion in sterilized jars. I use mason jars (which can be hard to find or pricey these days, but I have a guide for that). Store the infusion in a cool place, away from sunlight. Once done, strain into sterilized jars.
If you're using the nasturtium vinegar immediately, you can store in a canning jar with a lid (I like these lids with pour spouts), or a cork. If using a cork, dip the cork into boiling water 3-4 times to sterilize it.
For longer storage, you can process the strained vinegar in a water bath for 10 minutes (longer for higher altitudes), as you would for other canning techniques.
Vinegar has gone bad if it gets cloudy, bubbly, or moldy. Do not let the vinegar sit in sunlight for extended periods of time, it can be unsafe to consume (see section 7 on The Old Farmer's Almanac)
Recipe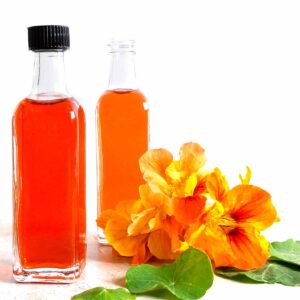 Ingredients
2

cups

nasturtium flowers and/or leaves

1.5

cup

vinegar

white wine vinegar preferred
Instructions
Shake any bugs from flowers and/or leaves, clean as needed

Sterilize a jar large enough to fit your nasturtium. Stuff with nasturtium flowers and/or leaves.

Pour vinegar over the nasturtium, cover the jar, and store in a cool, dark place.

Taste vinegar after a few days to see how it tastes. Continue to store if you want a stronger flavor. Some people let it infuse for up to a month.

When you are done infusing it, strain it through cheesecloth or a coffee filter into a new sterile jar. If using a cork, sterilize the cork by dipping it in boiling water a few times.

Store in a cool dark place (like a cabinet) for up to 3 months, or the fridge for 6-8 months.
Jars & other resources
As if any of us needed another reason to buy cute jars, right? I have a few options for you.
If you are having trouble finding white wine vinegar, there are a lot of options on Amazon.
(Some of these links are affiliate, which means I get a small payout if you purchase something).
More recipes
There are no shortage of nasturtium and edible flower recipes.