Nasturtium leaves are completely edible, and have a spicy, peppery bite similar to arugula.
When used in place of basil, nasturtium will add a radish-type 'bite' and a very slight earthy flavor to the pesto. It's hard to pick out when added to a pasta or soup, but you could use a mix of basil and nasturtium leaves if you want more of a traditional pesto flavor.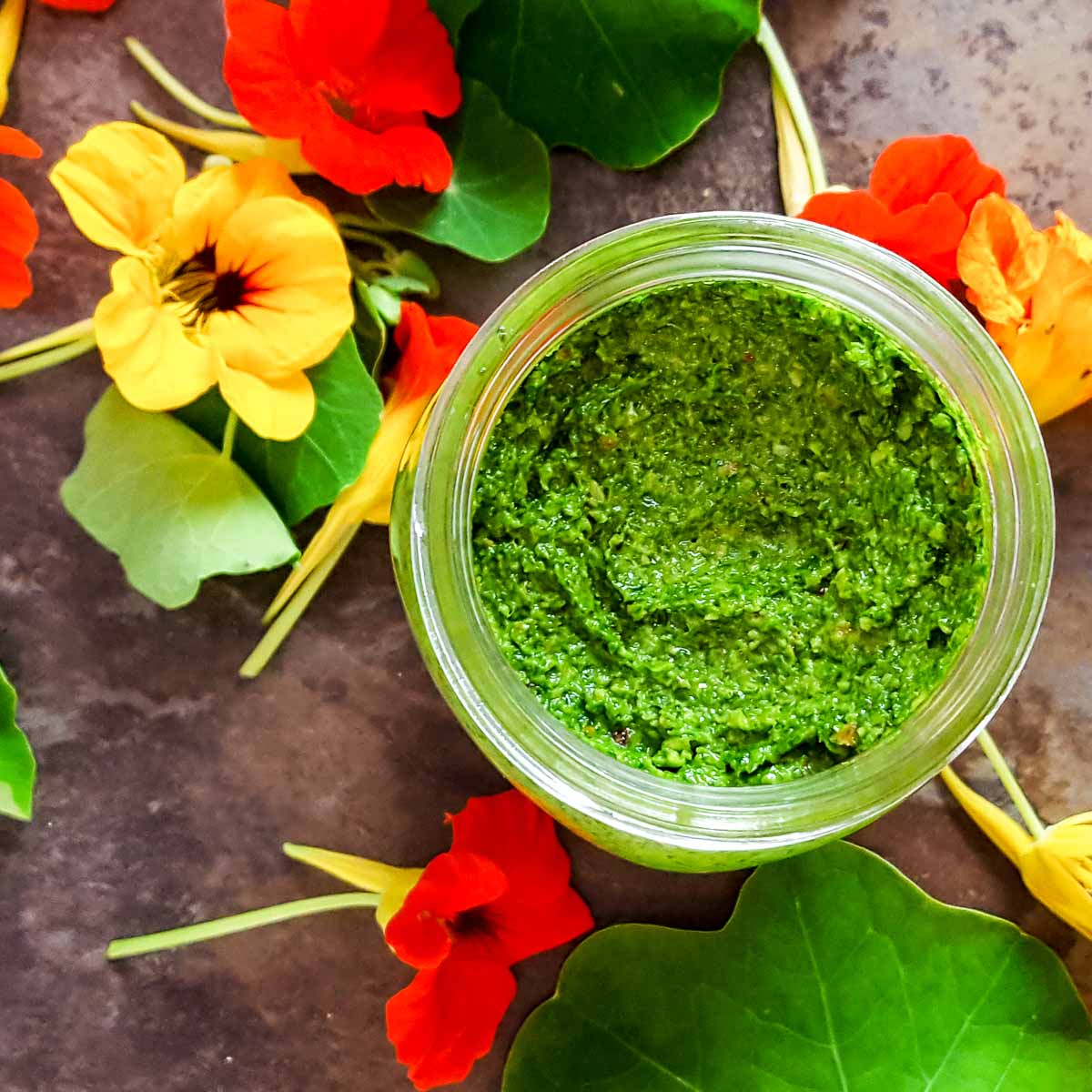 This is a humble little sauce, and I don't want you to think it will win any awards or turn you into a celebrity chef. However, my friends always ask to take some of my nasturtium plants home after trying this sauce, along with the recipe.
If you grow nasturtium in your garden, this is a great way to use it up. You can also freeze this to brighten up a meal in the middle of winter.
Recipe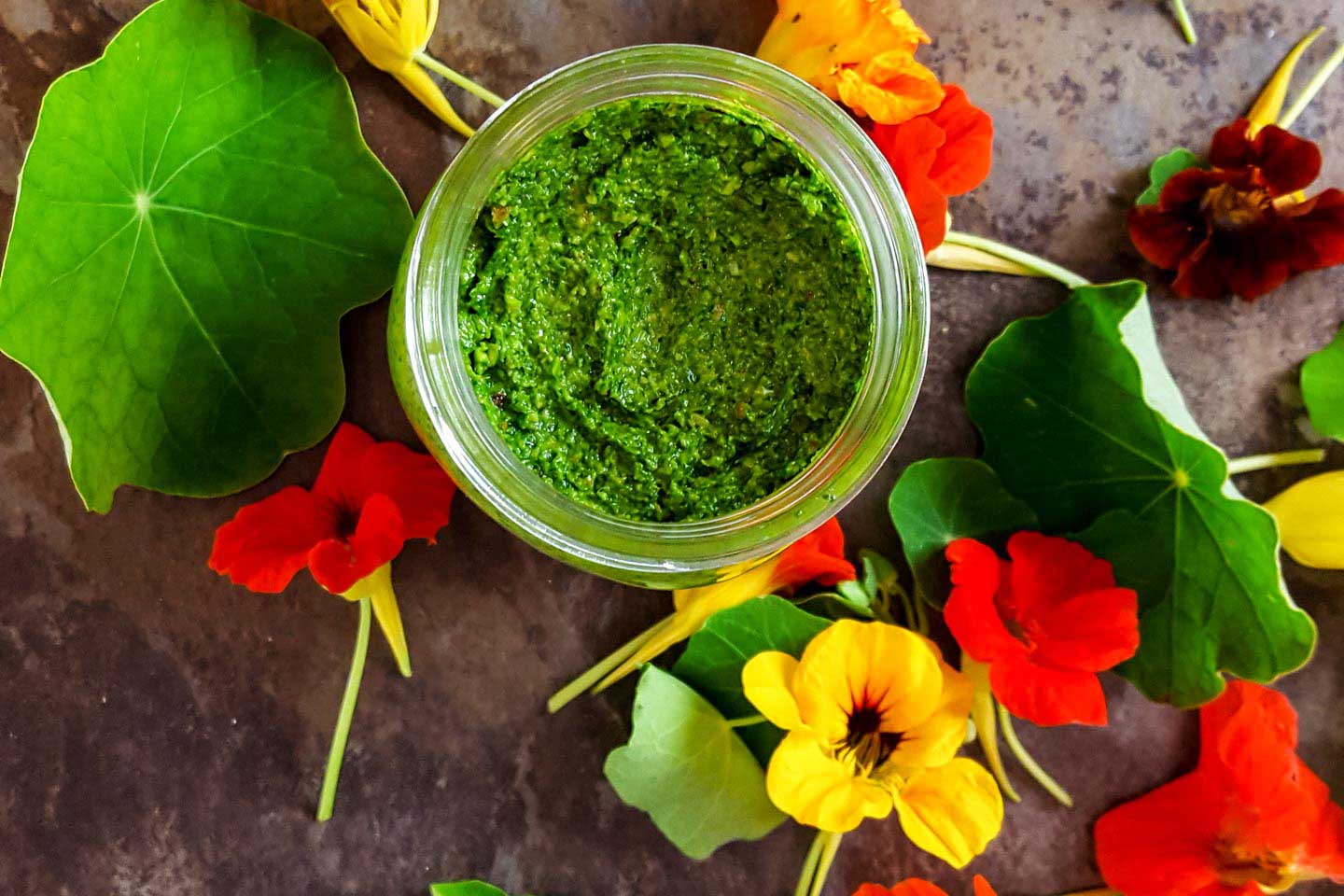 Ingredients
50

large nasturtium leaves

or twice as many if small

¼

cup

pistachios

or favorite nut

½

cup

olive oil

½

cup

Parmesan cheese

1

pinch

red pepper

optional

salt and pepper to taste
Instructions
Wash the nasturtium leaves and shake them dry (they can be slightly wet).

Toast the nuts (it intensifies their flavor and I love it) - put them in a dry pan over medium heat, stirring every 30 seconds or so. Cook for 2-3 minutes - until they start to smell good. Then take them off the heat, or they will burn (fast!)

Fill your food processor up ¾ of the way, loosely, with leaves. Blend until they are chopped. Add more leaves, blend. Continue this until all of the leaves are blended up.

Add in the pistachios and blend until finely chopped.

Add in the cheese, red pepper and half the oil. Blend.

Add more oil until it's the desired consistency. This will highly depend on how much nasturtium you used.

Taste. Add salt, black pepper, more nuts or more cheese until you like how it tastes.
Notes
This is a loose form recipe. Use as much nasturtium as you pick. I filled a regular sized colander with leaves, slightly packed. It resulted in 2 cups of pesto.
You could add basil for a more traditional pesto flavor.
Nutrition
Nutrition Facts
Nasturtium Pesto
Amount per Serving
% Daily Value*
* Percent Daily Values are based on a 2000 calorie diet.
Recipe notes & tips
Nuts: use any nut you like or have lying around. I can't picture a nut that wouldn't work well.
Working with nasturtium: As explained in "How to use nasturtium," all parts of the plant are edible. While the flavor is pretty similar, there are slight differences.
Using stems: nasturtium stems work great in this pesto. But you might want to roughly chop them up so long stems don't get tangled in the food processor (thanks to Victoria's suggestion in the comments).
Free form pesto: pesto is really one of those things you taste as you go. Then adjust, adding more of whatever you think is missing. You can't go wrong when you just follow your instincts.
If something feels missing: I like to brighten it up when I add it to pasta, with lemon zest and lemon juice.
Early vs late-season leaves - In spring, the leaves are smaller, more tender, and more mild. If the leaves taste too strong or are too tough later in the season, you could try blanching them first. You Grow Girl has instructions for that.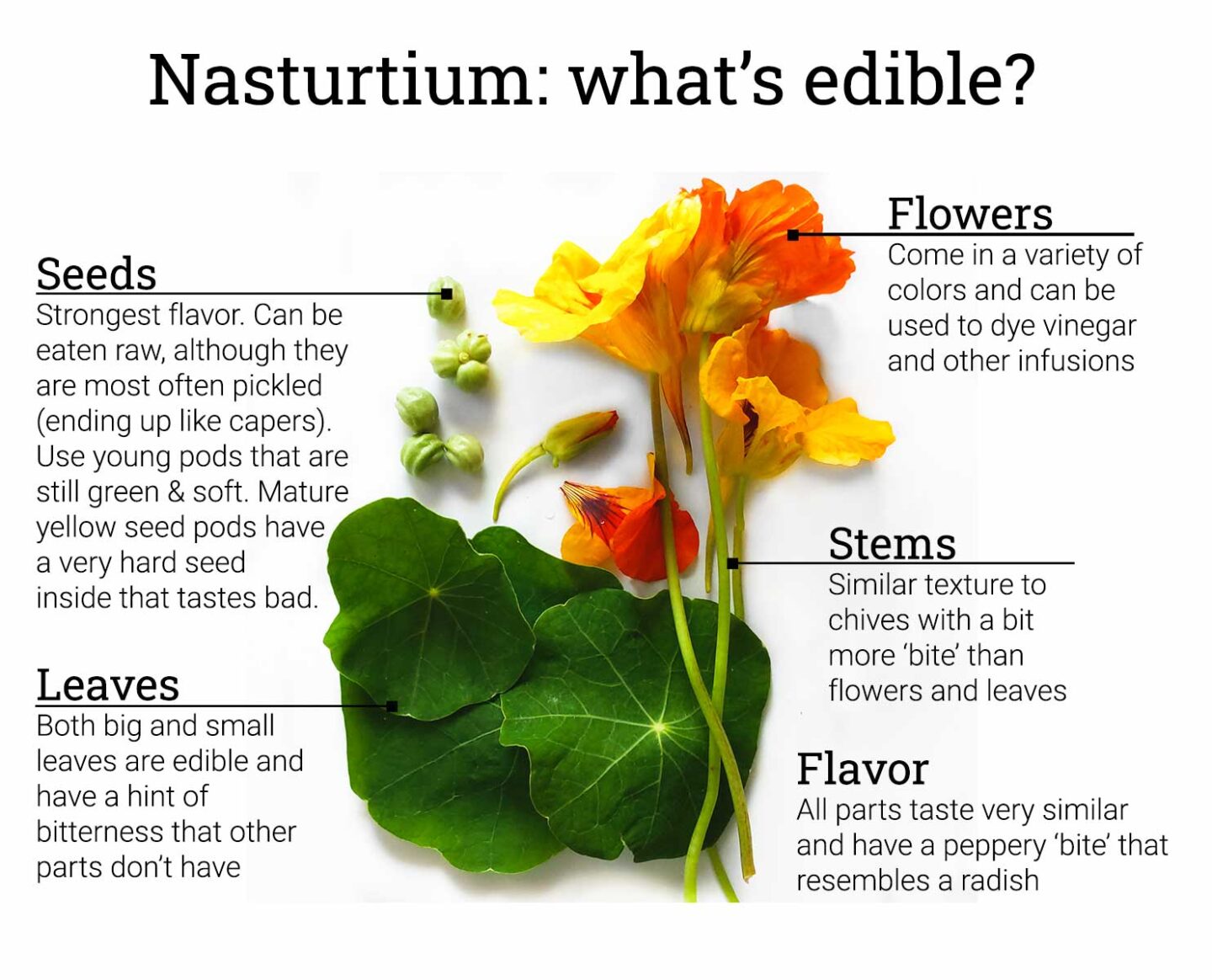 Other nasturtium recipes & resources
How do you use nasturtium?
Every year I get overwhelmed with Nasturtium that regrows from the past year. I'm always looking for ways to use it, rather than cutting it back and composting it. Have you found other ways to use it? Share in the comments.