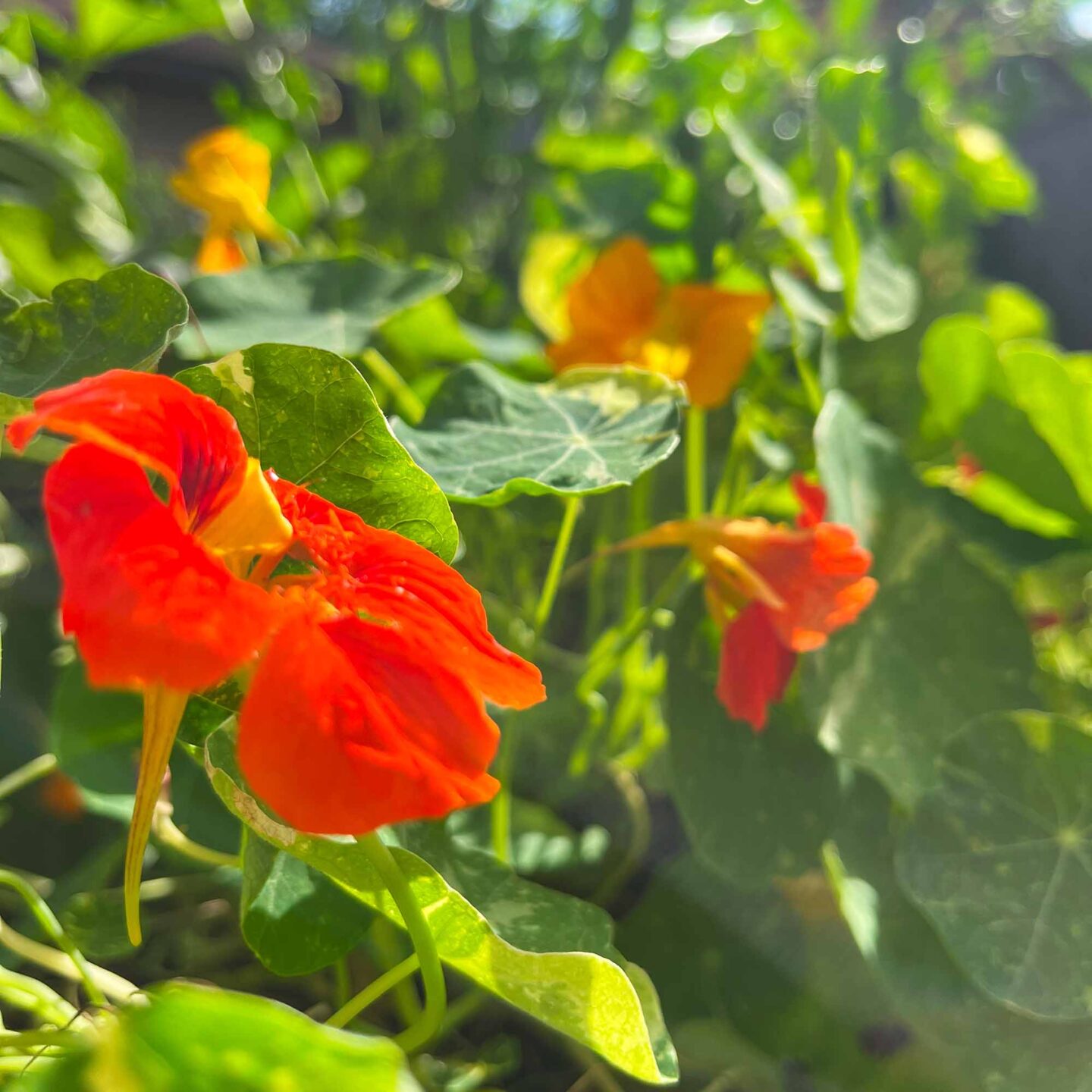 I love growing nasturtium plants because they are carefree, drought-tolerant, bloom the entire season, and attract pollinators and hummingbirds. The flowers are typically red, orange, and yellow, but purple and hot pink varieties are available as well.
All varieties are also edible, including flowers, leaves, stems, and seeds. For example, you can use the stems in place of chives, pickle the seeds to replace capers, along with a long list of nasturtium uses & recipes.
Jump to:
Nasturtium growing information
Days to germination: 7-14
Light: full sun to part shade
Direct sow 1" deep when soil is 55°F (12°C) or start indoors 4-6 weeks before last frost
Spacing: 12" apart in ground, or 3-5 plants to fill 10-12" containers
Soil: thrives in poor soil
Zones: all zones as an annual, or 9-11 as perennial
Flowers: continuously from spring to fall
Varieties
There are two types of nasturtium commonly planted in gardens. One is tropaeolum majus - which are trailing or climbing varieties. The other is tropaeolum minus - a bush / dwarf variety. They are both sometimes referred to as Indian Cress or Monk's Cress.
All of these nasturtium varieties are edible.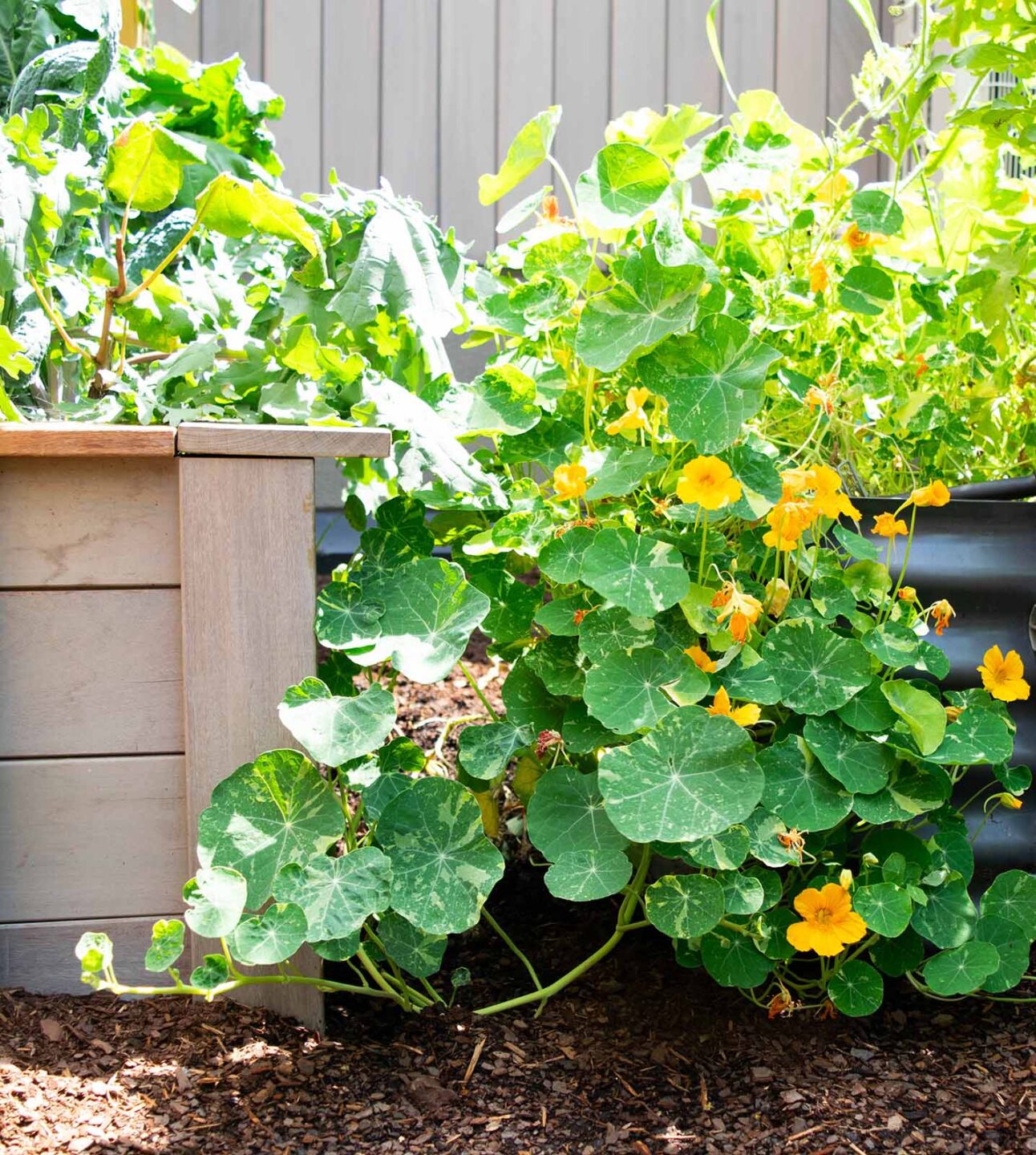 Trailing nasturtiums
Trailing nasturtiums can grow vines that are up to 6-10 feet long, although mine are usually 3-4 feet long (I've grown them in zone 11a and 5b). This makes them great for trailing down retaining walls, across rock gardens, or hanging baskets.
They don't have tendrils that help them climb up fences and other structures, so you would need to give them support to grow up (instead of hanging down). If given a bit of support, they often wind around a structure in order to climb up it. Balcony & Garden Web has pictures of nasturtium climbing different structures.
The vines can be cut back at any point without damaging the plant.
Varieties to try:
Alaska mix - yellow, orange, and red flowers with white & green marbeled leaves
Orange gleam: yellow-orange flowers
Globe of fire: red to reddish-orange flowers
Cherry rose: hot pink flowers with yellow centers
Purple emperor: lavender-purple flowers with yellow centers
Indian chief: red flowers with leaves that turn slightly bronze
Bush nasturtiums
This type of nasturtium stays in bush form, averaging about 1 foot tall and 2 feet wide.
Varieties to try:
Salmon baby - pink-peach colored flowers
Apricot - pale yellow flowers with red-peach centers
Peach melba - yellow flowers with orange-red centers
Empress of India - bright red to reddish-orange flowers with darker red centers
Black velvet - rich, dark red flowers with yellow centers
Mixes - Jewel and Tom Thumb offer mixed colors on the same plant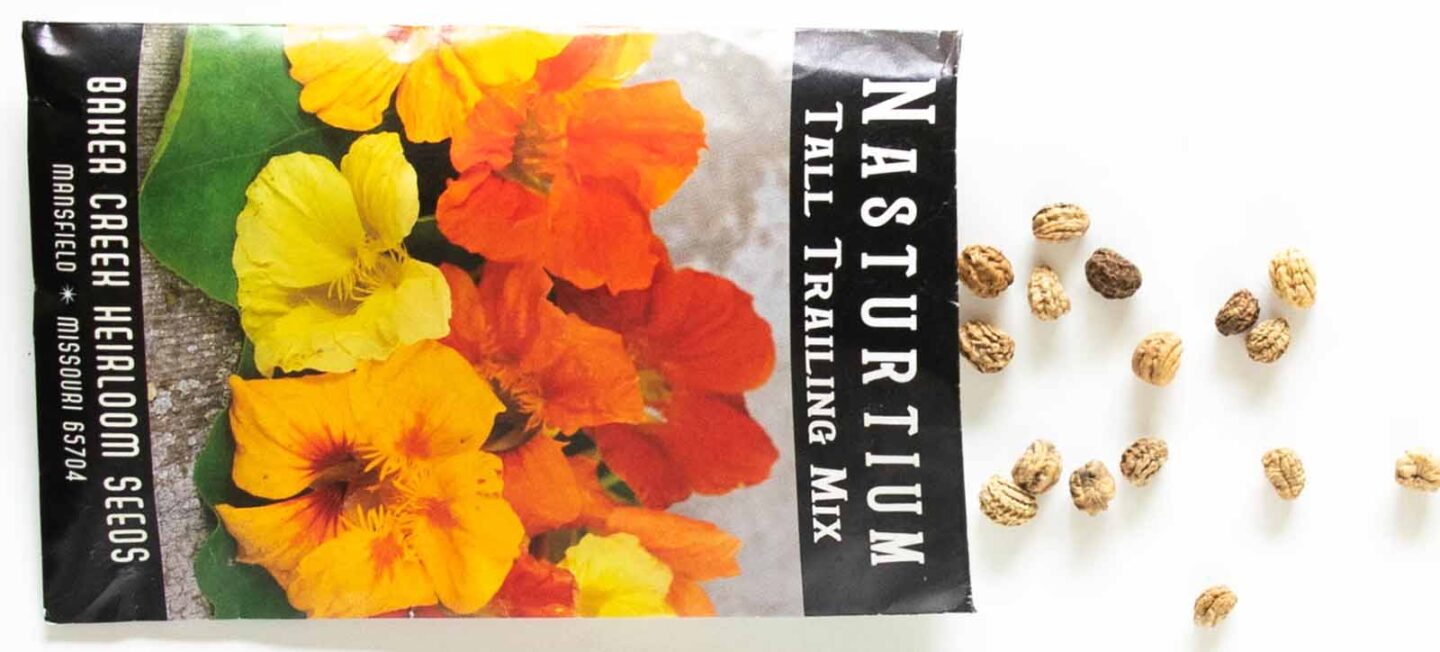 Planting
Nasturtiums grow well in every USDA zone, flowering until frost (or some varieties grow as a perennial in zones 9-11).
The plants can handle partial shade to full sun. The more sun they receive the more they will flower.
They also do well in poor soil and they usually don't need any fertilizer unless the soil has almost no sources of nitrogen. They are pretty drought tolerant and prefer an area that drains well.
Direct sow
Seeds can be planted directly in the soil (direct sown) with easy germination once ground temperatures reach 55°F (12°C). For best results, soak the seeds overnight and then plant them ½" to 1" deep and about 10-12" apart. Keep the top soil moist and they should sprout in about 7-12 days.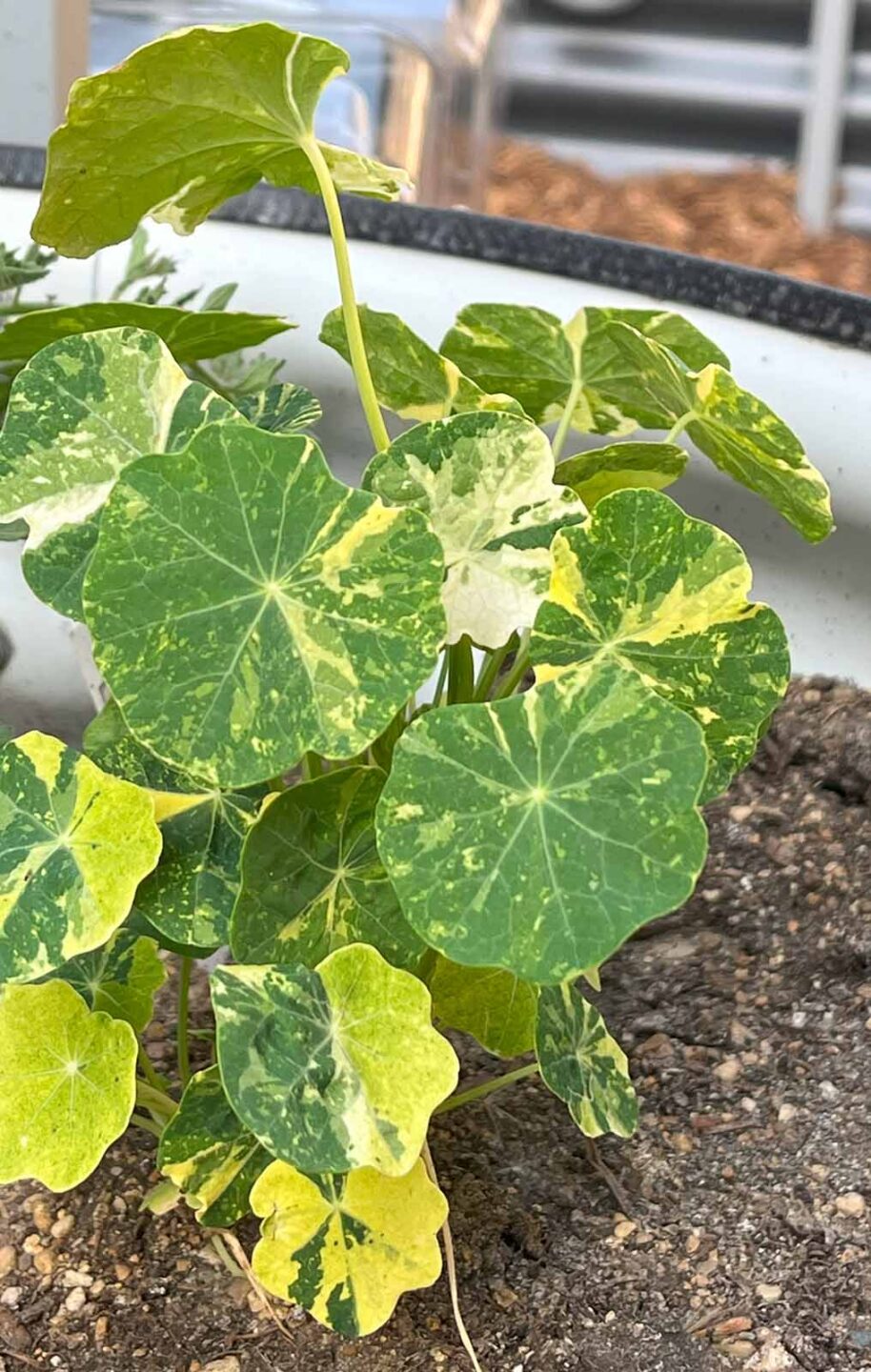 Start indoors or transplant a nursery pot
Starting seeds indoors 4-6 weeks before your last frost allows the plant to get a head start, which gives potentially gives you flowers sooner.
Place the seeds ½" to 1" deep in a 2-3" pot filled with soil. Keep the soil moist and place in a dark location (or cover) as they need darkness to germinate. They should sprout in 7-12 days. Once germinated, place in a south facing window and keep the soil moist.
Transplant when the soil temperature reaches 55°F (12°C), and ideally you have no more chance of frost (although they can survive a light frost but not hard freezing temperatures).
They tend to suffer a little from transplant shock - they will look like they are doing nothing for a couple of weeks while they adjust. You can reduce the transplant shock by hardening them off.
To do this, bring the baby nasturtium plants outside in a shaded area for a few hours a day, gradually increasing the time they spend outside over the course of a week. After the week is up, transplant them, disturbing the roots as little as possible.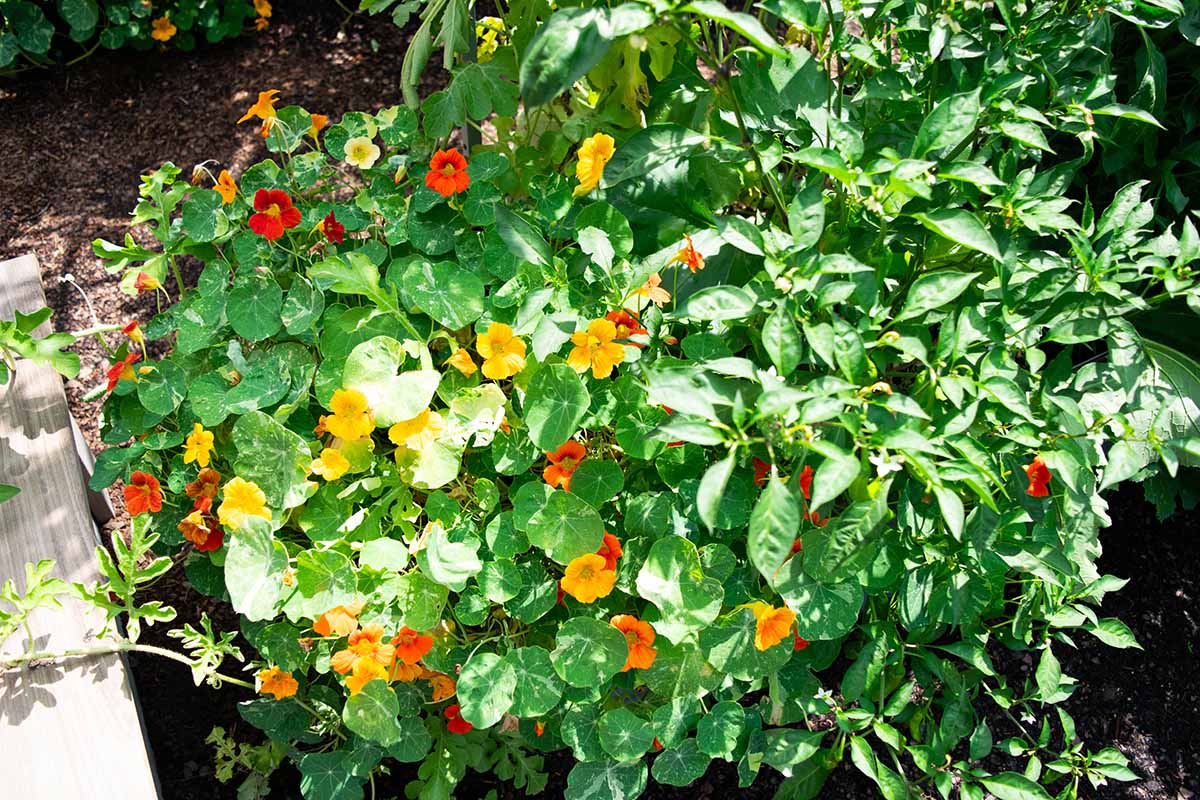 Containers vs in-ground
These plants are happy almost anywhere you want to put them. They are somewhat drought tolerant, which makes them handle containers better than other plants (as containers dry out faster than the ground soil).
Wherever you plant them, they will provide greenery and flowers until frost hits. Try these ideas:
In ground for cute borders
As a ground cover
In your food garden (in ground or raised beds) to attract pollinators, shade the soil, and suppress weeds
In containers on your patio for a pretty display all season (and to attract hummingbirds)
In hanging planters, especially a trailing type to hang over the edge
Trained to grow up a fence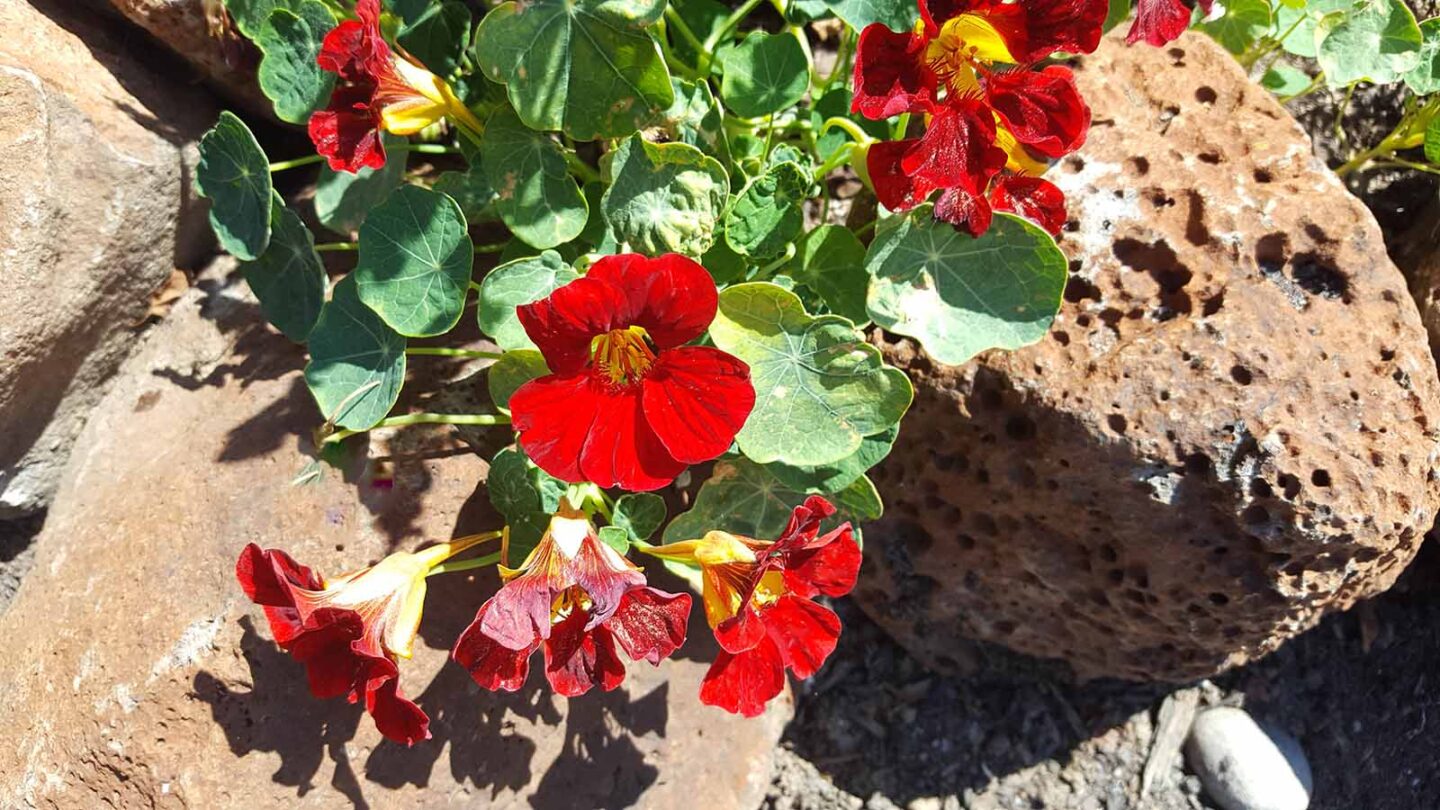 They also do well in rock gardens and areas with drought. I grew them in the bay area where it doesn't rain all summer. They received minimal water and still thrived.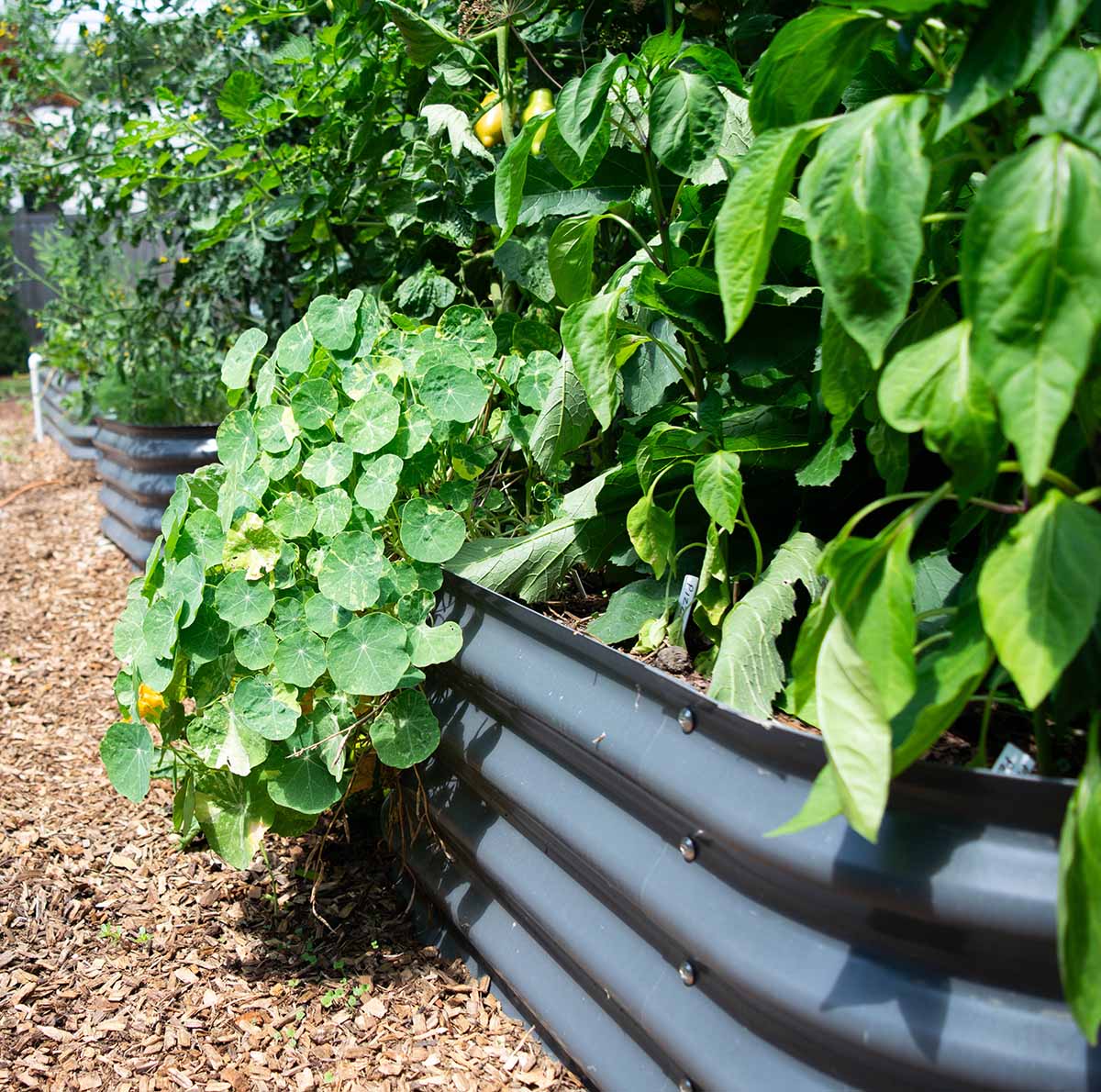 Companion plants
Nasturtium make excellent companion plants to almost every vegetable garden for the following reasons:
Flowers continuously to attract pollinators throughout the entire growing season
Attracts predatory bugs
Confuses pests such as squash bugs, white flies, and cabbage loopers
Shades the soil, reducing evaporation from the soil and reducing heat stress on plants
Adds nitrogen and other nutrients to the soil as it dies back
Nearly any plant will do well next to nasturtium. Zucchini, squash, tomatoes, corn, lettuce, cabbage, raspberries, fruit trees, and so much more! I have 12 garden beds and have nasturtium plants in every one.
The list of plants that would do worse right next to nasturtium is short. For example, low growing herbs or strawberry plants might get shaded out. It might also be hard to start seeds underneath them later in the season (in which case cut back the nasturtium before planting).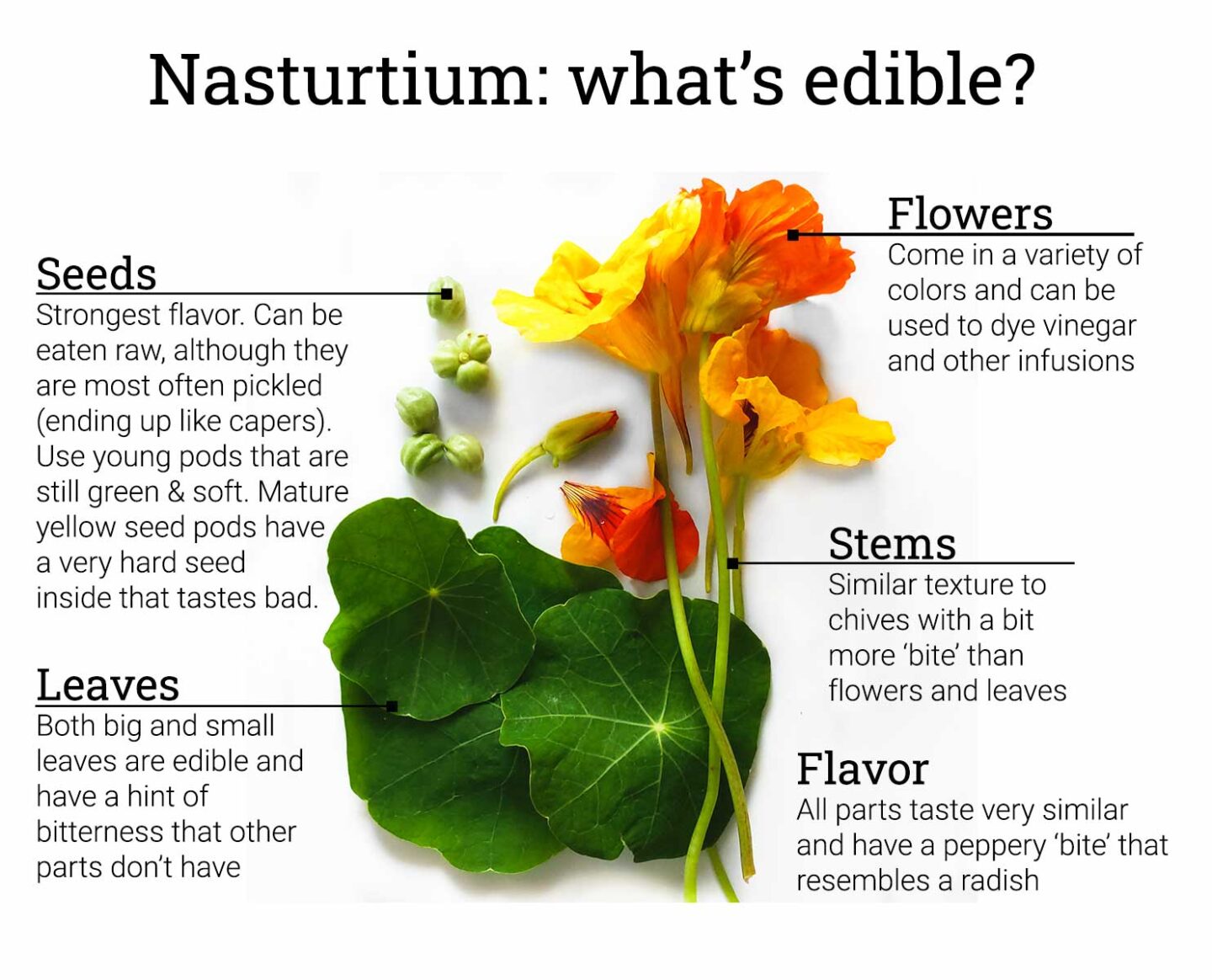 Harvesting nasturtium
The entire above-ground portion of nasturtium is edible. Every part has the typical spicy, peppery taste (similar to arugula or watercress). The leaves have a stronger flavor than the flowers.
Check out the guide Nasturtium, what's edible & how to use it, and recipes like nasturtium pesto, pasta with asparagus and nasturtium, and nasturtium vinegar.
Saving seeds & reseeding
Nasturtium seeds are large - about the size of a chickpea and easy to spot. They start out green and can be harvested at this point to pickle with a flavor similar to capers.
However, when saving the seeds, let them hang on the plant until they dry out. You can harvest them once dry, or let them drop to the ground naturally and harvest at that point.
Bring the seeds indoors and allow to dry out on a paper towel. This will take a few days to a couple of weeks (if harvested a little too early). Store in a paper envelope or other vessel that gets some air circulation (to prevent mold). Gardening Know How has tips for nasturtium seed saving.
Nasturtium reseed themselves pretty easily if you leave the dropped seeds for next season. Mine have naturally reseeded themselves year after year without any special attention (even in poor, hard soil).
More resources