This homemade vinegar is pretty, pleasantly onion-y, and best of all it takes 5 minutes. It can be made in a mason jar or tupperware. If you bottle it up for gifts, I have bottle and label recommendations for you as well.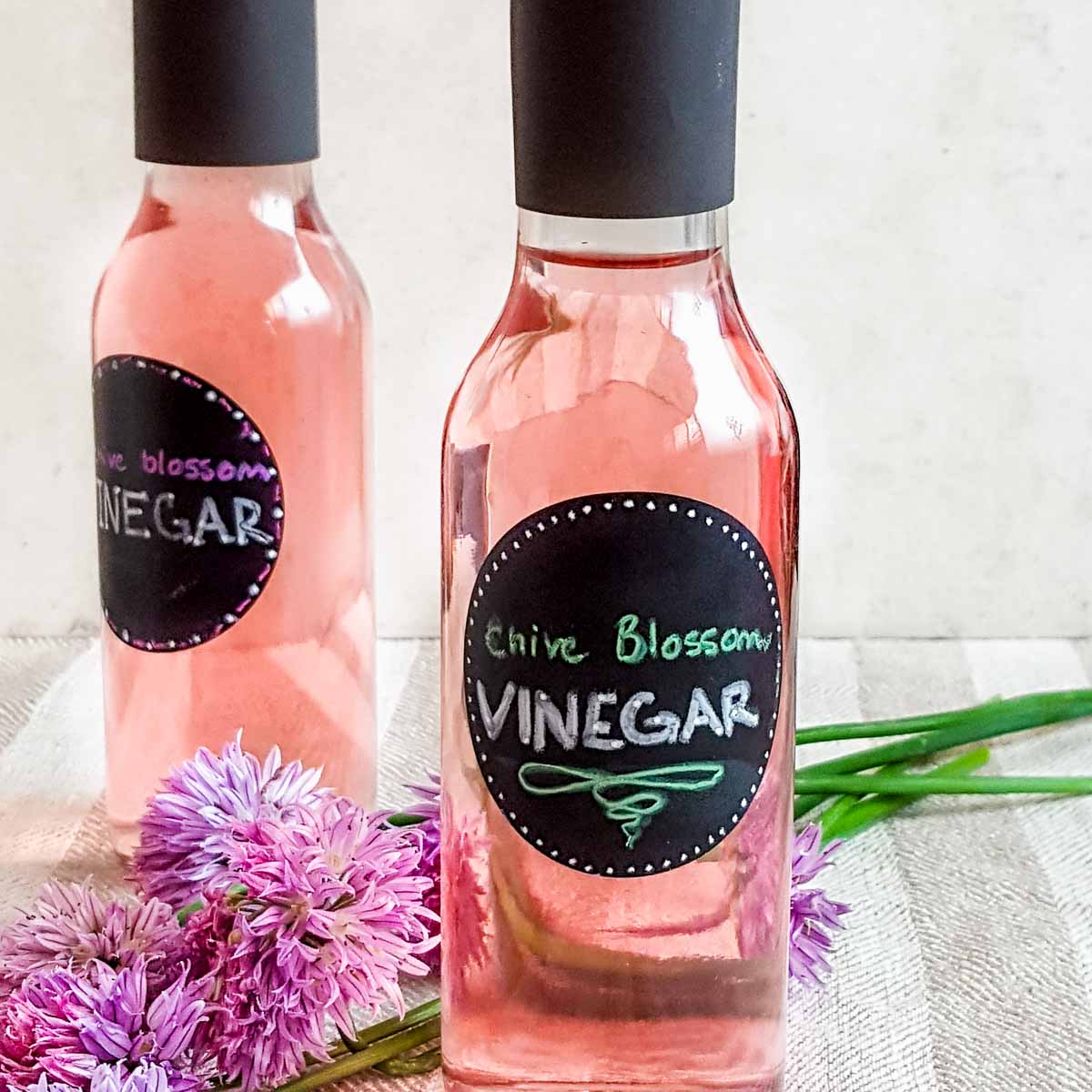 Step 1 - Wash & dry the blossoms
Dunk the chive blossoms in a big bowl of water and swish them around. Swish some more. You are trying to get out tiny bugs.
Drain the water and refill it. Do some more swishing, until you feel all of the bugs are gone.
Dry the flowers with a paper towel. If they aren't totally dry, it is fine. Vinegar and water mix (unlike water and oil). That said, you don't want them dripping wet.
Step 2 - Combine chive blossoms and vinegar
You need the right jar. It should be glass or plastic. The lid should be plastic or stainless steel. If you don't have a lid, covering it with plastic wrap and a rubber band will work. Plastic Tupperware will also work.
Don't use any 'reactive' metal, which is pretty much all metals except stainless steel. Vinegar reacts with those metals, picking up a metallic taste and causing rust.
Put the chive blossoms in the jar and cover with vinegar, then seal it.
Let it sit for a few days to a week with the blossoms in it. It will change to this pretty pink within a day (often just a few hours). It doesn't get noticeably more pink after the first 24 hours. The flavor will get stronger over the next couple of weeks though.
It really does pick up an onion flavor, just from the blossoms. It's perfect for salad dressings or splashing into a soup to brighten it up... you get the idea.
Step 3 - Filter & finish
Strain the vinegar through a coffee filter into another jar. I had several tiny seeds that sunk to the bottom of the jar - too small for a fine-mesh strainer. Discard the blossoms - they start to look gray-ish and gross after a while.
Pour it into a clear jar with a lid, making sure all parts are glass, plastic, stainless steel, or anything that isn't a reactive metal. There is no need to run it through canning processes due to vinegar's acidic nature.
Choosing the right jars for vinegar
A mason jar works great with these plastic lids. The bottles in my picture are these 5-ounce bottles that come with plastic lids.
Recipe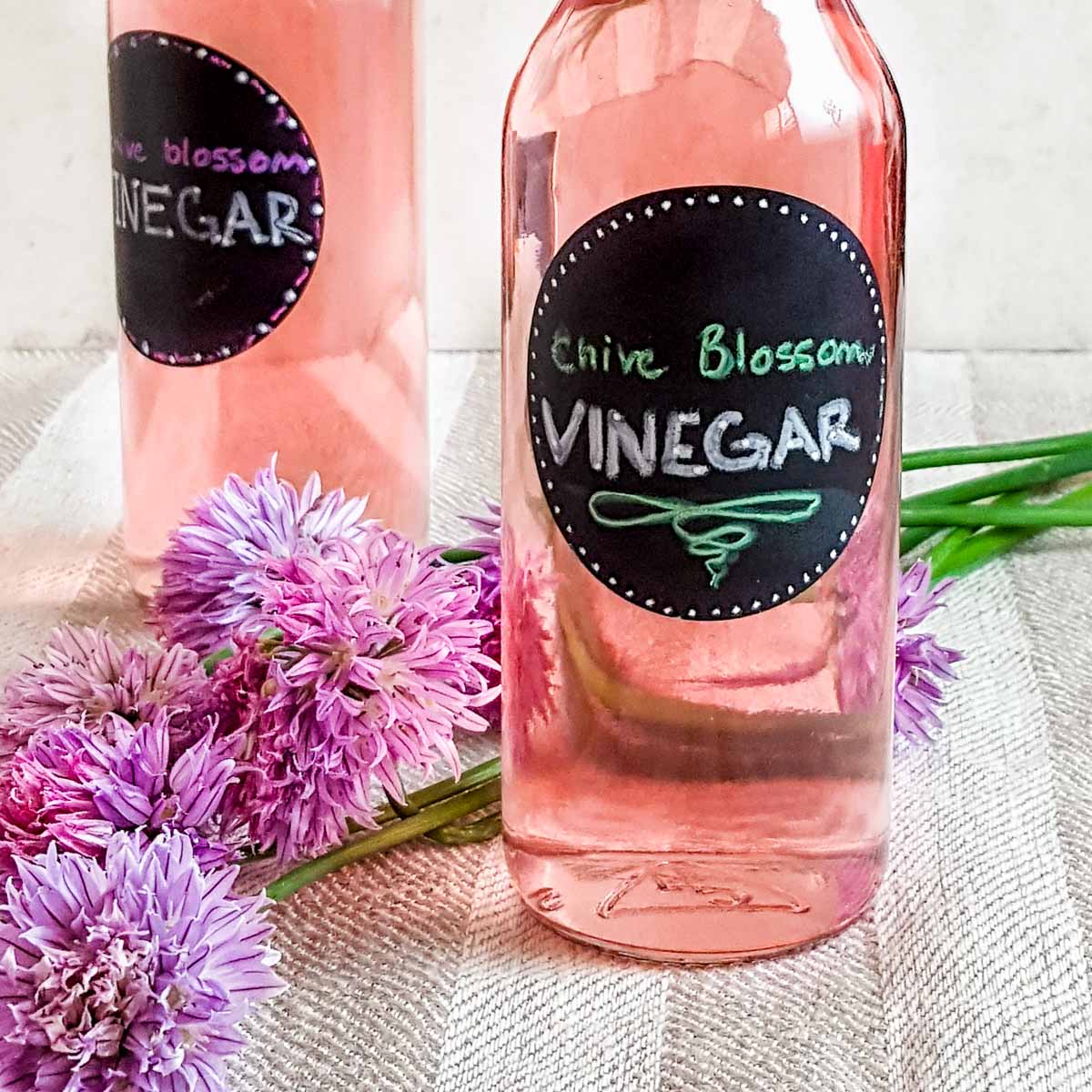 Equipment
Mason jar with plastic or stainless steel lid OR plastic tupperware
Ingredients
10

Chive blossoms

1.5

cups

white wine or champagne vinegar

(a clear vinegar you'd use to make salad dressings with)
Instructions
Dunk chive blossoms in water to remove bugs and dirt, shake dry (they can be wet, just not dripping wet)

Put blossoms in a mason jar or plastic tupperware and cover with vinegar.

Cover the jar and let sit for 3-7 days. The color turns bright pink in a few hours and stops gaining color after about 1 day. The flavor gets more intense the longer it sits.
Notes
Don't use metal containers or lids unless they are stainless steel. Most metals will react with the vinegar and give it an off taste. Mason jar lids are stainless steel.
Giving it as a gift?
This is an adorable gift, but I don't have to tell you that. Just look at that super cute color.
But I do want to let you in on a little secret. You should not give this as a gift until after you strain it because...
No matter how hard you try to get bugs out, one might evade you and end up in the vinegar. So waiting until you can strain it is key.
The little seeds that also need to get strained out look like bugs. People don't like things that look like bugs.
The blossoms start to look not so pretty. So you want to leave them in long enough for some flavor, and take them out before gift-giving.
Looking for cute labels? I used the 2" chalk labels from this pack. I also think a gold label would be fun for a rose-gold combo. I have some colored chalk markers that I used, but am not happy with them so I will recommend another set if I find ones I like better.
Have other edible flowers?
It doesn't end with chive blossom vinegar, you know! You can make nasturtium vinegar with the same process, it will turn a yellow color and taste slightly peppery (like that bite arugula has).
How do you use edible flowers?
What are your plans for edible flowers this year, and what have you made in the past? Leave a comment so others can get ideas too.