Nasturtium pesto livens up pasta in this easy and very fast recipe.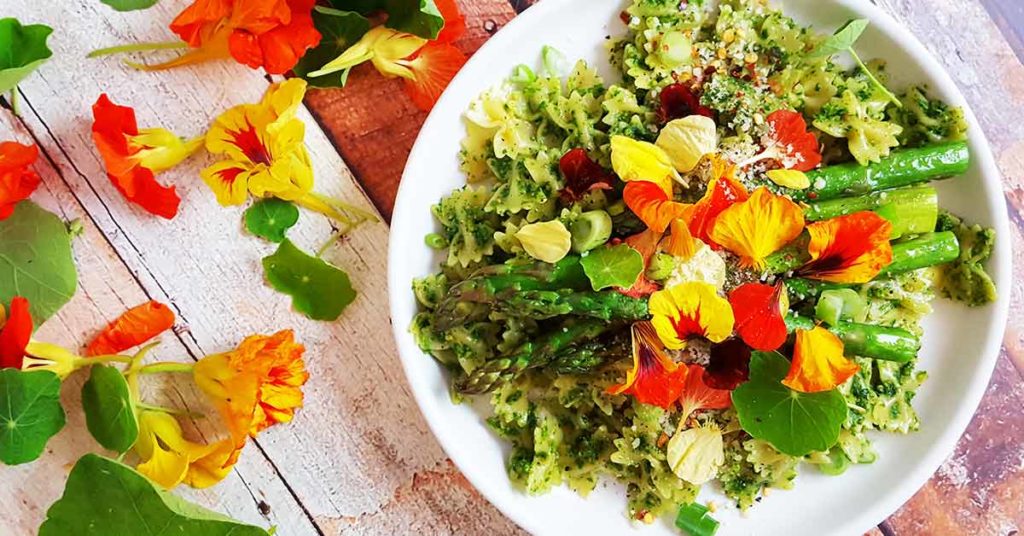 If you're reading this, there's a good chance you have a ton of nasturtium in your yard. Right? You're probably wondering what to do with all of it...
Yard-to-table Nasturtium pesto is the answer, and so is this pasta. It is a real treat since you can't buy it in stores. If you don't have any nasturtium in your back yard (or a friend's back yard), you can make arugula pesto or use regular pesto.
Nasturtium leaves are slightly peppery, similar to arugula, and a bit earthy. It makes a fun, unique pesto that stores very well in the fridge. The flowers are delicate and also a bit peppery, making them the perfect garnish.
Recipe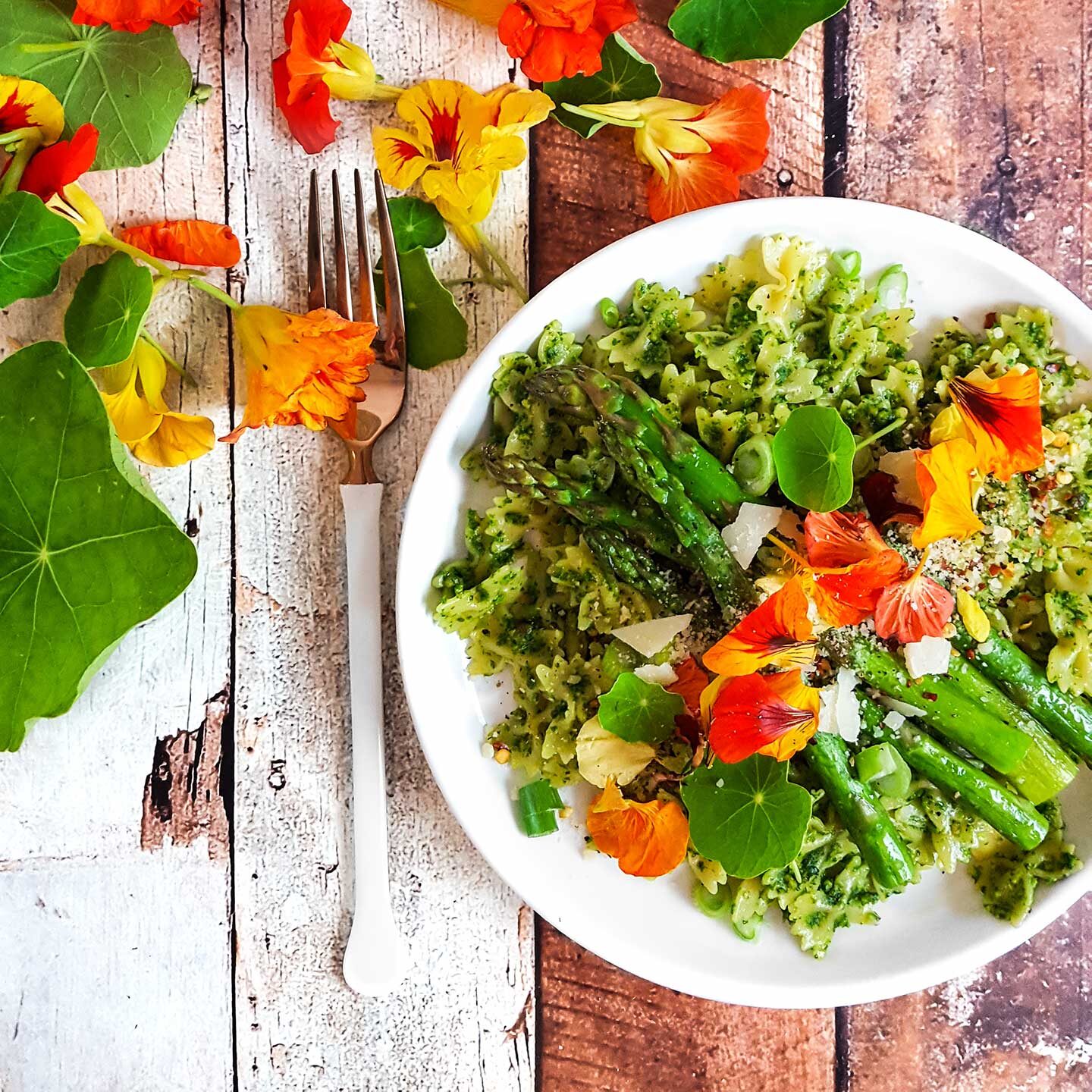 Ingredients
½

cup

nasturtium pesto

see recipe

1

lemon

zest & juice

6

ounces

pasta

1

cup

pasta cooking water

12

spears

asparagus

1

ounce

parmesan cheese

fresh

8

nasturtium flowers for garnish
Instructions
Pesto: if you haven't made it already, follow this recipe. (Uses nasturtium leaves, nuts, olive oil, and parmesan cheese).

Cook pasta according to the instructions on the box. Be sure to salt the water (until it tastes like seawater). Save 1 cup of the cooking water when you drain it.

When the pasta is almost done, heat a skillet to high. Cut the bottom of the asparagus spears off to get rid of the dry ends. Sear the asparagus spears for a couple minutes per side. Season with salt and pepper.

Add the pesto to the pan and heat it until it melts (if it was solid from being refrigerated). Add ¼ cup of the pasta cooking water to the pesto in the skillet (after the pasta is done cooking and you've drained it). Continue to add water until it has the sauce consistency you want, I usually stop at ¼ or ½ of a cup.


Add pasta to the skillet, along with the lemon zest and juice. Then toss until coated. Season with salt and pepper, and grated Parmesan cheese. Serve.
Nutrition
Nutrition Facts
Nasturtium pesto pasta with asparagus
Amount per Serving
% Daily Value*
* Percent Daily Values are based on a 2000 calorie diet.
If you haven't made the pesto yet, the recipe is below and the full recipe page can be found here: Nasturtium pesto.
Recipe notes & tips
Want to grow nasturtiums? You Grow Girl has a post about them.
Sub in another pesto: you can make an arugula pesto, like this one from The Wanderlust Kitchen, or use a regular store-bought pesto. The recipe is flexible and will be just as tasty!
Pasta water: pasta water contains some of the starch from the pasta, which makes it meld with sauces and coat noodles better. Serious Eats tested this to see if it was true. It turns out that not only does it make a difference, but getting the water to be as starchy as possible helps even more.