For a picnic sandwich that stays fresh until lunch time, look no further! Farmer's market asparagus stays crisp all day and the goat cheese doesn't get soggy like sliced cheese can on a make-ahead sandwich.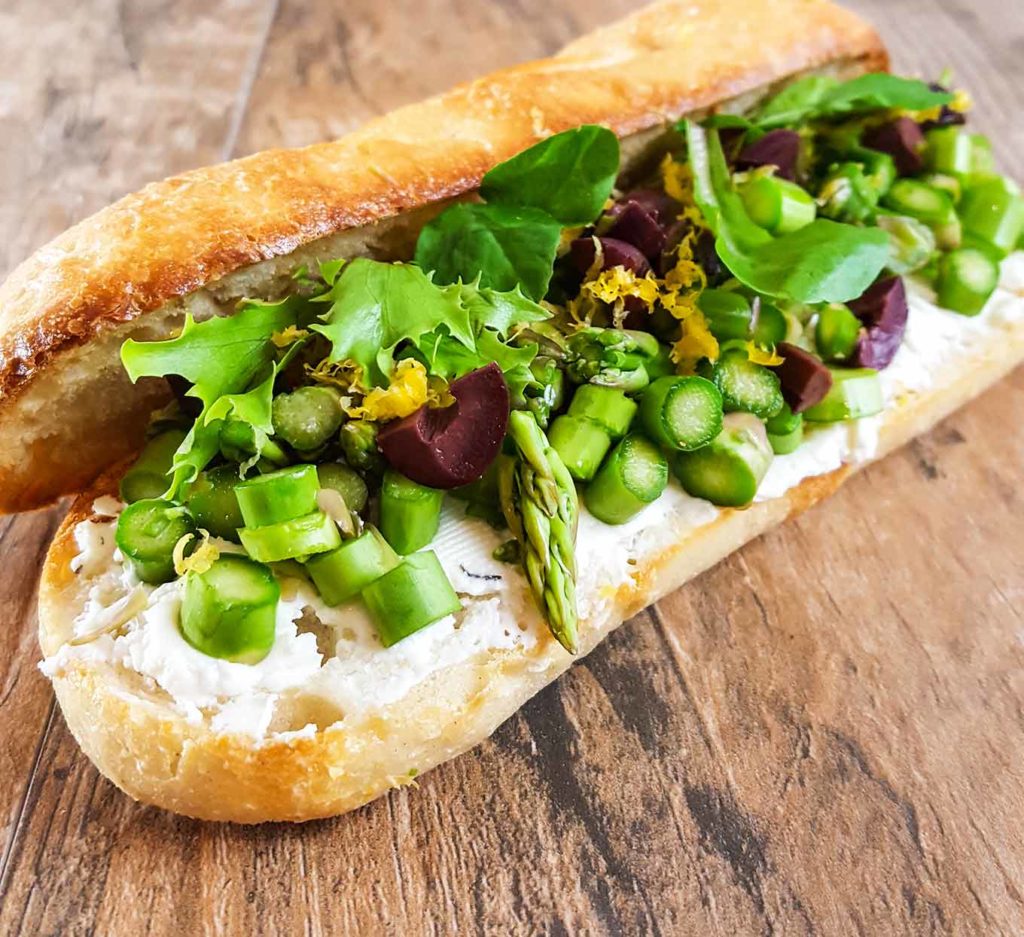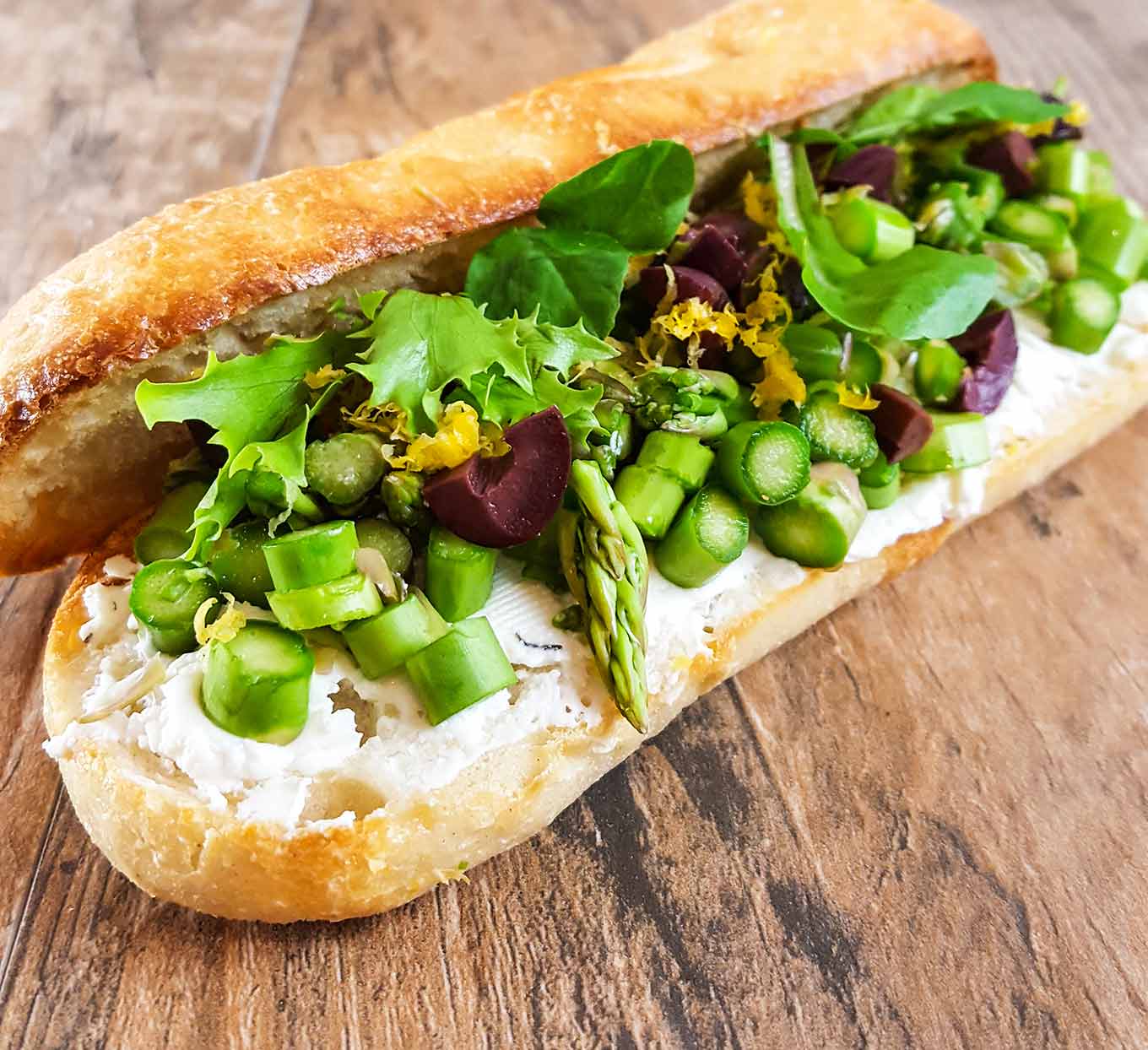 This sandwich stands on its own and stays fresh for a long time, but there are a few tricks to ensure this:
Toast open-faced to keep the bread crunchy.
Spreadable goat cheese holds up much better than sliced cheese, which tends to get wilty and damp.
Raw asparagus retains a nice crunch, adding extra freshness to the sandwich, even hours later.
Just make sure everyone likes asparagus, or pack some alternative sandwiches for your picnic.
Recipe
Ingredients
4

ciabatta rolls

2

tablespoon

olive oil**

8

ounces

goat cheese, spreadable*

12-16

asparagus spears

1

lemon

12-16

kalamata olives, chopped

1

handful

salad greens
Instructions
Preheat the oven to 425 to toast the rolls. Zest the lemon and squeeze the juice into a medium bowl. Slice asparagus into rounds and toss into lemon juice, add salt and pepper to taste. Chop the olives.

Cut the rolls in half*** and drizzle with olive oil (garlic flavored if you have it!). Toast in the oven for about 5 minutes, until golden.

Spread 2 ounces of goat cheese on one side of each roll.

Put the asparagus on top of the cheese lay (to hold it in place). Top with olives, zest and greens.

If wrapping for a picnic, wrap each sandwich tightly so the filling doesn't fall out.
Notes
Olive oil: this is delicious with garlic flavored olive oil, since it's nice and delicate without having an overpowering garlic flavor.
Goat cheese: I like herbed goat cheese, something like this.
Cut rolls in half: You can also cut part way through, leaving one edge intact, so stuff doesn't fall out as easily.
Nutrition
Nutrition Facts
Picnic sandwich with asparagus, olives, goat cheese, and lemon
Amount per Serving
% Daily Value*
* Percent Daily Values are based on a 2000 calorie diet.
Nutrition Highlights
Calories don't tell the whole story, but they do put things into perspective... is this sandwich I'm about to make a light sandwich or does it get a little crazy and exceed 1000 calories (hey, a fried chicken sandwich can do that do you!).
This one lands in the middle, which is perfect for a picnic where you are probably using up a good amount of energy playing frisbee golf or running after small children. Below is a calorie breakdown by ingredients (per serving).
More nutritional details
I like to break nutrition down by ingredient on a per-serving basis. This allows you to make decisions on any adjustments you might be considering. or example, making this an open-faced sandwich cuts out 122 calories, but also 5g of protein.
Calories & protein per serving, per ingredient
| | | |
| --- | --- | --- |
| Ingredient | Calories | Protein |
| Ciabatta roll | 245 | 10g |
| Olive oil | 60 | 0 |
| Goat cheese | 206 | 12g |
| Asparagus | 8 | 1g |
| Lemon | 3 | 0 |
| Kalamata olives | 35 | 0 |
| Salad greens | 2 | 0.15g |
| Total | 559 | 23g |
This picnic sandwich has almost 50% of your daily protein. I checked this 3 times to make sure! Most of it comes from protein in the bread and the goat cheese.
It also has 25% or more of most of your daily vitamins, with asparagus contributing a lot of vitamin K (which helps regular sugar and build strong bones).
Recipe notes & tips
Herbed goat cheese - grab herb goat cheese if you can find it, like this one from Dietz & Watson. If you can't find an herb version, you could also add in ½ to 1 teaspoon dried herbs per 8 ounces of cheese and mix it together (here's a recipe from Epicurious).
Goat cheese substitute: If you don't like goat cheese, another spreadable cheese works best - it holds the asparagus rounds in place and doesn't get wilty like sliced cheese does after sitting on a sandwich for a few hours.
Slicing the roll - if you pile the asparagus on high, it might tend to roll off. You can cut the rolls part way through, leaving one end intact. That helps keep things from falling off.
Snapping vs cutting asparagus spears: what you're trying to do is get rid of the dried out end. The best way to do that is cut a little off - if it's still dry, cut a little further.
Thin or thick asparagus? Thin asparagus is better for eating raw, like in this recipe, or a quick saute or steam. Thicker asparagus is good for grilling or roasting as it holds up to the higher heat and extended cooking better than thin spears.
Wine country picnic sandwich
I live in the Bay Area, less than an hour away from Napa and Sonoma. So I am often taking this on wine country picnics.
Since it is vegetarian, we can eat it alongside some prosciutto and melons (and wine). However, most people considering pairing wine with asparagus a challenge as it can make some wines taste metallic or vegetal. Stay away from oakey wines, like oaked Chardonnay and go for unoaked, crisp whites with citrus notes instead. Sauvingon Blanc and Pinot Gris usually work well.
You might also be interested in this weeknight dinner to enjoy with some wednesday-night wine.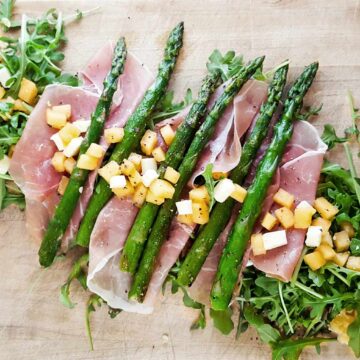 What else is in season?
Asparagus is one of the first spring vegetables to show up, and ends sometime around the start of summer. Check out the full asparagus guide: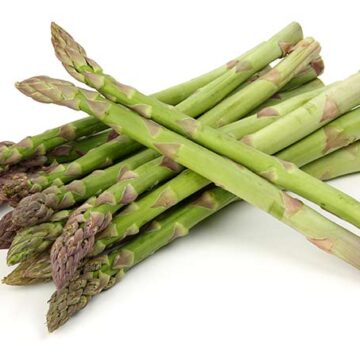 See what other fruits and veggies are currently available with these seasonal guides.
Recipe inspiration:
This is loosely based off a sandwich I got from the Blue Apron meal delivery. I've removed steps to make it faster and replaced ricotta cheese with goat cheese. Their version is good too and uses sauteed asparagus and fennel - get their recipe here. I like the uncooked asparagus better for a picnic sandwich, as it holds up longer.
What do you bring on a picnic?
I love packing a good picnic and am interested to hear what you like to make and bring when you go out for a day trip. I even treat long flights as a picnic - things that hold up well without refrigeration.