The honey-flavored syrupy jam that drips from a fresh fig is well worth seeking out from the farmers market. Now that I have your attention, I bet you have some questions!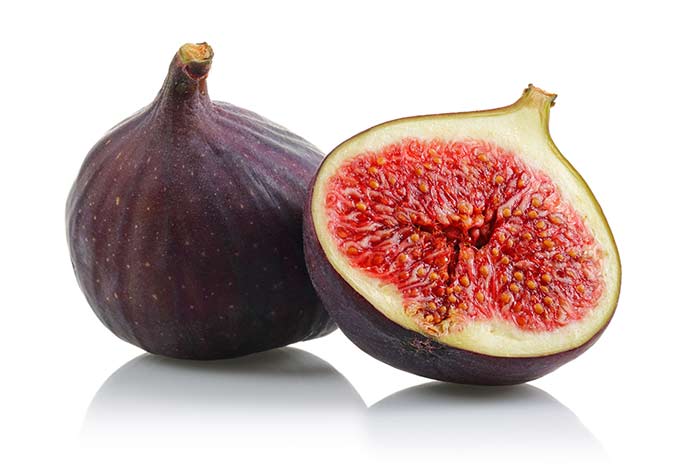 What are the different types of figs?
Most places only sell one or two types of figs: Black mission is the most commonly available and favored for their sweetness. Brown Turkey might also show up in your grocery stores (and is less sweet). Specialty produce stores or markets might carry more.
Black fig varieties
Black mission figs are the sweetest and a crowd favorite. They are shaped like a raindrop with dark purple skin and a dusty pink interior.
Brown turkey figs have a slightly milder flavor and are dark brown, sometimes with yellow parts of the skin.
Some stores sell these with a generic "black fig" label (like Trader Joes). The varieties likely vary based on their sources and the seasonality.
Green Fig varieties
Kadota figs are the most common type of green fig, but are not as sweet as the other varieties. They are not a favorite for eating raw, but make great jams and desserts.
Adriatic figs are very sweet green figs. The flesh can have white stripes on it and might be labeled as "candy-stripe" figs.
Calimyrna figs are larger and taste slightly nuttier with a more buttery consistency.
Sierra figs are relatively new and quite similar to Calimyrna.
Tiger figs (aka Panachee) are becoming more common because people love the flavor (a balance of sweet and acid). Depending on your region, you might find them at a local specialty store (and I've seen them at various Trader Joe's).
King figs can be grown is slightly cooler climates than other varieties, making them available at local markets in the Pacific Northwest, or the warmer regions of the Midwest. They have green skin and pink flesh.
Generic labeled "Green" figs might be offered at your grocery store. The actual specific varieties might vary depending on what's available throughout the season.
Pictures of these fig varieties are coming as soon as I chase down them down this year for pictures. Have them in your area? Share your picture with me.
When are figs in season?
They typically show up in June and last through November. The popular Black Mission Figs show up for a few weeks in June and then again in August through October, since they produce one set of fruit on new growth, and the second set on old branches.
Ripe figs are very perishable and don't ship well, so the best ones will be from local sources in regions with Mediterranean climates like California. A few southern states also can grow figs, so contact local farmers to find out who might have them.
See what else is in season at the same time: June, July, August, September, October, and November.
How to buy & store
Fresh figs should be soft, yielding to pressure when gently squeezed. Look for ones with stems still attached and holding strong - loose stems are usually a sign they are overripe.
Unlike most fruit, where wrinkled skin is a sign of overripeness, plump but slightly wrinkled figs are the best kind. But pass up figs that look shrunken or ones that have sap seeping from cracks - those are overripe.
If the skin and stem are really firm and shiny, it is less ripe and likely picked too soon. However, if you aren't going to use the figs for a few days, these might be best for you as they will last longer at home (if they lack flavor, drizzle honey on them or bake into a dessert).
Lastly, if they smell slightly 'sour' they are overripe, and avoid ones with bruises.
Fresh figs are so perishable that you should eat them within 1-2 days. Ideally you store them on the counter, but they won't last much past a day there. You can store them in a shallow bowl in the fridge (don't stack them on top of each other) and they will last up to 5 days if you are lucky, however the colder temperatures degrade the flavor slightly. Don't cover them, as they don't like extra humidity. If you want to score extra points, set each fig in a torn open paper bag to catch extra moisture and syrup so it doesn't spoil other figs.
Are fig skins edible?
Yes, most people eat the fig, including the skins. Often they are too ripe to even get the peel off, so it all works out!
Should I buy organic?
Figs are currently not tested by the Environmental Protection Agency (EPA) so the levels of pesticides and toxicity are unknown. If you are a cautious person, you can go organic. However, if organic isn't an option, I don't let that stop me from having a honey, syrupy perfectly ripe fig.
Figs, nuts & cheese - perfect pairings
When you find fresh figs at the farmers market, add them to a meat & cheese board with nuts, maybe even a little honey. You won't regret it!
Farmers market recipes
Each recipe has been reviewed to make sure all ingredients are in season at the same times as figs, or that the ingredients are in-season all year.
Prosciutto, mozzarella and fig salad with arugula - recipe by Skinny Taste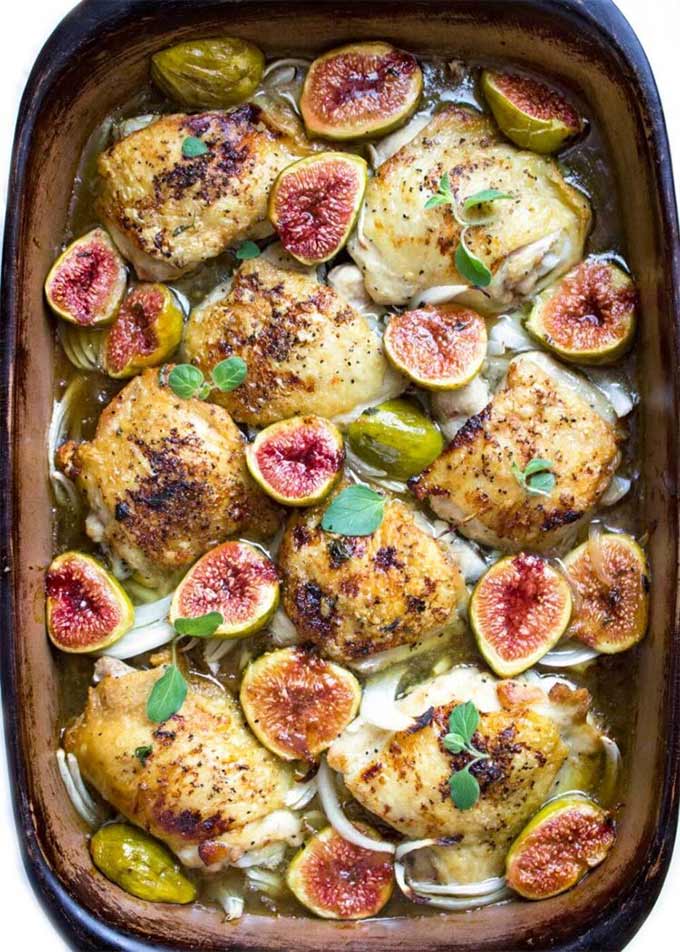 Bourbon fig swirled brown butter banana bread - recipe by Broma Bakery
Almond-crusted goat cheese, peach and fig salad - recipe by The Floating Kitchen
Peaches are in season in summer but end before fig season is over, so make this before the peaches are gone!
This recipe uses dried figs, but I wanted to include it because it's a perfect way to enjoy these in the off-season.