A seasonal banana bread recipe with a homemade fig-maple syrup swirled into the batter that tastes like fig newton filling. This bread is a perfect way to use seasonal figs this summer and fall, even if they are slightly under or overripe.
The recipe requires some extra steps to cook the maple-fig syrup, but it's worth it if you have the time. That said, if you were looking for something quicker, try this banana bread that adds in chopped fresh figs with no extra fuss, or this collection of recipes for fresh (not dried) figs.
Jump to:
Recipe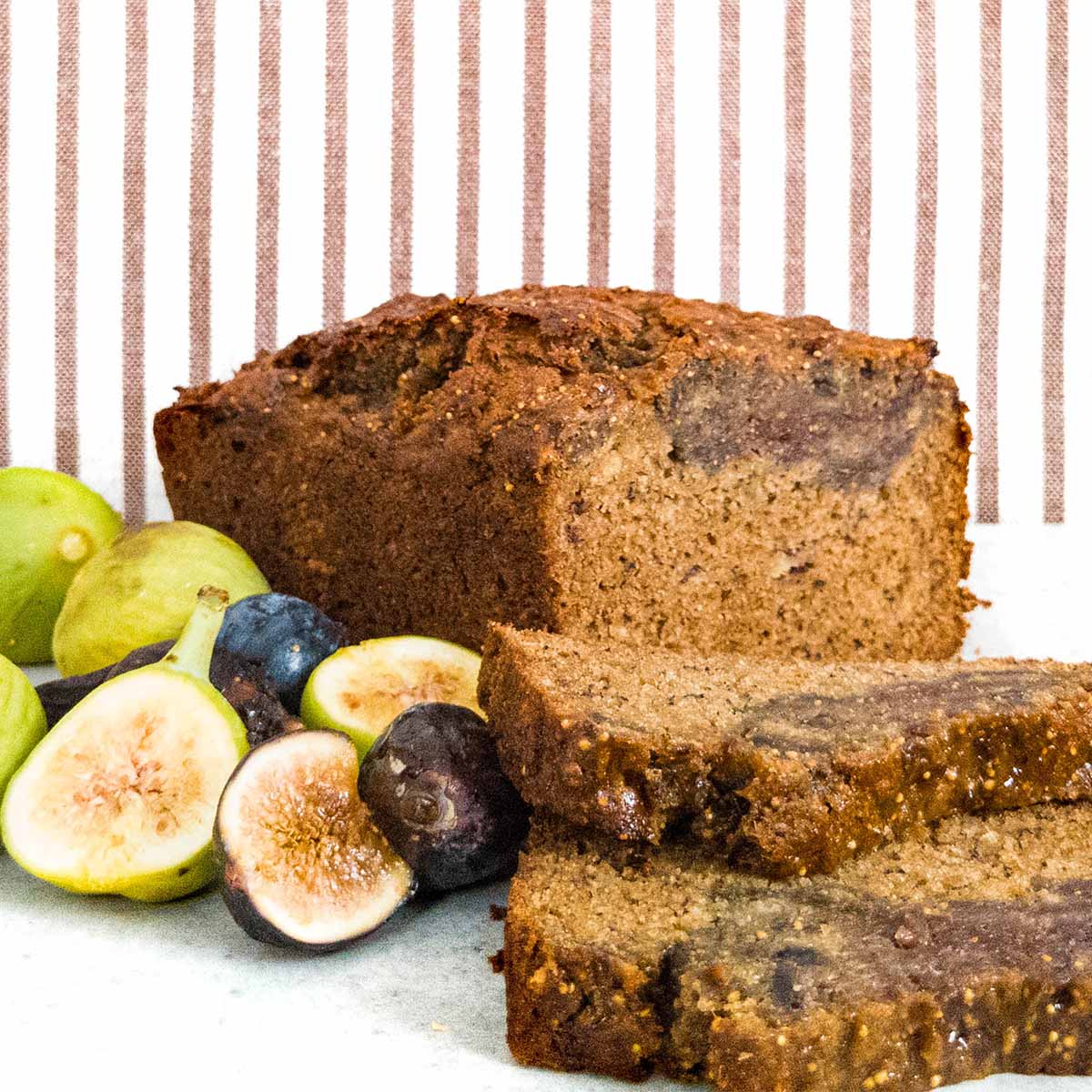 Equipment
Loaf pan

Small sauce pan

2 mixing bowls (one large, one medium)

Immersion blender (optional)
Ingredients
Produce
1

lb

fresh figs

about 8 large figs, doesn't need to be exact

3

large bananas
Dairy
½

cup

butter, melted

½

cup

plain yogurt

¼

cup

milk

whole preferred, but not necessary

2

large eggs
Pantry
½

cup

maple syrup

(or honey)

½

cup

water

1

cup

all-purpose flour

1

cup

whole wheat flour

(all-purpose can be substituted)

1

teaspoon

baking soda

½

teaspoon

salt

¾

cup

brown sugar

1

teaspoon

vanilla extract
Instructions
Maple-fig syrup
CHOP FIGS: Get out a small sauce pan. Chop the figs into medium or small pieces and add them to the pan.

MAKE SYRUP: Add the maple syrup and water to the pan. Add a pinch of salt. Bring to a simmer and cook until the liquid reduces back into a syrup. (This marries the flavors)

½ cup maple syrup,

½ cup water

PUREE: Use an immersion blender to puree the fig-syrup (or use a food processor, or mash by hand for a chunky puree). Set aside.
Make the banana bread
PREP: Preheat the oven to 350°F. Spray a loaf pan with oil. Cut a sheet of parchment paper to fit across the center and come up 2 sides. (This makes a sling for easy removal).

DRY INGREDIENTS: In a large bowl, whisk to combine the all-purpose flour, whole wheat flour, baking soda, and salt.

1 cup all-purpose flour,

1 cup whole wheat flour,

1 teaspoon baking soda,

½ teaspoon salt

WET INGREDIENTS: In a separate bowl, mix the butter, brown sugar, and mashed bananas until fully combined. Then mix in the eggs, yogurt, milk, and 1 teaspoon vanilla.

3 large bananas,

½ cup butter, melted,

½ cup plain yogurt,

¼ cup milk,

2 large eggs,

¾ cup brown sugar,

1 teaspoon vanilla extract

ADD WET TO DRY: Add the wet ingredients to the larger bowl with the dry ingredients. Stir by hand to combine. Do not over-mix (which causes a tougher bread).

ASSEMBLE: Pour batter into the loaf pan. Pour the fig-maple syrup on top and use a knife to swirl it around and into the loaf (you want streaks of syrup).
Bake for 1 hour at 350°F
Bake the fig banana bread for 1 hour, checking for doneness at 45 minutes. The bread is done when a toothpick comes out clean, or an instant read thermometer reads 210°F.

Remove from oven and allow to cool in pan for 10 minutes, then you can use the parchment paper sling to remove it from the pan to finish cooling on a rack. (You can eat it hot, just know it might fall apart a bit when sliced).
Notes
1 pound of figs: they are cooked down to make a syrup, and it doesn't matter if this is exact. A little more or less syrup won't impact the final texture. In general, 8 large figs will be 1 lb, or 12 small.
Nutrition
Nutrition Facts
Fresh fig banana bread
Amount per Serving
% Daily Value*
* Percent Daily Values are based on a 2000 calorie diet.
Maple syrup or honey?
You can choose your favorite sweetener since they both work well with any type of fig. But if you want really complementary flavors, pair the sweetener with figs you're using.
Black figs, like Mission or Brown turkey have a slightly more caramel and assertive figgy flavor that pairs well with maple syrup. Green figs, like Calimyrna and Kadota, have lighter butterscotch flavors that work well with honey.
Leave the skins on
Fig skins are thin and totally edible. When they are pureed, you won't even notice a texture difference. On top of that, the skins really add to the flavor.
The only thing you have to remove is the stem, which is inedible.
Using up under or overripe figs
A fig banana bread or other baked treat like this is a great way to use up imperfect figs.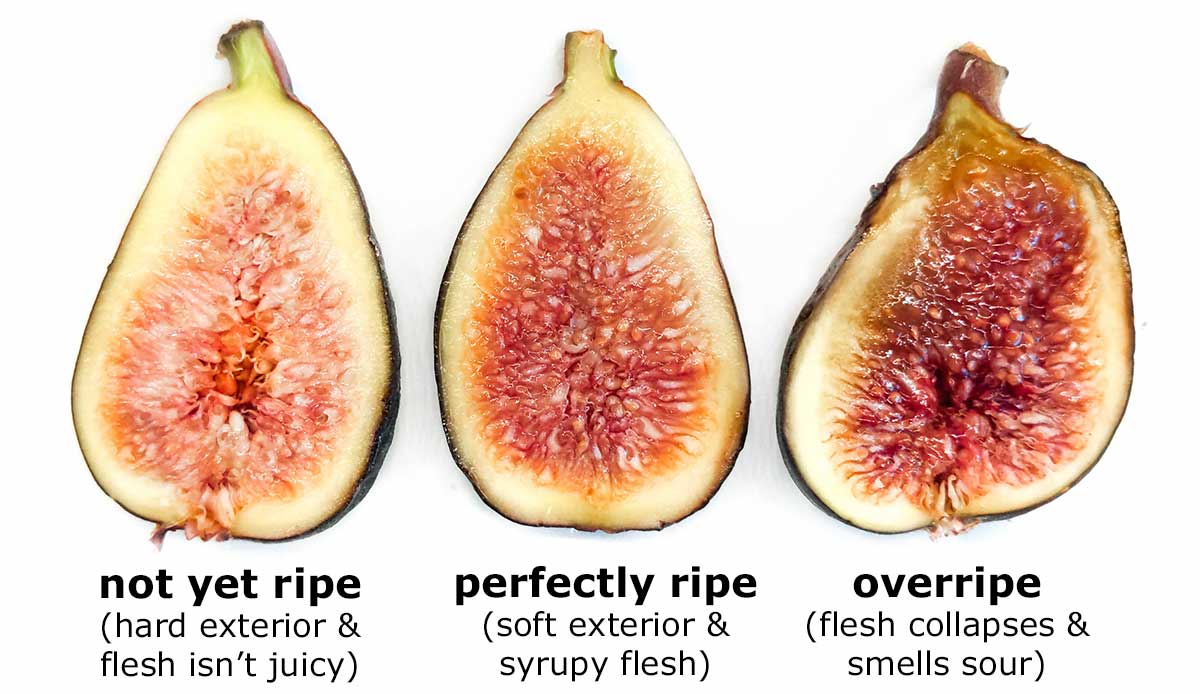 Under ripe figs can have a harder texture and blander flavor. In this recipe, they benefit from the additional flavor of honey or maple syrup, and soften when cooked.
Very ripe or just slightly overripe figs will be very soft and oozing their syrupy liquid but still smell great. But figs that soft aren't always good for fresh eating (or stuffing with goat cheese or wrapping in bacon). Pureeing them into the syrup removes any consistency problems.
If they smell sour or have gone bad, however, don't use them.
Where to buy fresh figs
Depending on where you live, you might be able to find fresh figs at the farmers market. That's ideal as you'll be treated to fruit that was recently picked and riper than at the grocery store. They grow across most of the US, including the Chicago Hardy fig in the cooler Midwest regions.
Fig season in California can last from May to November, but for the rest of the US it's mostly limited to July, August, and September.
You can buy fresh figs at most grocery stores when they are in season as well. I've seen them at most stores, and are often sold under generic 'black' and 'green' varietal labels.