I look forward to making these oatmeal figs bars with fresh figs when they are in season every fall. Use any variety of seasonal figs and simmer with some maple syrup until they cook down into a paste.
The crust is also pretty easy to make (in one bowl) using melted butter instead of cutting cold butter into flour. The oatmeal mixture for the crust is also used for the topping to keep things simple.
These fig bars are also fairly adaptable to substitutions, as shared after the recipe.
Jump to:
Recipe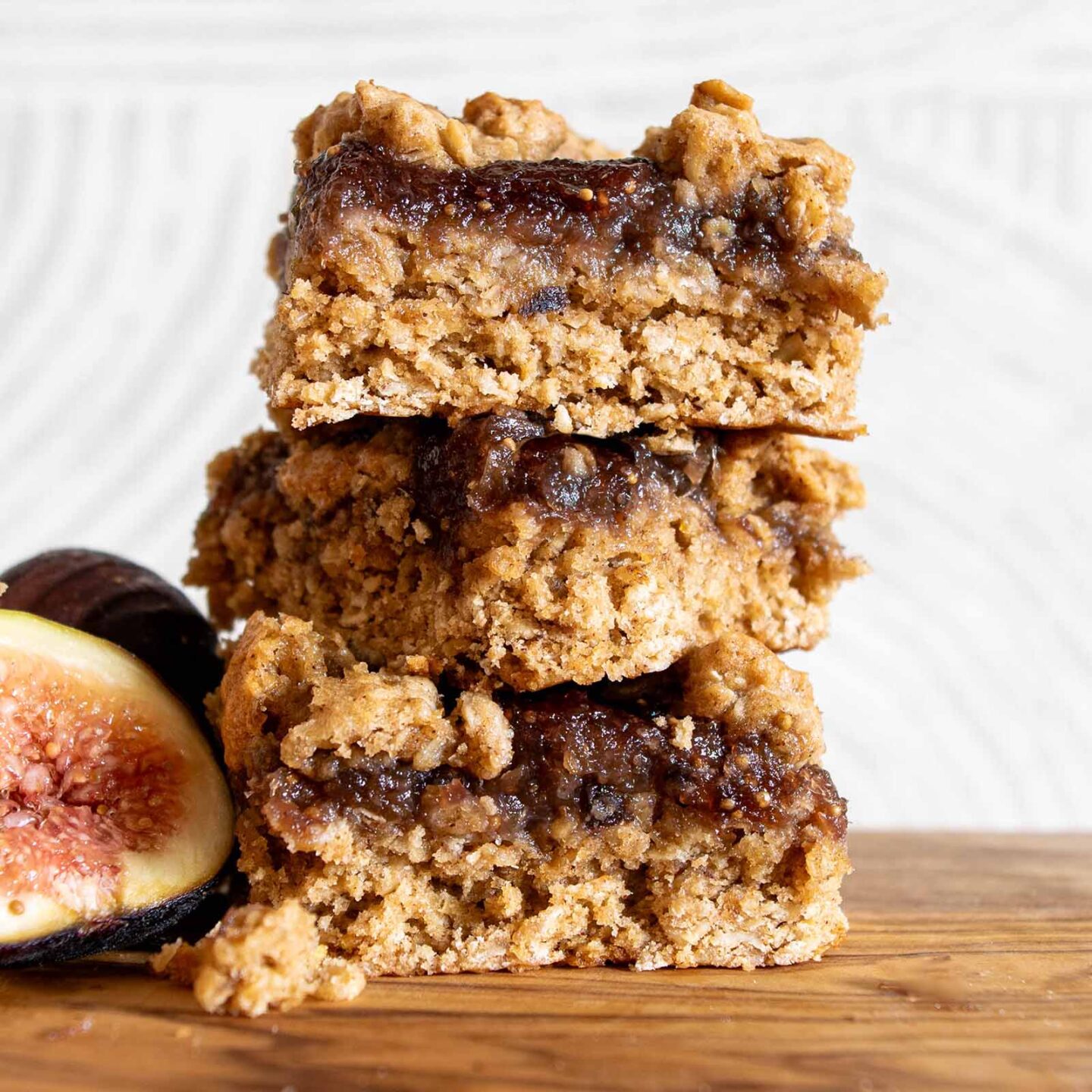 Ingredients
FRESH FIG FILLING
1-1.25

lb

fresh figs

see note

2

tablespoon

maple syrup

can substitute honey or water

1

tablespoon

brown sugar

optional, depends on figs!

1

teaspoon

vanilla extract
OATMEAL CRUST & TOPPING
1

cup

all-purpose white flour (or whole wheat)

130

grams (

4.5

ounces)

1 ⅔

quick oats

140

grams (

5

ounces)

1

teaspoon

baking powder

1

teaspoon

cinnamon

¼

teaspoon

ground nutmeg

¼

teaspoon

salt

½

cup

brown sugar

100

grams (

3.5

ounces)

1

large

egg

⅓

cup

melted butter

70

grams (

2.5

ounces)

¼

cup

maple syrup

80

grams (

2.8

ounces)
Nutrition is calculated assuming you added brown sugar in the fig filling (17 calories total for entire recipe).
Instructions
FRESH FIG FILLING
PREPARE: Remove the fig stems and cut into quarters.

COOK: Combine fresh figs and maple syrup in a saucepan over medium-heat. Cook until figs are soft, about 10 minutes.

1-1.25 lb fresh figs,

2 tablespoon maple syrup

PUREE: Puree the figs into a sauce using an immersion blender, food processor, or blender. Return to pan over medium-low heat (high enough to see steam escaping, but low enough that the filling doesn't splatter out of the pan).

REDUCE TO PASTE: continue to cook until the filling is thick, roughly 30 minutes. It starts out with the consistency of apple sauce and ends thicker, like fruit preserves (not not jelly). When you run a spoon across the bottom, it won't fill in (or will be very, very slow to fill in).

While this cooks, work on the crust.

REMOVE FROM HEAT: stir in vanilla extract. Taste, and add brown sugar if desired (it will depend on how sweet the fresh figs were to begin with). Makes about 1 cup of filling.

1 tablespoon brown sugar,

1 teaspoon vanilla extract
OATMEAL CRUST & TOPPING
PREPARE: Preheat oven to 350℉ on convection if you have it. Line a metal baking pan (8x8 or 9x9) with parchment paper, leaving two sides to overhang like handles. This lets you lift the bars out to easily cut them.

MEASURE DRY: In a large bowl measure out flour, oats, baking powder, and spices. Stir to combine. Add brown sugar.

1 cup all-purpose white flour (or whole wheat),

1 ⅔ quick oats,

1 teaspoon baking powder,

1 teaspoon cinnamon,

¼ teaspoon ground nutmeg,

¼ teaspoon salt,

½ cup brown sugar

ADD WET: Add in melted butter, maple syrup, and egg. Stir to combine.

1 large egg,

⅓ cup melted butter,

¼ cup maple syrup

PRESS IN CRUST: Take 1 ½ cups of the mixture and press it evenly into the pan. You should have about ½ to ¾ cups of oatmeal mixture remaining for the top.

ADD FIG FILLING & TOPPING: Next spread the fig filling over the crust (it's ok if it's still warm, but ideally not piping hot). Take the remaining oatmeal mixture and drop little bits over the top. The oat mixture won't spread or press well, so drop small pieces all over.
BAKE & COOL
Bake at 350℉ for 20-25 minutes on convection or closer to 30 minutes without. The top will be golden brown.

Remove from oven and cool on a wire rack. Let the fig bars cool completely, or the crust might fall apart. Once cooled, the crust is sturdy enough that you can eat the bars with your hands.
Notes
Fig varieties: any fresh fig varieties work. Mission and Brown turkey have more caramel-like flavors, whereas many green varieties have honey flavors or hints of raspberry. Amount of figs: Most figs are sold in 1 pound containers. However, using 1.25 pounds produces the best filling ratio and I highly recommend it if you can purchase that amount (or buy 2 pounds and use the rest in a salad or something!). Maple syrup can be substituted with water (if the figs are really ripe and flavorful), or honey + 1 tablespoon water (great for green varieties) Quick oats are preferred as they make a sturdier bar, but rolled oats have a nice flavor and chewiness (if you like that).
Nutrition
Nutrition Facts
Homemade oatmeal fig bars with fresh figs
Amount per Serving
% Daily Value*
* Percent Daily Values are based on a 2000 calorie diet.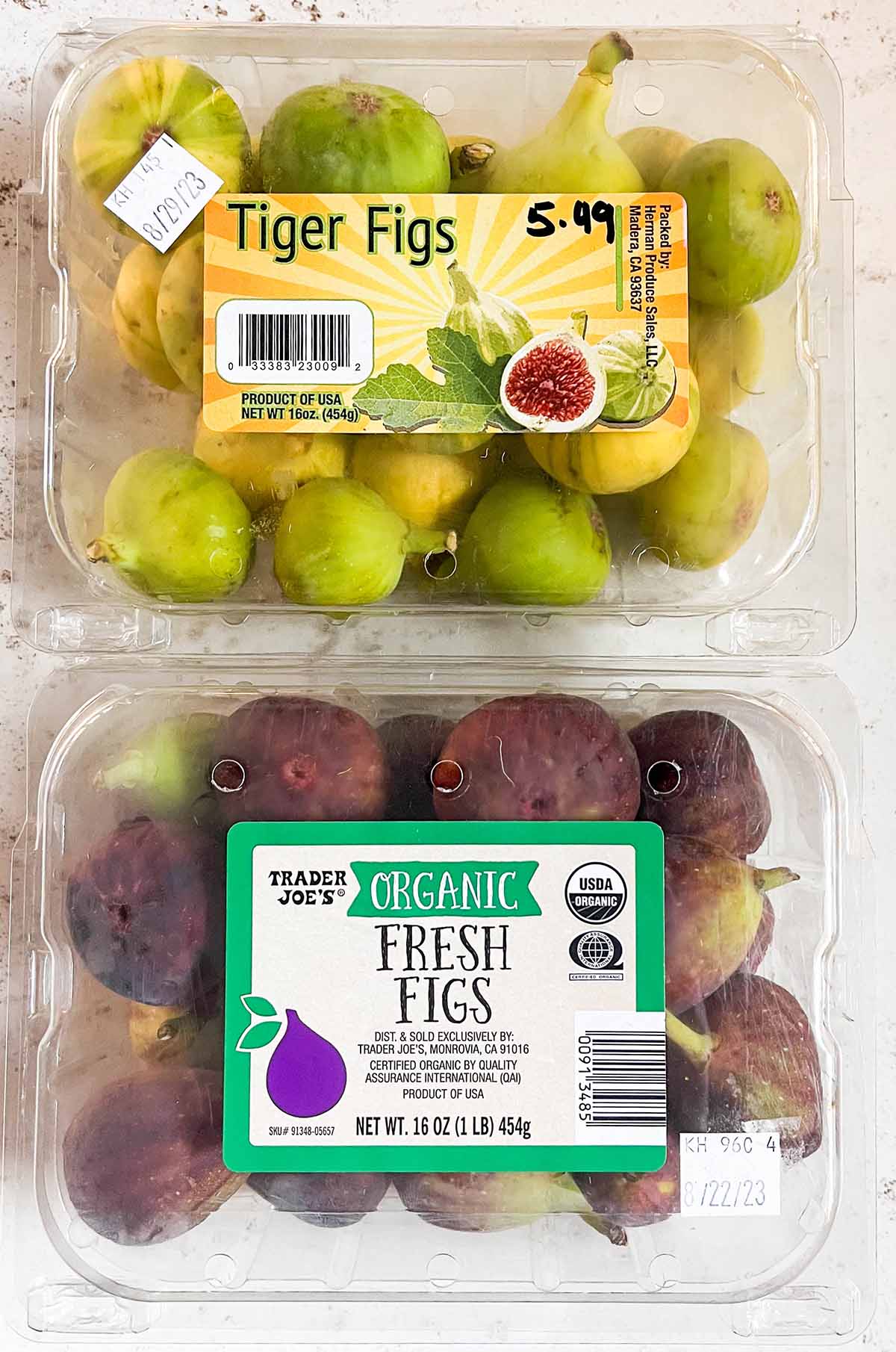 Using fresh figs
It's hard to beat the flavor of fresh fig bars when figs are in season. If they aren't at a farmers market near you, they are most commonly found in August, September, and October at grocery stores. I have good luck finding them at Trader Joe's in September every year.
Any variety of figs will work. I've tried the recipe with tiger, brown turkey, and mission figs. They all cook down to the same consistency.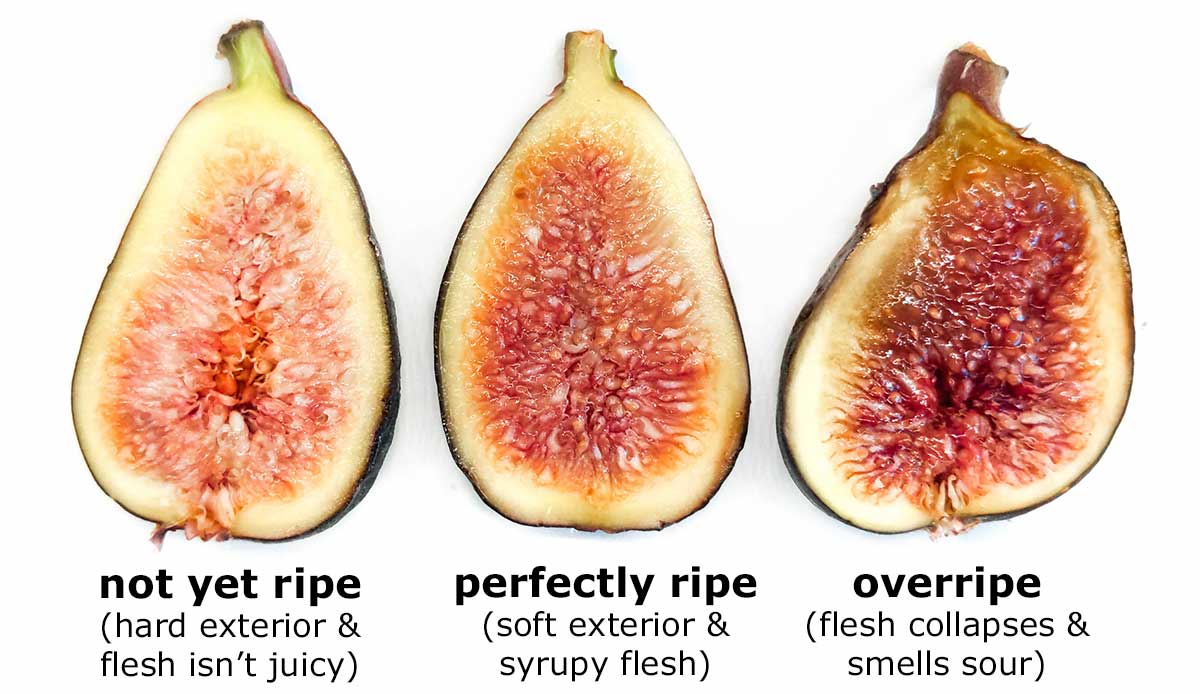 Figs bought at grocery stores are often a little hard and bland because they are shipped before they are fully ripe. However, they can get softer and sweeter if left on the counter for a few days. If your figs aren't very ripe and you still use them in this recipe, you'll likely want to add extra brown sugar and maybe a little more vanilla.
If you do find ripe figs, they are delicious eaten out of hand! If you have too many to use before they spoil, this recipe is a great option.
When using fresh figs for these bars, remove the stems and quarter them. Leave the skin on, as it adds flavor and the texture is unnoticeable once pureed in the filling.
Using apples
Apples are in season at the same time as figs that ripen in the fall and they pair together perfectly. You can substitute half of the figs for apples (by weight, after the core is removed).
If you use apples, cut them into pieces about half the size of the figs so they cook down at the same rate (they soften slower, so smaller pieces speed that up).
Maple syrup, honey, or water
There are two reasons the recipe uses maple syrup in the fig filling. First is to provide some liquid during the simmering process so the figs don't burn. The second is to provide a little extra sugar and depth of flavor.
Black mission and brown turkey figs pair very well with maple syrup. Green figs often have a more honey or raspberry-like flavor and pair well with honey.
Honey makes a great substitution in this recipe. Use an equal amount as the maple syrup, but also add about 1 tablespoon of water to thin it down during the simmering process.
When you get really ripe, fresh figs, they need no added sugar. They drip with caramel and honey flavor. In that case, you can simply substitute water.
Cooking the fig filling
Start simmering the figs with your liquid of choice. After about 10 minutes, they will be soft enough to puree.
After they are pureed, they will have the consistency of apple sauce which is a bit runny and not at all paste-like. Cook it down on low or medium low - a temperature where steam is rising from liquid being cooked off, but low enough that it isn't sputtering large bubbles out of the pan (and could burn on the bottom).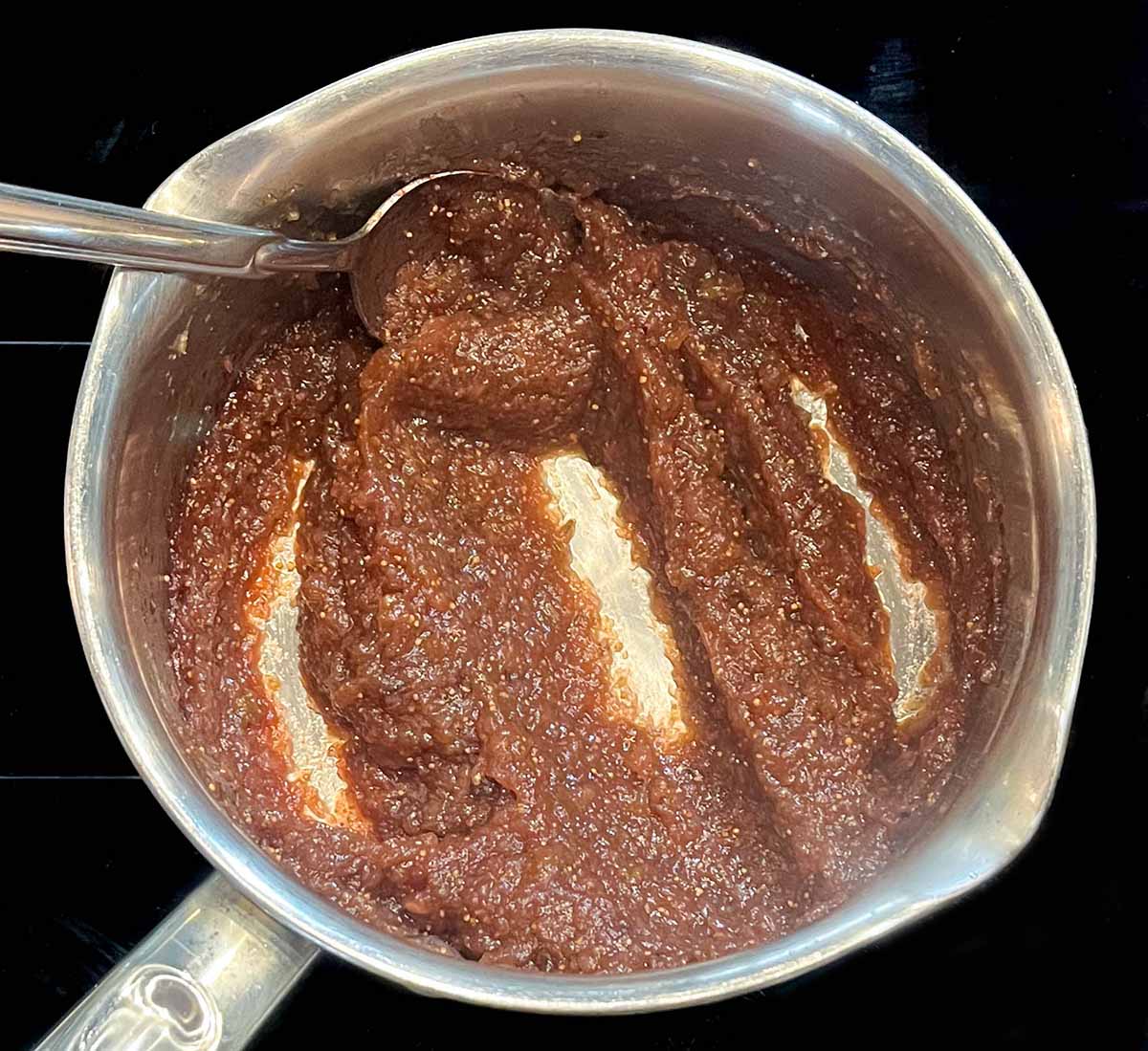 It takes about 30 minutes of simmering (after being pureed) to turn into a thick consistency like apple butter or almost as thick as tomato paste. If you run a spoon across the bottom of the pan, it shouldn't fill in (or should fill in very slowly). It won't be as jelled like a jam, but perhaps somewhat similar.
Once the filling reaches the right consistency, stir in the vanilla extract. It isn't added sooner because the flavor is easily cooked off with high heat.
Taste the filling and add sugar if desired. This isn't added at the beginning because when fresh figs are cooked down, the flavor gets concentrated. If sugar is added at the start, it can be overly sweet once cooked down.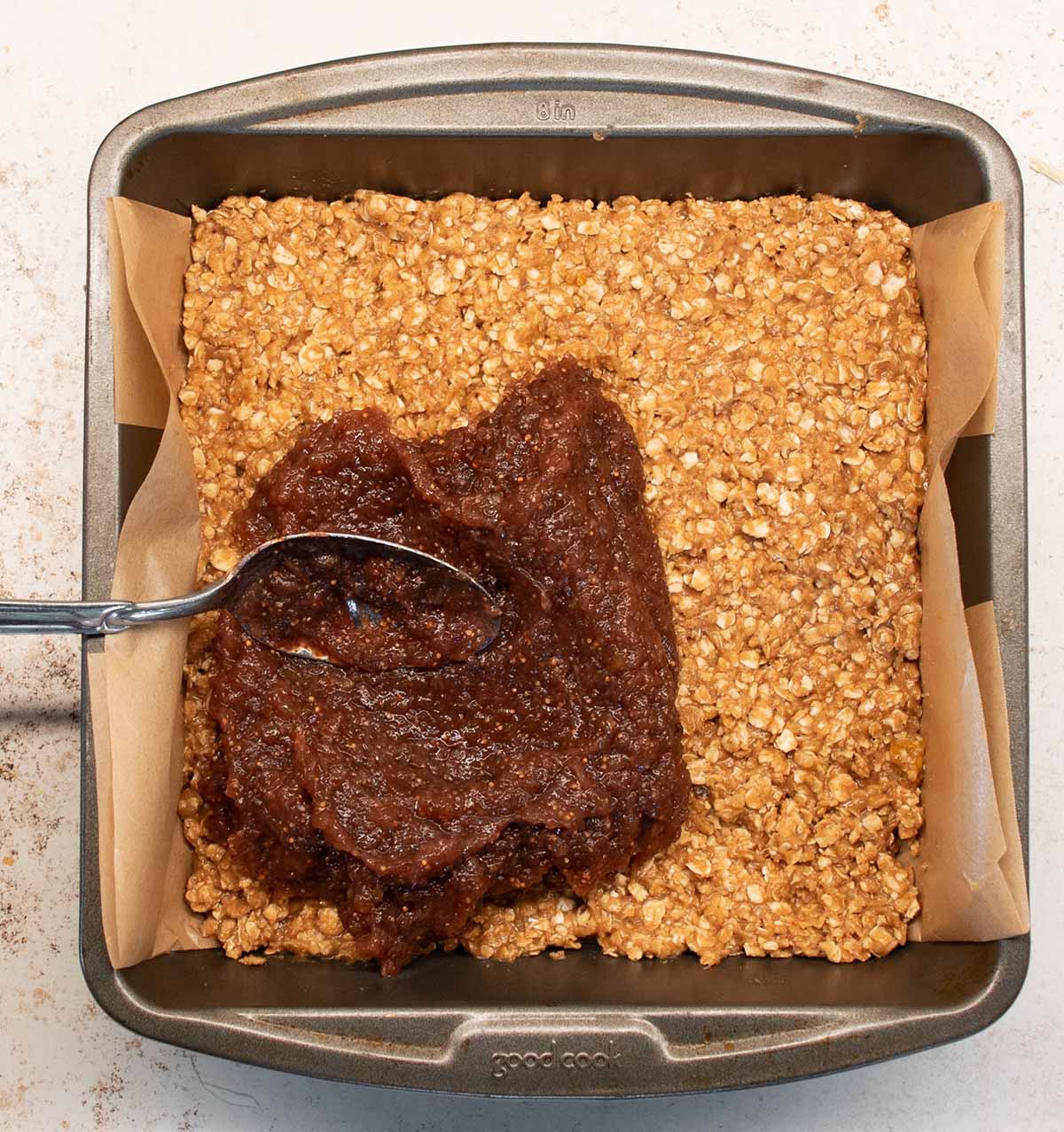 Once the figgy filling cools slightly (we don't want it to be piping hot), spread it over the unbaked crust.
Using more filling
After I made these the first time and really enjoyed them, I wondered if doubling the filling would be twice as tasty.
I tried, but it didn't work out as well as I hoped.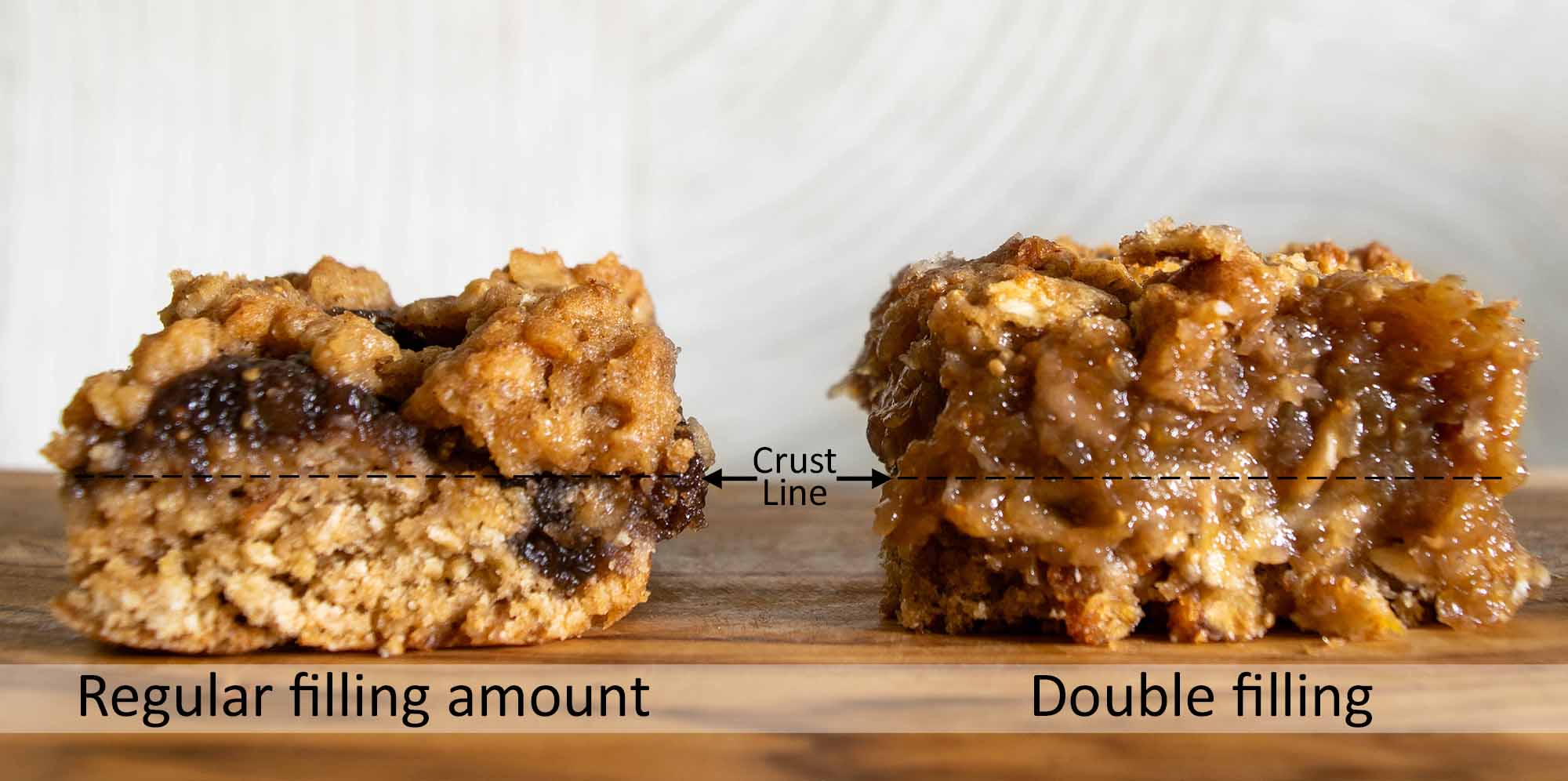 The fillings used the same recipe, but I doubled the amount of figs, syrup, and vanilla. (The color is different in the picture above because I used black mission figs in the bars on the left, and green figs in the bars on the right).
The double layer of filling allowed more liquid to soak into the crust, interfering with the structural integrity! You can see in the picture above how the filling soaked down into the crust for the double filling, but not so much on the regular filling.
The bars were also heavier, also adding to the structural problems. While tasty, they didn't hold up well enough to be eaten by hand. A fork was required, and the crust wasn't as good (as it was soggier).
I found the perfect ratio is to use 25% more filling than the recipe calls for. Why didn't I adjust the recipe, you ask? Because figs are often sold in 1 pound increments (and they aren't cheap). I didn't want to make you waste figs (and your money) if you had no other plans for the figs.
If you do increase the filling, simply use 1.25 pounds of figs, no need to increase the other filling ingredients. You could also use an apple to add the extra volume.
All-purpose white, whole wheat, or almond flour
The crust and topping work well with all-purpose white flour, whole wheat flour, or a combination of the two. I don't notice much of a flavor or texture difference, so use what you have on hand.
I've also made versions that substitute a 25% of the flour with almond or nut flour. I absolutely adore Nature's Earthly Choice nut flour blend that has pecan, coconut, almond, and walnuts. I use it in chocolate chip cookies, brownies, and even these fig bars. (I have no sponsorship or relationship with that company paying me to say that, by the way).
I can find it at Jewel-Osco and Safeway stores and sporadically on amazon, but otherwise have a hard time finding it.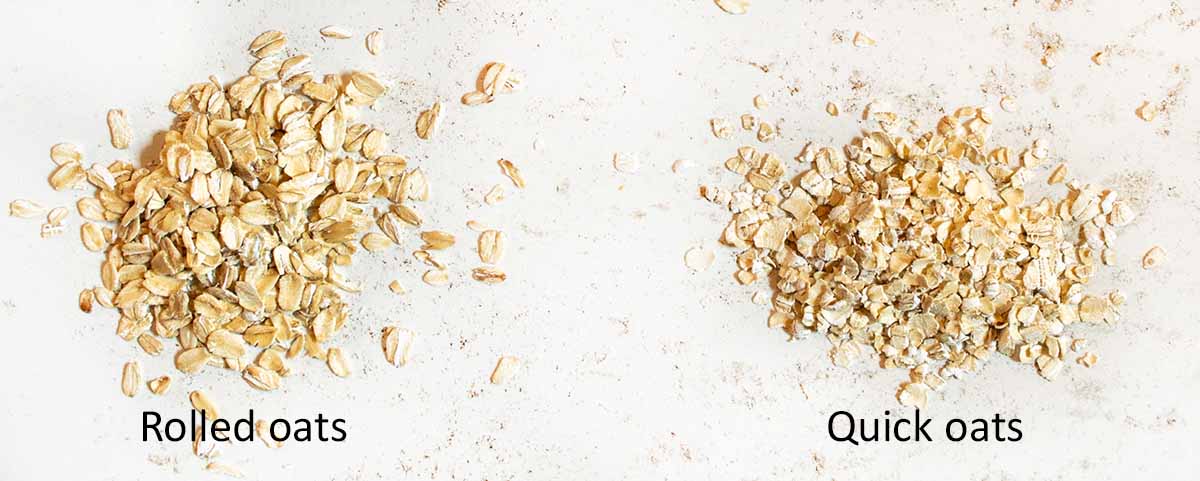 Oats (rolled & quick cooking)
I've used both quick cooking and rolled oats to make the oatmeal crust and topping. Either type works out well, with minor differences.
Quick oats absorb the liquid and turn into a more homogeneous oatmeal crust where you don't necessarily notice individual oats. The bars turns out nice and sturdy and can easily be picked up and eaten by hand (after they fully cool).
Rolled oats retain their shape and chewiness even after baking. The crust is slightly less sturdy, but the oat flavor is slightly more pronounced.
I prefer quick oats for the sturdier bars (and that's what I used in the photos for the recipe).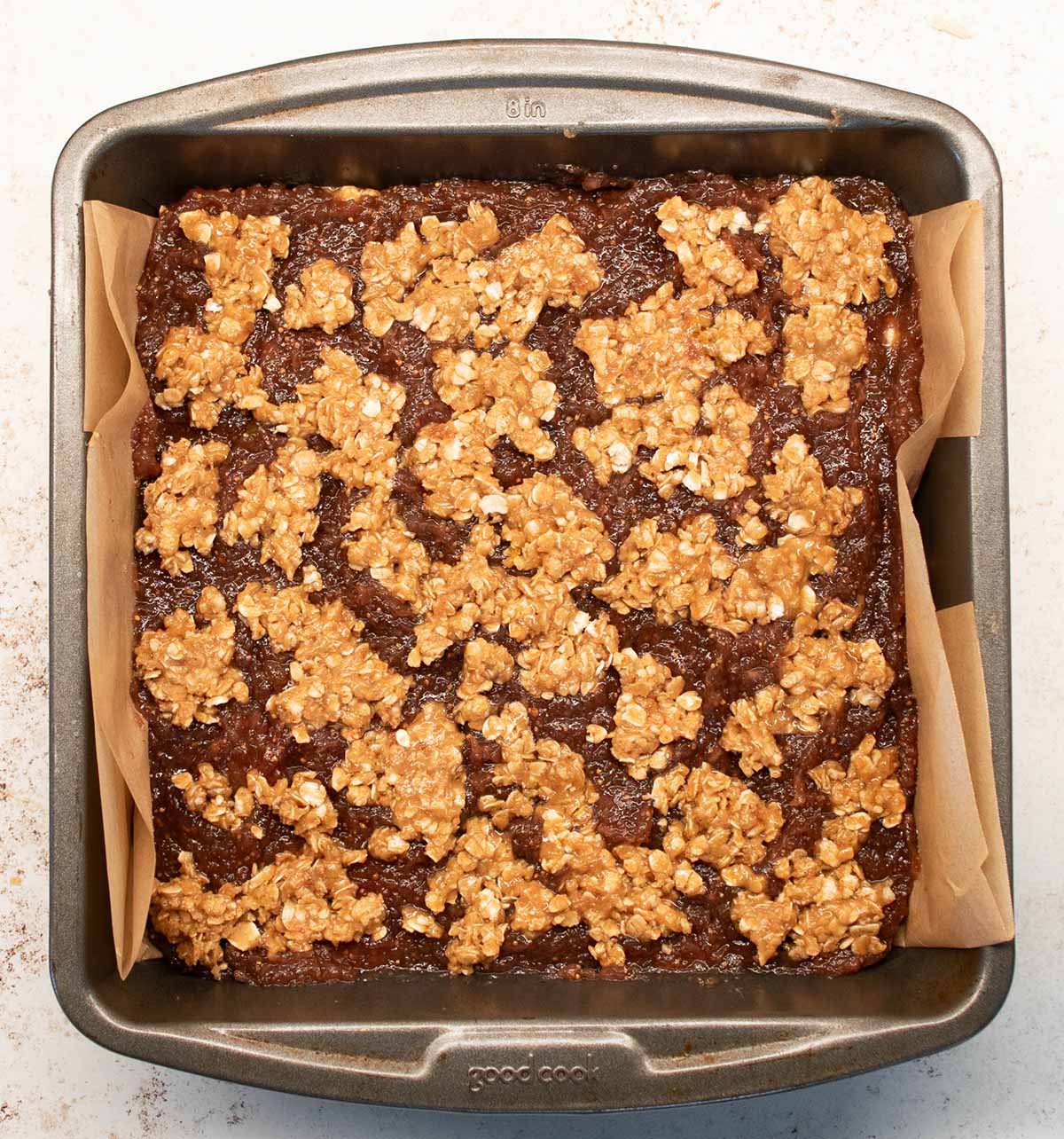 Baking the bars
Assembling the bars with the crust, then filling, then topping is fairly easy. It's worth noting the topping won't really spread around so I drop little bits all over.
I bake most things with the convection setting, except quick breads and delicate baked goods. These bars cook great with convection since they are already sturdy and aren't relying on a good, long, rise like a quick bread.
I've baked these at 350ºF with convection for 20-25 minutes, and at the same temperature without convection for about 25-30 minutes. Often times it is suggested to lower the temperature by 25 degrees if using convection, but I didn't find that necessary for these bars.
More recipes with fresh figs
Get 25 in-season fig recipes from breakfast to baked goods.
I also want to mention that my recipe for fresh fig bars was inspired by the bars from Sally's Baking Addiction. Her recipes are always so reliable so my crust is based off of her oatmeal crust recipe. I also appreciate that she uses coconut oil (or melted butter) instead of cutting cold butter into flour - a huge time saver.
However, her recipe uses dried figs and I wanted to feature fresh figs. I worked on the filling until it was just right. So now you have the best of both bars!