Not all apples are created equal! Some are best for apple pie, others for eating fresh or turning into apple sauce.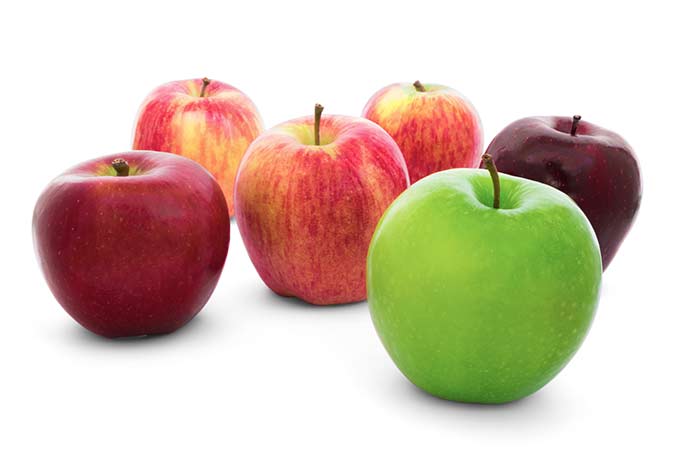 Jump to:
When are apples in season?
While apples are available at the grocery store year-round, they are best eaten when in season: August through December. In-season apples are juicy, crisp, and flavorful.
Apples sold out-of-season (in spring and summer) have been in commercial cold-storage facilities that do an okay job at keeping them fresh, but they are much more likely to be mealy and definitely lose crispness.
The harvest dates vary a little based on the climate they're grown in. Warmer growing regions harvest about 1-2 weeks sooner than the average, and cooler growing areas harvest 1-2 weeks later.
Warm growing region examples: California Central Valley, southern states (example calendar)
Average: Michigan, Pennsylvania, most of Washington state (example calendar)
Cool growing regions: cool coastal areas, mountain regions
The harvest dates listed by season in the next sections are based on the average dates they first become available.
Early season
(Aug & Sept)
Mid season
(Sept & Oct)
Late season
(Oct & Nov)
Gravenstein
Early Fuji (different than Fuji)
Braeburn
Melrose
Fuji
Winesap
Rome beauty
Lodi
Crimson Gold
Melrose
Paula Red
Macoun
Fuji
Ginger Gold
Honeygold
Winesap
Chehalis
Jonagold
Rome Beauty
Gala
Jonathan
Granny Smith
McIntosh
Empire
Pink Lady
(strict quality control)
Honeycrisp
Golden Delicious
Cripps Pink
(Pink lady that didn't pass requirements)
Red Delicious
(can be mealy)
Cameo
How to pick out good apples
Apples from the grocery store might be a year old, or even older, thanks to technology and perfect storage conditions. While they are fine to eat, they aren't as crisp and flavorful. They also start to get mealy after a few days, since they degrade a faster pace once leaving their perfectly controlled environment (and they are 8 or 12 months old!)
Storing: in or out of the fridge?
To store apples, it depends on the variety. A handful of types don't store for very long, including Gala and Red Delicious. Store these in the refrigerator, away from other fruit that might spoil, as apples are high ethylene producers (the gas that causes things to ripen faster). They will last a few weeks. Some people suggest putting the apples in a plastic bag in the fridge so the ethylene gas doesn't cause other things to go bad, like lettuce or other produce.
For apples that can store longer, the fridge is also good, but a cold cellar works as well. Ideally, store each one in an open paper bag. This prevents one bad apple from spoiling the bunch (due to the ethylene gas or a rotting apple). These can last a few months. Apples that are tart and have thicker skin tend to store longer.
Buying organic
If you can afford it, organic apples are worth the splurge.
Apples are attacked by coddling moths (the cause of wormy apples) and they are very hard to control without excessive amounts of pesticides. After growing my own apple trees, organically, I know why farmers turn to pesticides. I had to cover each individual apple with a paper bag or a stocking to keep the moths out (and even that had mediocre results).
Consumer Reports reviewed pesticide testing data conducted by the Environmental Protection Agency and found that it only takes 1-5 servings a day to exceed the 'known to be safe' limits of pesticide.
I don't mean to scare you - so let's put this in perspective: 1 glass of wine exceeds 'known to be safe' limits. And we all enjoy it and are doing just fine! This article explains more about organic vs conventional produce, with an honest (and unbiased as I can be) approach.
Varieties
Gala - An early variety, showing up as early as August. Great for everything, from eating fresh, to baking, to apple juice. A stand out variety for apple sauce. Store in the fridge, they only last a few weeks.
Honeycrisp - An early variety that shows up a couple weeks after Gala, usually in September. Great for eating fresh, but can be a little bit watery in apple sauce or pies. Perfect for apple juice!
Golden Delicious - Mid-season. and should be stored in the fridge (they only last a few weeks). Great for everything, and is a star in apple sauce and pies. Flesh browns slower than other apples when cut, making a great choice for salads.
Red Delicious - Mid-season. Eat fresh! It isn't great for baking or apple juice. Makes a great base for apple sauce. This apple has soft flesh, bruises easily and should also be stored in the fridge (it doesn't keep long).
Braeburn - Late-season. Good for eating and baking, a favorite for pies.
Granny Smith - Late-season and an excellent storage apple. Great to eat fresh or turn into apple juice. Very tart! If you use it for apple sauce, either add extra sugar or enjoy a very tart sauce. Also add a small amount to your other apples for apple pie, to add complexity to the flavor.
Fuji - Late season and a great storage apple. Very sweet! A favorite for eating fresh and one of the best varieties for apple sauce.
Washington Apple Commission's page for apple variety information
How to prevent apples from browning
Sometimes you want to keep the flesh of an apple white so it looks appealing on a salad for guests, a snack tray, on a cheese plate, or charcuterie board.
Apples turn brown when cut because of an enzyme in their flesh that reacts with oxygen, called oxidization. Some apples are slower to brown, including Cortland, Empire, Cameo, and Gala.
You can slow oxidization by removing the apple's exposure to air and countering the enzyme responsible for browning (with things like honey or citric acid). Because of this, many people suggest soaking apple slices in water with added honey or lemon. You can also squeeze lemon juice directly onto the apple slices. These methods all impart a slight flavor (especially the latter), and the results aren't bad, but aren't great either.
There's lesser known, better method to slow browning: soaking apples in a salt-water solution. Serious Eats has a full test on the various ways to prevent browning, demonstrating that the salt-water solution performs best. Their article is worth a read and filled with pictures from the tests.
They suggest soaking apples for 10 minutes in a salt-water solution, followed by a quick rinse to remove the salt. The apples will then stay white for a couple of hours while sitting out on a cheese or charcuterie board.
When using a water-solution to prevent your apples from browning, use the following ratios:
Salt: ½ tsp kosher salt per cup of water for 10 minutes
Honey: ½ Tbs honey per cup of water for no more than 30 minutes
Lemon juice: ½ -1 Tbs lemon juice per cup of water for no more than 30 minutes
Apple recipe collection
With so many apple varieties, it is hard to know which ones are best for things like pie, apple sauce, or apple chips. A few factors go into making those decisions:
Does the flesh easily break down when cooked or hold it's shape?
How sweet or tart is the apple?
Does is brown quickly or slowly when cut?
The guide, "Best apples for everything from pies to salad" shares advice on what apple varieties are best suited for each type of recipe (as well as when any ol' apple will do).
Breakfast
Dinner & sides
Salads
Dessert
Homemade staples