Apples are in-season in fall, where you can find dozens of varieties at your local farmers market and a fresh, seasonal supply of more common types of apples at the grocery store.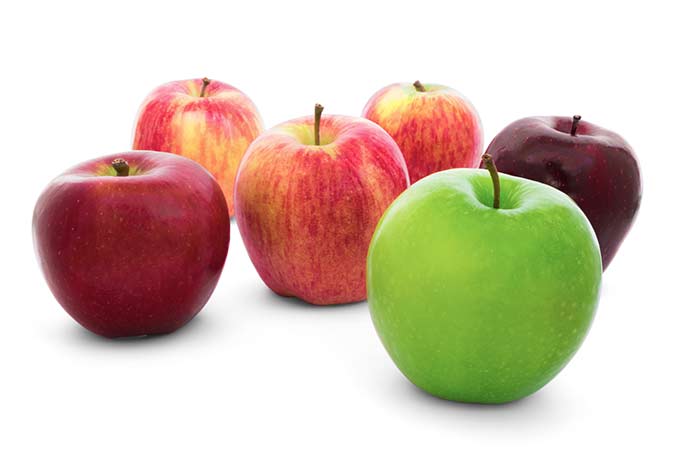 Jump to:
When are apples in season?
While apples are available at the grocery store year-round, they are best eaten when in season: August through December. In-season apples are juicy, crisp, and flavorful.
Apples sold out-of-season (in spring and summer) have been in commercial cold-storage facilities that do an okay job at keeping them fresh, but they are much more likely to be mealy and definitely lose crispness.
The harvest dates vary a little based on the climate they're grown in. Warmer growing regions harvest about 1-2 weeks sooner than the average, and cooler growing areas harvest 1-2 weeks later.
Warm growing region examples: California Central Valley, southern states (example calendar)
Average: Michigan, Pennsylvania, most of Washington state (example calendar)
Cool growing regions: cool coastal areas, mountain regions
The harvest dates listed by season in the next sections are based on the average dates they first become available.
Varieties
There are so many different types of apples, it's hard to try them all. Stop by your farmer's market this fall for interesting varieties you can't find at the grocery store.
Types of apples: flavor and cooking notes
How to pick out good apples
Apples from the grocery store might be a year old, or even older, thanks to technology and perfect storage conditions. While they are fine to eat, they aren't as crisp and flavorful. They also start to get mealy after a few days, since they degrade a faster pace once leaving their perfectly controlled environment (and they are 8 or 12 months old!)
Storing: in or out of the fridge?
Apples store really well in home refrigerator temperatures, but their are a few things to keep in mind when putting them in the fridge:
They pick up tastes from other things in the fridge easily. Don't put them in the same drawer as something with a strong smell.
They produce ethylene gas, which ripens things faster. Don't store them with other items you don't want to ripen. Keep them away from vegetables you don't want to wilt (like lettuce) or lose their crisp crunch (like celery).
They like 90-95% humidity to stay fresh, so set your crisper drawer to the high humidity option.
For apples that are considered "good keepers," a cold cellar works as well. They can keep for several months or longer.
Ideally, store each one in an open paper bag. This prevents one bad apple from spoiling the bunch (due to the ethylene gas or a rotting apple). Check apples frequently and remove any that are going bad.
Apples that are tart and have thicker skin tend to store longer.
How to prevent apples from browning
Sometimes you want to keep the flesh of an apple white so it looks appealing on a salad for guests, a snack tray, on a cheese plate, or charcuterie board.
Apples turn brown when cut because of an enzyme in their flesh that reacts with oxygen, called oxidization. Some apples are slower to brown, including Cortland, Empire, Cameo, and Gala.
You can slow oxidization by removing the apple's exposure to air and countering the enzyme responsible for browning (with things like honey or citric acid). Because of this, many people suggest soaking apple slices in water with added honey or lemon. You can also squeeze lemon juice directly onto the apple slices. These methods all impart a slight flavor (especially the latter), and the results aren't bad, but aren't great either.
There's lesser known, better method to slow browning: soaking apples in a salt-water solution. Serious Eats has a full test on the various ways to prevent browning, demonstrating that the salt-water solution performs best. Their article is worth a read and filled with pictures from the tests.
They suggest soaking apples for 10 minutes in a salt-water solution, followed by a quick rinse to remove the salt. The apples will then stay white for a couple of hours while sitting out on a cheese or charcuterie board.
When using a water-solution to prevent your apples from browning, use the following ratios:
Salt: ½ teaspoon kosher salt per cup of water for 10 minutes
Honey: ½ Tbs honey per cup of water for no more than 30 minutes
Lemon juice: ½ -1 Tbs lemon juice per cup of water for no more than 30 minutes
Apple recipe collection
With so many apple varieties, it is hard to know which ones are best for recipes like homemade caramel apples, apple pie, apple sauce, apple chips, or making apple butter (and canning it!) A few factors go into making those decisions:
Does the flesh easily break down when cooked or hold it's shape?
How sweet or tart is the apple?
Does is brown quickly or slowly when cut?
The guide, "Apple recipes & the best varieties to use" shares advice on what apple varieties are best suited for each type of recipe (as well as when any ol' apple will do).