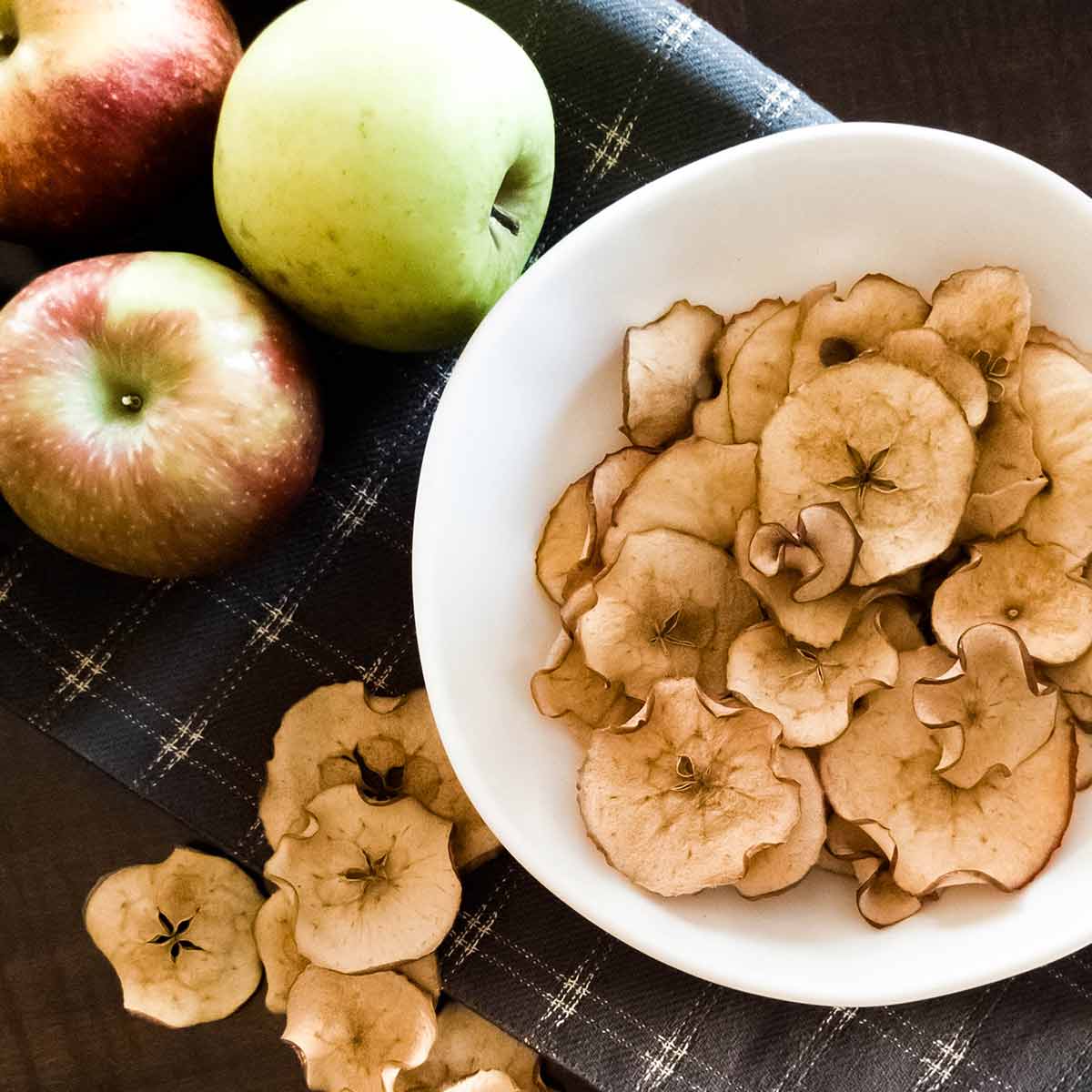 An easy way to get homemade apple chips nice and crispy is to bake them in the oven. The type of oven affects baking time as well as the final step towards getting crisp apple chips.
You can make this recipe with or without sugar, it comes down to the flavor of the apple and your preferences. Apples that taste good raw will taste even better when dehydrated.
Bland apples will benefit from a little added sugar, cinnamon, and my secret ingredient: lemon juice powder from King Arthur Baking for an acidic punch.
Jump to:
Recipe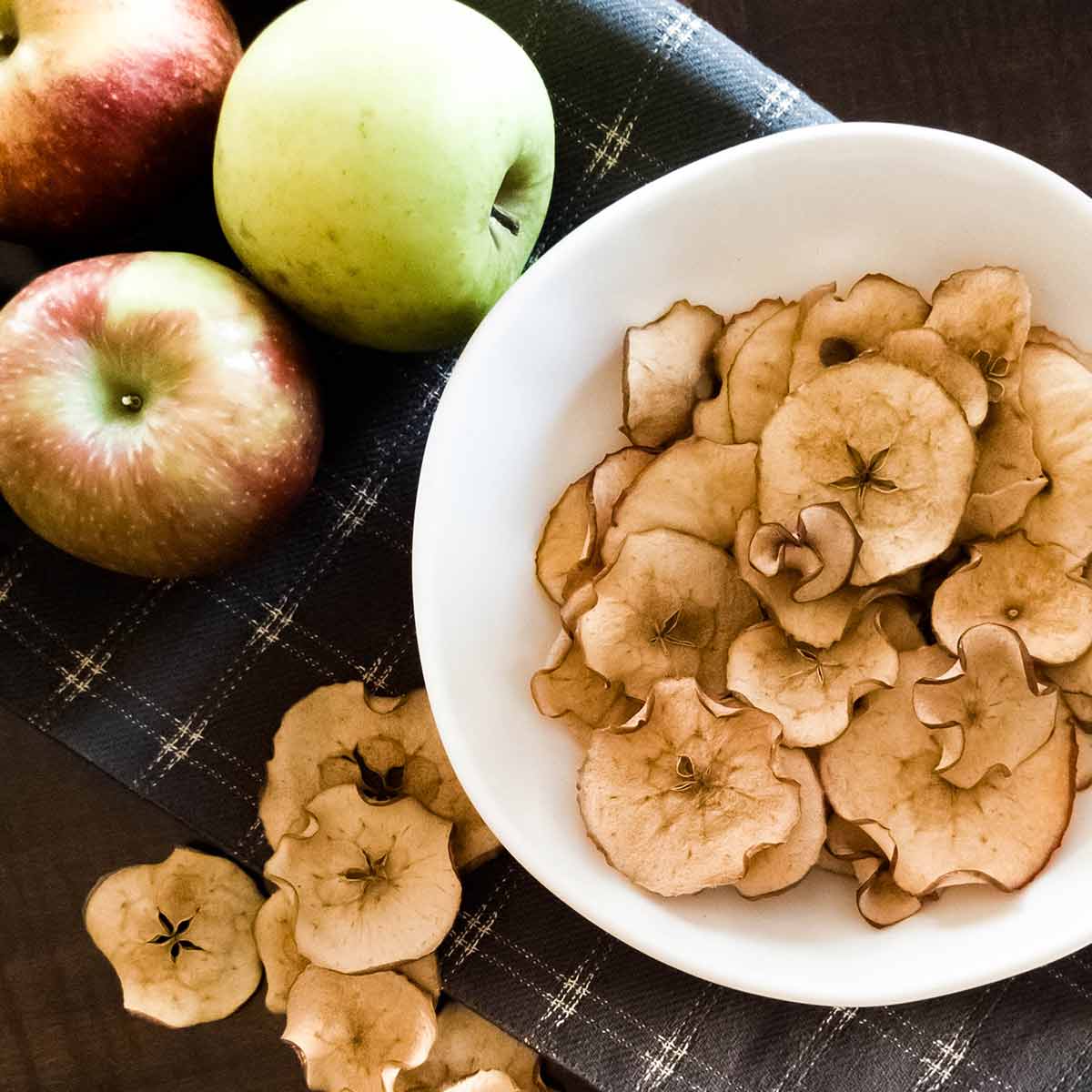 Equipment
Baking trays (any kind)

Parchment paper
Ingredients
Optional
1

tablespoon

white or brown sugar

½

teaspoon

cinnamon or pie spice

½

teaspoon

lemon juice powder
Instructions
Preheat the oven to 200°F. Line baking trays with parchment paper.

Slice the apples between 1/16th and ⅛th inch thick (about the thickness of a wheat thin). Slice through the core, and discard any seed fragment.

Place the apple slices on the parchment-lined trays. They can be touching side-by-side, but should not overlap.

If adding sugar and spices, sprinkle that on top now

Bake for 2-4 hours flipping half way through (see note). The baking time will depend on your type of oven and how thick the slices are. They are done when they feel dry and leathery. They will still be slightly pliable and bendable at this point, but should not feel wet.

Turn the oven off and let the chips crisp up. Note that well-sealed ovens should leave the door open to let moisture escape. Chips should crisp up within 10-30 minutes.
Notes
Flip apple chips half way through: the chips need to be lifted or flipped once. The timing isn't a science, just before they are dried out. If they aren't lifted off the pan and placed back on it, they will stick to it as they dry out. This will make them break when removing them after they dry out.
Nutrition
Nutrition Facts
How to make apple chips
Amount per Serving
% Daily Value*
* Percent Daily Values are based on a 2000 calorie diet.
Best types of apples
Honestly, any apple works from sweet to tart, and from firm to softer flesh. I've tried over a dozen different types of apples as chips and have found that the flavor is the most important factor.
Baking the apples into chips concentrates the flavor slightly. If the apple tastes bland, so will the apple chips. In this case, it might be worth adding some spices mixed with sugar (white, brown, and even powdered sugar all work).
How thin should the apple slices be cut?
Anywhere between 1/16th and ⅛th of an inch will work out perfectly. That's about the thickness of a wheat thin.
If they are paper thin (a lot thinner than 1/16th of an inch), they will crumble before you can eat them. If they are too thick they will be chewier (which is great if you like them that way).
A medium apple makes about 20 apple chips, more or less depending on how thin you slice them. A half-sheet baking tray fits about a whole apple, so make as many trays as will fit in your oven.
A mandolin slices the apples quickly and accurately. And while consistent sizes is usually important to make sure pieces bake at the same rate, I've found that chips have a pretty forgiving timeline. So if you cut them by hand, as long as the slices are within ⅛ inch deviation, you'll be fine.
Ensuring your apple chips will be crisp
If you think the apple chips are done, take a chip or two out of the oven and let it cool on the counter. After 10-15 minutes, it should crisp up. If it does, you can turn off the oven, open the door, and let the rest of them cool.
If it is still chewy, leave the chips in the oven for 15-30 more minutes then test them again.
How your oven affects crispiness
Your oven can make a big impact on not only the cooking time, but how easily the chips dry out to become crispy. To ensure I could give proper advise, I tested chips in 3 different ovens multiple times, using the same baking trays and apples sliced to the same thickness with a deli slicer.
Gas oven
To my surprise, this dried the chips out more reliably than the electric ovens. Gas ovens tend to have a moister heat (good for baking cakes), so I expected the chips to take longer to dry out. That was not the case.
I baked them for 2-3 hours, then let them finish drying out with the oven door closed. This worked without fail on each of my 3 trials.
Oven used: GE Profile gas range
Electric double oven
It was more difficult to reliably dry the chips out, and I found myself having to leave them in the oven for 3-4 hours (instead of 2-3 like the gas oven). Even then, I had a hard time getting them to crisp up with the door closed.
The ovens I used were the KitchenAid Pro series. They have a really good seal and don't vent heat out fast (in fact, it took hours for the oven to finish auto-venting out the heat from the 200 degree setting once I turned it off).
After realizing how good those ovens are at keeping heat in, I realized it was also keeping the moisture evaporating off the apples inside the oven. When the oven was turned off to allow the apples to finish crisping up, there was too much moisture inside to allow that to happen.
My final test worked better. I baked them longer (3.5 hours) and left the door cracked so the chips could cool and crisp up.
I also tried the convection setting, which was much more reliable. It allowed me to cook the chips for a shorter time and dried them out easier.
Oven used: KitchenAid Pro series double wall oven
Convection toaster oven
I'm not sure how practical this is, considering you can only make 1 small apple's worth of chips, but I tried it anyway. It worked excellent and reliably made crisp chips. The toaster oven dried out the chips faster than any other oven, in about 2 hours.
Oven used: Breville Smart Oven Pro (I've used this nearly every day for the past 5 years and love it, btw)
Baking trays
A half-sheet pan (18x13) fits about 1 large apple's worth of chips. In some ovens, you can fit 2 of those side-by-side, but it's getting much harder to find ovens with interiors large enough to do that these days.
If you can fit 2 half-sheet pans side-by-side, you can get 6 trays into the oven for a total of about 6 large apples (8-9 medium).
All types of baking trays work well, since the oven is so low the trays don't add any fussy elements. I've made apple chips on heavy duty aluminum, black metal, thin steal, and air bake trays all will great success.
Baking trays can also be placed on each rack in the oven (no need to do one tray at a time). Usually it's only a good idea to fill racks in a convection oven that circulates heat around, but I found each oven rack can be filled and it won't affect the end result.
Storage
The key to keeping the apple chips crisp is a good seal. Any glass or plastic container with a good seal works. I tested freezer-thickness ziploc bags alongside sealed glass containers and the results were equal, as long as the glass containers had a good seal.
I have some glass storage containers with covers that are super fussy and don't latch well. They appear to be sealed, but the chips got stale (lost crispiness) within 24 hours.
Apple chips should stay crispy for at least several days, up to a week in most of my tests.
A healthy snack
One apple's worth of chips (without added sugar):
95 calories
5 grams of fiber, almost 20% of the daily recommended value
While sweet, they have a low glycemic index (GI) is low, ranging 29–44
All about apples
Looking for ways to use up a lot of apples? Use up to a dozen apples with this cinnamon & brown sugar apple sauce or this apple 'pie' from Bake From Scratch (it's the only way I make pie now).
Have you made apple chips? Leave a comment with your questions, comments, or results. Did you add anything different? How did it turn out?