With almost 100 pounds of apples, I was determined to test apple butter cooking methods to find the best one. I also sampled over 25 apple varieties to find the ones best suited for apple butter. Along the way, I learned the ins & outs of making apple butter.
Jump to: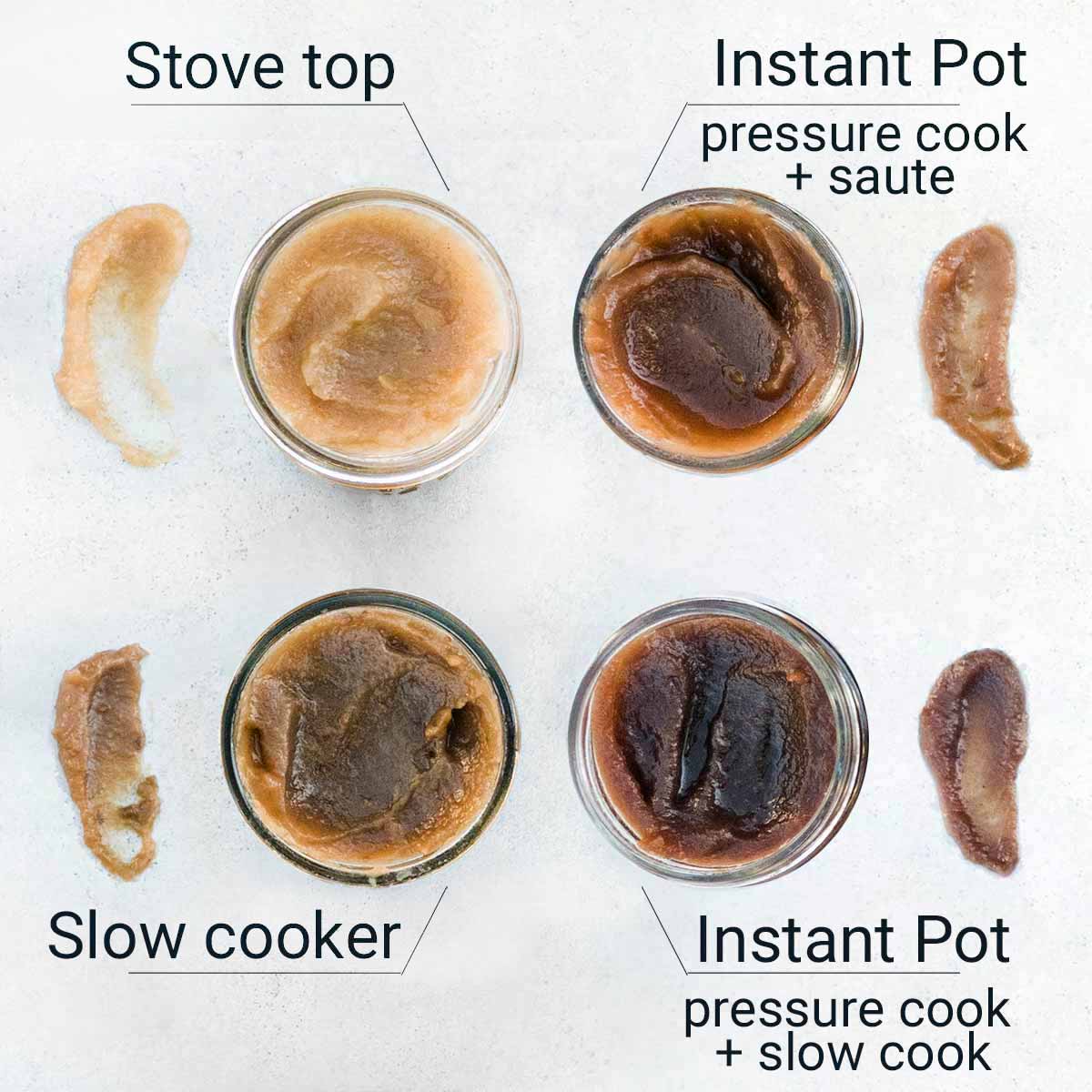 There are two stages to making apple butter: softening the apples and evaporating the liquid. Various cooking methods can be used for each stage and they develop different flavors and consistency.
For example, apple butter can be made from start to finish in a pot on the stove. It's the fastest method but requires constant stirring for 30-45 minutes and doesn't develop as rich of a flavor.
Alternatively, apple butter in the slow cooker can take 6-12 hours, but it is hands off and develops more flavor.
Cooking Method
Cook time
Color
Flavor
Stove top
1 - 2 hours
Golden
Light
Slow cooker
6-12 hours
Dark
Great
Instant Pot pressure cook
(followed by slow cook)
45 min
(3-5 hours)
Very dark
Excellent
Instant Pot pressure cook
(follow by saute)
45 min
(30 min)
Dark
Great
Stove top
(followed by oven)
3-5 hours
Dark
Great
How to cook apple butter
Stove Top
Cooking apple butter on the stove top is the fastest method, by a long shot. It takes about an hour (compared to 8-12 hours in the slow cooker).
There are a few tradeoffs, however: the color is lighter, the flavor isn't as caramelized, and the sputtering mess is real.
How it works
Apple pieces are simmered in a covered pot with a small amount of liquid until they soften. This takes about 15-30 minutes (more or less depending on the size of the apple pieces). I prefer to use a dutch oven for better heat distribution.
Then the apples are pureed and simmered for another 30-60 minutes until enough water has evaporated. Once pureed, the mixture becomes thick enough that air bubbles can't easily escape, and when they do, it spatters apple butter all over.
How to handle the splatter
The biggest disadvantage of this method is the sputtering and splattering of apple butter eruptions all over your kitchen. It causes a giant mess and easily burns your hands.
To combat this, you can constantly stir the apple butter while it simmers for 30-60 minutes. There are no breaks, not even for 10 seconds, or you'll have apple butter splattering all over. Even if you stop stirring just long enough to taste the apple butter, you can get burned.
You can also leave a lid on, cracked open to let the steam out, or a splatter screen (that you use when frying food). In desperation, you can also place a sheet of tin foil over the pan, with a few holes poked in it.
With the partial cover method, you'll still want to stir every 5 minutes to make sure the butter doesn't stick to the bottom of the pot and burn. When you do this, wear an oven mitt on your hand to avoid burns from any splatters (trust me, it hurts).
Rating: 3 stars
I love that this is quick enough that it requires no planning and can be treated as a 2-hour project from start to finish. However, it loses stars for the constant attention (and I mean constant), the lighter flavor, lighter color, and more applesauce-like consistency.
Instant Pot / pressure cooker
The pressure cooking option on the Instant Pot can be used to soften the apples as well as caramelize the sugars to create a dark color and rich flavor. Then a different method is needed to for evaporation. It can be followed up with the slow cooker or saute functions.
The slow cooker will take an additional 3-6 hours depending on the batch size (err on the longer side when planning). The saute option acts just like the stove top method (including splatter) and will be done in 30-60 minutes.
Pressure cooking
A lot of pressure cooking is used to speed up the process of making stews, beans, or tenderizing meat to the point of falling apart. It can be used to soften the apples incredibly quickly.
Just 10 minutes of pressure cooking with completely soften the apples, but this cooking method has a lot more to offer: caramelizing sugars.
Pressure cookers can cook food at 250°F / 121°C (well above boiling point). "In this temperature range, sugars will caramelize, and the Maillard reaction will take place quite nicely." (Kenji Lopez, Serious Eats)
I tested this out by pressure cooking for 4 different amounts of time: 15 minutes, 30 minutes, 45 minutes, and 90 minutes:
At 15 minutes, the apples softened and that's it. They had developed no additional color or flavor.
At 30 minutes, the apples took on a light brown color and developed a little extra flavor
At 45 minutes, the apples were dark red-brown with a full-bodied caramelized flavor
At 90 minutes, the apples were very similar to 45 minutes
Pressure cooking also yielded the smoothest apple butter. That said, it won't break down thick, chewy peels (but thinner peels won't be very noticeable, if at all).
Natural vs quick release
Natural release lets the steam inside the pot condense back into liquid. This is important for stews or dishes where a quick depressurization can make things fall apart (like beans or certain cuts of meat) or where you want to retain as much liquid as possible.
Apple butter is best suited for quick release since we want that steam to escape and not condense back into the pot. This cuts down on the amount of time needed for evaporation.
A 3lb batch of apple butter, pressure cooked and followed by a quick release, required only 3 hours of slow cooking to evaporate the remaining liquid. (A 5-6lb batch would need to slow cook for more time).
Amount of liquid
The Instant Pot manual says the minimum amount of liquid needed for pressure cooking is 1 cup. That is a lot of liquid that will need to evaporate and can take an incredibly long time.
A minimum amount of steam is needed to properly pressurize the Instant Pot. If it doesn't come to full pressure, meats and stews won't cook properly and end up tough. This is likely why Instant Pot recommends that amount of water.
Water can be reduced when making apple butter and still reach full pressure. With ½ a cup of liquid in a 6 quart Instant Pot, it reached full pressure every time. Apples also have a lot of water content, so as they heat up and release water, that can also turn to steam.
This means you need just enough water to create an initial amount of steam as well as enough to keep the apples from burning on the bottom of the pot. Too little water and you'll get the "error: burn" code on the Instant Pot.
I've found ½ a cup is plenty to get the Instant Pot to full pressure while also not getting the burn code.
Slow cooking in the Instant Pot
The Instant Pot's slow cooking method works totally fine on apple butter, it will just take longer and might be just slightly less caramelized than in a Crock Pot or standalone slow cooker.
That's because the Instant Pot makes just an okay slow cooker. They aren't as good as the standalone ones for a couple of reasons: they don't have a ceramic interior and they don't heat as well.
Instant Pots use metal interiors, whereas slow cookers use ceramic (stoneware) interiors. Ceramic distributes heat around the entire cooking vessel and holds heat better.
Note: Instant Pot sells a ceramic lined inner pot, but this is not made of ceramic. It is stainless steel coated with a thin ceramic layer to make it nonstick without Teflon or other chemicals. It will not act like the ceramic interior of a slow cooker.
Slow cookers get hotter, up to 225-300°F (107-148°C) on high, depending on the brand. Instant Pot slow cooking maxes out around 200-210°F (93-98°C) on high.
The max temperature isn't necessarily of interest for apple butter. Instead, it's important because it heats the apples faster and it also maintains higher temperatures better.
Crock-Pot explains temperature differences as follows: "Both the low and high settings will reach a maximum temperature of approximately 215° Fahrenheit, but they cycle differently in that the low setting cycles off of that temperature more frequently. Therefore, the high setting will still cook the food in a shorter period of time than the low setting will. On the warm setting, your Crock-Pot™ slow cooker will be between 165° and 175° Fahrenheit."
For comparison, the Instant Pot on high (more) got my apple butter up to 185°F / 85°C (with the lid cracked), cycling as low as 160°F (71°C).
Leave the lid on
The slow cooking process is all about evaporation. So it seems like a good idea to leave the lid off, but it's not! The lid is necessary to keep the apple butter hot enough for safety (bacteria grows below 140°F / 60°C). Removing the lid can lower the temperature by 20 degrees.
With lower temperatures, the evaporation rate is slower too. So while it seems counter intuitive to leave the lid on, it helps speed up the process. (I know because I tested it for science, and it took 14 hours to fully evaporate).
Steam does need to escape, however. There are a few ways to achieve that:
Leave the lid on, slightly ajar
Wrap a towel around the lid and place it firmly on the pot (the towel absorbs the moisture before it condenses back into the pot)
When slow cooking in the Instant Pot, leave the lid on, slightly ajar. You can also use a glass lid propped open.
Saute in the Instant Pot
The saute function works just like the stove-top method. You're heating the pan to a higher temperature, without the lid, to evaporate the steam at a faster rate. It takes 30-60 minutes to cook off enough water for a thick apple butter.
Splatter will also occur in the Instant Pot, unless it is constantly stirred.
Rating: 5 stars
My preferred method is now pressure cooking in the Instant Pot followed by the slow cook setting. It's very hands off and produced the best flavor, color, and consistency.
Slow cooker / Crock Pot
A slow cooker can be used for the entire process. It takes about 1-2 hours to soften the apples and another 6-12 to evaporate the liquid on high (or 8-16 hours on low).
How it works
Chopped apples are added to the slow cooker with sugar (and optional spices). They can be cooked on low (for 10-16 hours) or on high (6-12 hours).
The sugars aid in breaking down the flesh and releasing liquid. That liquid turns to steam and helps soften the apples. The lid should be on for the first 2 hours (not cracked), as the extra heat softens the apples faster.
Unlike all of the other methods, liquid does not need to be added to the slow cooker in the beginning. Due to slow cookers heat distribution, there isn't a risk of burning or sticking to the pot.
While not necessary, sometimes lemon juice, apple cider, or apple cider vinegar are added for flavor (to give it that extra acidic punch if the apples are missing it). These can be added at any point if you determine it's necessary.
Leave the lid on
The liquid eventually evaporates and the lid can be cracked open for the remainder of the cooking time to speed that up. However, do not leave the lid entirely off because it can cause the temperature to drop significantly. That can cause two problems: it can drop below 140°F / 60°C (unsafe levels for bacteria growth), and it cools enough that evaporation is slowed to a crawl.
When to puree
Some recipes tell you to puree the apples once they are softened, others have you do it at the end of the cooking time. I didn't notice a difference between the two methods.
Rating: 4 stars
This method is very hands off and produces a great quality apple butter. However, the cooking time can be highly variable due to several factors (water content of the apples, temperature and humidity in the house, etc).
I always feel apple butter in the slow cooker needs to start before lunch time to ensure it is done before bed.
Oven
Apples can be quickly softened in a dutch oven (or other oven-safe pot) on the stove top. Then pureed and placed in the oven (uncovered) to develop flavor and to evaporate the liquid.
An oven set to 275°F (140°C) will act like a slow cooker. It will keep the apple butter around 185°F ( 85°C), just slightly higher than a slow cooker, but lower than simmering or boiling (so you won't get splatter all over your oven).
The oven's advantage is that it's heating the apple butter from every direction (whereas the slow cooker can't heat from the top). Because of this, evaporation happens faster in the oven, fully evaporating in 2.5 - 3.5 hours.
It requires a quick stir every 30 minutes, making it not quite as hands off as the slow cooker.
Oven apple butter from Food Network
Rating: 4 stars
This was very similar to the slow cooker method, developing a slightly darker color. The flavor was very similar, and might have had a barely noticeable more caramel note.
I like that it is quicker than a slow cooker but the tradeoff for stirring every 30 minutes isn't ideal and loses a star.
Other notes
Batch sizes
The Instant Pot and other pressure cookers have a maximum fill line that needs to be followed. A 6 quart Instant Pot will hold about 6 lbs of apples (which is about 4 lbs after they are cored).
Batch sizes on the stove top, slow cookers, or ovens are only limited to the size of the cooking vessel. Note that larger batches will take longer to cook down to a thicker consistency.
Pureeing
All methods require a quick puree with an immersion blender (or in a regular blender), even pressure cooking.
Pressure cookers produced the smoothest of all apple butter batches that I tested, no matter how much I pureed all of them.
Recipes & resources