The type of apple used to make your pie actually matters. So why do some apples make the best pies, but other varieties yield disappointing results? It comes down to their flavor, acidity, and texture after being cooked in a hot oven.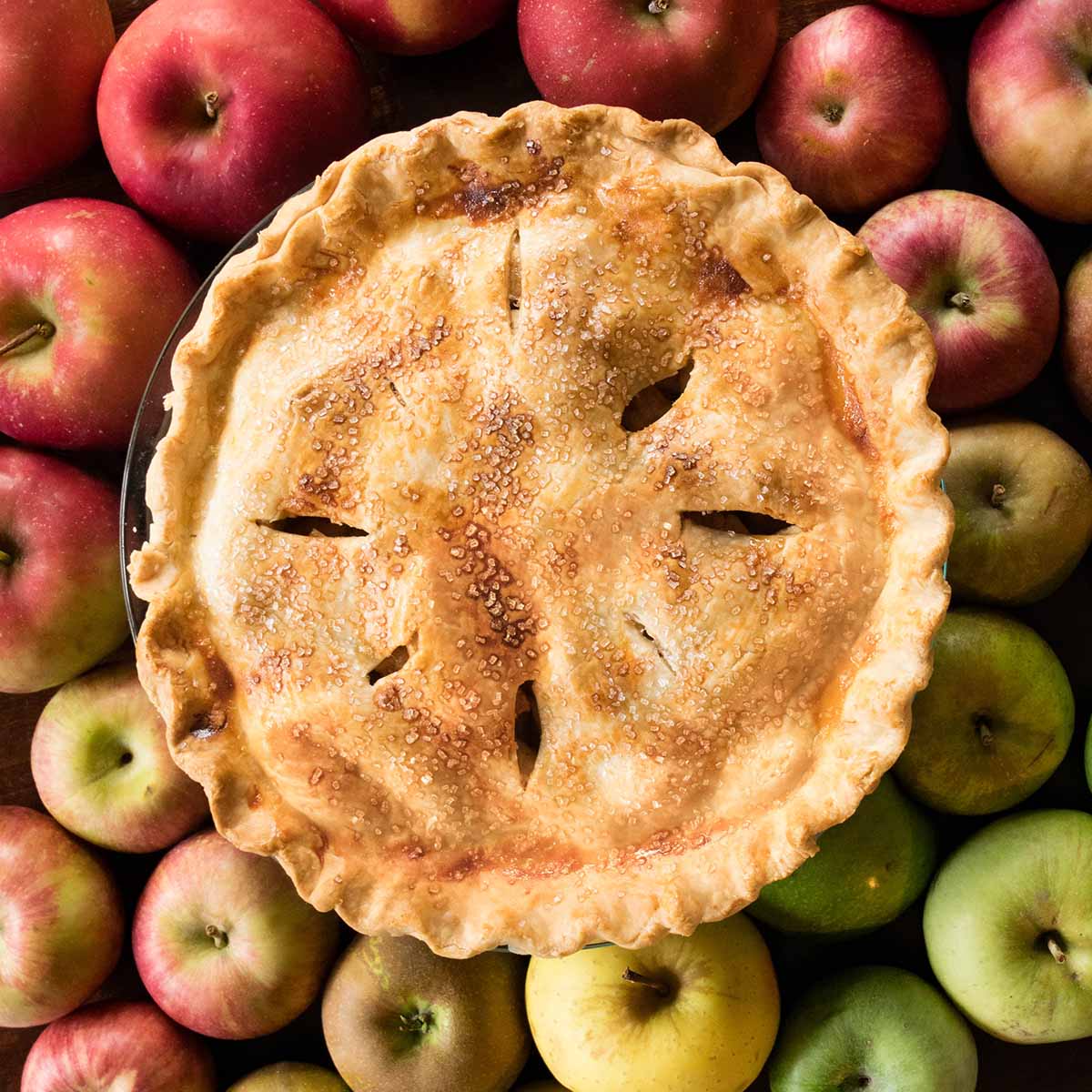 I can confirm that these characteristics can greatly vary from one variety to the next. Throughout the season, I bought dozens of apple varieties from farmer markets and grocery stores.
As I baked with each one, I noted its characteristics (and took pictures!). I repeated these tests throughout the season and across multiple years to account for variations in seasonality and weather.
I can now confidently recommend the best apples to use as well as the ones to avoid (and why).
Jump to:
What makes an apple good for pies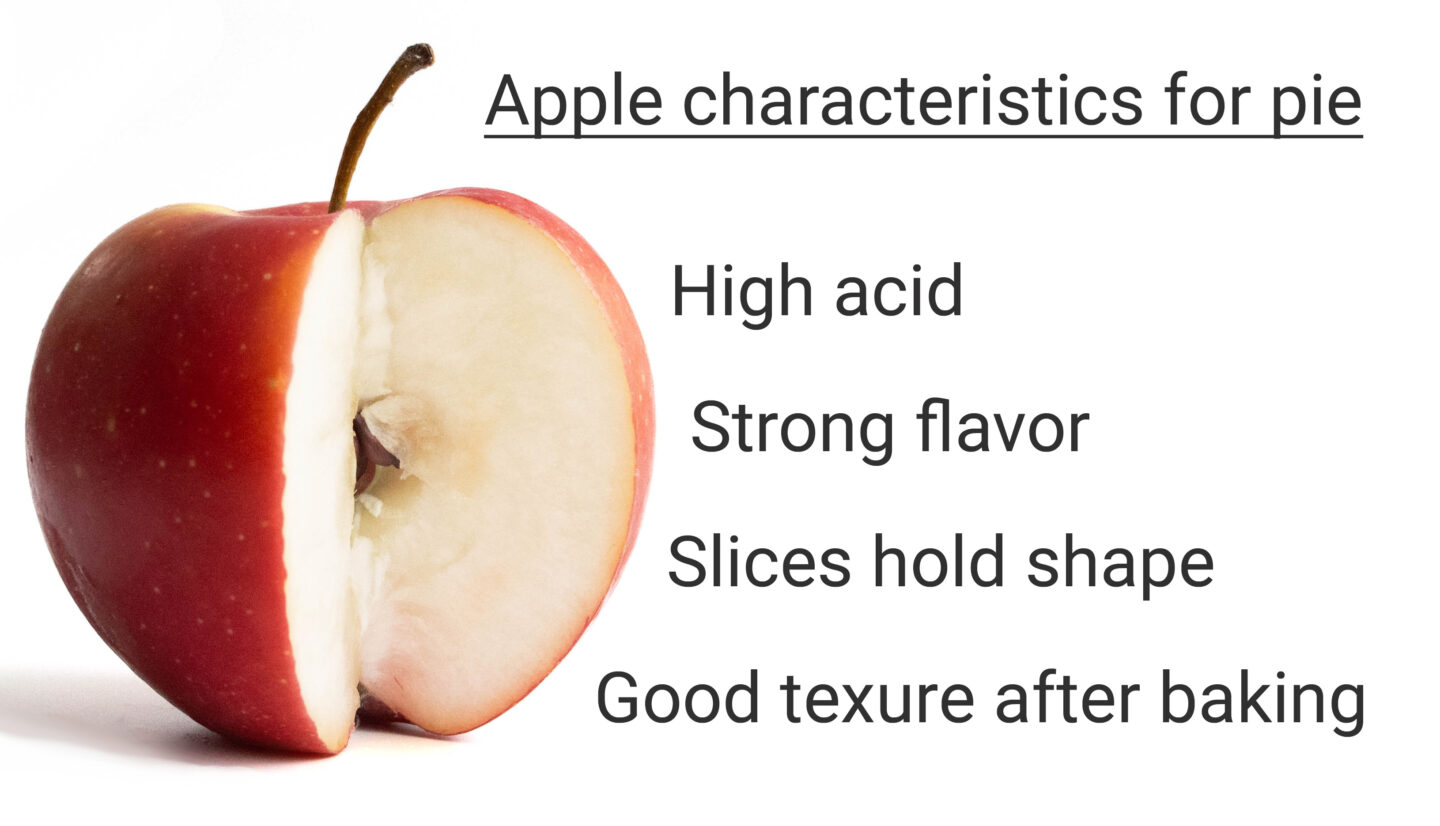 Have a sweet-tart balance (based on your personal preferences)
Retain a good flavor after baking
Hold their shape
Have a good texture that doesn't turn grainy or mealy
A pie that lacks tartness can easily fall flat, so a sweet-tart balance is ideal. But high acid apples offer more than just a desirable flavor profile. They also tend to hold their shape and have a better texture when baked.
It's important to start with a full-flavored apple, and then the best ones retain that flavor after baking (not all do). This allows the apple flavor to shine through, something that spices can't recreate.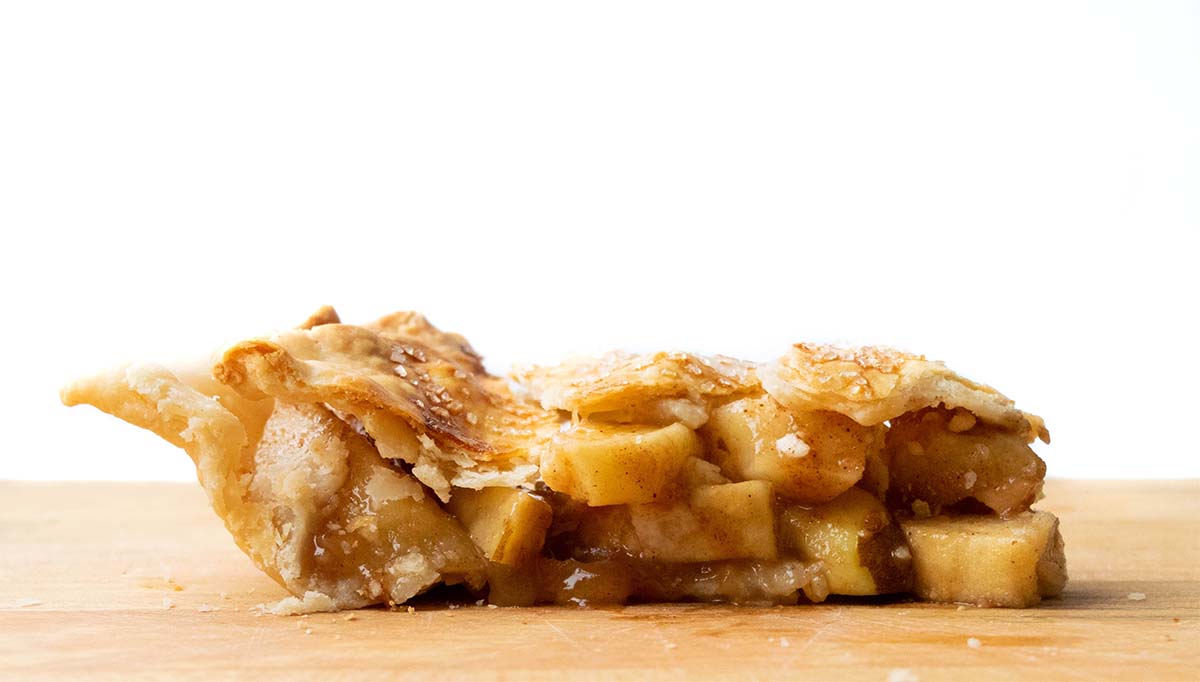 A good strategy is to use 2-3 types of apples for a well-rounded pie with complex flavor and various textures.
Apple pie tests: the setup
Everyone on the internet has an opinion about the best apples for pie. Some of those opinions are completely opposite and I suspect that has to do with preferences for different flavors and textures.
Out of frustration, I was determined to conduct pie-baking tests to get more data that I could share to help readers like you.
My guess is you've run into the same thing, and this post is just one of the many you've read on the topic. By sharing the actual tests and results, my hope is to provide information you can use to help choose your favorite apples.
Here's a peak at the results, which I will get explain in a bit.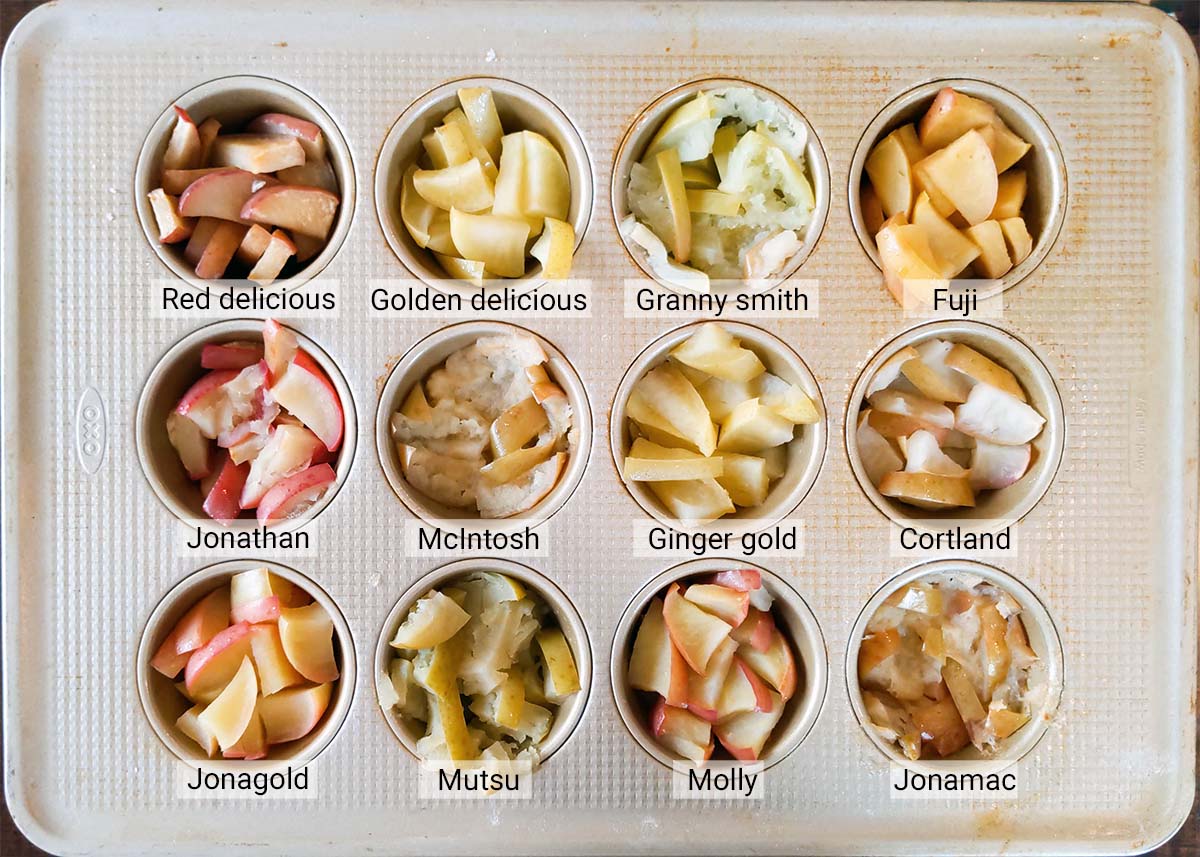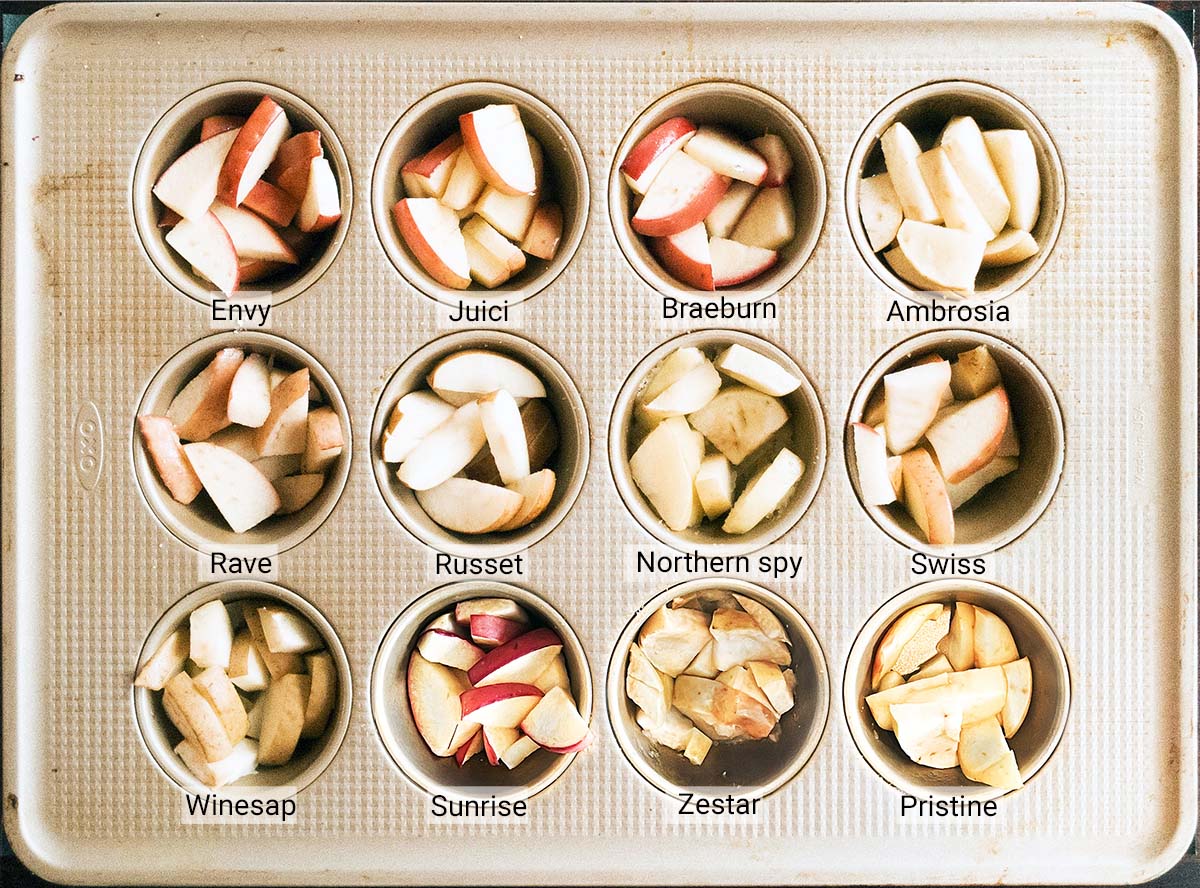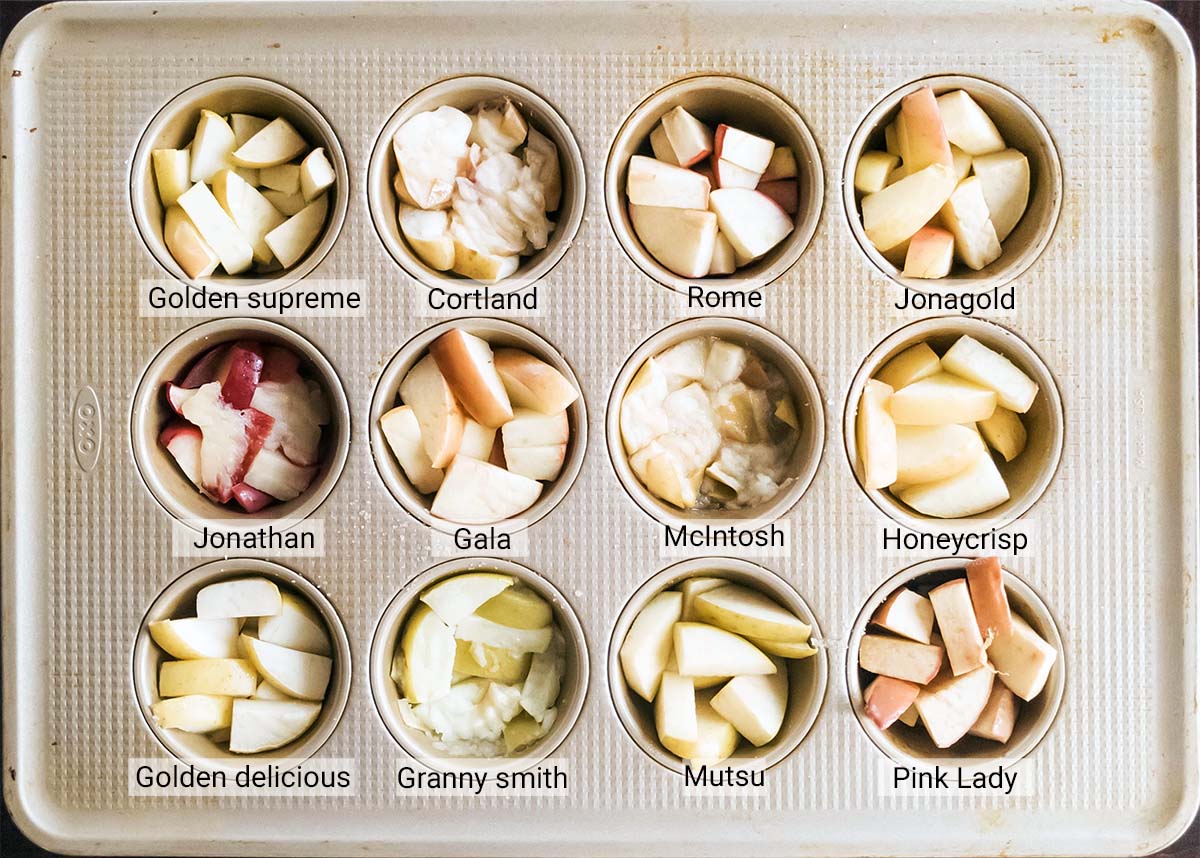 My apple pie testing guidelines:
Test each variety several times throughout the season (to eliminate the possible of one bad apple or harvest)
Bake all apples under the same conditions
Add a pinch of sugar for pie-baking chemical reactions
Cover with tin foil to mimic a top crust
After testing almost 100 pounds of apples, I was happy to see my results were in line with other sources that personally tested apples for pie as well. I also repeated these tests over multiple years for consistency (seasonal weather can affect crops, etc).
Keep in mind your preferences may vary, as will the apples you find locally. Weather before harvest, length of storage, and many other factors can change the flavor and texture of the apples.
I encourage you to buy a single apple of a few different types are try the muffin-tin test at home. The results won't go to waste if you have some vanilla ice cream handy, promise!
Best apple recommendations
To help you find your favorite apples, this post shares notes on all of the varieties I tested (both good & bad). The table below is a summary of the best ones to use. Keep reading for more in-depth notes on each specific apple, as well as apples not included in the chart.
The flavor rating: 1-5 indicates the strength of the flavor more than the preference for that flavor. Some apples have cider flavors, others have more pear or honey flavors. I didn't rate the quality of that flavor, rather then strength of the flavor after it is baked. The idea is you want those flavors to come through in a pie, something that spices can't replace!
Apple variety
Flavor
Texture (baked)
Comments
Braeburn
4
Firm
Sweet-tart balance
Golden Delicious
5
Soft & holds shape
My favorite pie apple
Golden Supreme
4
Soft & mostly
holds shape
Sweet, almost no acidic flavor. Best early-season apple for pies in August & September.
Northern Spy
5
Firm
Excellent balance of sweet & tart. Hard to find outside of NE & Midwest
Jonagold
4
Soft & holds shape
Sweet-tart balance
Fuji
3
Medium-firm
Good grocery store option: sweet, decent flavor. Excellent medium-firm flesh when baked.
Honeycrisp
3
Firm
Good grocery store option: Sweet honey-like flavor, with some tartness
Pink Lady
3
Firm
Good, but expensive grocery store option. Consistent in sweet-tart flavor and texture (due to quality control by the brand)
McIntosh
5
Falls apart
Excellent apple-cider flavor. Breaks down completely when baked but isn't grainy. Great supporting apple for pie.
Cortland
4
Soft & mostly holds shape
A McIntosh alternative with similar flavor that doesn't totally break down
Jonathan
5
Almost holds shape
Excellent flavor & tartness. Holds shape but falls apart under a fork.
Granny Smith
2
Firm OR mushy
Adds tartness, no flavor. Commercially stored Granny Smiths turn to grainy mush when baked
Characteristics for the best apples for pie
Before I review all of the results, I wanted to share my personal favorite apples. I like pies with several apple varieties because of the depth it adds to the flavor and texture.
After all of these tests, I have a clear favorite set of apples for pie (depending on seasonality & availability). I use 3 different apples in the following ratio:
Now let's jump into the baking test results. I've included pictures as well as notes on each type of apple.
Apples that stand on their own
There are a handful of apples that can stand on their own in a pie. They have it all: good flavor, sweet-tart balance, and good texture. If you make a pie with only one type of apple, these are your best options.
Braeburn
The most well-rounded apple widely available at grocery stores that make great apple pies. They have an excellent texture when baked - firmly holding their shape while softening just enough.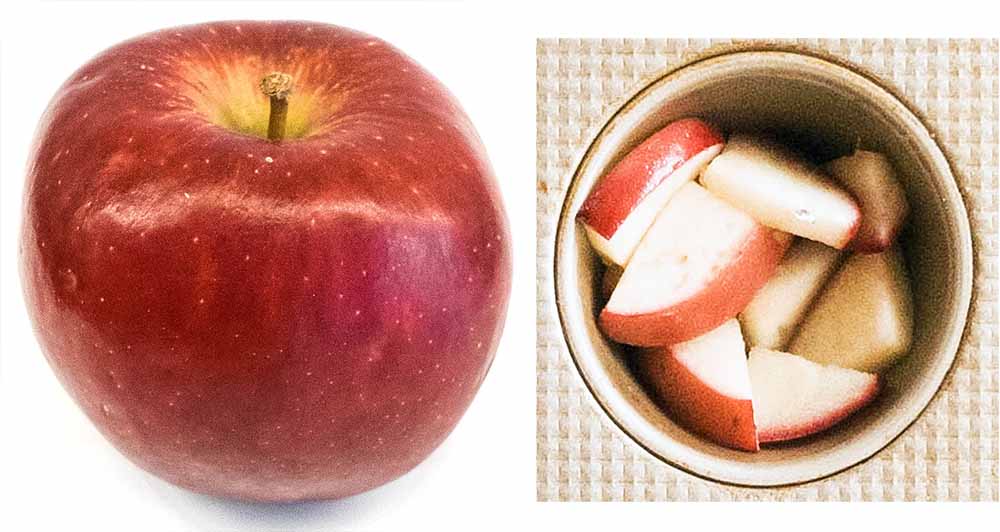 Braeburn apples have a perfect sweet-tart balance and a strong apple flavor with hints of cider. These are late-season apples, ripening in mid October and November. Braeburns also store well, making these a great option for apple pie at Thanksgiving.
If you are only using one type of apple, it would be this one or Golden delicious.
Golden Delicious
These apples have a buttery, classic apple flavor that gets richer when baked. The slices hold their shape but turn enticingly soft (softer than Braeburn).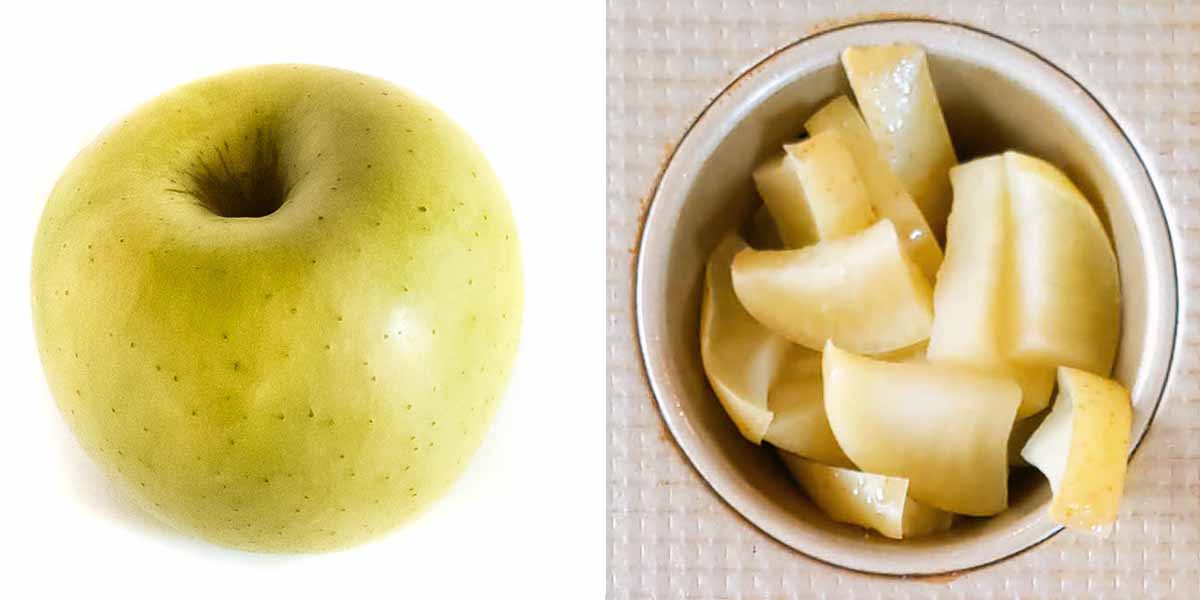 Golden Delicious are my favorite pie apple to date and are in season at the end of September and into October. They can be stored for several months.
Golden Supreme
A descendant of Golden Delicious, these apples share similarities in flavor and texture. However, the Golden Supreme flavor isn't as pronounced, and it is sweet with almost no acid. However, they do hold their shape when baked.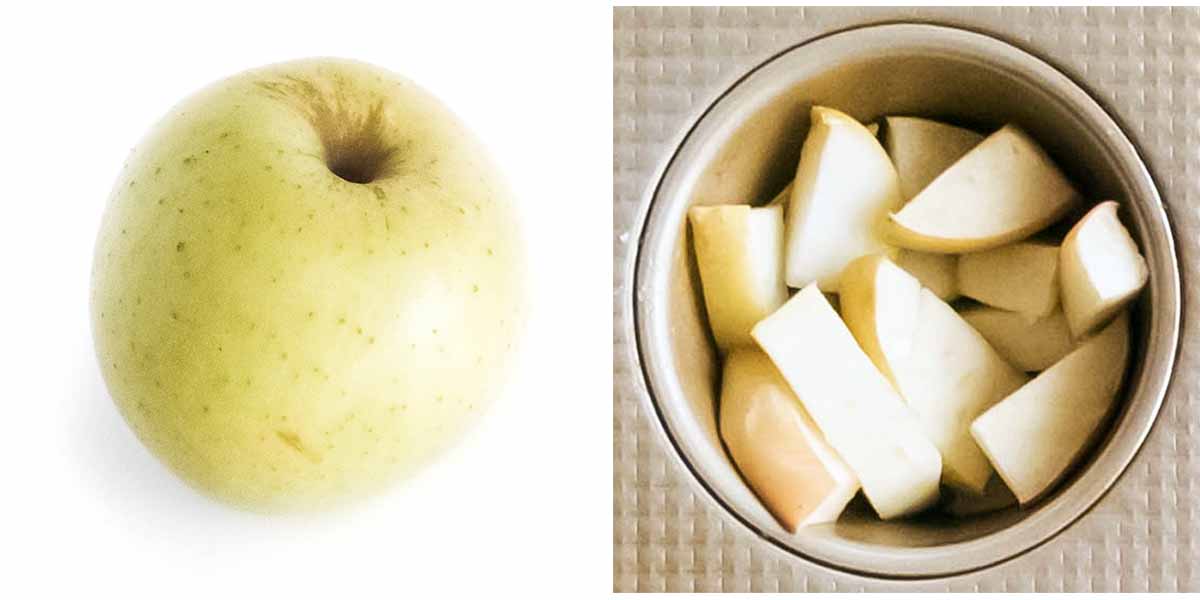 Golden Supreme apples make the list because they are one of the best early season apples for pie, available as soon as August. Early-season apples, in general, have less flavor and break down easier when baked. But golden supreme beats the odds with good flavor and texture in pie.
Northern Spy
Northern Spy apples are a classic pie apple for good reasons: they have hints of cider and pears, with an excellent sweet-acid balance. They are firm and hold their shape when baked.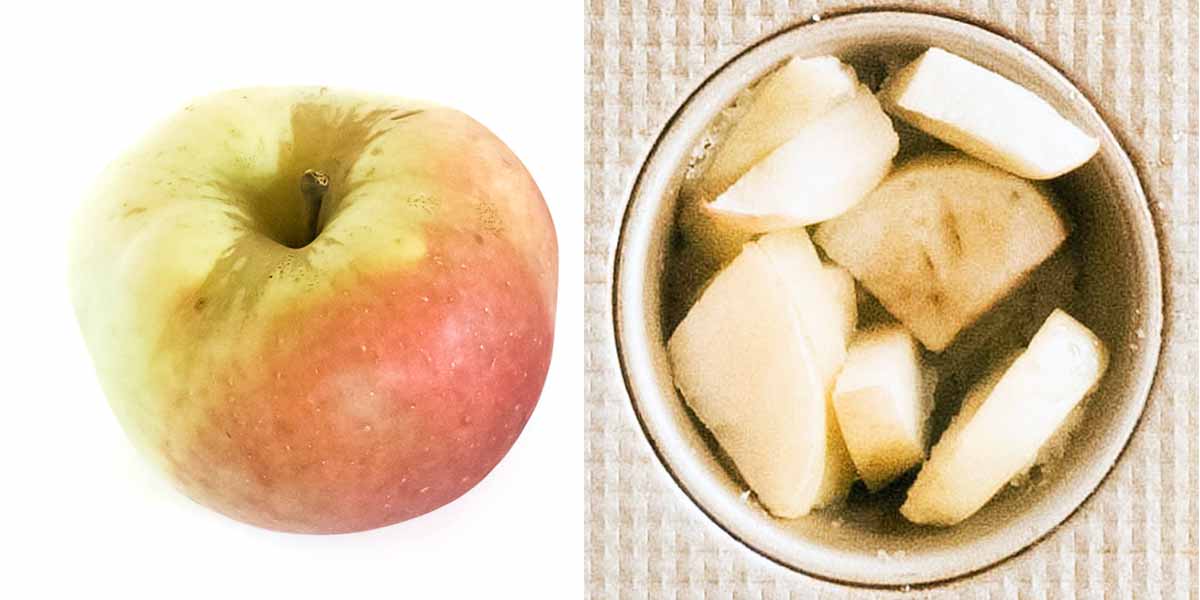 Northern Spy apples are a late-season variety, ripening in October and November. They store well, making them a great choice for holiday pies throughout winter and New Years.
The downside is they are mostly grown in the Northeast and northern Midwest, making them rare in other regions of the US. (They are grown on the West Coast, though much less commonly).
Jonagold
Another descendant of Golden Delicious that has a good apple flavor when baked, with a sweet-tart balance. They soften, but hold their shape when baked.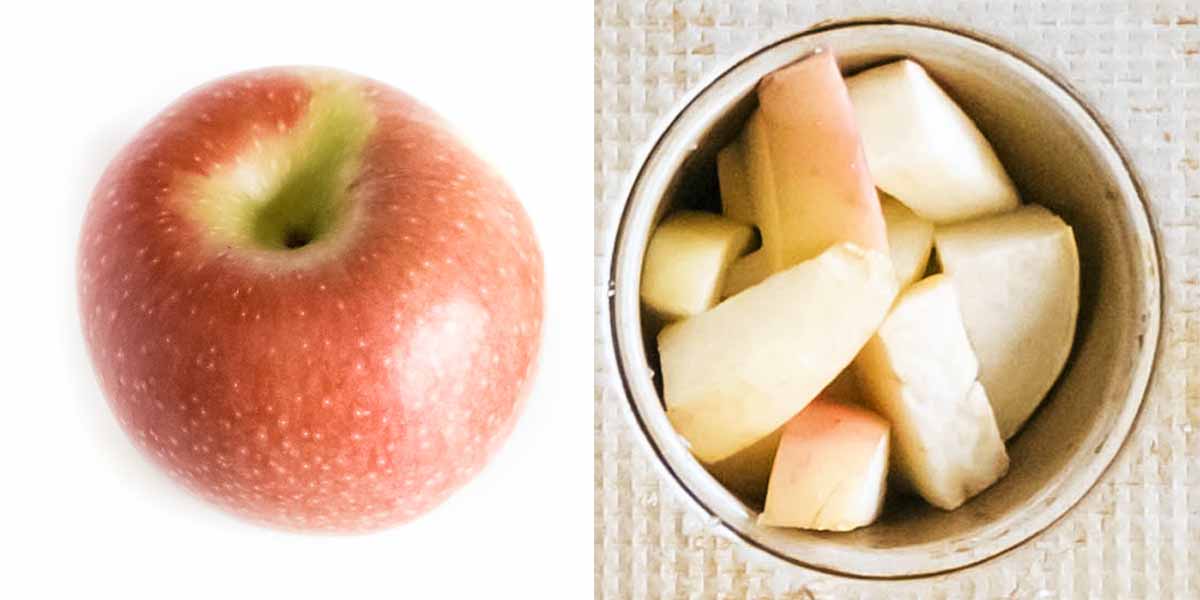 Available mid-season in September & October, mostly in the Northeast & northern Midwest.
Best grocery store apples
While I highly recommend getting apples from your local farmers market, that isn't always possible. I don't want you missing out on tasty pies, so I bought a bunch of varieties at the grocery store to test as well.
Braeburn and Golden Delicious should be available at most grocery stores when in season (in October, November, and December) and are two of my favorite apples for pie.
But here are a few other nationally-distributed options that make good pies as well.
Fuji
Fuji apples are probably the sweetest variety you can buy (they were bred specifically for that). Their flavor is decent, but not noteworthy. They are in season starting in November.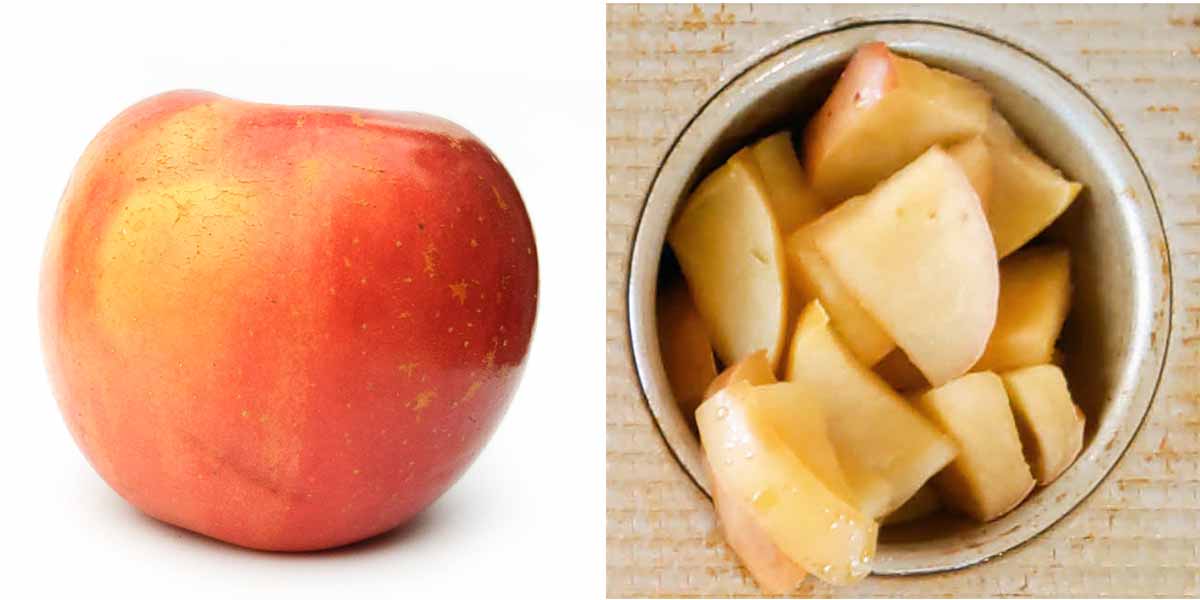 When baked, the sweet flavor diminishes a little, but their texture is among the best. They soften to a medium-firm, perfect consistency.
Try mixing with an apple variety with more flavor, like McIntosh, to round out the pie. (Note that McIntosh fall apart when baked, but isn't mealy)
Honeycrisp
Honeycrisp apples have a honey-like flavor that can have hints of rose or melon when baked. They are also a bit tart, and hold their shape in a pie.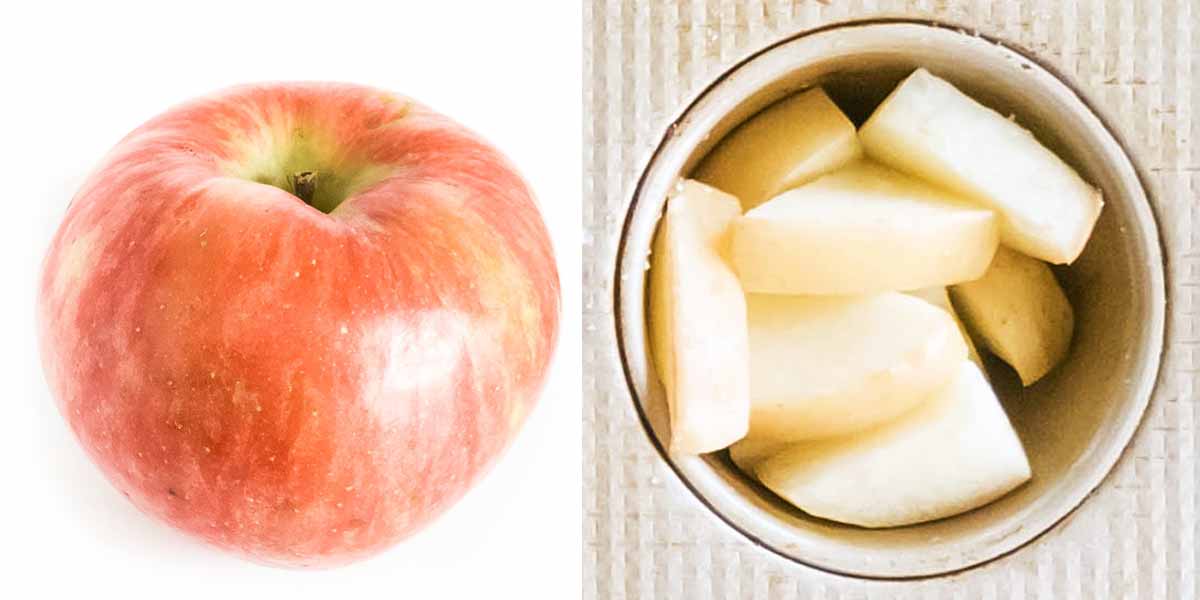 They are a pretty decent option. Buy in-season for your best chance at a fresh crop since they can be commercially stored for nationwide distribution for 7-10 months.
Pink Lady
Pink Lady apples are Cripps Pink that met quality standards to earn the Pink Lady branding. This makes them fairly consistent in terms of flavor and texture, and thus reliable. Their sweet flavor is retained when baked and have firm slices that hold their shape.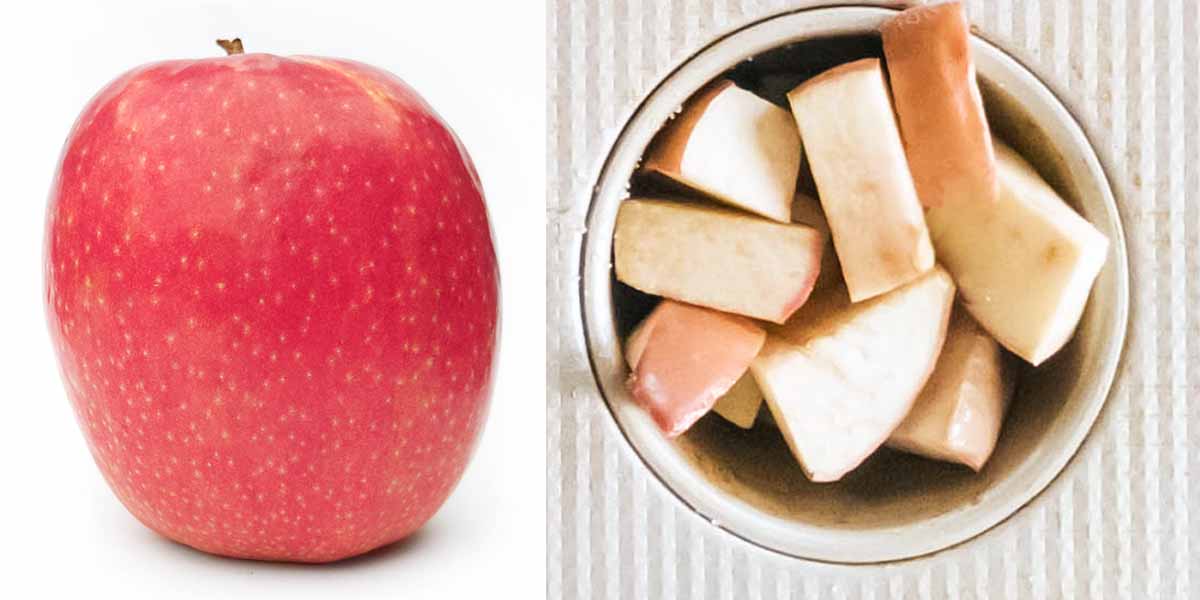 Overall, another decent apple pie option but often significantly more expensive than other apples.
A side note: I like spending the extra money on these apples for cheese boards, because they are very slow to brown. But other, more affordable apples seem better for pies.
Other grocery store options
Classic apples like Red Delicious and Granny Smith are available at stores, but have drawbacks. Newer, branded apples like Rave, Envy, and Juici are also showing up at stores, but aren't great for pies. See my notes below: apple varieties to avoid.
Big flavor, saucy texture
There are a handful of apples that add so much flavor to apple pies, they deserve attention despite their tendency to fall apart when baked. While each of these apples can turn to sauce when baked, they are not grainy or mealy.
For those of you who like apple pies to have a little gelled-sauce-like filling around firmer apple slices, consider including one of these types of apples. When using in a pie, these can make up about ¼ of your apples.
McIntosh
It's hard to beat the flavor of a McIntosh apple. It is the essence of apple, with a cider-like flavor. It can make a good addition to an apple pie, in small amounts.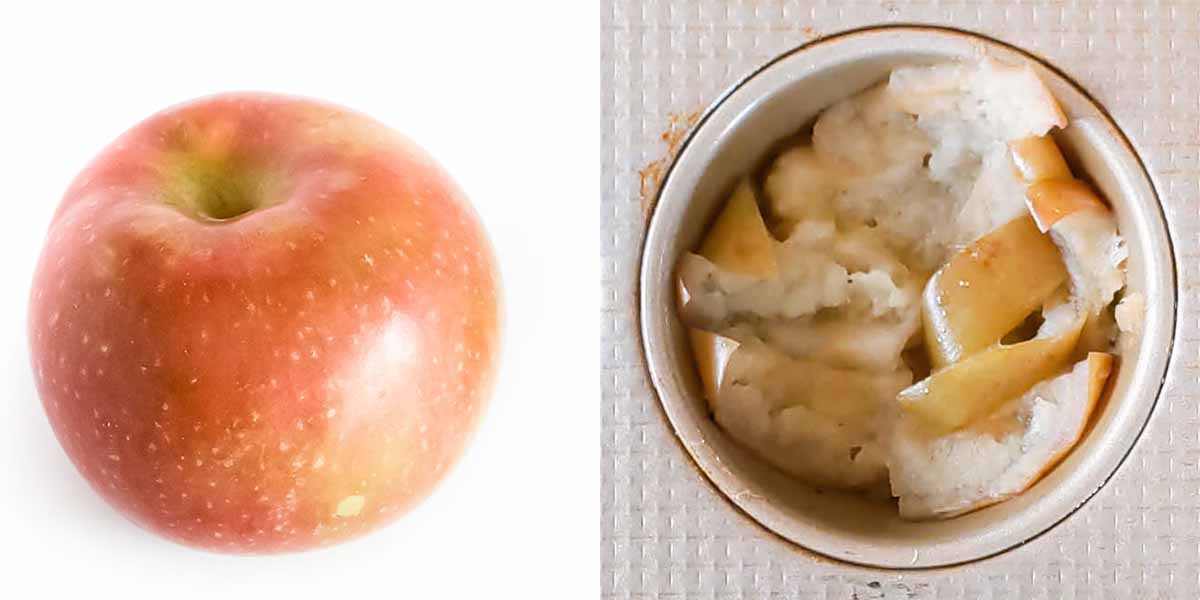 The unfortunate drawback preventing McIntosh from being the premier pie apple is the texture. It breaks down very easily into apple sauce. The texture is actually smooth and wonderful (not grainy or mealy).
They add incredible flavor to pies when mixed in with apples that retain their structure when baked. Some people like their pies with a little bit of that apple-sauce type filling, in which case, add these to your list!
Cortland
If you're looking for a McIntosh alternative for pies, Cortland apples might be worth considering. They have a similar cider flavor but hold their shape (just barely!) when baked. They do fall apart under the pressure of a fork.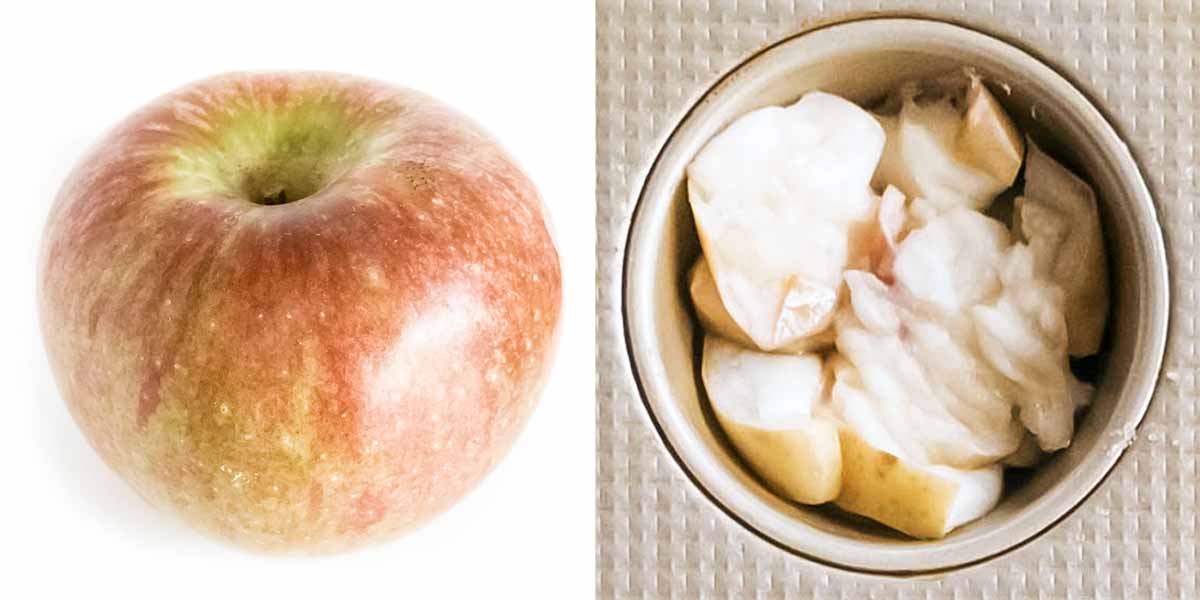 Their flesh is also strikingly white and very slow to brown.
Jonathan
Jonathan apples are flavorful and quite tart, but they soften considerably when baked. The slices hold their shape but can turn also to mush from the pressure of a fork.
They are also small, which can make for perfect-size slices but also a hassle to peel & slice so many apples.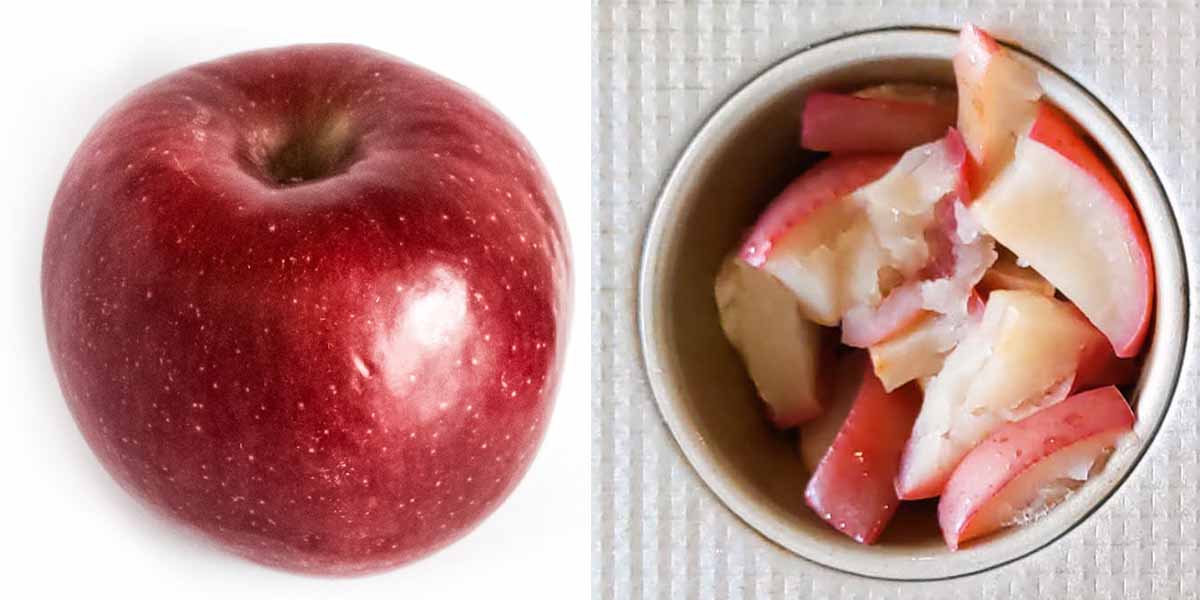 For adding tartness to a pie, I prefer these to Granny Smith.
(These are the best for caramel apples, with their small size and tart flavor, by the way!)
Novelty apples
There are hundreds of apple varieties, and I've only been able to test about 30 so far. The following apples make perfectly good pies, but aren't as stand-out as the other options listed previously.
You can find these at farmers markets (depending on the region), but not at grocery stores.
Ginger Gold: good flavor, bakes up soft but mostly holds its shape
Jonamac: A cross between Jonathan & McIntosh, it inherits a good flavor. But turns to mush when baked, so use only as a supporting apple.
Ambrosia: honey like flavor with hints of banana, no acid. Good texture when baked.
Russet / Golden Russet: great cider flavored apple that has very crunchy flesh, retaining some of that crunchiness when baked
Winesap: a favorite pie apple for some people, but can be grainy when baked
Swiss: pear-like flavors and medium-firm texture when baked
Mollie: pear-like flavors and soft texture when baked
Pristine: another good early-season apple option. Buttery flavor when baked and slices turn very soft (caution, can be mealy).
Worst apples for pie
Not all varieties are suited for pies. The worst ones have bland flavor and turn mealy or grainy after baking. Bland apple pies can be saved with extra flavor (caramel sauce or fun flavored ice cream), but a bad texture can't be fixed.
Red Delicious: flavorless and mealy when eaten fresh, which holds true when baked. They are beautiful, but don't let that fool you!
Gala: good flavor but grainy when baked
Mutsu: good cider-like flavor with hints of anise. They can get extremely large and still taste good. However, the flesh often turns grainy when baked.
Rome Beauty: bake up very bland and are not worth using over widely available options like Honeycrisp, Fuji, or Pink Lady.
Michigan Sunrise: Bland and mealy when baked
Zestar: Increased tart flavor when baked, but can be mealy
Juici: Mediocre flavor when baked with crunchy flesh
Envy: Bland with grainy flesh when baked
Rave: odd, overly-fruity flavor when baked (think jolly rancher), with grainy flesh
Granny Smith: highly recommended in the past, but current production is often mealy (see note below)
Granny Smith: tart, but lacks flavor & can be mushy
Granny Smith are probably the most recommended apples for pie due to their tartness and ability to always stay firm when baked. However, every Granny Smith I tested turned to grainy mush, when other apples didn't.
Was I doing something wrong? I bought the apples throughout their peak season, but did I get old ones?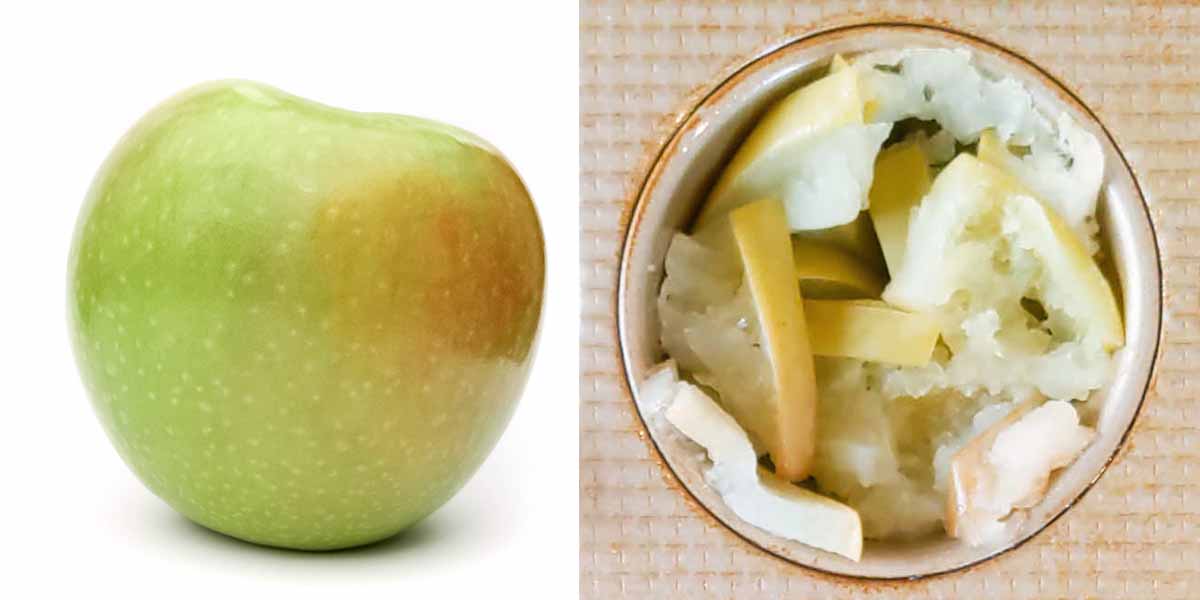 Apparently, I'm not alone. Comment sections and Reddit baking threads are full of people just as bewildered, so I consulted some experts. Apparently, they shouldn't be praised like they have in the past. Modern agricultural practices rush these apples to climate controlled facilities to lengthen their storage (lasting 10 months or more). When removed from their climate control, their flesh quickly breaks down, especially when heated.
This means they turn to mush when baked in your pie, as several of my tests confirm. This is in direct contrast to the advise given in the past that they hold their shape even under prolonged, hot baking temperatures.
Fresh Granny Smith apples from the farmers market fare better. They do hold their shape when baked but side-by-side tests reveal they cook much faster than most other varieties. This can lead to over-baking, which will turn them to mush (as with any apple).
Granny Smith apples also lack flavor when cooked. They retain their tartness, but don't have much apple flavor to contribute, if any. Fresh farmers market Granny Smiths taste a bit better after baking, but still lackluster, in my opinion.
They are good for adding tartness to a pie when combined with other apples, assuming you are okay with the chance they turn to mush (which some people like as part of their pie filling anyway).
Apple pie recipes
Preferences for any kind of food vary wildly from person to person. I hope to have given you some guidance to help you choose the apples you will like best.
There are some other experts out there that I highly respect and hope their advice can also lead you to the best apple pie you've ever made. I have a couple recipes to share that I have personally tried and love.
J. Kenji López-Alt from Serious Eats. He also has a recipe specifically for gooey filling (yesss!)
Bake from Scratch has a "Kuchen de Migas" which I call an apple-cookie-cake-pie and have made in 3 times this fall already. If you don't care for pie crusts (or hate the soggy bottoms and can't seem to fix that), try this. The crust has a cookie dough like consistency that bakes up to a cookie-cake like texture and is incredible.