Go ahead, buy that flat of fresh strawberries at the farmers market. Then save some for this strawberry bread, which uses 1 lb per loaf. It has a subtle flavor that is perfect for laying in other things like lavender, rose, thyme, and nuts.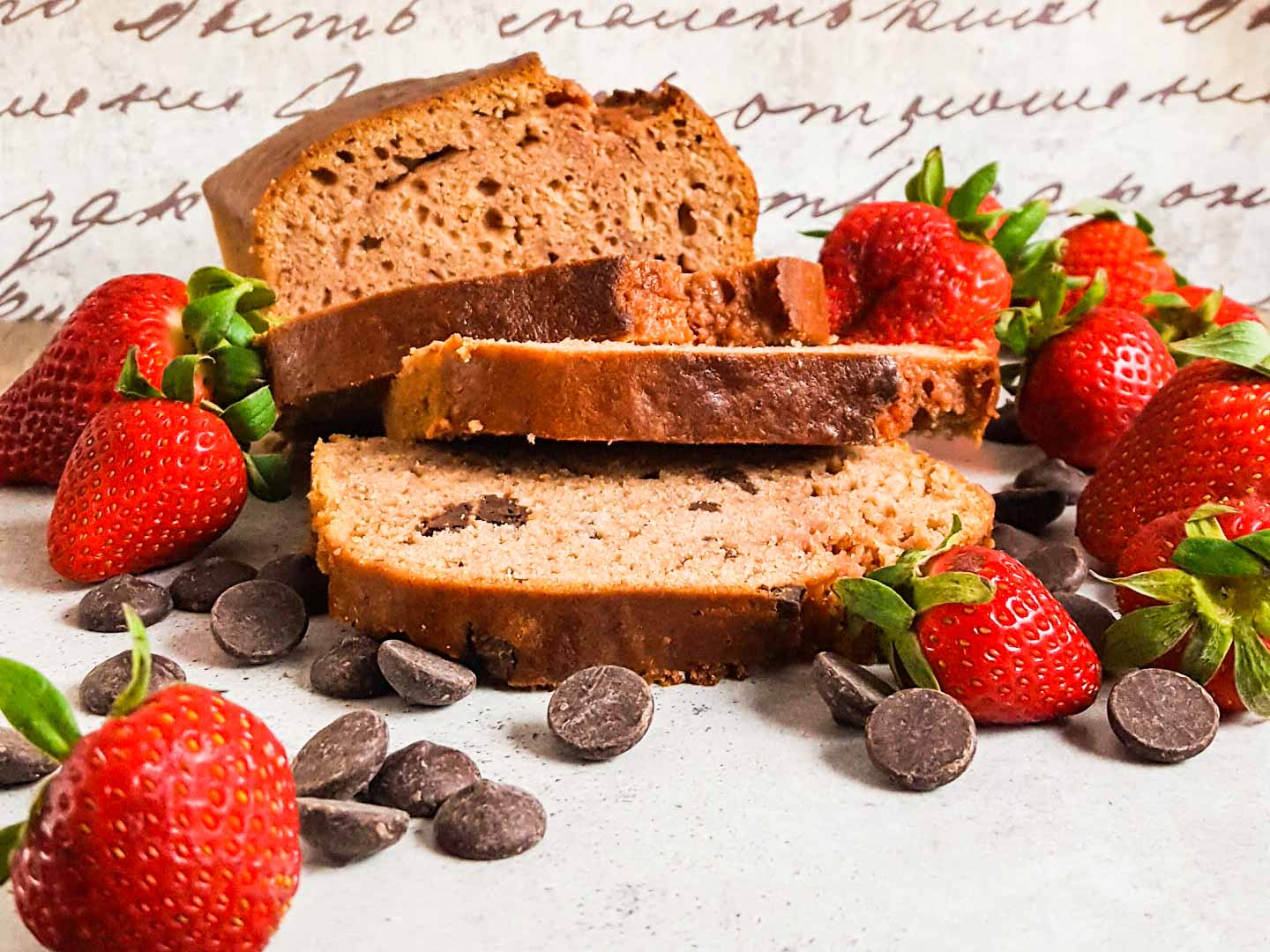 This low-fuss strawberry bread is very similar to banana bread. You can use strawberries in any condition and it always turns out great.
Fresh strawberries
Strawberries that are a little too soft or overripe for eating plain
Ones that lack flavor and aren't good for snacking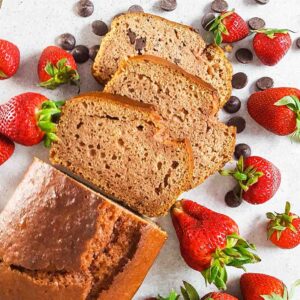 Ingredients
Strawberry mixture
1

lb

strawberries

1/2

cup

sugar
Strawberry bread
1 3/4

cup

all purpose flour

8.75 ounces

1

tsp

baking soda

1/2

tsp

salt

1/2

cup

sugar

2

large

eggs

1 1/2

cups

strawberry mixture

1/2

cup

walnut or vegetable oil

1/4

cup

almond milk

or regular milk

1

tsp

vanilla

1/2

cup

chopped chocolate chips
Instructions
Strawberry mixture
Chop strawberries and add them to a medium sauce pan along with 1/2 a cup of sugar. Mash to release juices. Bring to a simmer and then reduce heat to medium and let it reduce to about 1.5 cups. Let cool slightly (so it isn't piping hot) before adding to bread ingredients. (see note)

While it simmers, measure and prep the rest of the ingredients.
Bread
Preheat oven to 325F. Great a 9×5 inch loaf pan.

Medium bowl: whisk together flour, baking soda, salt, and chocolate chips.

Large bowl: mix the eggs and sugar together. Then whisk in the strawberry mixture, oil, milk, and vanilla.

Add the dry ingredients to the large bowl and mix until just combined.

Bake for about 1 hour. To check if it is done, insert a toothpick into the middle. If it comes out clean or with just a couple crumbs, it is ready.

Let cool slightly before cutting or it will fall apart!
Notes
The batter will be a pretty pink color, but as it cooks it loses that color. Recipes that show bright pink bread used dye. (I even tried adding beets and couldn't get that bright pink color once it cooked).
Feel free to add chopped walnuts, almonds, or other kinds of nuts to this recipe.
If you have walnut oil, that works great in place of vegetable oil, but no need to go out and buy it for this recipe.
Nutrition
Calories:
332
kcal
|
Carbohydrates:
45
g
|
Protein:
4
g
|
Fat:
15
g
|
Saturated Fat:
3
g
|
Cholesterol:
37
mg
|
Sodium:
275
mg
|
Potassium:
163
mg
|
Fiber:
1
g
|
Sugar:
25
g
|
Vitamin A:
60
IU
|
Vitamin C:
26.6
mg
|
Calcium:
51
mg
|
Iron:
1.5
mg
Recipe notes & tips
Substitutions:

Nut oils: I love using delicately flavored cooking oils, but regular vegetable oil will work just fine.
Almond milk: regular milk works great too (or other nut milks)
Sugar: decrease the sugar in either the strawberry mixture or in the bread by 1/4 cup to make it less sweet, or add 1/4 for an extra sweet bread.

Strawberry mixture: The volume of this isn't too finicky. You can easily use up to 1/4 cup extra and reduce the amount of liquid elsewhere (I like to take away equal parts oil and almond milk).
Pink strawberry bread: The color comes out much like banana bread, not very pink. I've even tried added in some beet for color and it still doesn't turn pink after being cooked. I found a couple recipes with hot pink bread and found out they are using packaged strawberries that have a lot of dye. So if you want it pink, you'll have to add dye.
Strawberry guide
Learn why going to a u-pick or farmers market for strawberries is better, along with other tips and recipes on the full guide.
Check it out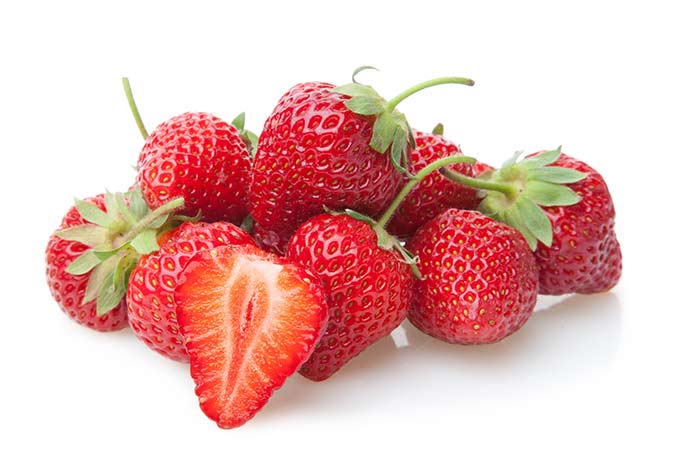 Other strawberry baked goods
Muffins and scones are great alternatives to a quick bread as well. I found a couple recipes from some of my favorite bloggers to share.
Strawberry scones
A 5-star recipe from Jo Cooks, these scones dice up 2 cups of strawberries and mix it into the batter before baking.
Check it out
Strawberry cupcakes
Jaclyn over at Cooking Classy has worked hard to create a cupcake full of strawberry flavor, rather than just a subtle hint.
Check it out
Like to eat with the seasons?
If you do, check out my produce guides and recipes for fruits & vegetables that are currently in season.
Each month highlights recipes that use produce exclusively in-season (or available year-round at high quality). Each fruit & vegetable also has an in-depth guide that shares tips on how to pick the best ones up from the market, how to store them, and interesting tidbits on prepping or nutrition.
What are you go-to quick breads?
Banana bread and its many variations are a staple in my house. I enjoy branching out to use other fruits. How about you? What is your favorite way to use strawberries? Leave a comment.