Lilacs are delicate, little edible flowers. To make candied lilacs, each flower has to be individually painted with an egg wash and then showered in sugar. It's quite time consuming, but the upside is they last a year in a sealed jar.
I tested faster methods but they all disappointed. I've shared the results from those tests so you can see it to believe it.

Jump to:
When are lilacs in season?
They bloom for about 2 weeks in spring, usually between April and June (depending on where you live). A really hot spell can make the flowers fade much faster than usual.
Most lilacs grow in zones 3-7, since they need cold weather to force them into dormancy. There are a few newer varieties that can work in zone 8.
Flower Magazine's "7 things to know about lilac bushes" covers climate, varieties, and general care instructions.
What do they taste like?
Candied lilacs do taste like the actual flower: lilac-y and floral. Treat them like lavender: in small doses they are wonderful, but too strong of a flavor can be reminiscent of soap.
They can be just slightly bitter when eaten raw, but the sugar masks it entirely.
Note that the flowers will taste slightly different depending on the variety (I wish I had an exhaustive taste comparison for you, but not yet).
Are all lilacs edible?
The flowers of any lilac species (Syringa spp.) are edible as listed by the University of Minnesota edible flower guide. This includes the common lilac, as well as Korean tree lilacs.
The botanical latin name for lilacs used in the plant world is Syringa. It will then be followed by another name, which is essentially a variety within the lilac genus, for example Syringa vulgaris. You may also see the genus shortened to just a capital S when Syringa is implied, like S. vulgaris.
I'm sharing this so that you can confidently buy lilac bushes and know they are edible because they are of the Syringa genus. Here's a list of 20 varieties you might be interested in growing.
Supplies
To make candied lilacs you will need the following:

Freshly picked lilacs
1 egg white
Superfine granulated sugar
A small paint brush
Parchment or wax paper
Lilacs
Pick lilacs with fresh, open blooms that aren't wilting. Flowers that start to wilt will be harder to paint & sugar (and won't look as pretty). To make sure the flowers stay in good condition, pick them no more than an hour before you start, because they can start to wilt fast.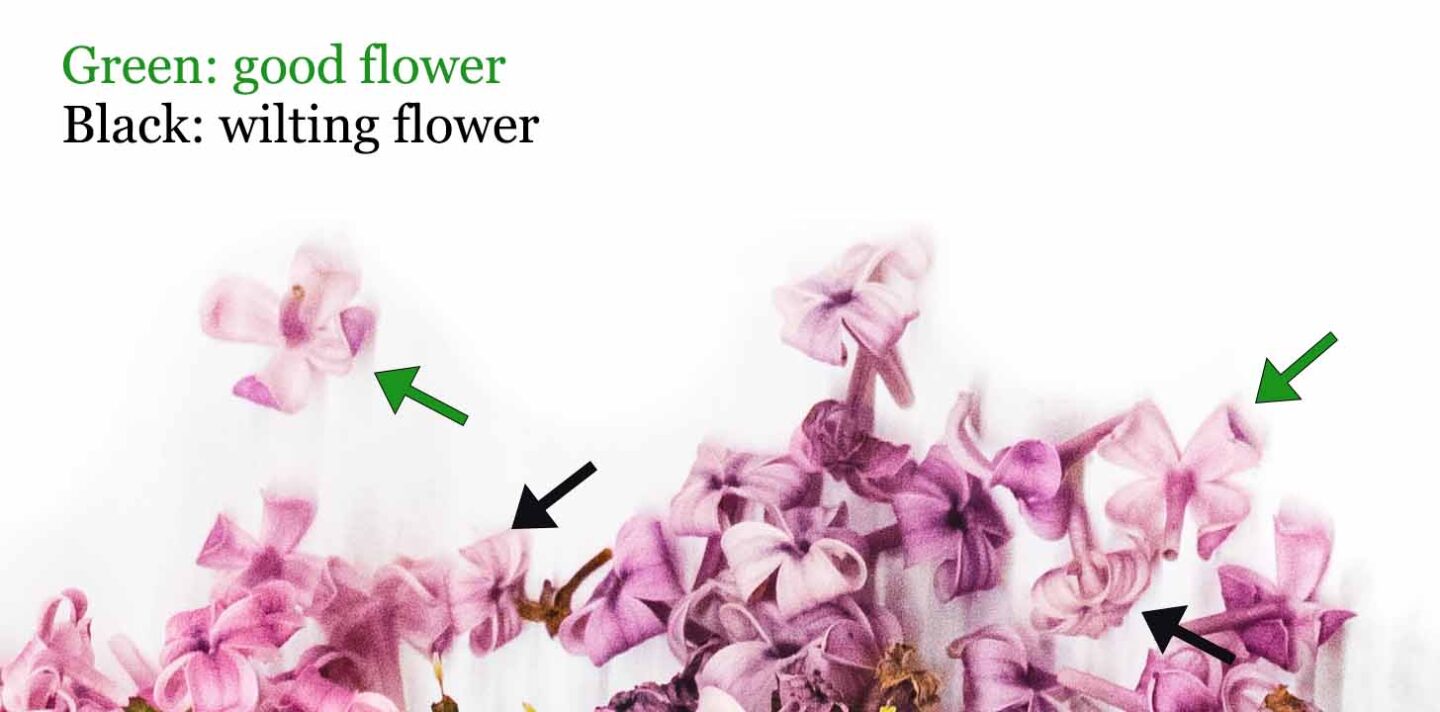 When ready to begin, pluck the flowers from the stems. Doing this ahead saves time and prevents you from continuously setting down your paint brush to pluck more flowers.
Egg wash
Combine 1 egg white with 1 teaspoon of water and blend until frothy. You can do this with an immersion blender, food processor, or handheld beaters. The reason the egg white is frothed is to create a lighter, less viscous liquid that is much easier to paint onto the petals.
Superfine sugar
You will need about ¼ cup of superfine sugar. Superfine sugar is more finely ground regular, granulated sugar (but not so far as to make powdered sugar). Superfine sugar is also called baker's sugar or caster sugar. If you want a visual, The Kitchn shows the differences.
You can also make superfine sugar by running granulated sugar through the food processor until it is much finer.
Do not use powdered sugar.
Tools
A small, soft-bristled paint brush. I used a clean, angled, cheap eyeshadow brush.
Parchment or wax paper (for drying the flowers)
Optional: tweezers to hold the flower stems
A jar for storage. I used a clean glass spice jar (plastic jars hold smells), or a glass canning jar works as well.
The best way to make candied lilacs
The best way to make candied lilacs is to paint the egg wash on each flower, then shower it in sugar (sprinkle it from above, as opposed to dipping it). The picture below shows various methods that I tried.

As you can see, powdered sugar doesn't work. Dipping the flower in the bowl of egg wash creates a blob that doesn't resemble a lilac at all. I also found that dipping the flower in sugar makes the sugar-coating too thick and hides the pretty lilac shape.
The only method that I found worth doing is painting each petal, followed by dropping sugar onto it (pictured above, far right). This does take quite a bit of time - you can expect to do 150-200 lilacs in an hour.
Step 1: Paint the petals
If you haven't made the egg wash, combine 1 egg with with 1 teaspoon of water and beat until frothy. The frothing step makes it easier to paint on, as it is less viscous.
Hold a lilac flower by the stem and paint it with the egg wash. Paint the top and undersides of each petal. Do not dip the flower into the egg wash (it creates a giant glob).

Step 2: Shower with sugar
Continue to hold the lilac flower in your hand. Use the opposite hand to grab a pinch of sugar and shower it on to the top of the flower from above. Tip it over and grab another pinch of sugar to shower the underside of the petals.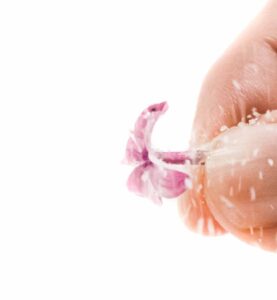 This process will likely build up a little eggwash + sugar on your fingers over time. Be ready with a bowl of water or wet towel to clean your hands every so often.
Step 3: Dry for 24-48 hours
Place the candied lilac onto a sheet a parchment or wax paper to air dry. I placed them face down as this was easiest to let them dry. They need to be completely dry before you store them, or they will wilt.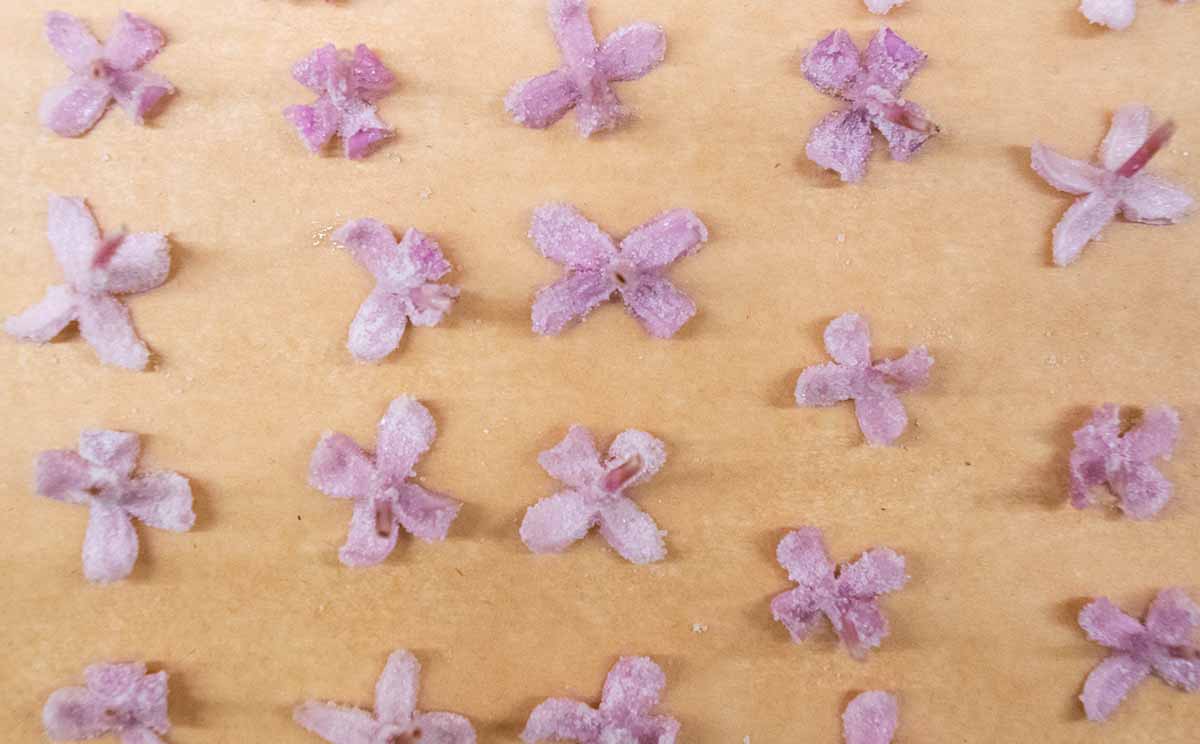 Step 4: storage
Once completely dry, you can store them in an airtight container for a year. They don't need to be refrigerated as long as your house isn't getting really hot.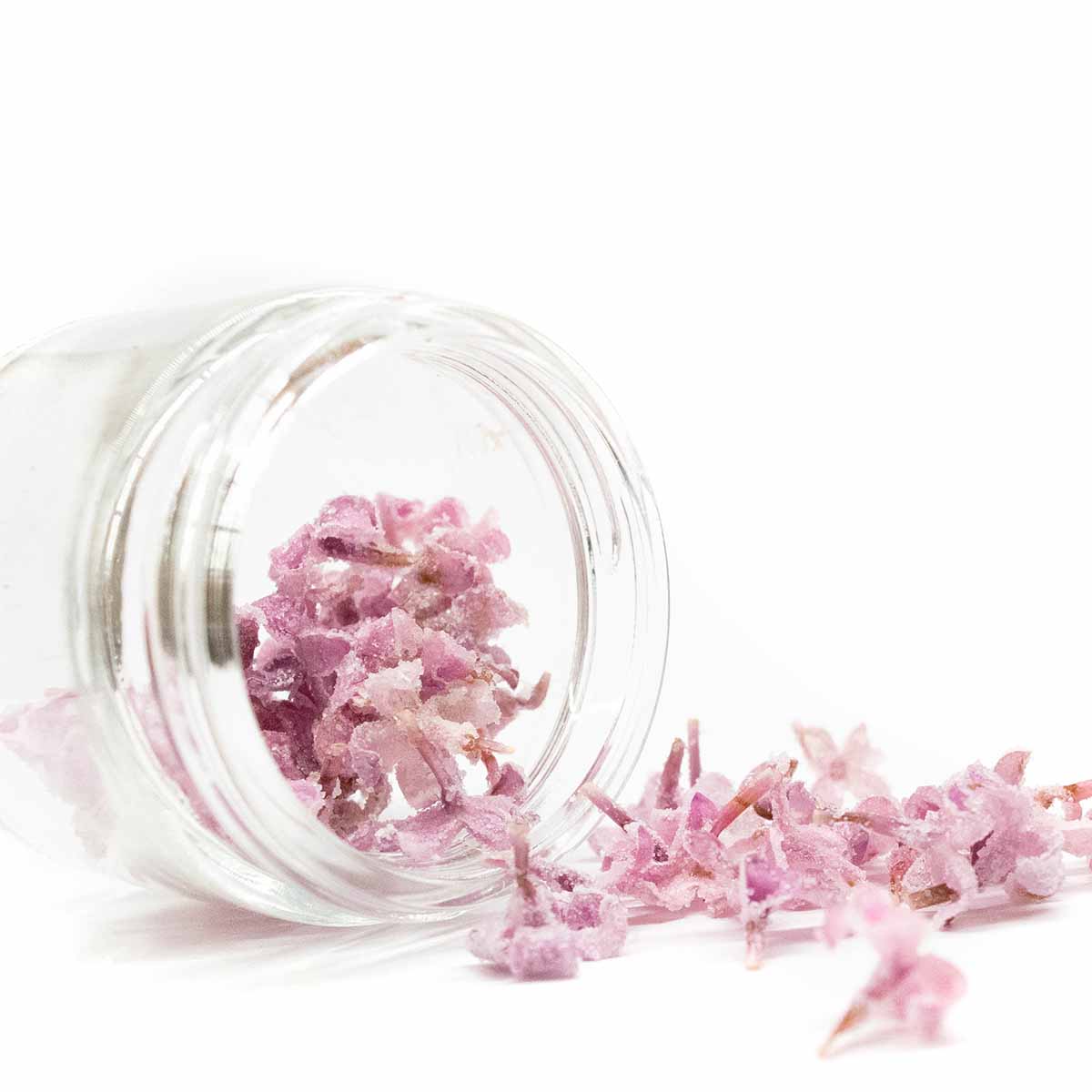 If you store them before they are totally dry, they will wilt in the jar very quickly. If this happens, spread them out onto a sheet of parchment or wax paper and they will likely crisp back up. They won't look as pretty though.
It is very hard, in my opinion, to tell when they are completely dry and ready for storage. My suggestion is to put a couple candied lilacs into a jar, seal it, wait 12 hours, and see if they are still hard. If so, you are good to go. If not, wait another day.
I err on the side of caution and wait 48+ hours to let them dry out. The extra time exposed to the air isn't a problem.
If you've made them shortly before bringing them somewhere (like to a cocktail party, or on a plane), store them in a mason jar, covered with cheesecloth or a paper towel, secured with the metal ring. I did this once 12 hours after candying the lilacs, and they stayed crispy and didn't wilt.
Recipe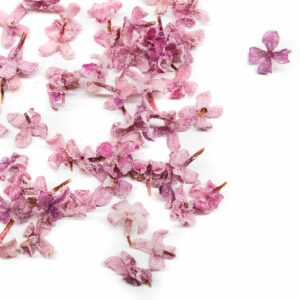 Equipment
1 small, soft bristled paint brush

or small, clean makeup brush

2 sheets

parchment or wax paper
Ingredients
4

bunches

lilacs

as many as you want to candy

1

egg white

1

teaspoon

water

¼

cup

superfine sugar

aka casters or bakers sugar, or make your own
Instructions
Prepare ingredients
Whip egg white and

1

teaspoon water together until frothy. (This makes the consistency easier to paint onto the petals)

If needed, turn granulated sugar into superfine sugar by pulsing in a food processor until fine

Pull lilac flowers off the stems so you have a pile to work with
Make the candied lilacs
Paint the tops and undersides of one lilac with the egg wash. Then shower it in sugar, coating both the tops and bottoms of the petals. Set on parchment or wax paper to dry.

Repeat until all flowers are done.
Let flowers dry 24-48 hours
Let the flowers dry in the open air for 24-48 hours. They need to be completely dry before storing in an airtight container, or they will wilt from the humidity they release while drying. To test for dryness, place 1 petal in a small, airtight container and see if it wilts or stays stiff after 8-12 hours.

Once dry, store in an airtight container for up to a year at room temperature (or in the fridge if your house gets hot). I prefer glass jars, since plastic can hold odors.
Best uses
There are so many good ways to use candied lilacs:
Add to glazed pastries: sprinkle them on top of a wet glaze and they will stick to your baked good
Add on top of frosting (like a cake, cupcake, or brownie)
Top on ice cream or whipped cream (like on top of angel food cake)
Use for presentation: spread around a charcuterie tray or on top of a cheesecake right before serving
Gift them: put them in small, clean, glass spice jars for a super cute gift. You can even give them during the winter holidays, since they last a year after candying.
Done? Make lilac sugar & other treats
Layer sugar and leftover lilacs (ones you didn't candy), in a mason jar. Shake every day, for 1 week. After 1 week, strain the sugar to separate it from the flowers. Store the sugar in a jar for up to 1 year. Use in baked goods, to sweeten tea, or use as a sugar rim for a floral cocktail.
Brit + Co has several other recipes that use lilacs, if you're interested.
I also have several other recipes for edible flowers: