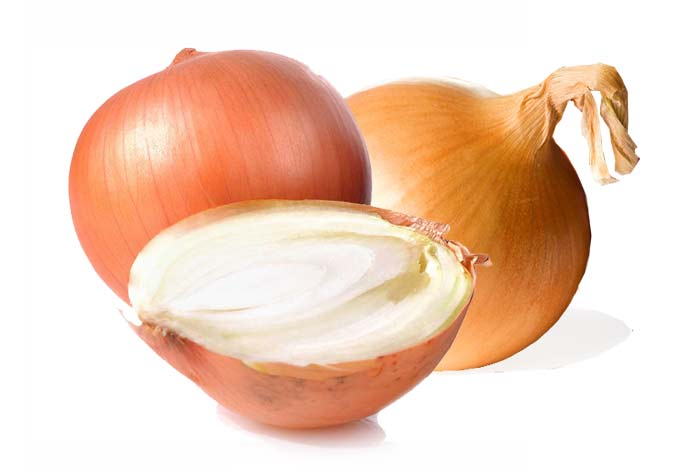 Varieties
Vidalia, Walla Walla, and Maui are the most widely available sweet onions and are all quite similar in flavor. Their seasons differ just slightly.
Maui: Peak: April - August, but can be found year round
Vidalia: April - August
Walla Walla: June - September
Texas Sweet: April - June
What makes these onions sweet?
Sweet onions don't actually have more sugar. Instead, they have less of that characteristic 'bite,' which makes them seem sweeter. This is due to three main factors:
Genetics: sweet onion varieties genetically have about 50% less pyruvic acid than regular onions, which gives them less of a bite.
Soil: Vidalia onions in Georgia are grown in low-sulfur soil and Walla Walla and Maui onions are grown in low-sulfur volcanic soil. Sulfur adds to that 'bite' so it is intentionally kept as low as possible, including careful use of low-sulfur fertilizer.
Water: sweet onions also have higher water content, which essential 'waters down' the strong flavor.
Selection & storage
Choose onions that have no bruising or soft spots and have a closed 'neck' at the top.
The higher water content in sweet onions makes them spoil faster than regular onions. They should be handled with care since they are more fragile.
Storage instructions
On the counter: they will last for about a week
In a cool, dry place: they can last for about a month. Keep them away from potatoes and try to not let them touch to prevent bruising and spoiling.
In the fridge: They can last more than a month in the fridge. Store loose or in paper bags. Avoid plastic as that can cause the onions to mold.
Recipes
The milder flavor from sweet onions makes them ideal for recipes with a lot of onions. It keeps the onion flavor from overpowering everything else. This is why they are excellent for onion rings, soups, and dips.