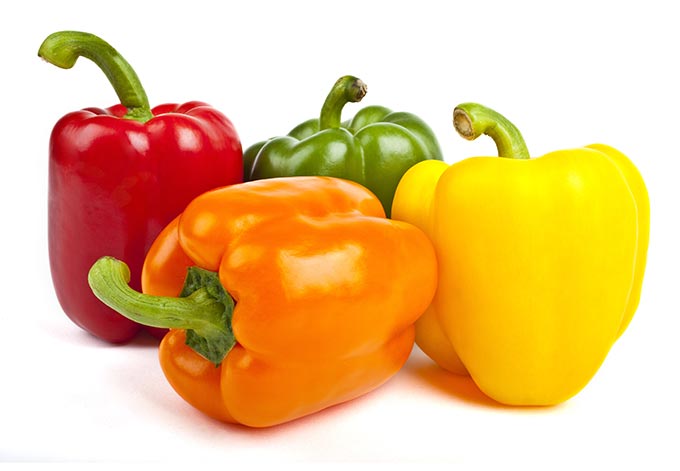 Bell peppers are the most common sweet pepper and come in a variety of colors with different flavor attributes. Sweet peppers aren't necessarily sweet - rather they aren't hot. Find out how color affects the flavor, along with other sweet pepper varieties in this guide.
Jump to:
When are bell peppers in season?
US grown peppers are actually available year-round, thanks to our different growing climates. California ships peppers from April until December, with peak season from May through July. Florida ships peppers from October through July, with peak in March and April.
Even if bell peppers aren't grown near you, they ship quite well. So you can still get high quality and good tasting peppers at your grocery store.
Flavor differences
Colored bell peppers are riper versions of green bell peppers. When left on the plant, green bell peppers will turn to yellow, orange, and red (depending on the variety).
A report (PDF) from The University of California Davis explains this as well. But out of curiosity, I looked up two dozen of the most common varieties planted by commercial growers. I found that every single one of them started green, then eventually turned red (85%) or yellow (15%) as their final color.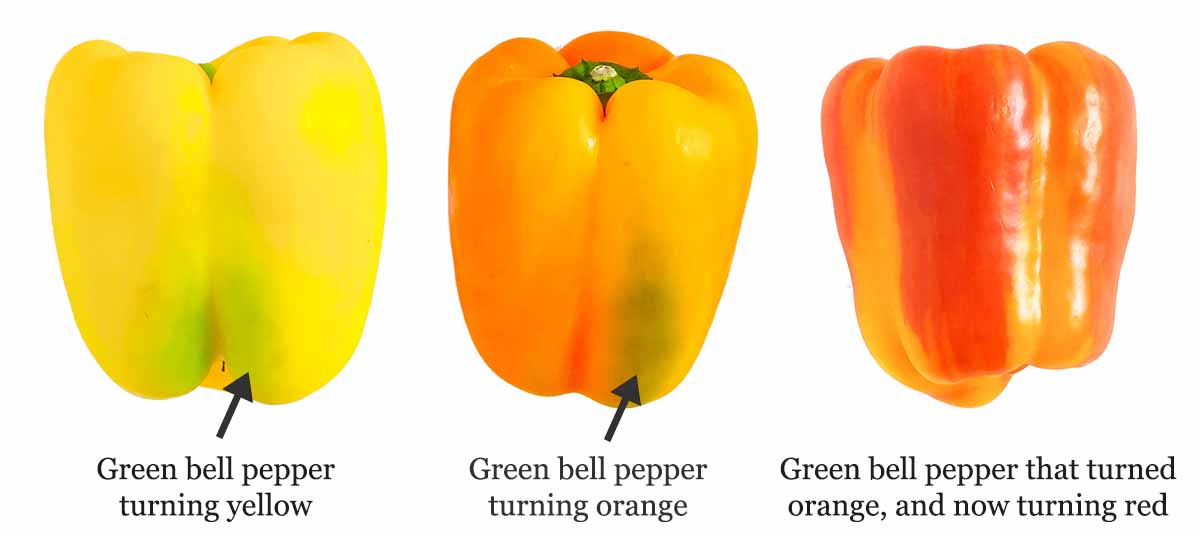 If you've noticed a more vegetal or grassy flavor in green bell peppers, but not in yellow or red ones, you're not imagining things. A chemical analysis reveals that the compounds responsible for this grassy aroma lessen as the pepper ripens. On top of that, the compounds giving yellow and red peppers that almost citrus aroma increase with ripening.
Each bell pepper color has a different flavor:
Green bell peppers taste more vegetal, grassy, and can be bitter
Red bells are sweeter, not bitter, and often have a slight citrus flavor.
Yellow and orange ones are similar to red, but less sweet and less citrusy (and also no bitterness).
The seeds of bell peppers (and other sweet peppers) can be eaten. They might have a slight bitter flavor, but they will not be spicy like hot peppers.
Working with the bitterness in green bell peppers:
You might not like the bitterness in bell peppers and prefer yellow, orange or red ones. While using green peppers in salads or other fresh dishes might not be in your wheelhouse, there are still some uses to consider.
The bitterness can work in your favor if you add them to rich or sweet dishes, since that bitter flavor balances it out. Green bell peppers on a pizza with all of that rich cheese and sausage? Perfect. On a salad with bitter greens - not so good.
Check out "Dealing with bitter bell peppers."
Why are red bell peppers more expensive?
Green peppers haven't spent as much time ripening on the plant, which means weather and pests haven't had as much time to cause problems. Because of this, they are almost always less expensive and first to arrive in farmers markets.
Another factor that makes green bell peppers cheaper, is that continuous harvesting makes the plant produce more. When left to ripen to yellow, orange, or red, the plant produces less peppers overall.
So the increased price for yellow, orange, and red peppers, while pretty high, seems fair. It's also worth knowing that the price of all colors will be lower while they are in-season.
Selection tips
To pick the best bell peppers, make sure the pepper is firm (soft spots indicate a decline in quality). Also look for shiny, tight skin - wrinkles are a sign that it is losing moisture and isn't as fresh. Unlike tomatoes and other more delicate produce, peppers actually ship quite well, so if they come from another part of the country, their quality should still be pretty good.
Storage
Uncut, green bell peppers can last 1 to 3 weeks in the fridge.
Uncut orange, yellow, and red bells last 5 days to 2 weeks in the fridge. They have a shorter shelf life because they are a riper version of a green pepper.
Cut peppers will last about 3 days, in an airtight container in the fridge.
Cut peppers can also be frozen, with or without blanching.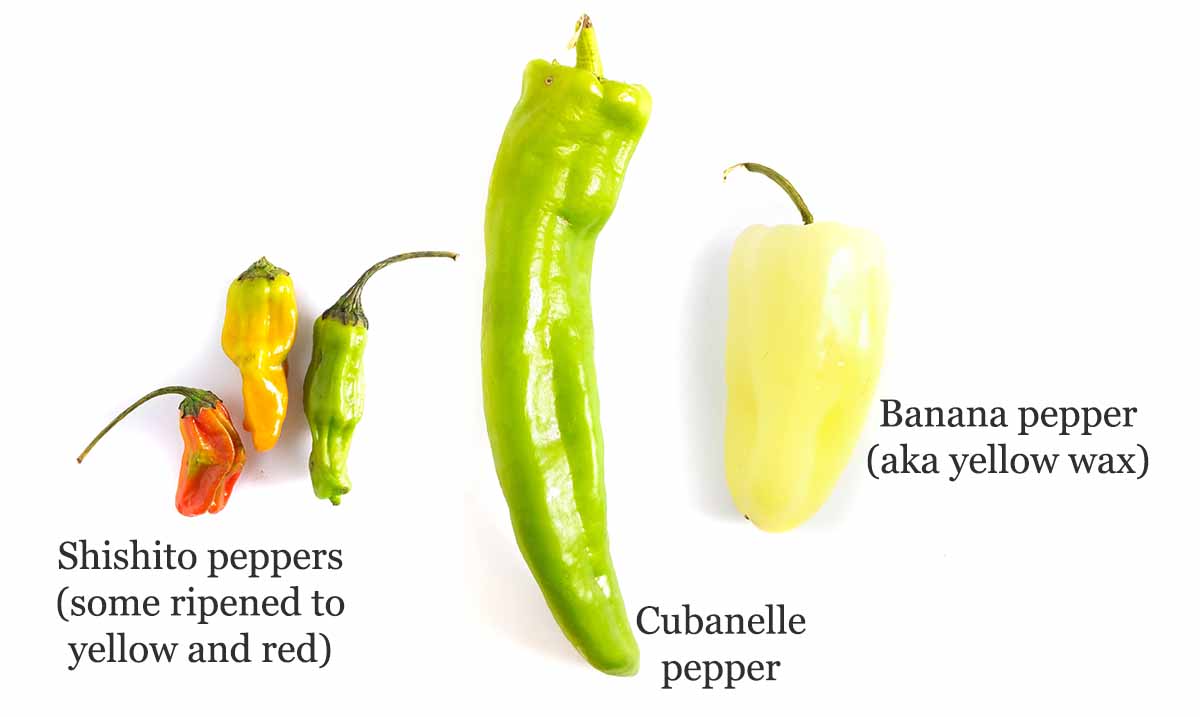 Other sweet pepper varieties
Bell peppers are the most common type of sweet pepper, but there are a lot of other varieties to consider. All of the varieties listed below are much more mild than jalapenos, making them fairly approachable for all but the most heat-sensitive pallets.
Mini peppers (aka gypsy) are usually a mix of red, orange, and yellow and share the same flavor characteristics as bell peppers. They have no heat to them.
Shishito peppers are considered a 'sweet' pepper and their spiciness is about 5% as hot as a jalapeno (so pretty mild). They have a vegetal flavor without the bitterness some green bell peppers have. Great for roasting and eating whole (minus the stem). The seeds aren't hot either.
Pimento peppers have a sweet flavor with a tiny hint of spice (about 1/10th the heat of a jalapeno). Paprika is made from dried pimento peppers.
Banana peppers (aka yellow wax) - mild and tangy flavor. Great for eating fresh and slicing into rings.
Pepperoncini are mild and are often sold pickled in jars.
Cubanelle and Jimmy Nardello peppers (aka Italian frying peppers) have thin walls so they fry up fast. They come in a range of colors from green to yellow to red, and are slowly gaining popularity over bell peppers.
Recipes & more
Over 50 recipes from 14 types of dishes, including stuffed bell peppers, pasta, soups, and stews. The "classic bell pepper" section includes recipes that try to make use of the bitterness of bell peppers. Whereas other recipes rely solely on the sweeter red, orange, and yellow varieties.
Other resources: