Each bell pepper color has a different flavor. Green bell peppers taste more vegetal and can be bitter. Red bells are sweeter, are not bitter, and often have a slight citrus flavor. Yellow and orange ones are similar to red, but less sweet and less citrusy (and no bitterness).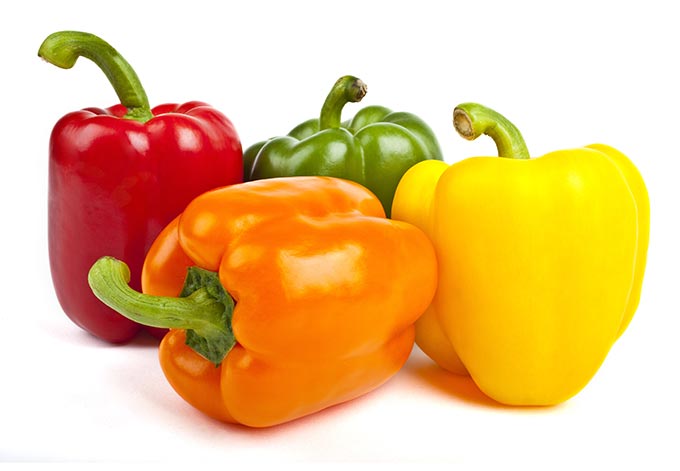 When are peppers in season?
US grown peppers are actually available year-round, thanks to our different growing climates. California ships peppers from April until December, with peak season from May through July. Florida ships peppers from October through July, with peak in March and April.
Even if bell peppers aren't grown near you, they ship quite well. So you can still get high quality and good tasting peppers at your grocery store.
Bell pepper seeds
The seeds can be eaten, but might be slightly bitter. They are not spicy (unlike in hot peppers, where the seeds contain a lot of the spicy compounds).
How long do bell peppers last?
Uncut, green bell peppers can last 1 to 3 weeks in the fridge.
Uncut orange, yellow, and red bells last 5 days to 2 weeks in the fridge. They have a shorter shelf life because they are a riper version of a green pepper.
Cut peppers will last about 3 days, in an airtight container in the fridge.
Cut peppers can also be frozen, with or without blanching.
How to pick good peppers
To pick the best bell peppers, make sure the pepper is firm (soft spots indicate a decline in quality). Also look for shiny, tight skin - wrinkles are a sign that it is losing moisture and isn't as fresh. Unlike tomatoes and other more delicate produce, peppers actually ship quite well, so if they come from another part of the country, their quality should still be pretty good.
Should I buy organic?
If it fits in your budget, yes. The non-organic health risk of the pesticides found in sweet peppers is high from the US (very high when from Mexico). Based on the information that Consumer Reports published, that means you would need 1-5 servings in a day to exceed the level of safety set by the EPA (or just 1 serving if it's from Mexico).
The data collected by the EPA looks at the toxicity and amount of each pesticide found in the edible portions of the fruit. The full details can be found over on the Consumer Reports website.
Why are red bell peppers more expensive?
Green peppers haven't spent as much time ripening on the plant, which usually means you get a bigger harvest as weather and pests haven't had as much time to cause problems. Because of this, they are almost always less expensive and first to arrive in farmers markets.
Another factor that makes green bell peppers cheaper, is that continuous harvesting makes the plant produce more. When left to ripen to yellow, orange, or red, the plant produces less peppers overall.
So the increased price for yellow, orange, and red peppers, while pretty high, seems fair. It's also worth knowing that the price of all colors will be lower while they are in-season.
Varieties
Sweet peppers aren't necessarily sweet - rather they aren't hot. Bell peppers are the most common sweet pepper and come in a variety of colors with different flavor attributes. Find out how color affects the flavor, along with other sweet pepper varieties in the sweet pepper produce guide.
Working with the bitterness in green bell peppers:
You might not like the bitterness in bell peppers and prefer yellow, orange or red ones. While using green peppers in salads or other fresh dishes might not be in your wheelhouse, there are still some uses to consider.
The bitterness can work in your favor if you add them to rich or sweet dishes, since that bitter flavor balances it out. Green bell peppers on a pizza with all of that rich cheese and sausage? Perfect. On a salad with bitter greens - not so good.
Check out "Dealing with bitter bell peppers."
Over 50 recipes from 14 types of dishes, including stuffed bell peppers, pasta, soups, and stews. The "classic bell pepper" section includes recipes that try to make use of the bitterness of bell peppers. Whereas other recipes rely solely on the sweeter red, orange, and yellow varieties.
Check out what is currently in season