Hot peppers vary in their spiciness, but not just between different varieties. One jalapeno, for example, can be 3 times hotter than another one.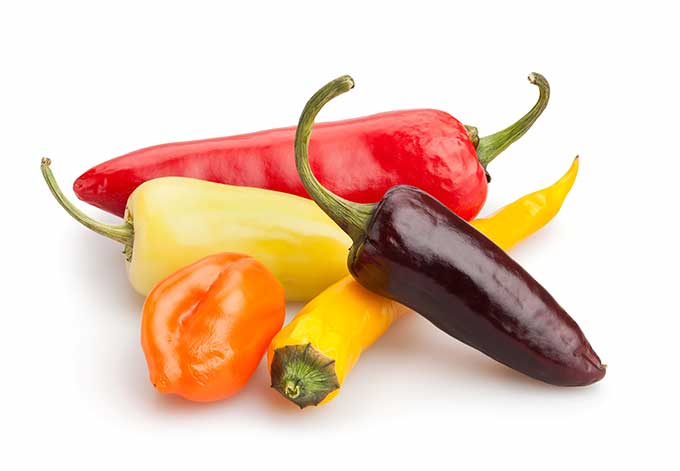 When are hot peppers in season?
They show up a little later than other summer vegetables, usually in July. They grow into fall, often through October in coastal climates.
July, August, September, and October.
To pick the best peppers, make sure the pepper is firm (soft spots indicate a decline in quality). Also look for shiny, tight skin - wrinkles are a sign that it is losing moisture and isn't as fresh. Unlike tomatoes and other more delicate produce, peppers actually ship quite well, so if they come from another part of the country, their quality should still be pretty good.
To store, put them in the crisper drawer in an open plastic bag. They should last up to a week.
What are some of the mild and hot pepper varieties?
The heat of peppers come from capsaicin (kap-SAY-i-sin) and is measured in Scoville units (read more about the Scoville scale). A majority of the heat is found in the seeds and veins, so remove them to make a dish more mild, or keep them in to up the heat.
On two ends of the scale we have bell peppers (with zero capsaicin) rating at 0 on the Scoville scale. Carolina Reaper and Dragon's Breath are the hottest between 1,500,000 and 2,500,000 Scoville units, which will only be found in hot sauces and not for sale as fresh peppers.
Here are common peppers you might cook with, in order from mild to hot.
Shishito peppers: 50-200 Scoville. A small, mild pepper that is quickly becoming a favorite in the U.S. They are typically grilled or quickly sauteed with olive oil and plenty of sea salt.
Pepperoncini: 100-500 Scoville. These are very mild and often used on sandwiches or pizza.
Santa Fe: 500-750 Scoville. Very mild and work well for adding flavor to recipes without too much heat, and easily replace bell peppers in recipes (but they are smaller, so don't use these in place of stuffed bell peppers). They have a slight smoky flavor that is enhanced when grilled.
Padron peppers: 500-2,500. Test each pepper as the spiciness can vary quite a bit. The hot ones are about as spicy as milder jalapenos (to give you a reference point). These are often used like Shishito peppers - quickly grilled or sauteed and served as an appetizer.
Poblano & Ancho Chiles: 1,000-2,000 Scoville. You'll often find stuffed poblano recipes because they have thicker walls. Ancho chiles are the dried version of Poblanos that are left to ripen to red on the vine. They are used in Mexican and Southwestern recipes, including mole and enchilada sauces.
Jalapeno & Chipotle peppers: 2,500 - 8000 Scoville. Taste each one first, as one can be much hotter than the next. Jalapenos on the milder end can usually be enjoyed by people who don't have a tolerance for spicy food, whereas the hotter jalapenos can turn out to be pretty spicy. Chipotle peppers are dried and/or smoked jalapenos and range on the higher end of spiciness (5,000-8,000 Scoville).
Serrano: 10,000 - 23,000 Scoville. These look very similar to jalapenos and make great poppers for those who like spicier food. They also work well in salsas and other raw dishes due to their thin skin.
Cayenne: 30,000 - 50,000 Scoville. Most often found as a crushed spice, but sometimes can be found as dried whole chilies.
Tabasco: 30,000 - 50,000 Scoville. You'll recognize this from Tabasco sauce, as the peppers are not often sold in stores.
Habanero: 100,000-350,000 Scoville. Their citrus-like flavor makes them popular in hot sauces, along with their heat, of course! You can sometimes find these in the fresh produce section of markets as well.
A tip for working with hot peppers
Wear gloves. It's not that you worry about the capsaicin oil hurting your skin... it's that the oil gets on your skin and is hard to get off... so when you rub your eyes, it will burn. And speaking from experience, it hurts! But with gloves, you just take them off and your hands are free from capsaicin oil.
Cooking with hot peppers
My biggest piece of advice is taste every pepper you use before adding it to the dish. One jalapeno can be incredibly mild and the next one burning hot. This will help you judge the right spiciness level that you like.
Cooking also affects the heat, according to Fine Cooking: "Know that the longer they [hot peppers] cook, the more they break down and release their capsaicin, which will permeate the dish, but with continued cooking, the capsaicin dissipates. Therefore, to reduce spiciness, cook chiles only briefly, or for several hours."
Ate something too spicy? How to stop the burn
Capsaicin (the chemical that causes the burning sensation) is fat and alcohol soluble. Drinking beer will help a little, but the low concentration of alcohol doesn't wash much of it off your tongue. A shot of vodka would work better.
Best yet is milk because it contains casein, a protein that will surround and wash away the capsaicin like soapy water washes away grease. It doesn't matter if it is skim or whole milk as removing the fat doesn't affect the amount of casein it has.
Drinking cold water will do nothing, as capsaicin is completely insoluble in cold water.
(source: Frostburg State University in Maryland, "fire and spice" article)
Seasonal Hot Pepper Recipes
Each recipe below only uses ingredients that are in season at the same time as hot peppers, or ingredients that have a year-round season. Since their season overlaps with the beginning or end of other fruits and vegetables, the recipes are grouped into early season, late season, or anytime they are available.
For earlier in the season...
Apricot season usually ends just a little before peaches, right around when hot peppers start showing up in the markets.
Make this right when hot peppers start showing up, which is the end of apricot season. A great way to use up all of those ripe apricots then enjoy later in the year.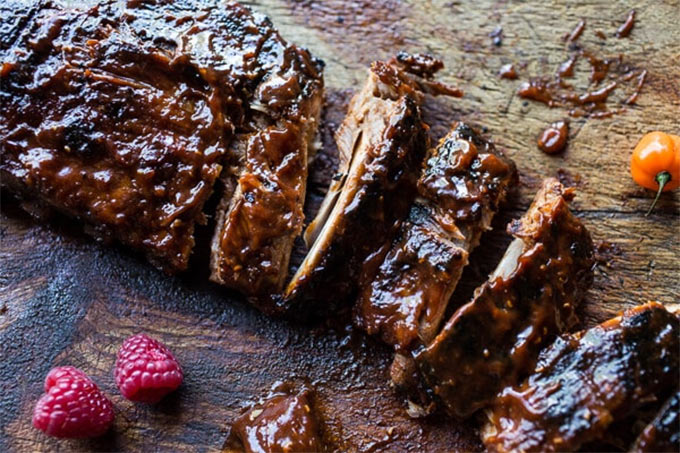 Crockpot grilled fiery habanero apricot ribs - recipe by Half Baked Harvest
This calls for raspberries and apricots - whose harvest seasons can come to an end just after hot peppers start showing up.
For mid-season, depending on where you live...
Depending on where you live, stone fruit season might start wrapping up in August. In mild coastal climates, like you find on the West Coast, stone fruits can last into October.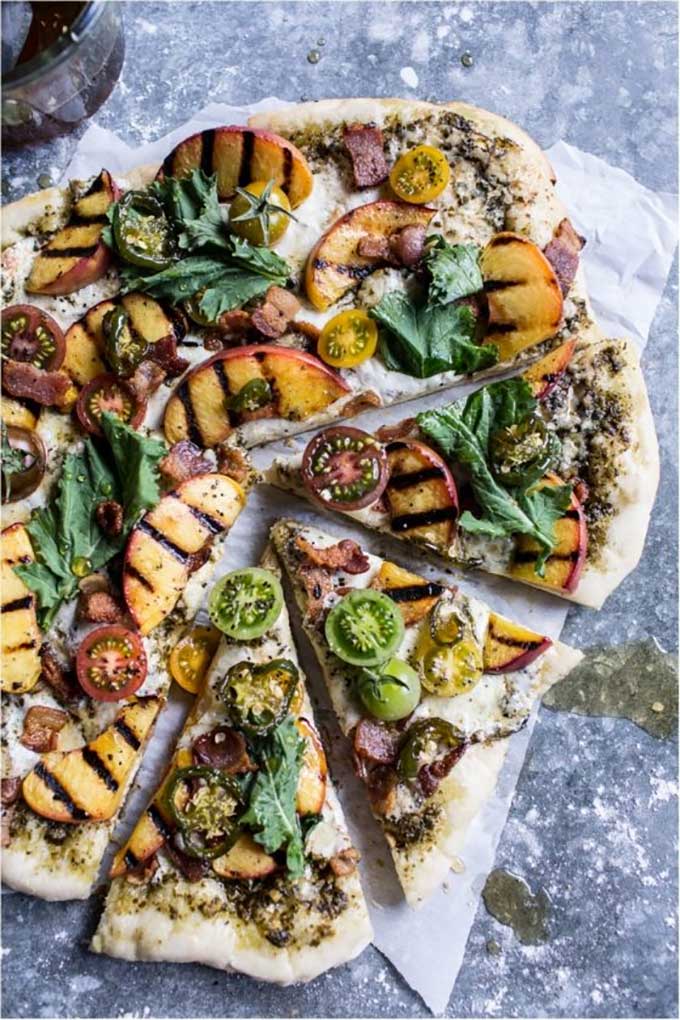 BLT & grilled peach pizza with jalapeno honey and gorgonzola - recipe by The Inspired Home
Jalapenos are in season starting in mid-summer, usually sometime in July. So make this when jalapenos show up in the market.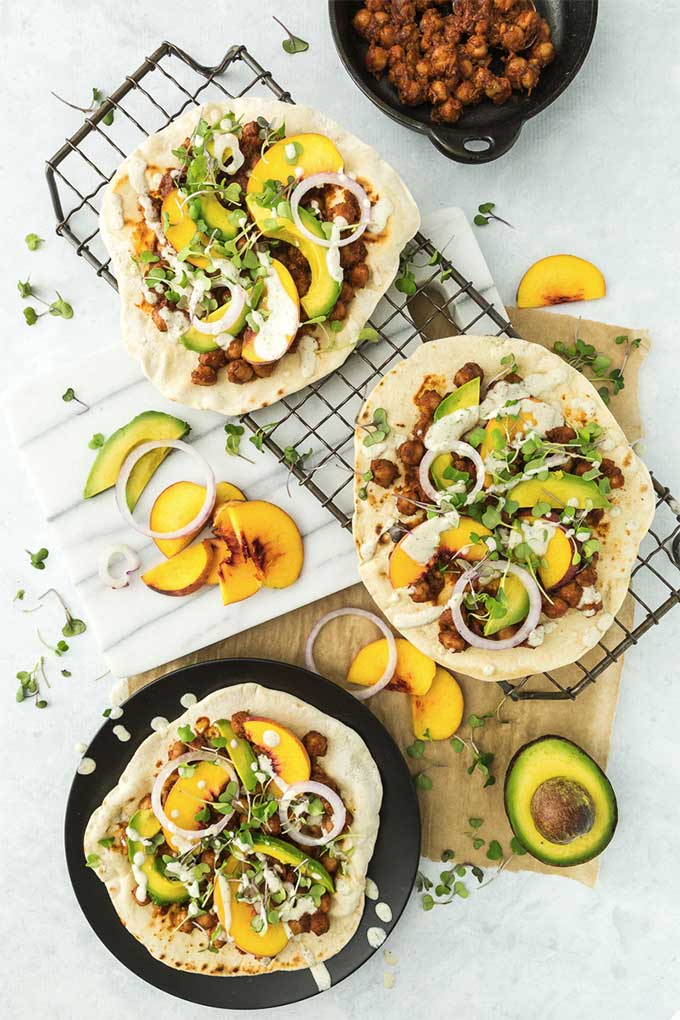 BBQ chickpea flatbread pizzas with peaches and jalapeno-plum bbq sauce - recipe by Keepin' It Kind
Jalapenos come into season mid-summer, usually around July. Once those show up, you can make this recipe. (Avocados are available year-round).
BBQ pulled pork sandwiches with raspberry-jalapeno salsa and onion rings - recipe by No Spoon Necessary
The recipe calls for packaged pulled pork - if you are making your own, here's a recipe to try from Stuck on Sweet. Raspberry seasons might start wrapping up in August depending on where you live (or last well into fall if you are on the west coast).
For anytime hot peppers are in season...
Stuffed poblano peppers with salsa roja - recipe by The Girl on Bloor
Kung Pao Shrimp Tacos with Jalapeno Sauce - recipe by Jar of Lemons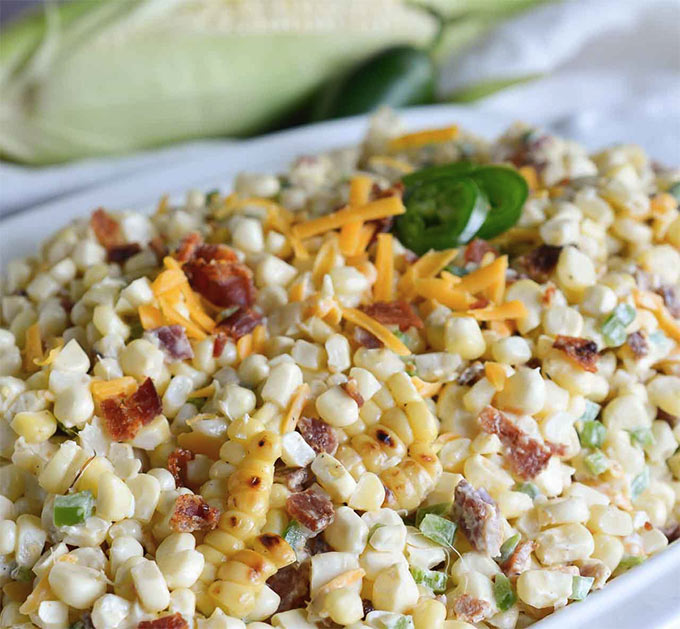 Jalapenos are in season just after corn, a bit later in the summer. Make this as soon as both corn and jalapenos show up in the markets.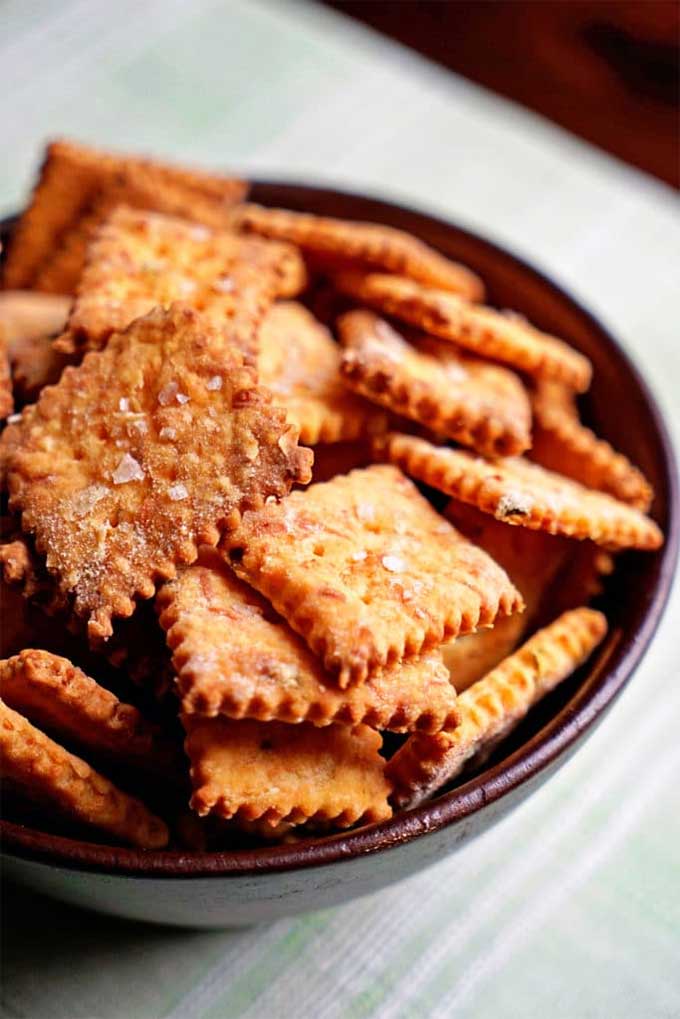 Jalapeno cheddar cheese crackers - recipe by Kevin is Cooking