Sweet potatoes are in season in fall, but can be found year-round with high quality.
When are sweet potatoes in season?
You'll find sweet potatoes at farmers markets starting in September and lasting into December, and sometimes into January. See what else is in season at the same time: September, October, and November, and December.
However, when properly cured and stored, they can last up to a year without a noticeable difference in quality.
Picking out sweet potatoes is relatively easy - look for firm roots with no open cuts or rotting spots.
Store them in a cool, dark place. Soft sweet potatoes (the orange kind, sometimes labeled as a yam), will last 1-3 weeks at home. Firm fleshed varieties (with white flesh), can last 2-6 weeks at home.
Sweet potatoes vs yams - what is the difference?
Yes, both the white-fleshed variety in the left of that picture and the orange kind are sweet potatoes. As you may have seen at the grocery store, it is common to see the orange variety labeled as a yam.
No wonder everyone is so confused! It turns out, when the softer (orange) variety started getting mass imported and produced in the US, they needed a different marketing term for it, so they called it a yam.
I get why they did it - the two types of sweet potatoes act differently when cooked. They probably wanted to be able to distinguish the 'new' (orange/soft) ones in recipes and marketing.
Firm, white fleshed sweet potatoes hold their shape when cooked. This makes them great for stews, curries, baking, and so on.
Soft, orange fleshed varieties are sweet and get soft and moist when cooked. This makes them perfect for mashes, soups, and sweet potato casserole.
True Yams have a bark-like skin and are firm when cooked. If you are looking for these, you can possibly find them in Asian or African international markets.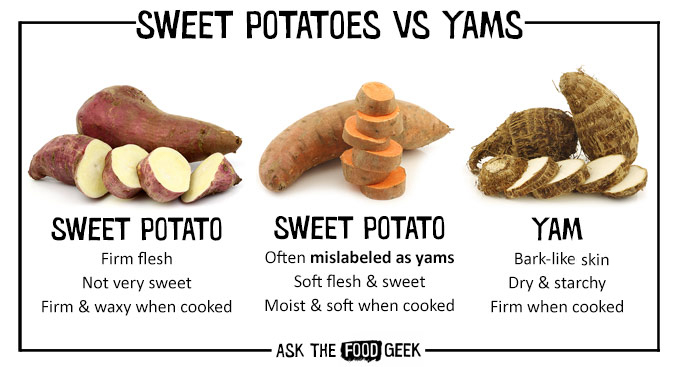 That leaves us with 2 types of sweet potatoes:
Copper skin with orange flesh: (sometimes labeled incorrectly as a yam). These have softer flesh and cook up fluffy and moist. This is what you want to use for sweet potato casserole.
Golden skin with white-ish flesh: Firmer flesh that when cooked is still firm and a little waxy. Great for roasting, and hold their shape in stews and curries.
When a recipe calls for yams, they likely mean the orange-fleshed sweet potatoes. When they call for sweet potatoes, it could be either variety, so consider the use to determine what variety.
Seasonal recipes
Since sweet potatoes can be found year-round with high quality, they can be used in any recipe, any time of the year. Below are some recipes for the fall and early winter, when you can find them at the farmers markets.
With 6 ingredients, this simple soup actually maximizes flavor. Using some of the peels into the soup adds a surprising amount of flavor. A touch of brown sugar and apple cider vinegar bring the flavors together.
Make this earlier in fall when blackberries are still available.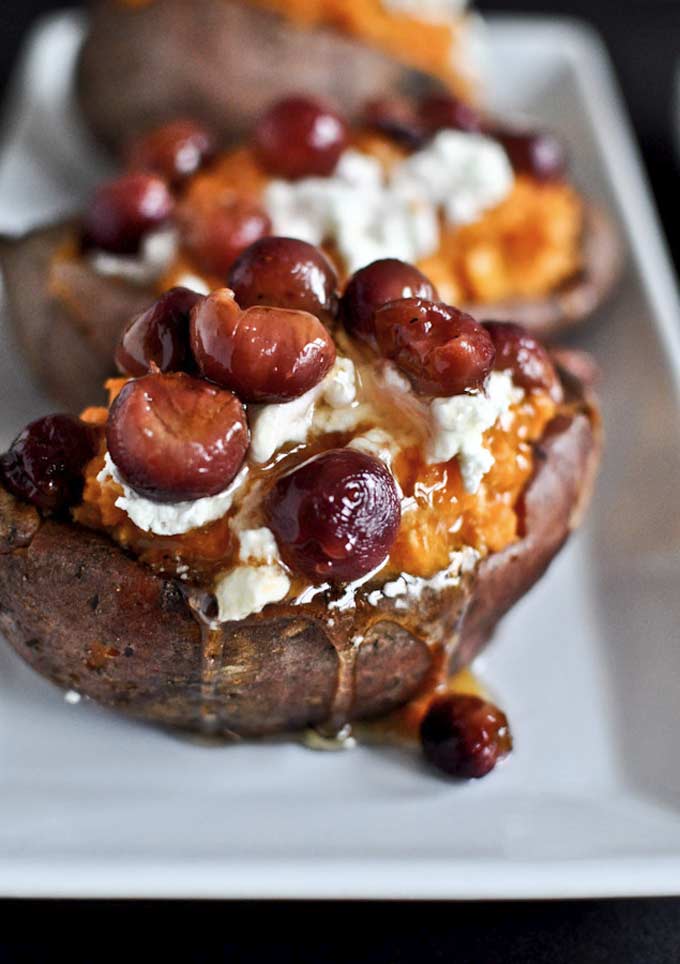 Roasted grape, goat cheese, and honey stuffed sweet potatoes - recipe by How Sweet Eats
Bliss bowls with sweet potato falafels and jalapeno ranch - recipe by Pinch of Yum
Make this at the start of fall when corn, jalapenos and tomatoes are still available, and sweet potatoes start showing up at the farmers markets.