Sweet potatoes get naturally sweetened with roasted grapes (and a drizzle of honey).
One of the least known gems that autumn has to offer: roasted grapes. If you haven't tried them yet, prepare to be as obsessed with them as the rest of us.
While I have an 'official' recipe to share, the 'rules' are pretty simple:
Choose your favorite method to prepare sweet potatoes: baking, roasting, mashing, or hashing
Roast grapes somewhere in there. A 450 degree oven for 25 minutes will do the trick (don't forget to toss the grapes in some oil).
Top your cooked sweet potatoes with the roasted grapes, some goat or mascarpone cheese, and a generous amount of top-notch honey.
And of course, roasted grapes go with other things too: chicken salad, roasted chicken, pork, roasted vegetables, yogurt, pancakes, tarts... the list never ends. Never.
What kind of grapes?
Red, green, dark purple, or black - they will all roast and taste amazing. But I do have a couple of suggestions:
Pick grapes that don't have seeds (I find them distracting in a dish)
Choose a variety and roast them all - each one offers a slightly unique flavor and makes the dish more interesting.
Don't buy full bags of each variety - if they are sold by the pound, you can take however many out of the bags that you want, so you can buy 1 or 2 bunches of each kind.
Smart, right?! I have more grape tips (and recipes) here.
Sweet potatoes or yams?
These are sweet potatoes. The orange-fleshed ones are the 'moist' kind which is what some stores (or people) call yams.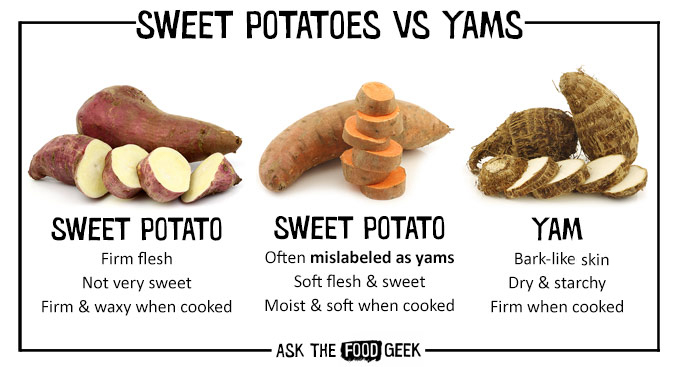 Get more tips and recipes for sweet potatoes while they are in-season.
Recipe
Ingredients
Sweet potatoes
1.5

lbs

sweet potatoes

2 medium

2

tablespoon

butter

¼

cup

milk

nut milk ok

½

teaspoon

salt
Grapes & Other Goodies
1.5

lbs

grapes

see note

1

tablespoon

oil

see note

¼

cup

pecans

chopped

1-2

tablespoon

honey
Instructions
STEP 1 - ROAST GRAPES

Set oven to 400 degrees. Place washed grapes (on stems is fine) on a baking sheet and toss with a nut oil, olive oil, or any high heat oil you want, honestly. Roast for 20 - 40 minutes (no need to wait for oven to preheat, just throw them in). They are actually hard to over-cook, by the way.

STEP 2 - PREP & COOK POTATOES

Peel sweet potatoes and cut into 1" cubes (or smaller if you want them to cook faster). Put sweet potatoes in a large saucepan and cover with 2 inches of water. Bring to a oil, then reduce heat to medium-low and simmer until tender. 10-20 minutes depending on the size of your cubes. Drain and return potatoes to pan.

OPTIONAL STEP - TOAST PECANS

Toasting nuts intensifies their flavor, but they can burn easily. Toss chopped pecans on the grape-pan that is roasting in the oven. Set a timer for 3 minutes and check to make sure the nuts aren't burning. Then set a timer for 1 more minute at a time if you aren't done with the next step

STEP 4 - ADD DAIRY & MASH

Add butter to the pan with the sweet potatoes and melt it over medium-low heat. Add milk and salt, then mash.

STEP 5 - COMBINE & SERVE

Remove the grapes from the oven. Top sweet potatoes with grapes, chopped pecans, and honey. Serve.
Notes
Grapes: I like to pick out several kinds of grapes and roast them all, as each one tastes slightly different, adding complexity to the dish. If grapes are sold by the pound (which they almost always are), you can just take however much you want out of those pre-portioned bags - you don't have to buy the whole bag. #ShoppingTips!
I use Walnut or Pecan oil by La Tourangelle, but when I run out, I use extra virgin olive oil. Anything will be fine, honestly.
Nutrition
Nutrition Facts
Sweet potatoes with roasted grapes, honey, and pecans
Amount per Serving
% Daily Value*
* Percent Daily Values are based on a 2000 calorie diet.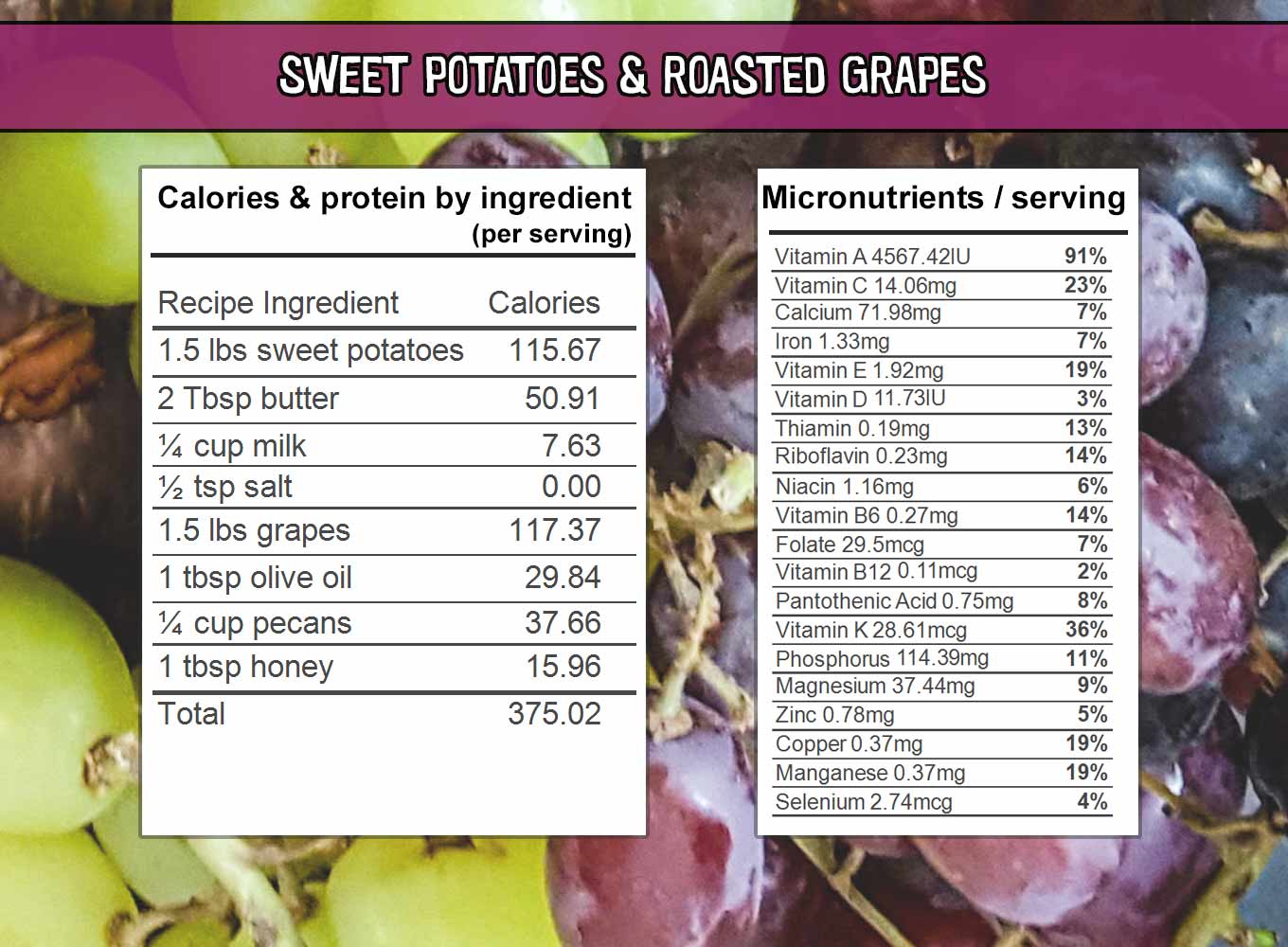 Recipe Nutrition
A note about sugar: While sugar is a bit high in this recipe, the added sugar is very low, only 4g from the honey. The majority comes from the grapes, which is the amount from 1 recommended daily serving.
Calories, grams of sugar, or total carbohydrates don't tell the whole story. And none of them are perfect measurements. However, I think they are important because they give you a relative value. That means you can compare a recipe like this to a sweet potato casserole that has twice the calories and loads more added sugar.
Tips on cooking sweet potatoes:
If you want to prepare sweet potatoes a different way, here are some recipes:
Recipe Inspiration
Jessica from How Sweet Eats shared a baked sweet potato recipe with roasted grapes, goat cheese, and honey really kicked off this obsession. She has great recipes that are worth checking out.
Next up on my list from her blog, Pumpkin Cider, Bacon, Cheddar Beer Bread. I know, right?