This seemingly humble soup really steals the show – not bad for 6 ingredients!
The short ingredient list is purposefully designed to enhance, and highlight, the natural flavors of the sweet potatoes.
Focusing on the sweet potato flavor:
We start with a toned-down base so nothing outshines the sweet potatoes. Shallots and fresh thyme sauteed in a little butter add hints of flavor to the soup, as does a little bit of brown sugar and apple cider vinegar. (That's 5 of the 6 ingredients.)
Adding 1/4 of the sweet potato peels to the soup intensifies the natural sweet potato flavor, a tip I picked up from the research team over at Cooks Illustrated.
Water is used instead of broth. If you're scoffing at this and already plan to substitute broth (like I always find myself doing), resist! Really, this is the one time where water is the winner because it doesn't muddy that pure sweet potato flavor we are after.
How to not water down the soup's flavor:
Speaking of water, another key part of this recipe is to reduce diluting the soup with extra liquid. Normally a soup with starchy potatoes requires a lot of liquid to thin it out.
But thanks again to the research team at Cooks Illustrated, they found that when you let the potatoes sit in hot water (off the burner) for 20 minutes before boiling them, the starch molecules form differently. This step creates a creamy, thinned soup. Whereas the typical method of adding potatoes to boiling water and holding them at a simmer, creates a loose mash with the same amount of water (thus requiring even more water to thin it into a soup and diluting the flavor).
And for those of you counting the ingredients – I didn't count water, salt, and pepper since those are always lying around 😉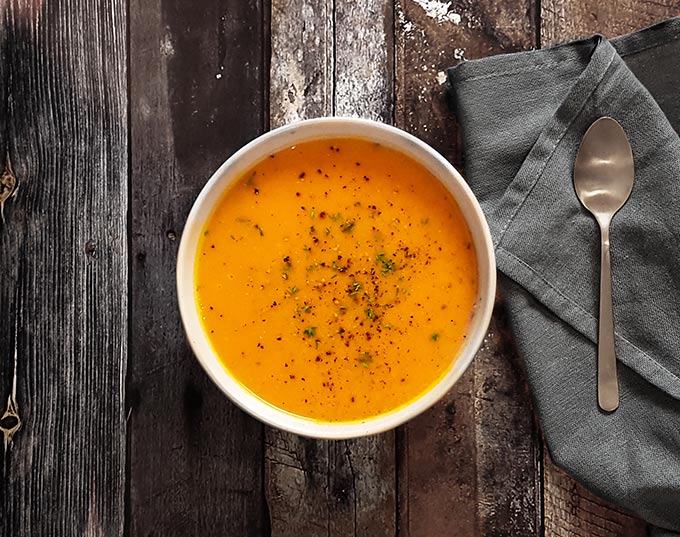 Sweet potato soup
A soup that highlights the sweet potato flavor.
Print
Pin
Servings:
4
1 cup servings
Ingredients
3

Tbsp

unsalted butter

1

shallot

4

sprigs

fresh thyme

4 1/2

cups

water

2

lbs

sweet potatoes

reserve peels

1

Tbsp

brown sugar

1/2

tsp

cider vinegar

1/2

tsp

pepper

1 1/2

tsp

salt

1

Tbsp

chives

optional
Instructions
PREP WORK
Sweet potatoes: Peel the potatoes and reserve 1/4 of the skins (those will go in the soup). Cut sweet potatoes in half, then slice into 1/4 inch half-rounds.
COOK THE AROMATICS
Melt butter in your favorite soup pan. Add shallots and thyme. Cook for about 5 minutes, until soft. Then add the water and bring to a simmer.
COOK POTATOES & FINISH SOUP
Remove the pan from the heat. Add sweet potatoes and reserved peels to the pan. Let stand, uncovered, for 20 minutes. This cooks the sweet potatoes without making them overly starchy.

Put the pot back on the stove and add the brown sugar, vinegar, 1.5 tsp salt and 1/2 tsp pepper. Bring to a simmer, then reduce the heat to low, cover, and cook until potatoes are very soft. This will take about 10 minutes.

Remove the thyme sprigs. Then puree the soup with an immersion blender, or user a regular blender for an ultra-smooth soup.

Add more liquid if needed. Season with salt and pepper if needed. Top with chives (or any other topping), if you are so inclined.
Nutrition
Calories:
256
kcal
|
Carbohydrates:
50
g
|
Protein:
3
g
|
Fat:
8
g
|
Saturated Fat:
5
g
|
Cholesterol:
22
mg
|
Sodium:
1013
mg
|
Potassium:
785
mg
|
Fiber:
7
g
|
Sugar:
12
g
|
Vitamin A:
32520
IU
|
Vitamin C:
8
mg
|
Calcium:
83
mg
|
Iron:
1.6
mg
More about Nutrition
Calories, grams of sugar, or total carbohydrates don't tell the whole story. And none of them are perfect measurements. However, I think they are important because they give you a relative value. That means you can compare a recipe like this to a loaded baked potato soup and see that it has half the calories.
Sugar: while sugar is a bit high in this recipe, the added sugar is very low, only 3g from the brown sugar. The majority comes from the sweet potatoes. The amount of added sugar should be limited to 25-30g a day (according to the American Heart Association).
Vitamin A: Thanks to the sweet potatoes, this recipe has over 100% of your daily value of vitamin A. It is fat-soluble, so don't skip the butter in this recipe!
Recipe Inspiration
I am a big fan of Cooks Illustrated which really digs into the science of recipes to find the perfect balance of flavor and effort. Their recipes never let me down. You can also check out Milk Street, which is a new magazine (and website) started by the previous founder of Cooks Illustrated.
(I do not get paid for those links. I am sharing them because they are some of my favorite sources of recipes).