This recipe takes a potato soup and replaces some potatoes with zucchini. No one ever seems to notice! It's lighter while maintaining the same beloved potato soup flavor and creamy consistency.
It's yet another great way to use up zucchini from your garden. This recipe works with giant, overgrown zucchini as well as various varieties of summer squash.
Jump to:
Recipe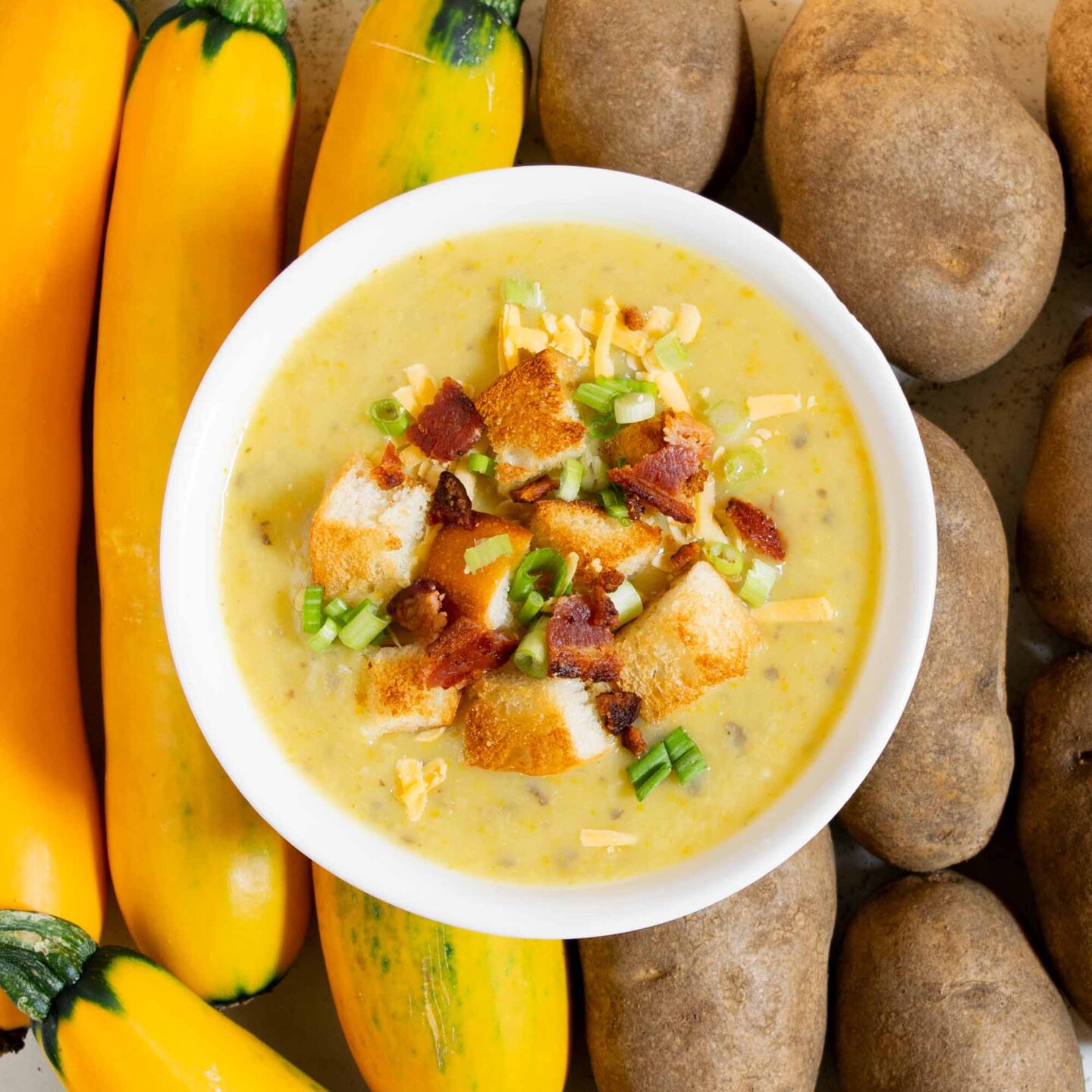 Ingredients
Soup
½

yellow onion

2

garlic cloves

1

tablespoon

olive oil

3

lbs

zucchini

2

large or

3-4

medium

1

lb

russet potatoes

about

2

medium

3

cups

chicken or vegetable broth

2

ounces

cheddar cheese

salt to taste
Toppings
4

strips of bacon

2

ounces

cheddar cheese

½

bunch

green onion or chives

½

leftover french bread for croutons
Instructions
Cook bacon
Place bacon on a tray and put into a cold oven. Turn oven to 425℉ on convection bake (if you have that setting). Bake for 10-20 minutes, until it reaches your desired crispiness.
Prep croutons
While the bacon cooks, cut bread into crouton-sized pieces. Toss with olive oil, a pinch of salt, and pepper.

½ leftover french bread for croutons

Once bacon is done, toast croutons on a tray in the 425℉ oven for about 5 minutes (until golden brown).
Cook soup, prepping vegetables as you go.
Dice garlic and onions. Heat olive oil in a large cooking pot or dutch oven. Add onion and garlic and cook for 5 minutes, until fragrant.

½ yellow onion,

2 garlic cloves,

1 tablespoon olive oil

While the onions cook, scrub potatoes (leave the skin on for extra potato flavor and nutrients). Cut into large 2" chunks and add to pot. Add just enough broth to cover them. Bring to a boil then cook for 5 minutes with the lid on.

1 lb russet potatoes,

3 cups chicken or vegetable broth

Meanwhile, cut the zucchini into large 2" chunks. Add to the pot (if they aren't submerged in broth, that is ok as they will steam). Cook for another 5 minutes with the lid on.

While the soup simmers, prepare the toppings: chop the green onions (or chives), shred

2

ounces of cheese, and crumble the cooled bacon. If you need more time, you can let the soup continue to simmer, it won't affect the flavor.

½ bunch green onion or chives,

2 ounces cheddar cheese

Remove lid and puree the vegetables with an immersion blender (or transfer carefully to a blender). Add remaining broth until you reach the desired consistency.

Stir in

2

ounces of cheese. Add salt to taste (remember bacon and croutons will add some saltiness as well).

2 ounces cheddar cheese,

salt to taste
Serve & add toppings. Enjoy!
Add desired toppings to each bowl and enjoy.
Notes
It's also worth noting that the soup is only 255 calories per bowl (1.5 cups) without the toppings. Toppings add about 60 calories each:
1 strip bacon per bowl: 59 calories (thin cut)
0.5 ounce cheese per bowl: 58 calories
Handful of croutons: 70 calories (including olive oil for tossing)
Nutrition
Nutrition Facts
Loaded zucchini potato soup
Amount per Serving
% Daily Value*
* Percent Daily Values are based on a 2000 calorie diet.
Calories
Without the toppings, this soup is 255 calories per bowl, which I define as a 1.5 cup serving. Zucchini lightens up the traditional potato soup while maintaining a thick, creamy consistency.
The toppings are delicious, but add a lot of calories high in fat. If you're watching specific parts of your diet, you can cut back or eliminate those toppings.
1 strip bacon per bowl: 59 calories (thin cut)
0.5 ounce cheese per bowl: 58 calories
Handful of croutons: 70 calories (including olive oil for tossing)
You can also reduce each bowl of soup by 50 calories if you don't stir the cheddar cheese into the soup at the end. Although it adds just enough flavor that I'd miss it. Instead, add some parmesan rinds along with the potatoes (once the soup starts simmering with broth). The rinds will add flavor, then remove the rinds before you blend the soup up.
Ingredient notes
The ingredients in this soup are usually inexpensive - just a handful of potatoes, onion, garlic, and zucchini. All but the zucchini are pantry staples as well.
Potatoes
Russet or other starchy potatoes are best for this soup. Their starchiness adds a creamier, thicker consistency. This is important because they are paired with zucchini which adds creaminess but doesn't thicken the soup much on their own.
I like to leave the skin on the potatoes for extra flavor and nutrition. Once blended, they add tiny flecks throughout the soup (which you can see on the main recipe picture). Make sure to really scrub the potatoes so you don't add dirt or earthy flavors to the soup.
You can also peel them if you prefer.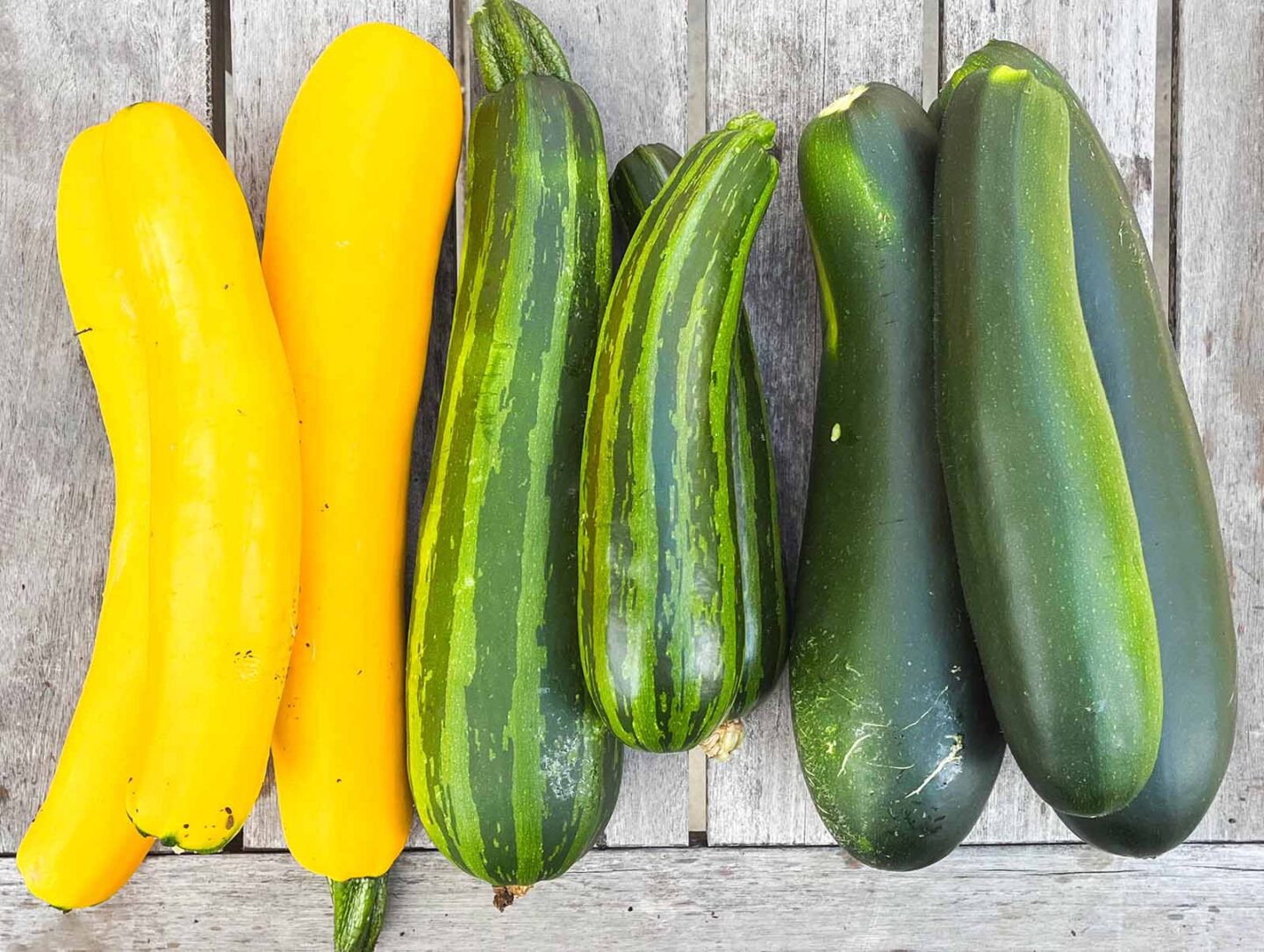 Zucchini & summer squash
I use zucchini and summer squash while they are in season all summer long.
Any variety works well for this soup. While the flavor won't change, the color will. I used yellow zucchini (it's a thing!) for a bright, pretty yellow color. Yellow summer squash will have a similar color. When this soup is made with green zucchini it will look more like the traditional light-brown potato soup color, possibly with a hint of green coloring.
It's worth tasting a bite of the zucchini to check for bitterness. Some zucchini can become bitter with heat and other environmental stress, which is also why cucumbers turn bitter. If your zucchini is bitter, peeling the skin is enough to remove the bitter flavors.
This soup recipe is also a great way to use up any giant zucchini overwhelming your garden in July and August. If you do use large zucchini and other courgettes, cut or scoop out the seeds.
Broth
I like using the "Better than Bouillon" brand of chicken and vegetable broth. Cubes, homemade broth, and canned or boxed broth also work out well. So pick your favorite.
Freezing instructions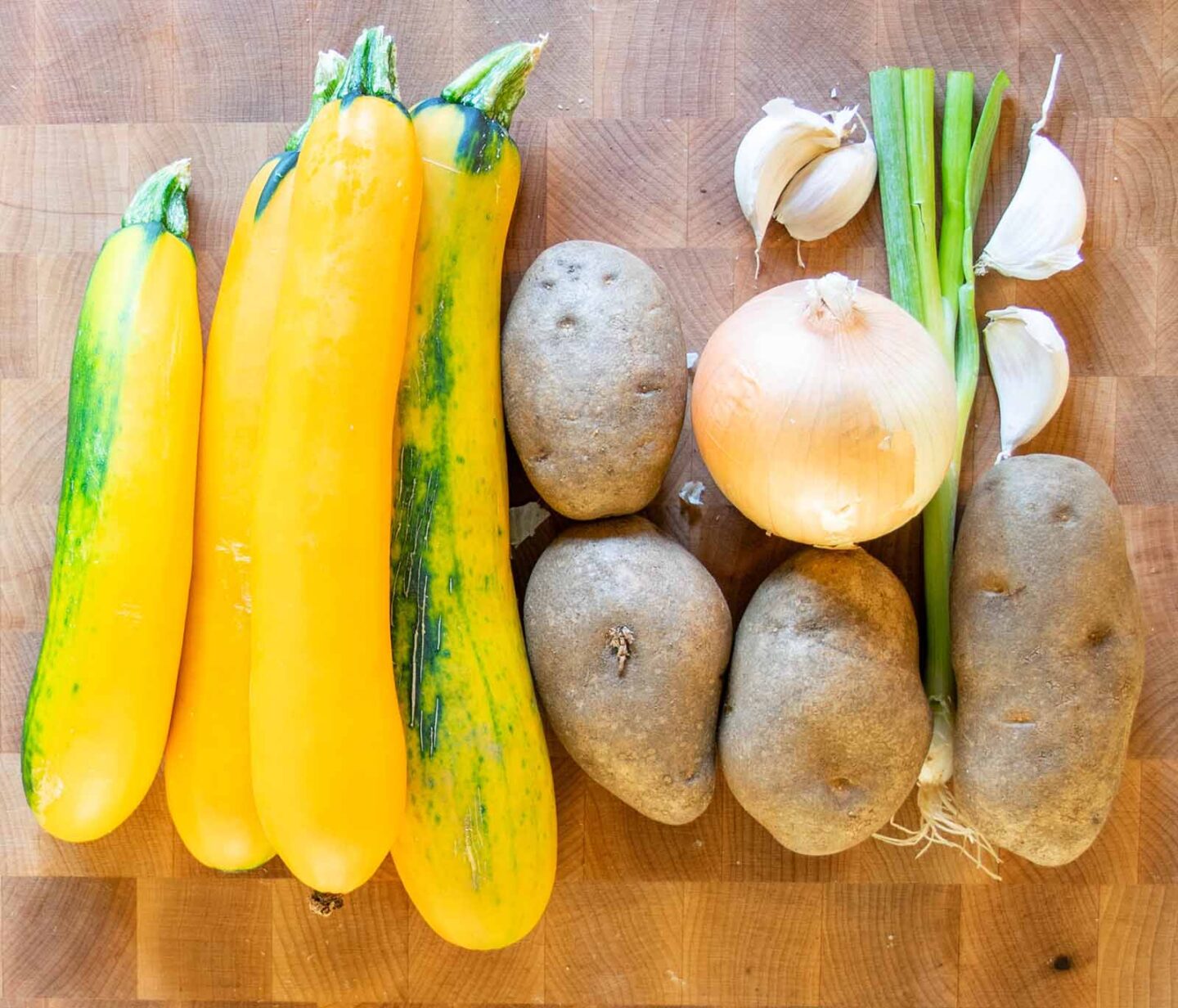 Storage & make ahead
The soup can last in the fridge for 3-4 days. If you make the soup ahead of time, simply reheat it on the stove and the consistency will be great (even with the cheese stirred in).
The crouton and bacon toppings are better fresh. That said, for a weeknight dinner where you are willing to sacrifice a little quality for an easy meal, you can make them ahead. Store the bacon in the fridge and put the croutons in an airtight container on the counter.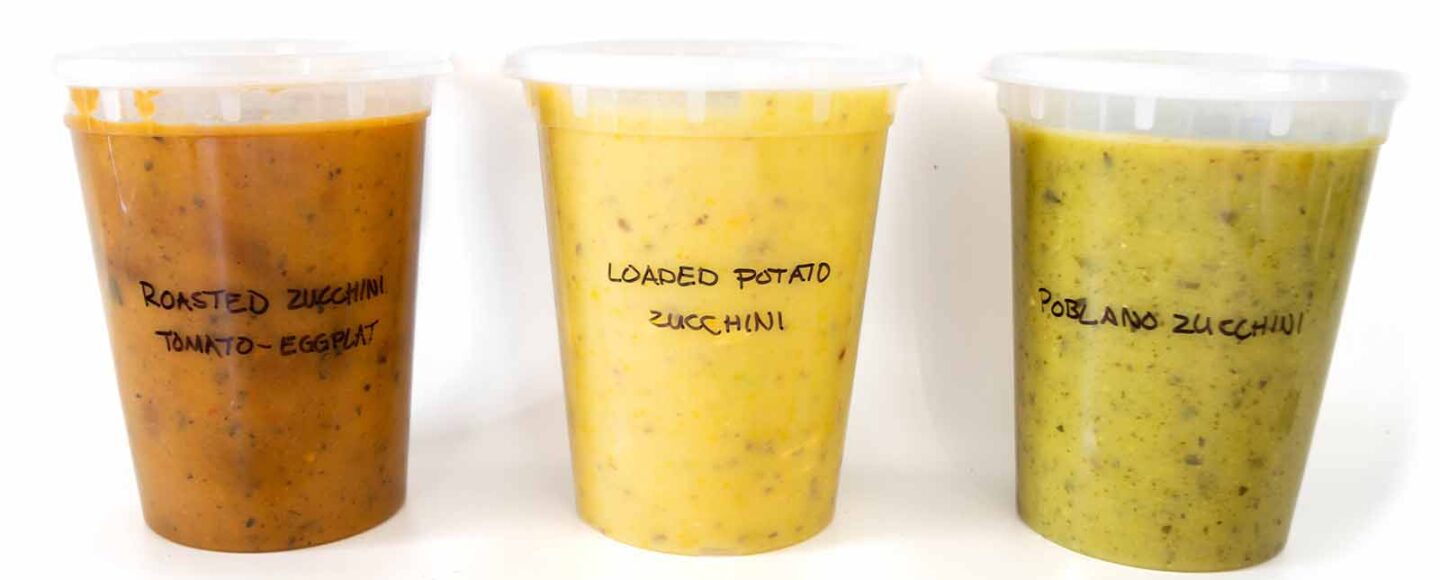 Freezing instructions
This soup recipe freezes well, as long as you leave out the garnishes. To reheat, thaw overnight in the fridge and warm on the stove top.
You can freeze the cooked bacon separately. To do this, place parchment or wax paper between each slice (so they don't freeze together). Place in a freezer safe container and that's it!
Double the recipe
I highly encourage you to double the recipe, it still fits easily in a big dutch oven or soup pot. It will yield 8 bowls (12 total cups).
If you double it, you can also use up 5-6 pounds of zucchini. The recipe is very flexible - a double batch will taste great whether you use 5 or 7 pounds of zucchini.
The recipe is written to prep as you go. If you have twice the ingredients to chop, it will take longer. You can do one of the following:
Prep all ingredients before you start the soup
OR let the soup simmer longer while you continue to prep, in order of the recipe. The soup can simmer longer at each stage without affecting the flavor or consistency, except don't let the onions and garlic overcook during the saute phase.
More recipes & resources