Making a really outstanding homemade tomato soup isn't easy. Even if you're using tomatoes from your garden or fresh from the farmers market, it can turn out bland and often too acidic. This recipe has tricks to avoid both of those problems.
The addition of fresh basil adds dimension without overpowering the tomato flavor in this soup.
Jump to:
How to make a good tomato soup
Tomatoes need some extra help to make the perfect soup. Here's a few tricks:
The riper a tomato is, the less acidic it will be. If you can use vine-ripened tomatoes from your garden, that's even better.
Roast the tomatoes to concentrate the flavor and add some sweetness
Red bell peppers (also roasted) contribute to a slightly more complex flavor, but they don't outshine the tomatoes
Sweet paprika adds a hint of smokiness and depth
Top with fresh basil right before serving
Recipe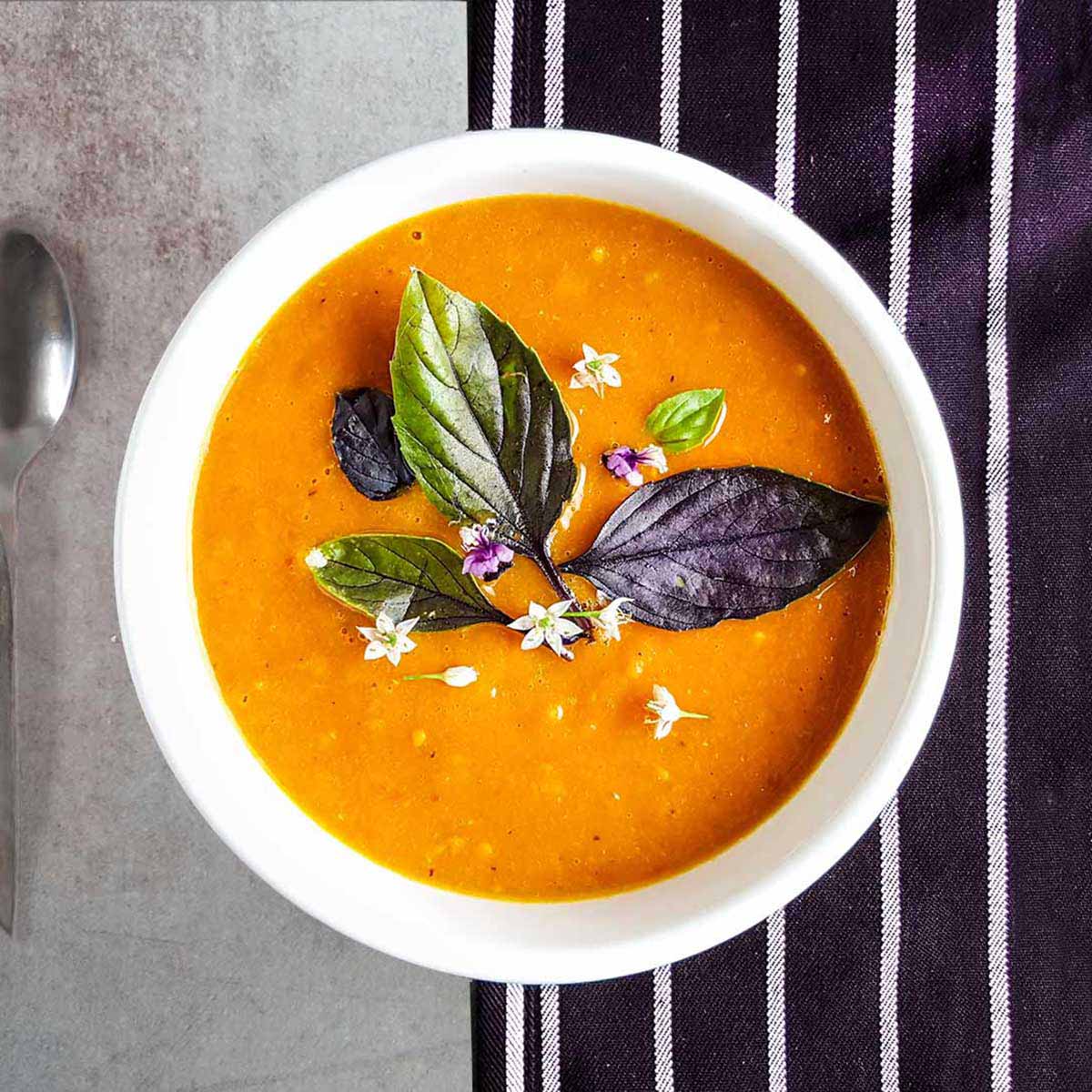 Ingredients
1-2

tablespoon

olive oil

for roasting

6

roma-type tomatoes

large

3

beefsteak tomatoes

1

red or orange bell pepper

1

yellow onion

4

garlic cloves

½

teaspoon

sweet paprika

2 ½

cups

vegetable stock

1

teaspoon

sugar

½

cup

almond milk, milk, or heavy cream

see note

2

ounces

Fresh Parmesan cheese (and rind)

exclude for dairy-free

8

basil leaves

salt and pepper
Instructions
PREP WORK
Preheat the oven to 400 degrees F. 

Quarter the tomatoes, bell pepper, and onions. Toss with olive oil and season with salt, pepper and paprika. Smash the garlic cloves.

1-2 tablespoon olive oil,

6 roma-type tomatoes,

3 beefsteak tomatoes,

1 red or orange bell pepper,

1 yellow onion
ROAST VEGGIES
Toss tomatoes, bell pepper, and onions on 1 very large baking sheet, or 2 medium ones. Don't crowd the vegetables or they will steam more than roast.

Roast for 5-10 minutes and then add the smashed garlic cloves to the baking sheet. Roast another 15-25 minutes, stirring half way through. You want to take them out when they are soft and starting to caramelize. If some finish early, take them off the sheet, set aside, and continue to roast the rest.
MAKE THE SOUP
Add the roasted veggies to a large stock pot. Pour in the vegetable stock and add the sugar, salt, paprika and Parmesan rind (rind only). Then bring to a boil.

½ teaspoon sweet paprika,

2 ½ cups vegetable stock,

1 teaspoon sugar,

salt and pepper

Reduce to a simmer and cook for 10 minutes. Remove the parmesan rind, then blend until smooth using an immersion blender.

Taste the soup. Add almond milk or heavy cream, adding more if you prefer it that way 🙂  Add more salt, pepper, or paprika if you want.

½ cup almond milk, milk, or heavy cream

Strain if you want a silky smooth soup (I usually skip this).
GARNISH & SERVE
Garnish with basil leaves and shaved Parmesan cheese.

8 basil leaves,

2 ounces Fresh Parmesan cheese (and rind)
Notes
Almond milk vs heavy cream: I've tried both. Almond milk is lighter and doesn't impart any flavor. Heavy cream will give it a 'richer' consistency if that's what you are going for.
Tomatoes: Roma (also called plum) tomatoes are usually less acidic than 'regular' tomatoes. However, I find the flavor of other tomatoes to be more intense. While I love the flavor of cherry tomatoes, they would add too much skin to the soup. So instead, I opt for beefsteak.  I use half roma and half beefsteak to get the best of both worlds.
Calories are calculated using almond milk. Add 100 calories per serving (1-cup bowl) if you use heavy cream. (Half a cup of heavy cream is 400 calories).
Nutrition
Nutrition Facts
Roasted tomato soup with basil
Amount per Serving
% Daily Value*
* Percent Daily Values are based on a 2000 calorie diet.
Using fresh vs dried basil
Fresh basil is more aromatic and flavorful than dried basil. Tomato soup is hearty yet delicate and benefits from the extra flavor fresh basil provides.
Basil leaves quickly lose much of their flavor when cooked and can turn bitter. This is why it's added at the end of the cooking process, ideally right into the bowl before serving.
The flowers can also be used, added at the end like the leaves.
Dried basil, on the other hand, should be added early in the process. If you don't have fresh basil, add it to the tomatoes when you roast them. Toss the tomatoes with olive oil and 1 teaspoon of dried basil, then roast as instructed.
Ingredient notes
Tomatoes & acidity
If you've made tomato soup in the past and it's too acidic, give this recipe a try. Here's why it works.
Most tomatoes have a pH of 4.6 or lower (the magic cutoff for safe canning). A lower pH means it's more acidic. But tests repeatedly show many tomatoes end up with a higher pH (which means they are lower in acidity).
The recipe calls for paste type tomatoes (also called plum or sauce tomatoes) because they are consistently less acidic. Look for varieties like Roma, San Marzano, Amish Paste.
I don't use Roma tomatoes for the entire batch because the flavor of other types of tomatoes tends to be more pronounced. I settled on beefsteak tomatoes because they are still pretty fleshy which tends to make them less acidic.
The majority of acid found in tomatoes is in the juice and gel around the seeds. You could squeeze those out before roasting to reduce acidity even further. However, the juice and seeds contain a good portion of antioxidants as well as flavor.
Getting a full tomato flavor
Using in-season tomatoes that are fully ripened is crucial. From there, a few tricks can intensify the flavor even more.
Roasting tomatoes concentrates the flavor, starts to caramelize the sugars, and adds depth of flavor from browning (the maillard reaction).
Many recipes call for removing the skin and seeds of tomatoes. While that does reduce acidity, it also removes a good portion of flavor. Taste trials from America's Test Kitchen showed that removing the skin, seeds, and gel resulted in a noticeable loss of flavor.
Parmesan cheese & umami
The parmesan rind adds umamai flavor - that rich, meaty deliciousness that is hard to describe. Parmesan cheese is one of the most umami-rich foods, which is why soups that simmer with the rind taste noticeably richer.
Unless you need to avoid dairy, I highly recommend including the rind when simmering the soup. Adding some freshly shaved cheese when serving, even if just a tiny amount, increases the flavor as well.
Heavy cream vs almond milk
I've made this soup with heavy cream, milk, and almond milk. The soup with heavy cream is richer and more filling. Almond milk works surprisingly well and doesn't impart a nutty flavor. Regular whole milk lands somewhere in between.
If you use almond milk and find you want a richer flavor, add a couple of tablespoons of butter.
Health & nutrition
Tomatoes are very nutrition and high in antioxidants, especially when you include the skin and seeds. According to West Virginia University, "The skin and seeds of a tomato are the main contributor to the overall antioxidant activity of tomatoes." (pdf source)
Leaving the skin on and seeds in also contribute to the flavor, so it's a win-win.
The calories per bowl were calculated using almond milk. If you use heavy cream, add 100 calories per cup of soup (½ cup of heavy cream is 400 calories).
More recipes & resources
If you love a good tomato, you should check out this guide. Of course, it covers the basics, but it goes well beyond that. Find out what makes one tomato bland and another taste outstanding, how heat affects flavor, how to counter acidity, and more.