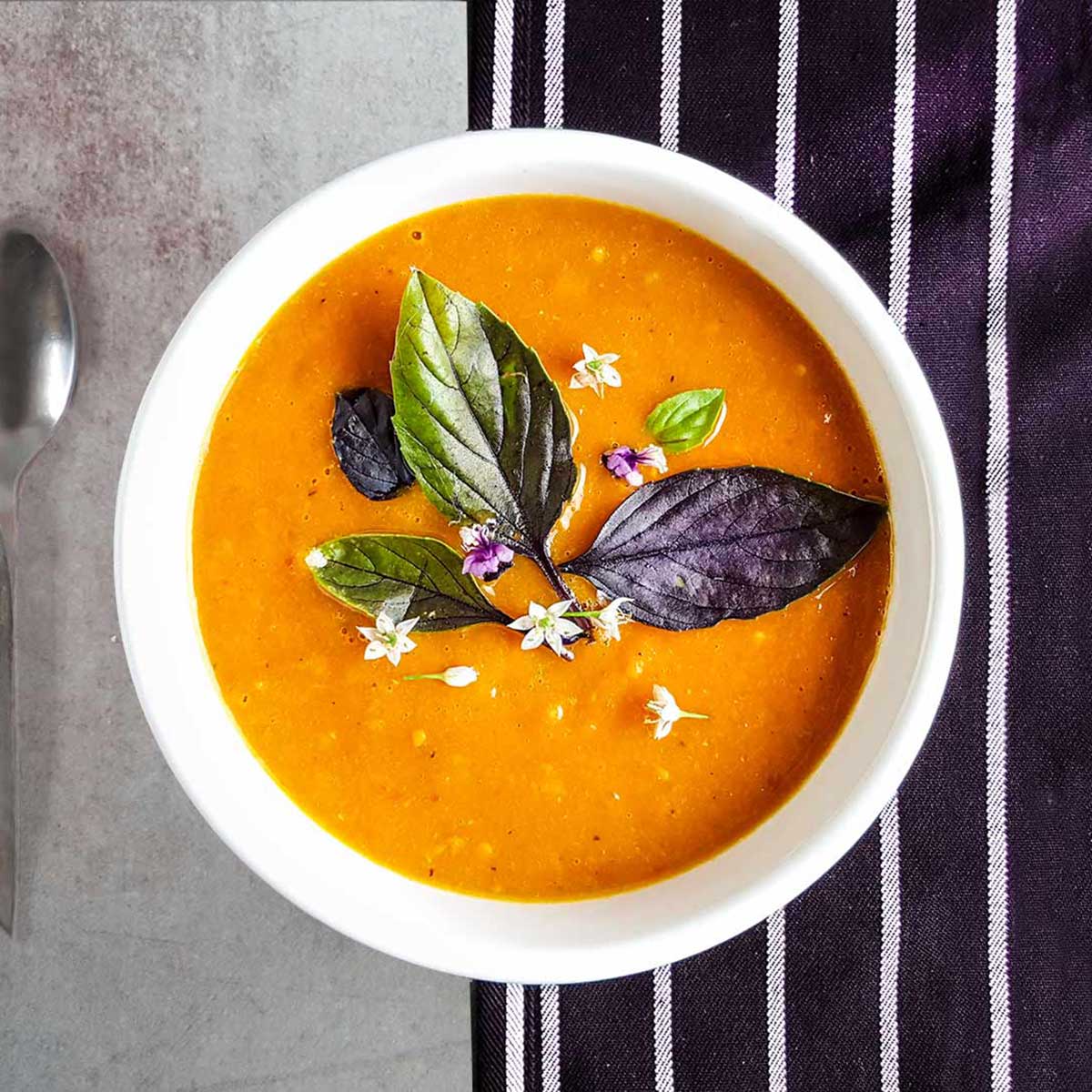 Making a really outstanding homemade tomato soup isn't easy. Even if you're using tomatoes from your garden or fresh from the farmers market, it can turn out bland, or too acidic.
After using my own garden tomatoes in half a dozen soup recipes, I've found the winner from the Feast cookbook.
How to make a good tomato soup
Tomatoes need some extra help to let their flavor shine. Here's a few tricks:
Roast the tomatoes to concentrate the flavor and add some sweetness
Red bell peppers (also roasted) contribute to a slightly more complex flavor, but they don't outshine the tomatoes
Sweet paprika adds a hint of smokiness and depth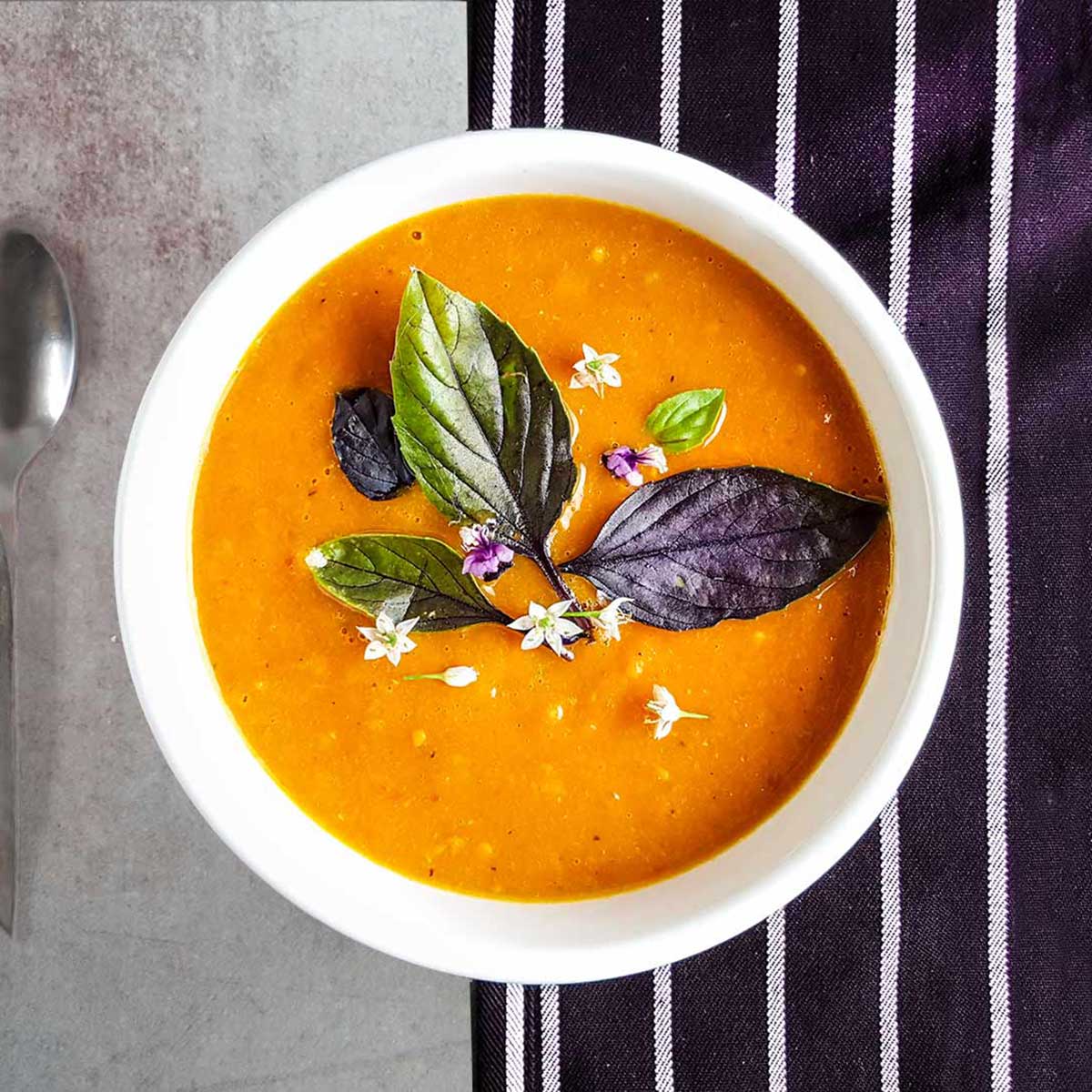 Ingredients
1-2

tablespoon

olive oil

for roasting

6-8

tomatoes

large

1

red or orange bell pepper

1

yellow onion

4

garlic cloves

½

teaspoon

sweet paprika

2 ½

cups

vegetable stock

1

teaspoon

sugar

½

cup

almond milk or heavy cream

see note

2

ounces

Parmesan cheese

8

basil leaves

salt and pepper
Instructions
PREP WORK
Preheat the oven to 400 degrees F. 

Quarter the tomatoes, bell pepper, and onions. Toss with olive oil and season with salt, pepper and paprika. Smash the garlic cloves.
ROAST VEGGIES
Toss tomatoes, bell pepper, and onions on 1 very large baking sheet, or 2 medium ones. Don't crowd the vegetables or they will steam more than roast.

Roast for 5-10 minutes and then add the smashed garlic cloves to the baking sheet. Roast another 15-25 minutes, stirring half way through. You want to take them out when they are soft and starting to caramelize. If some finish early, take them off the sheet, set aside, and continue to roast the rest.
MAKE THE SOUP
Add the roasted veggies to a large stock pot. Pour in the vegetable stock and add the sugar. Then bring to a boil. Using an immersion blender, blend until smooth.

Taste the soup. Add almond milk or heavy cream, adding more if you prefer it that way 🙂  Add more salt, pepper, or paprika if you want.

Strain if you want a silky smooth soup (I usually skip this).
GARNISH & SERVE
Garnish with basil leaves and shaved Parmesan cheese.
Notes
Almond milk vs heavy cream: The cookbook suggests to use either and I've tried both. Almond milk is lighter and doesn't impart any flavor. Heavy cream will give it a 'richer' consistency if that's what you are going for.
Nutrition
Nutrition Facts
Roasted Tomato Soup
Amount per Serving
% Daily Value*
* Percent Daily Values are based on a 2000 calorie diet.
Recipe tips & tricks
Acidity - tomatoes can get pretty acidic, although this varies between tomato varieties. Sugar balances that out. If your soup still tastes too acidic, add more sugar.
Almond milk vs milk vs heavy cream: honestly, they all work. I often use almond milk, which doesn't make it taste nutty. Sometimes I add in a tablespoon of butter at the end if I want more richness (which I don't do if I use heavy cream).
Double or triple it: Just make sure to have enough trays for roasting the vegetables, as a crowded tray of watery tomatoes will end up steaming more than roasting.
Why wait to add garlic cloves? Do this so they don't burn, and keep an eye on them, removing them early if they start to brown.
Grill / charred: You could also grill the peppers to char the outside and add a smoky flavor.
Feast cookbook
After trying several from-scratch tomato soups, the one from Feast was the winner.
I did change two things from the one published in this cookbook. I used only 1 yellow onion instead of two. If you want to follow the recipe from the cookbook, use 2. The cookbook also suggests almond milk, heavy cream, or half and half.
I also added the sugar, since I had very acidic tomatoes. Feel free to leave it out and taste as you go, adding it only if it is needed.
If you love a good tomato, you should check out this guide. Of course, it covers the basics, but it goes well beyond that. Find out what makes one tomato bland and another taste outstanding, how heat affects flavor, how to counter acidity, and more.