This tomato soup recipe uses Italy's favorite summer vegetables: tomatoes, zucchini, and eggplants. It has a tomato-based flavor with Italian herbs. The zucchini and eggplant provide creaminess and significantly reduce the soup's acidity.
Jump to:
Recipe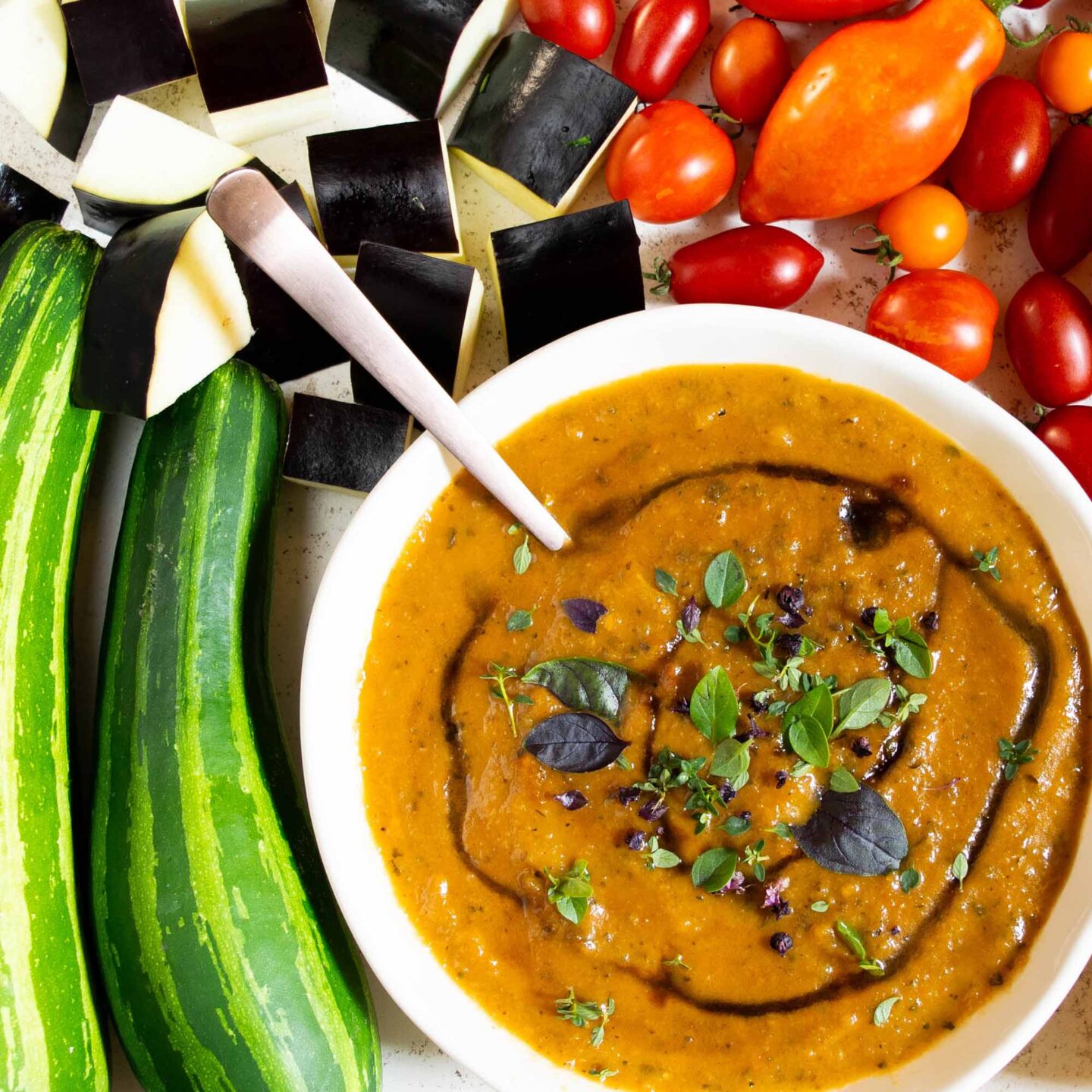 Ingredients
2.5

lbs

tomatoes

roma or beefsteak

1.5

lbs

zucchini or summer squash

2 medium

1

lb

eggplant

1 large

½

large yellow onion

or one small

4

cloves

garlic

2

tablespoon

olive oil

1

teaspoon

salt

1

teaspoon

pepper

1

bunch

fresh thyme

or 1 tablespoon dried Italian seasoning

3

cups

chicken or vegetable broth

2

teaspoon

balsamic vinegar

optional, for garnish

2

sprigs

fresh oregano and basil, each

optional, for garnish
Instructions
ROAST VEGETABLES
Preheat the oven to 400℉ on convection if you have it.

Cut the tomatoes, zucchini, and eggplant into large chunks (2 inches). Remove the skin from the onion and cut into large chunks. Remove the garlic cloves from their paper skins, but leave whole.

2.5 lbs tomatoes,

1.5 lbs zucchini or summer squash,

1 lb eggplant,

½ large yellow onion,

4 cloves garlic

Toss vegetables (including the onion and garlic) on a large rimmed baking sheet and toss with olive oil, salt, and pepper. Grab the thyme sprigs and coat with olive oil, place on the baking tray, tucked under the vegetables. (If using dried herbs, toss with olive oil, salt, and pepper).

2 tablespoon olive oil,

1 teaspoon salt,

1 teaspoon pepper,

1 bunch fresh thyme

Roast the vegetables for 30 minutes (or possibly 45 if you don't have a convection setting). They should start to brown and caramelize.
PUREE SOUP
Remove the thyme from the baking tray. Transfer the vegetables to a large soup pot. Add 1 cup of the broth and puree with an immersion blender (it's easier to puree the vegetables with less broth). Alternatively, puree in a blender.

3 cups chicken or vegetable broth

Add remaining broth and blend again in pot (or just stir it if you used a blender). Taste and add salt and pepper as needed.

Bring soup to a simmer. While soup simmers, remove oregano and basil leaves from the stem. Lightly chop.

2 sprigs fresh oregano and basil, each

To serve, add soup to bowls, drizzle with balsamic vinegar and top with fresh oregano and basil.
Notes
Zucchini - any size works, large or small. For large zucchini remove the seeds.
Eggplant - any size works, no need to remove skin as it blends up nicely.
Tomato - Roma and Beefsteak are ideal for their meatier flesh. Any variety works except cherry tomatoes which have too high of a skin-to-flesh ratio. No need to remove skins or seeds.
Herbs: thyme can withstand oven roasting temperatures, but oregano and basil cannot. Wait to add those until you serve each bowl.
Nutrition
Nutrition Facts
Italian roasted tomato, zucchini, and eggplant soup
Amount per Serving
% Daily Value*
* Percent Daily Values are based on a 2000 calorie diet.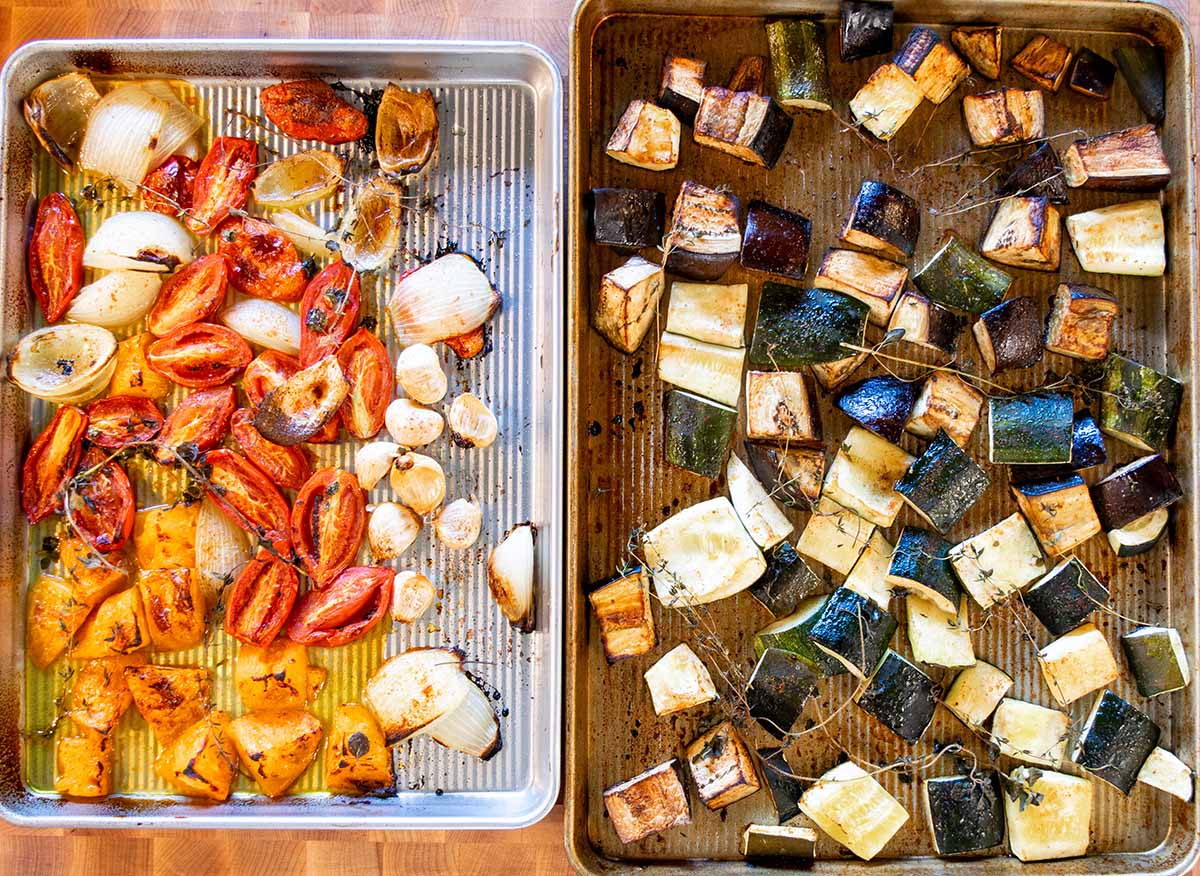 Why roasting vegetables matters
Picture a carrot boiled in water vs one that was roasted in the oven. Their flavors are significantly different thanks to a change in cooking methods.
Roasting vegetables caramelizes the sugars - something that doesn't happen in boiling water. For the sugars to caramelize, they need to reach 230-320ºF (110-160ºC), depending on the type of sugar. Boiling water doesn't reach those temperatures as it caps out at 212ºF (100ºC).
When the sugars break down, hundreds of new flavor compounds form, which is why roasted vegetables have that rich, caramelized flavor.
Roasting the thyme is also beneficial since many of the flavor compounds are fat-soluble. They essentially infuse into the olive oil and vegetables as they roast. Those same compounds are very minimally water soluble, so it won't have the same effect in a pot of boiling soup.
Thyme also holds up well to hot oven temperatures, whereas oregano and basil are more delicate. When oregano and basil are subjected to roasting temperatures, their flavor is diminished and can turn bitter - the opposite of what we're looking for.
Balanced acidity
Tomatoes are acidic which can be overpowering in certain recipes, like a soup. There are several things you can do to reduce the acidity like removing the seeds and gel that surrounds them. But if you do that, you also lose a noticeable amount of flavor.
Some people also add a pinch of baking soda, but that can add an off flavor if not added in just the right amount. Sugar can balance out the acidity making it taste less acidic - but it doesn't actually reduce the acidity (an important distinction of acidity bothers your stomach).
My roasted tomato soup with basil employs these tricks along with choosing specific tomatoes that are usually less acidic (like Romas). But I wanted another option.
Tomatoes may be acidic but some other vegetables are just the opposite - they are alkaline. So why not use some alkaline vegetables?
Eggplant and zucchini are two of the most alkaline vegetables with a pH of 5.5-6.5 and 5.7-6.1 respectively, compared to tomatoes at 4.3-4.9 pH (for reference, a lemon is 2-2.8 pH).
Since half of the vegetables in this recipe are eggplant and zucchini, the soup is naturally well balanced.
Using tomatoes, eggplant, and zucchini
Tomato, zucchini, and eggplant are all in season at the same time, so it shouldn't be a surprise that combining them in not a new idea.
In Italy, ciambotta uses them along with potatoes into a stew. Caponatta mixes eggplant and tomatoes with capers for a relish. And in France, their famous ratatouille uses all three for a hearty stew.
I provided weights for each of the vegetables, but they are honestly fairly flexible. If you have a bumper crop of tomatoes to use up, you can add more of them and reduce the amount of broth. Or on the flip side, you can add more zucchini along with (potentially) more broth.
Zucchini
Zucchini, as we know it today, was actually bred in Italy. It's a type of summer squash that they made famous around the world. You can use any type of summer squash in this soup - I've tried it with several varieties of zucchini as well as yellow summer squash.
Both large and small zucchini also work out well. If you use larger ones, you will want to remove the seeds. Cut the zucchini in half lengthwise (to make two boats), then use a spoon and scoop out the seedy center. Small zucchini have smaller and softer seeds that don't need to be removed.
Eggplants
Eggplants were popularized in Sicily, where they are prized for their delicate flesh and famous eggplant-based dishes like pasta alla Norma, caponata, and eggplant parmigiana.
Eggplants readily absorb flavors during the cooking process, taking on the flavor from thyme and olive oil when roasted for this soup. When blended into they soup, they thicken the broth, similar to the idea of potatoes as a thickener. The distinction in this recipe is that potatoes add a starchy element, whereas eggplants make it more creamy.
Any variety of eggplant works well, from large to small. Smaller ones will have a higher skin-to-flesh ratio, however. I usually use 1 medium eggplant and the skin is unnoticeable once pureed.
Tomatoes
I usually use a mix of paste type tomatoes (like Roma or San Marzano) and beefsteak. They don't needs to be peeled as the skin blends up well into the soup. I also leave the gel and seeds in tact since they add more flavor.
If you'd prefer to remove the skin and seeds, the soup will still work out well. It will lose a little tomato punchiness, however. You could try adding a tablespoon or two of tomato paste into the broth to gain some of the lost flavor back in that case.
Any color of tomatoes will also work. I usually use a combination of red paste tomatoes and yellow beefsteak (because that is what's often growing in my garden). The color of the photo is from using half yellow and red tomatoes, a dark purple eggplant, and green zucchini.
Garnishes
A drizzle of a good quality balsamic vinegar adds a welcomed dose of acidity since this soup is well balanced. If you don't like balsamic vinegar or don't want to buy a whole bottle you can skip it or try a splash of apple cider vinegar if the soup is falling flat.
Oregano and basil leaves provide a nice aromatic first impression, along with pops of flavor. As mentioned in the section on roasting, these herbs are more delicate and lose flavor or turn bitter when roasted.
This tomato soup also benefits from a side of good, crusty bread.
Double the recipe
This soup recipe is easily doubled if you have a second baking tray and space in your oven. When I double this, I am able to prep the ingredients in 10 minutes.
If you're gardening or shopping at a farmers market, this is an efficient way to use up vegetables that are in season at the same time in July, August, and September.
Storage & freezing
The soup keeps for several days in the fridge and can be reheated on the stove top. Alternatively, you can freeze it for long term storage.
Soups with milk and heavy cream don't freeze well, but since this soup uses eggplant and zucchini for a creaminess, it freezes without any problems.
I often make a double batch of this in August when zucchini are winding down and tomatoes and eggplant are still going crazy in my garden. I freeze most of it to enjoy on cold winter nights.
More recipes & resources