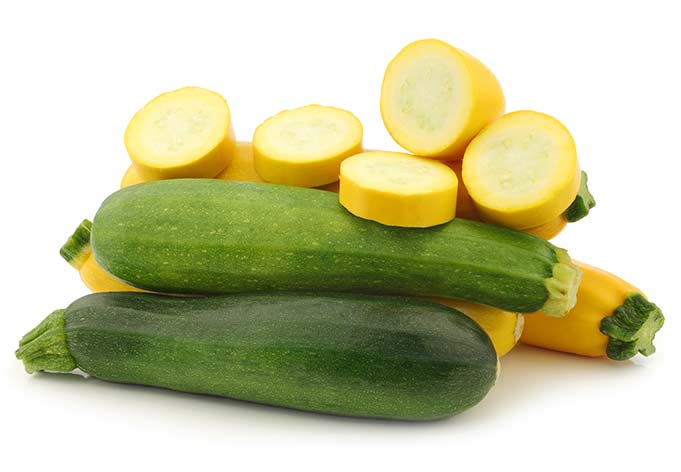 When are zucchini and other summer squash in season?
They start showing up in June and last into early or mid-fall. See what else is in season at the same time: June, July, August, September, October
To pick the best summer squash look for ones that are firm and heavy for their size. When 2 zucchini are the same size, but one is heavier, that means it has a higher water content and is fresher (and not dried out). The skin should be smooth and shiny, with no pitting.
Choose squash that are 6-8 inches long (for green or yellow zucchini) for the best flavor and texture. The larger ones will have tougher flesh and more seeds. If you do end up with a giant zucchini, they are great for shredding into breads or cooking into a soup where you aren't looking to highlight the zucchini flavor.
To store zucchini, sources are split on whether it should go in the fridge or on the counter. The reason for this is the optimal storage temperature is between 41 and 50 degrees F. Your fridge is usually set to 37 which can start causing 'chilling damage' after 1-2 days in the fridge. Chilling damage reduces the quality of the flesh and causes sunken pits on the skin. But storing squash on the counter is warmer than 50 degrees, as are most places in your home during summer. However, storage squash on the counter works just fine for several days, sometimes up to a week (this is how I store fresh squash).
Should I buy organic?
Zucchini and summer squash from the US are categorized to have a high pesticide risk by Consumer Reports analysis on the testing data provided by the Environmental Protection Agency. That means 1-5 servings a day puts the pesticide amount and toxicity past the 'known levels to be safe.'
Zucchini from Mexico have so few pesticides in the same tests, that they are near-organic levels.
What are zoodles?
Zoodles are zucchini turned into noodles using a spiralizer. Somtimes other vegetables that are turned into noodles are also called zoodles. If you haven't tried it yet, here's a very easy recipe from Gimme Delicious Food (along with a short video) to show you how it's done.
Now what should I make?
That's a good question! I scour the internet to find recipes that use fresh, seasonal ingredients, often with a fun twist. Follow Ask The Food Geek on Pinterest or Facebook to get access to the recipes I find every day.
[pin_profile username="askthefoodgeek" size="custom" image_width="115″ board_width="660″ board_height="200″]
Seasonal zucchini recipes, and other summer squash
Each recipe below only uses ingredients that are in season at the same time as summer squash, or ingredients that have a year-round season. Since their season overlaps with the beginning or end of other fruits and vegetables, the recipes are grouped into early season, late season, or anytime they are available.
…For anytime zucchini and summer squash are in season
Burst tomato and zucchini spaghetti with avocado sauce – recipe by Pinch of Yum
Tomatoes and zucchini are in season at the same time, and avocados are great all year long.
Greek quinoa grilled zucchini boats – recipe by Kristine's Kitchen
Garlic parmesan "zoodles" – recipe by Gimme Delicious Food
Zucchini tomato basil salad with lemon-basil vinaigrette – recipe by Good Life Eats
Zucchini alfredo – recipe by Damn Delicious
Grilled peach, corn, and zucchini salad with lemon-basil vinaigrette – recipe by The Simple Veganista
Baked eggplant and zucchini sandwiches with avocado aioli – recipe by Floating Kitchen
Eggplant and zucchini are in season at the same time!
Zucchini, cheddar, and chive buttermilk quick bread – recipe by A Pretty Life
Mediterranean zucchini-noodle pasta salad with sun-dried tomato dressing – recipe by Healthy and Heavenly Oven
Cheddar and sausage stuffed zucchini boats – recipe by The Garlic Diaries