This zucchini quiche is a great way to use up the summer squash bounty from the garden. It uses 2 whole cups of shredded zucchini (or any variety of summer squash), which actually replaces several eggs.
Double or triple it, adding flavor variations into each pan right before baking, like ham & bell peppers, sausage & Italian herbs, or bacon & everything bagel spice. And freeze for later!
Jump to:
Recipe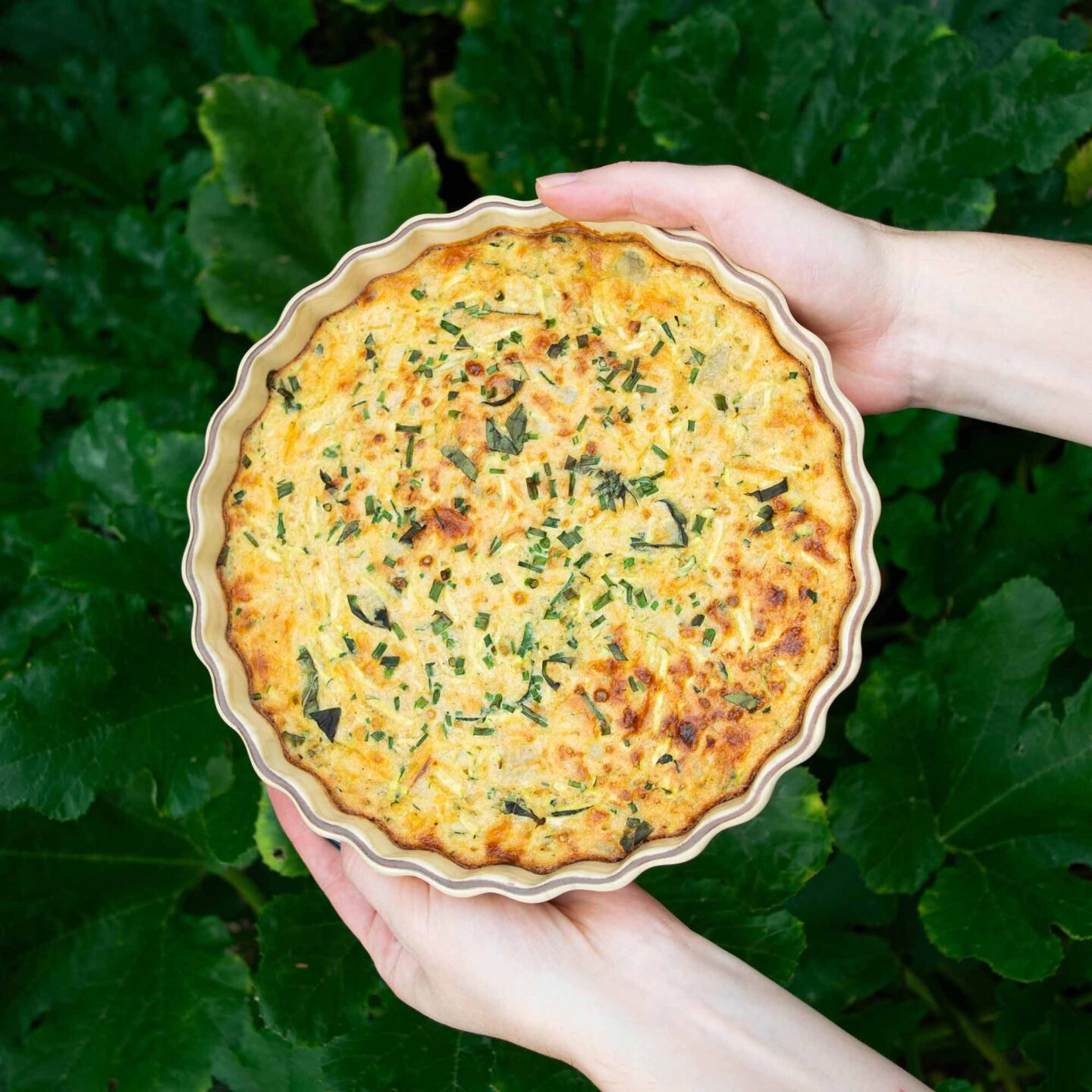 Ingredients
Wet ingredients
10

oz

zucchini

½

cup

shallots

2

tablespoon

packed chopped fresh herbs

basil & chives are great

4

oz

cheddar cheese

any cheese works

⅔

cup

whole milk

if using skim, add 1 teaspoon olive oil

2

large

eggs
Dry ingredients
3

ounces

whole wheat flour

or all-purpose

1

teaspoon

baking powder

⅓

teaspoon

salt
Instructions
Make quiche
Get out a large bowl and preheat oven to 400℉ on convection if you have it.

Shred zucchini (a food processor makes quick work of this, don't wash yet). Squeeze liquid out of zucchini by squeezing it in your hands over the sink. Add to the large bowl.

Shred cheese (in food processor if you want) and add it to the large bowl.

Chop shallots and herbs, then add to the bowl. Stir everything together in the large bowl.

½ cup shallots,

2 tablespoon packed chopped fresh herbs

Beat eggs (either in a small bowl, or in the top of the pile of stuff in the large bowl). Add to the large bowl.

Add milk to the large bowl. Stir all ingredients until fully combined.

Measure out

3

ounces of flour in a separate bowl. Add baking powder and salt. Stir to combine, then add to the large bowl and stir until just combined. It will be somewhat runny.

3 ounces whole wheat flour,

1 teaspoon baking powder,

⅓ teaspoon salt
Bake quiche
Grease a 9" pie dish or an 8" square pan. It will work in a glass, ceramic, or metal pan (I've tried them all). Pour the quiche filling from the large bowl into the pan.

NOTE! If making more than one quiche, add other flavors and meat to each individual pan at this point.

Place in oven on center rack and bake for 20 minutes, or until the center reads 165℉. (If you don't have a convection setting, it will likely take 5-10 minutes longer to cook).
Notes
Flavor variations - add other flavors before adding flour to the bowl. OR if making more than 1 quiche with different flavors, add after batter is poured into pans. Gently mix then put in the oven.
Ham (1 cup) and chopped sauteed peppers (½ cup)
Cooked sausage (1 cup) and Italian herbs (2 tsp)
Cooked bacon (8 slices) and everything bagel spice (2 tsp)
Nutrition
Nutrition Facts
Zucchini quiche
Amount per Serving
% Daily Value*
* Percent Daily Values are based on a 2000 calorie diet.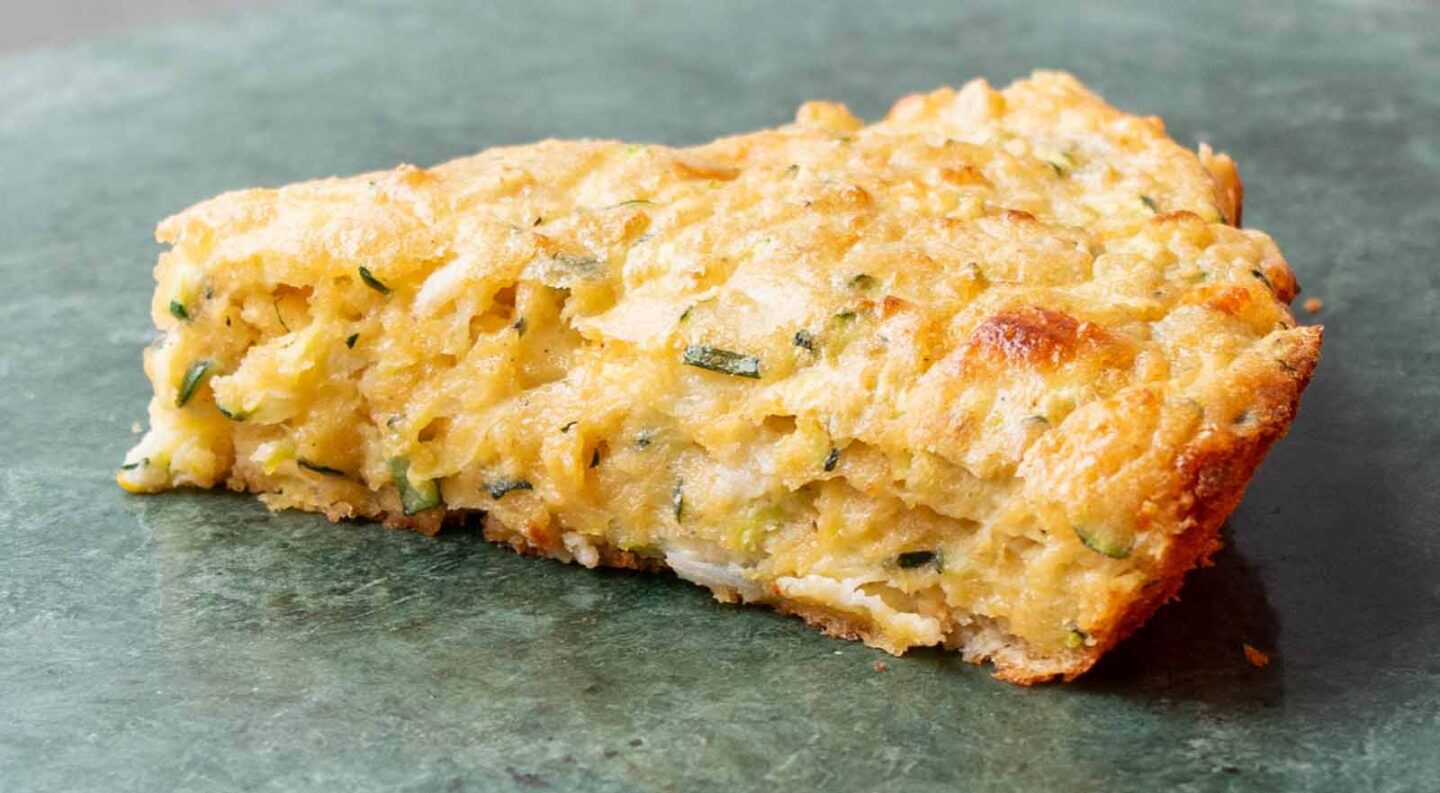 How this differs from a traditional quiche
A traditional quiche will have about 5-6 eggs (instead of 2 from this recipe), heavy cream (instead of whole milk), and a crust. They also tend to be more custard-like, whereas this zucchini quiche recipe is a bit sturdier and more like an egg-bake.
Substitutions
This recipe is very flexible, which is one of the things I love about it.
Milk: I use whole milk, but you can use skim, 1% or 2%. If you use skim, add a teaspoon of olive oil for a little extra fat for texture and flavor.
Cheese: use you favorite cheese like pepperjack or parmesan. You don't have to worry about their melting quality like you would for a sauce or soup - so just about anything works!
Zucchini can be substituted with any other summer squash (courgette) variety. Large zucchini even work well, just make sure you scoop out the center containing the large seeds.
Flour: I've used both whole wheat and all purpose flour. The texture and flavor are identical (or close enough that no one could tell the difference). I haven't tried a gluten free flour but it should work in theory (if you try it, let me know). The flour just helps hold some shape and soak up some liquid.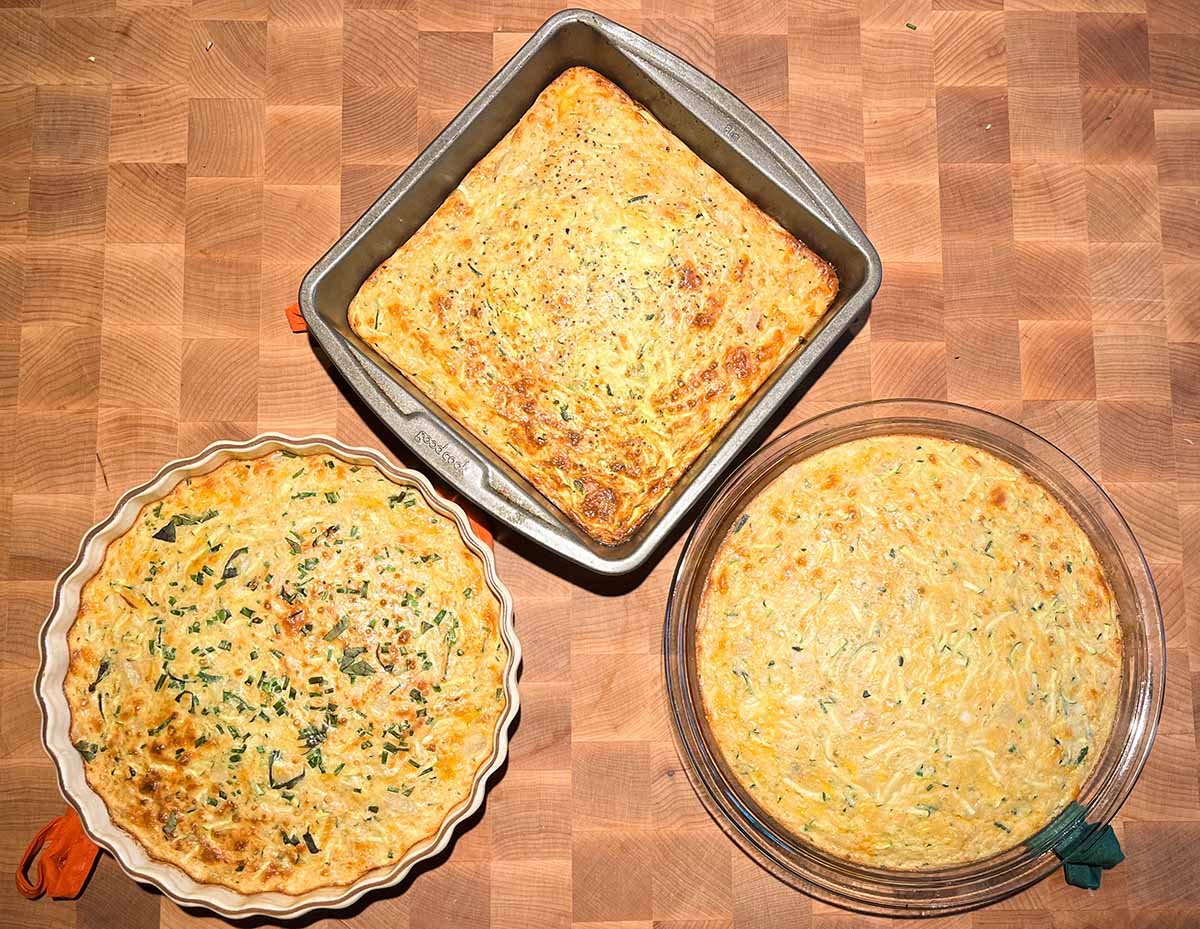 How to double or triple the recipe
I've successfully doubled and tripled this recipe. I mix everything in a large bowl and pour it into my pie plates and square pans. At this point, I sometimes mix in additional ingredients and flavors into each individual pan, including the following:
Ham (1 cup) and sauteed red peppers (½ cup) per pan
Cooked sausage (1 cup) and Italian herbs (2 tsp) (with chopped peppery nasturtium per pan
Pre-cooked bacon (8 slices) and everything bagel spice (2 tsp)
I then place all three pans in the oven, staggered on two different racks. They bake well every time! Once cooled, I cut some of them up into slices and vacuum seal for freezing.
Freezing instructions
This zucchini quiche freezes very well, as most quiches do.
Plastic & foil
First, wrap the quiche slices with a layer of plastic wrap. This helps keep the moisture from escaping. However, thin plastic wrap doesn't hold up to the cold freezer temperatures well by itself.
To stand up to the freezer, you'll want to wrap it again, but with foil this time or placed in a thicker freezer-safe bag or container. The foil alone isn't going to form a tight seal, which is why the plastic wrap was also required. And the freezer-safe plastic bag is decent on its own, but it's hard to get all of the air out, so the extra layer of plastic wrap is still providing protection.
Vacuum seal
Alternatively, you can vacuum seal the quiche to minimize any chance of freezer burn. The trick to vacuum sealing the slices is to first place them in the freezer until they are hard. Then remove them from the freezer and vacuum seal.
This prevents the quiche from getting squished in the vacuum sealing process. You might think they can be squished and will bounce back when thawed - but that is not the case (as I learned from personal experience).
To eat, thaw in the fridge overnight.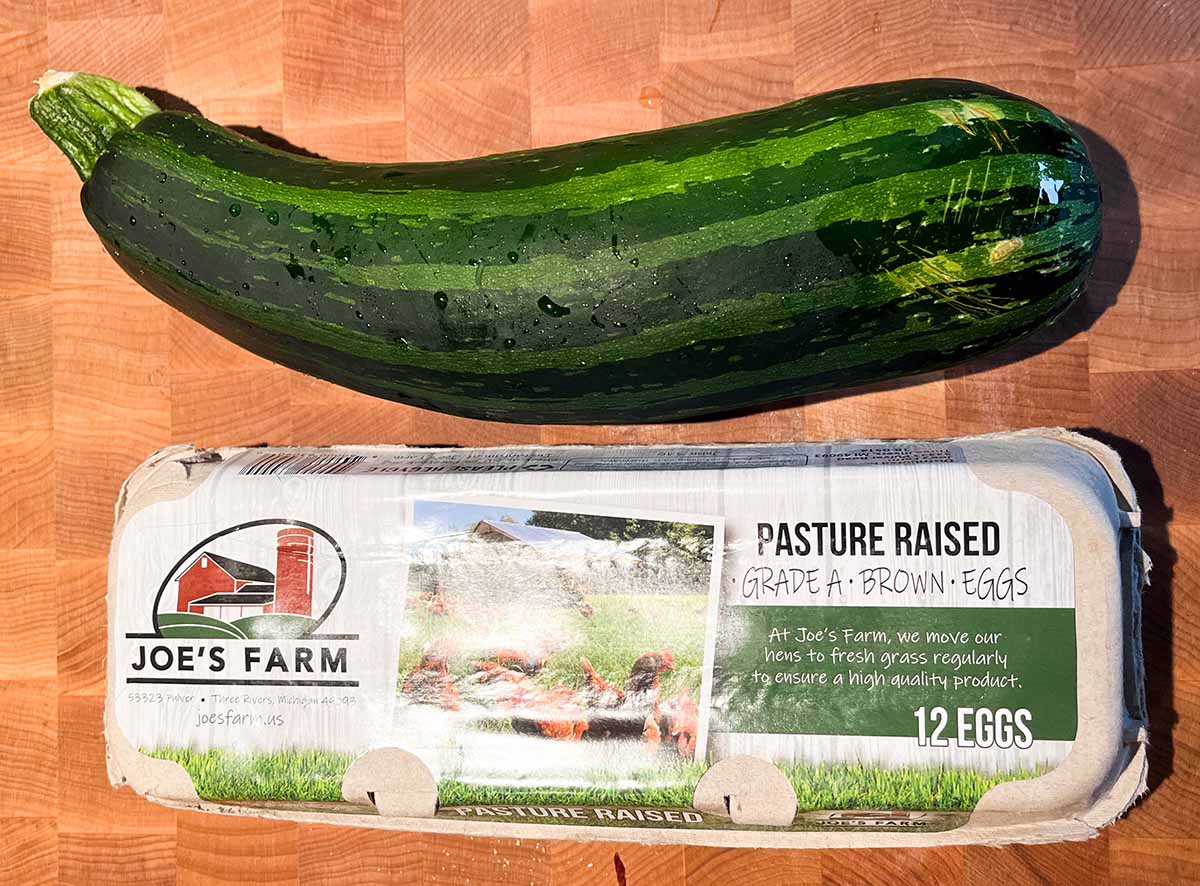 Tips for working with zucchini
Any type of zucchini or summer squash works out perfectly. I've used medium and large sizes (larger than a carton of eggs) and they all turn out great.
When using larger zucchini, cut around the center (as if it had a core you were avoiding). This bypasses the seedy center, and gives you long spears that will work on a box grater or in a food processor.
Both yellow and green varieties will make a great tasting (and pretty) quiche. I used green and yellow in the same recipe and it has a minimal effect on the color.
Zucchini can also be shredded ahead of time and stored, covered, in the fridge for 2-3 days. It stays surprisingly crisp and doesn't brown. I've made quiche using shredded zucchini kept in the fridge for two days and it worked great (or should I say grate?).
More recipes & resources
If you're here to use up zucchini, try the super easy zucchini bread recipe that uses up 2 whole cups (10 ounces) and doesn't need to be wrung dry, and it can be easily double or tripled. The southwest zucchini & corn soup recipe uses 2 pounds of zucchini for a creamy base without dairy.