This light "corn chowder" style zucchini soup gets all of its creaminess by pureeing 2 pounds of zucchini (no dairy is needed). This soup recipe can easily be doubled to use up zucchini when it overruns your garden.
The corn flavor is intensified by simmering it with the corn cobs (which are later removed). From here, you can spice it anyway you'd like - this Southwestern version of one of my favorites.
Garnish the soup with your favorite southwestern toppings, like cilantro, peppers, or even some crunchy tortilla strips (they are really easy to make). And for those hot sauce lovers - pour it in!
Jump to:
Recipe
Ingredients
SOUP
1

Tbs

olive oil

2

large shallots

3

garlic cloves

1

teaspoon

chili powder

1

teaspoon

paprika

½

teaspoon

cumin

½

teaspoon

salt

2

chipotle peppers in adobo sauce*

2

lb

zucchini

about 3 medium

2

ears corn

2.5

cups

vegetable broth
Garnish
1

jalapeno

optional

Chopped mini bell pepers

optional

2

tbs

fresh cilantro
Instructions
PREP
Chop the shallots and garlic, set aside. Cut the corn kernels off the cobs, over a rimmed baking sheet so they don't fly all over the counter. Using your hands, break the empty cobs in half if possible. Cut the zucchini into ½ inch chunks.
MAKE THE SOUP
Cook shallots: Add the olive oil to a large soup pot. Once hot, add the shallots and garlic, cooking until fragrant, about 3 minutes.

Add spices: Stir in the spices, chipotle peppers and salt. Mix, cooking for about 1 more minute.

Add veg & broth, boil: Add the corn kernels, corn cobs, zucchini and broth to the pot. Bring to a boil, then simmer, with the lid off, for 30 minutes. Remove the corn cobs, and puree the soup. If it's too thick, add water to thin it out.
Taste, garnish and serve
Taste the soup for saltiness and flavor. Adjust as needed. Depending on the saltiness of your chicken broth, I expect you might need to add another ½ teaspoon or so.

Garnish with cilantro, chopped jalapenos or red pepper flakes.
Notes
*These are completely optional, you can replace it with chipotle powder or more paprika or chili powder. You can find them in the Mexican isle in the grocery store, by the canned diced chilies.
Nutrition
Nutrition Facts
Southwestern Zucchini & Corn Soup
Amount per Serving
% Daily Value*
* Percent Daily Values are based on a 2000 calorie diet.
Zucchini soup nutrition - by ingredient
Calories are not a perfect measure, not by any means. However, they are very helpful to put things into perspective. A soup that has 500 calories a bowl is quite a bit different than one with 200 calories. I also like to look at the nutrition per ingredient and try to balance daily vitamins.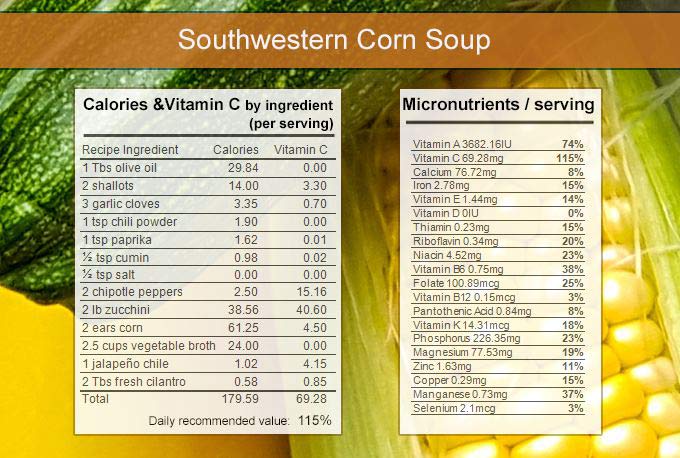 Tips for using zucchini & summer squash
Any zucchini or summer squash works well for this soup. While the flavor won't change, the color will. Green zucchini will turn the soup to a yellow-green color, whereas yellow summer squash will keep it a brighter yellow (or orange depending on the spices).
It's worth tasting a bite of the zucchini to check for bitterness. Some zucchini can become bitter with heat and other environmental stress, which is also why cucumbers turn bitter. If your zucchini is bitter, peeling the skin is enough to remove the bitter flavors.
Otherwise, there is no need to peel the zucchini, unless you want a prettier colored soup. Or try using yellow squash which will add to the bright color.
This soup recipe is also a great way to use up any giant zucchini overwhelming your garden in July and August. If you do use large zucchini and other courgettes, cut or scoop out the seeds.
Freezing the soup
This soup recipe freezes well, as long as you leave out the garnishes. To reheat, thaw overnight in the fridge and warm on the stove top.
The recipe can also easily be doubled and still fits in a 6 quart dutch oven or soup pot. Then portion out to freeze for later use.
Recipes Notes
The recipe is pretty easy, but I have a few things to help you through the process.
Where to find chipotle peppers
The chipotle peppers in adobo sauce can be found next to those little cans of diced green chiles in the Mexican food isle or the canned tomato products. Even though the cans are quite small, you likely won't use the whole thing. You can easily transfer them to a ziploc bag and freeze them. If you have fresh peppers, those would work well as a substitute.
What to eat with this zucchini soup
Try pairing the corn chowder with a simple chicken sandwich with pepperjack cheese. Chicken cooks quite fast if you want to saute a breast in a pan while the soup cooks. You can also save time by grabbing prepared chicken tenders from a local deli or farmers market.
A side baked potato with a little cheese would work well, especially since most classic corn chowder recipes have potatoes in them, but this one doesn't.
More recipes