Do you have a good potato soup to recommend?
Dear Food Geek, I love soups and was looking for a good potato soup recipe. They all seem to be loaded with heavy cream, cheese and bacon. While those are delicious, I'm looking for something different, and probably lighter. Any ideas? - Melissa
I actually have a favorite to share, but I must warn you, this potato soup is for someone who, like me, has a heavy hand when adding garlic to recipes. For example, I will never understand garlic bread recipes that say 'rub the cut side of a garlic clove on bread.' What do you mean... rub it? I am going to smash that clove of garlic and place it on one piece of bread, then smash another clove for each piece after that. And it's going to be perfect and delicious. And no, I will not use restraint and only add 1 clove to that stew, it definitely needs 3 or 4, and I'm just getting started.
Ahh, garlic... To give the pungent allium the love it deserves, we really amp it up in this recipe. First, we infuse the broth with garlic, then add 2 heads to the soup, and finally top it off with homemade garlic chips. Leeks add a delicate flavor to the base instead of onion, so as not to compete with the garlic flavor. Potatoes are simmered in the broth and pureed for a smooth, creamy finish.
Recipe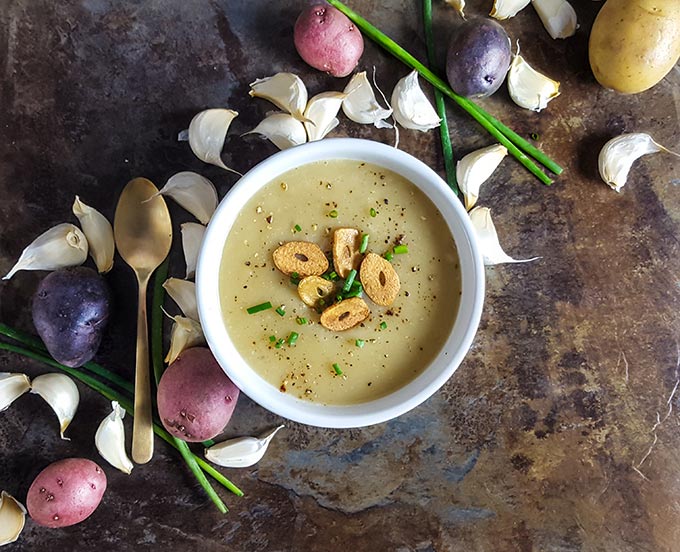 Ingredients
Soup Base
3

tablespoon

unsalted butter

olive oil for dairy-free

3

cloves

garlic

1

leek

white and green parts
Soup
6-7

cups

broth

2

heads garlic

3

bay leaves

1.5

teaspoon

salt

1.5

lbs

russet potatoes

peeled, cut into ½ inch cubes

1

lb

red potatoes

unpeeled, cut into ½ inch cubes

2

teaspoon

fresh thyme
Garnishes
¼

cup

fresh chives

Black pepper

4-6

cloves

garlic

for chips

3

tablespoon

oil

for chips
Instructions
Prep
Chop the leeks, peel russet potatoes, and cut the all potatoes into ½ inch cubes or so (no need to be exact).

Separate cloves from 1 head of garlic, peel and chop up 3 of those, to be used in the base. Peel and slice up 4-6 cloves (to make chips). Cut the tops off the other heads of garlic so the tops of the cloves are exposed (for the broth).

Strip thyme from stems.
Make the base
In a large pot, melt the butter. Add leeks and cook until soft but not browned, about 5 minutes. Add the chopped garlic and cook just for a minute or two, until it smells wonderful.
Flavor broth & simmer
Add broth, garlic heads (with the tops cut off), bay leaves and salt. Bring to a boil then simmer for 20 minutes.

Add potatoes, partially cover the pot and continue to simmer for 15-20 minutes, until the potatoes are tender.

Remove the garlic heads and squeeze the garlic onto a plate, using tongs. Add the squeezed garlic back into the soup. Add in thyme.

Remove the bay leaves. If you want some potato chunks in the soup, use a slotted spoon to remove the desired amount. Then puree the soup, and add the potatoes back in.

Taste and add salt or pepper if necessary. Add more broth to thin the soup, if needed. Top with chives, pepper and garlic chips.
Garlic Chips
Use a small frying pan and cover the bottom in a layer of oil, just enough to mostly cover the sliced garlic. Heat the oil to hot, but not smoking. Add sliced garlic to hot oil and swirl / push around to cook them evenly. After about 1 or 2 minutes, they will start to turn a light gold, watch them, because in seconds they will turn golden and after that they can turn dark gold and start to get bitter. Remove from pan at the light to meidum gold stage, then cool on paper towels.
Serve
Top soup with chives and garlic chips and serve.
Nutrition for Garlic & Potato Soup, by Ingredient
Notable health benefits
Vitamin B6: This is a water soluble vitamin so you need it on a daily basis (it isn't stored in the body). It helps the body produce red blood cells as well as contribute to metabolic functions. For example, it helps metabolize carbohydrates and stored energy into usable energy, giving the body more sustained energy levels.
Manganese: This helps the absorption of many vitamins, including B6, so that's handy. It also assists with bone health (like strong bones), and "normalizes insulin synthesis and secretion" to help tame wild swings in blood sugar
Source: organicfacts.org
Recipe notes
Frying garlic: if you 'burn' garlic it turns bitter and has an off taste. I've found this happens when they get a dark gold color, which is normally wonderful on baked goods or cookies. But not so on fried garlic. It also takes seconds to start to burn, and I've found that the time it takes for me to scoop them all out of the pan, some have turned bitter. To get around that, when they are done, I tilt the pan to get them all on one side and scoop them out all at once with a slotted spoon.
Garlic on your hands: If you wash your hands after handling raw garlic, or rub them on a lemon, you can get rid of the smell. I've found the real problem happens when you combine garlic and oil (hello, frying!) and get it on your hands. That seems to make it hard to get rid of. The website, garlicmatters.com has an interesting solution: make a scrub with sea salt and baking soda for your hands.
Thinning the soup: If you have leftovers, this soup will be much thicker the next day. Keep some extra broth on hand to thin it, or use water.
Freeze: this soup freezes wonderfully (as most pureed soups do).
Recipe inspiration: Garlic Potato Soup
This recipe is from Cook's Illustrated - you'll find I love their recipes. It isn't surprising since they treat recipe creation sort of like investigative journalism. They question why things work, and why things don't. They love science (and so do I).
As for the garlic, here's what they have to say: "The key to garlic balance in our potato soup recipe proved to be not quantity but cooking technique. We needed two methods, combining sautéed minced garlic with whole poached garlic heads."
If you're wondering why 2 types of potatoes are necessary, that is explained as well, "Our Galic-Potato Soup uses both russet and Red Bliss potatoes for ultimate potato flavor and texture. Peeled starchy russet potatoes break down during cooking to thicken the soup, while unpeeled Red Bliss potatoes give the soup a rustic, chunky texture and rich potato flavor."
Their recipe also includes ½ cut of heavy cream, added at the end, right before you blend it. I found it unnecessary so I leave that out, but if you want that extra luxurious addition, go for it!