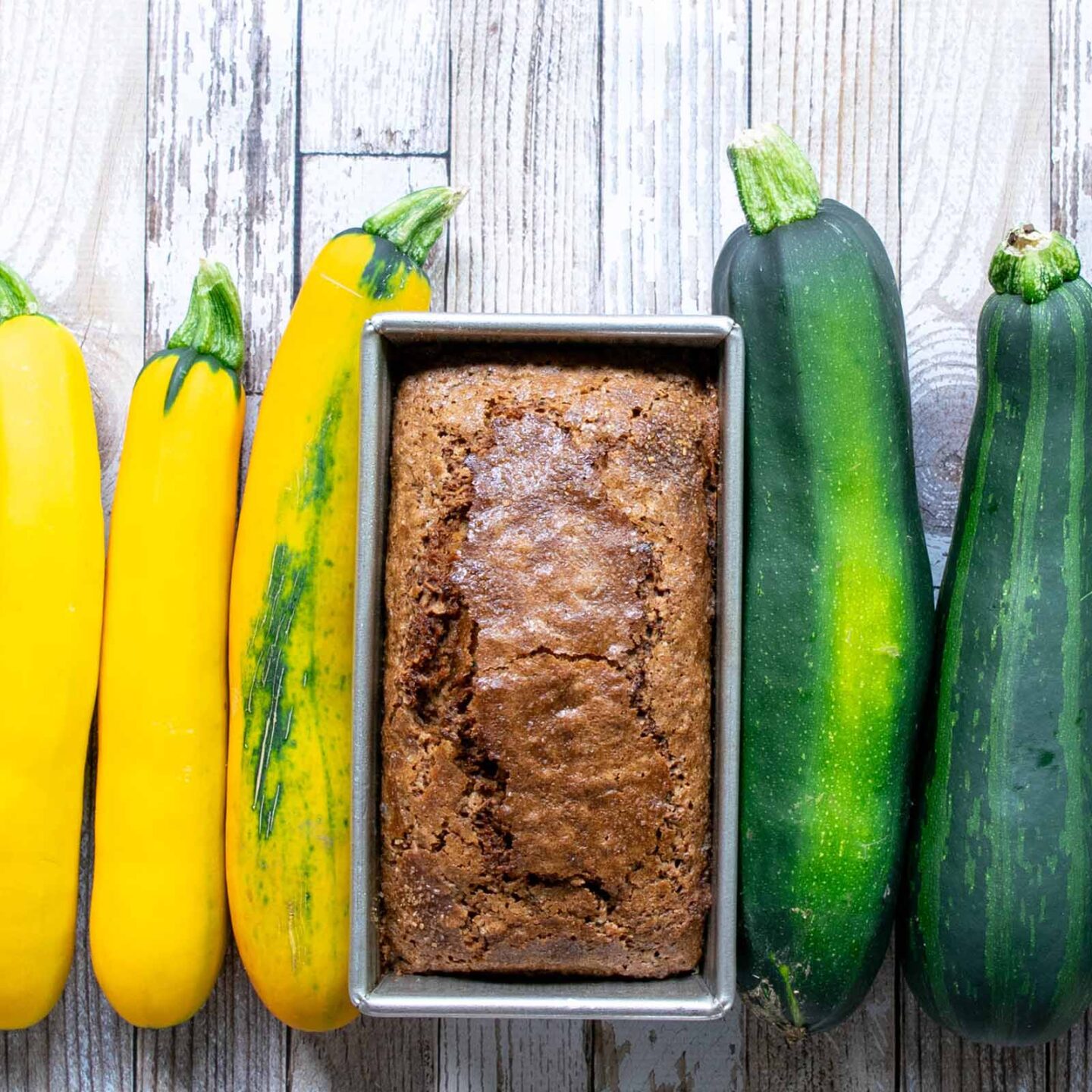 I've been baking through zucchini bread recipes to use up the harvest from my garden. Some turned out gummy, others dried out, and many required a lot of work.
This is the best recipe I've made to date. It uses 2 full cups of zucchini, one bowl, and bakes up perfectly fluffy and moist.
The recipe can be easily doubled or tripled, and baked into mini loaves to share homemade zucchini bread with your neighbors.
Jump to:
Recipe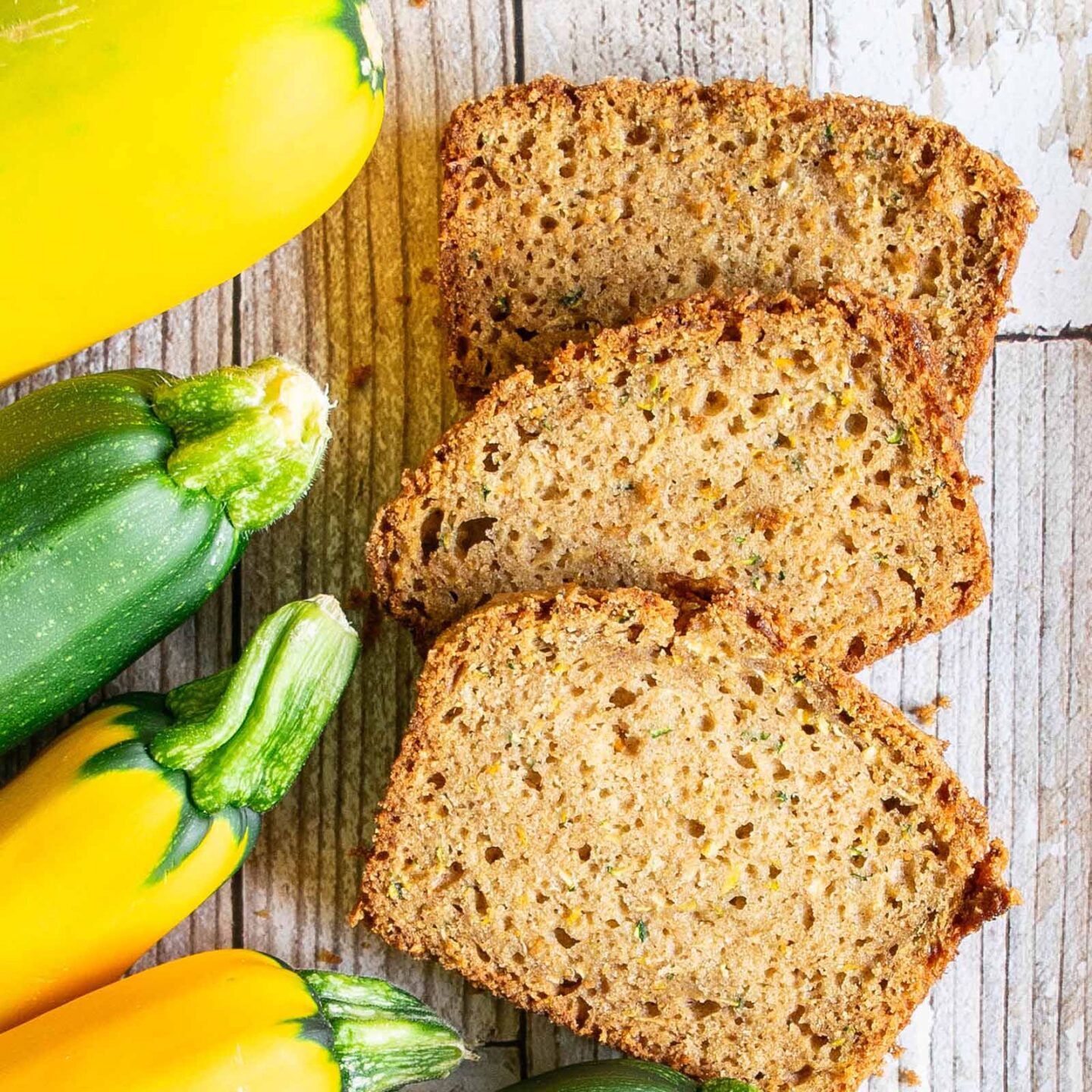 Ingredients
12

ounces

shredded zucchini

~2 cups for a single batch

⅔

cup

vegetable oil

neutral flavor

2

large

eggs

½

cup

granulated sugar

see note

½

cup

brown sugar

not packed

1

teaspoon

vanilla extract

1

teaspoon

table salt

1.5

teaspoon

cinnamon

see note

¼

teaspoon

ground ginger

⅛

teaspoon

nutmeg (a pinch)

⅛

teaspoon

clove (a pinch)

¾

teaspoon

baking soda

½

teaspoon

baking powder

9

ounces

all purpose flour (2 cups)

3

tablespoon

turbinado or brown sugar
Instructions
Preheat oven to 350℉ on bake (not convection). Spray or grease a 9x5 loaf pan (8.5x4.5 works too).

Shred zucchini: shred on a box grater or food processor. No need to squeeze out the liquid. Add to a large bowl.

12 ounces shredded zucchini

Mix in: Add oil, eggs, sugar, brown sugar, vanilla, salt, and spices. (You can replace the spices with 2 teaspoon of Pie Spice). Mix thoroughly to combine. NOTE! If including sweet add-ins, reduce sugar by ¼ cup in this step.

⅔ cup vegetable oil,

2 large eggs,

½ cup granulated sugar,

½ cup brown sugar,

1 teaspoon vanilla extract,

1 teaspoon table salt,

1.5 teaspoon cinnamon,

¼ teaspoon ground ginger,

⅛ teaspoon nutmeg (a pinch),

⅛ teaspoon clove (a pinch)

Add baking soda and baking powder and mix thoroughly to combine. You cannot overmix at this point, so don't be shy.

¾ teaspoon baking soda,

½ teaspoon baking powder

Gently add flour: Measure out the

12

ounces (

2

cups) flour and add to the bowl. Mix gently until just combined. If adding in extras (see notes section), gently add those in now. Do not overmix or bread can be tough and dense.

9 ounces all purpose flour (2 cups)

Scoop batter into prepared loaf pan. Sprinkle the turbinado or brown sugar over the top.

3 tablespoon turbinado or brown sugar

Bake for 50-75 minutes until the internal temperature reaches 200-205℉. At 45 minutes, check for doneness with an instant read thermometer. If it reads under 150℉, add 15 minutes and check again. If it reads 180℉ add 10 minutes, and add 5 minutes if it reads 190℉.

Let cool for hours! Let the bread cool for 3+ hours in its own pan. This lets the heat dissipate and the internal texture to firm up (have you ever cut a quick bread open and noticed how it is gummy when cut into!?). Store on the counter covered with a tea towel for up to 3-4 days. You can also store in a plastic container covered with a paper towel (to absorb extra moisture).
Notes
Spices: I often use Penzey's Pie Spice for this recipe. In fact, the mixture of spices listed (cinnamon, ginger, nutmeg, and cloves) is to replicate the pie spice. While I like Penzey's, any brand of pie spice will work.
Add in options:
Chocolate chips: add ¾ to 1 cup
Ginger: increase ground ginger to ¼ tsp, add ½ cup crystallized ginger
Raisins: add ¾ cup, increase cinnamon by ½ tsp
Nuts: add ¾ to 1 cup of nuts, and you can also replace some or all of the vegetable oil with walnut oil
Nutrition
Nutrition Facts
Zucchini bread
Amount per Serving
% Daily Value*
* Percent Daily Values are based on a 2000 calorie diet.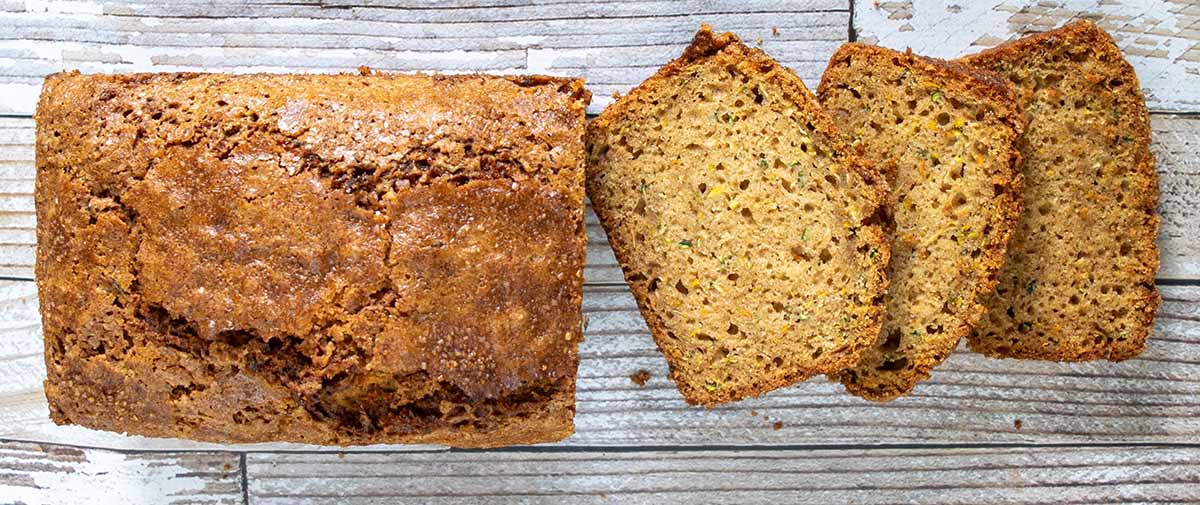 What makes this the best zucchini bread?
The texture and flavor are really perfect, and it makes a nice tall loaf with a crispy top. It has a warm, baking-spice flavor that can handle additions like nuts, raisins, and chocolate chips.
But I think the main selling point is related to the zucchini. It uses a full 2 cups and the water doesn't need to be squeezed out.
The original version of this recipe is from Deb Perelman at Smitten Kitchen and she says, "Some recipes tell you to grate zucchini just to wring it out, which, to me, is a monstrous extra step. This style of cake is called a quickbread; I take the "quick" to heart, and I see no reason to dry out your zucchini when the moisture within it is what makes zucchini bread great."
Another similar zucchini bread recipe comes from King Arthur, who also doesn't squeeze out the zucchini. They tell you to lightly pat it dry, but I found that unnecessary. They use less sugar (which I prefer when using sweet add-ins), and have a lot of add-in options (like walnuts and raisins, and another version with ginger and chocolate).
This version is a merging of those two recipes, which I think ends up being the best zucchini bread recipe. However, both other recipes are great and I encourage you to check them out too.
Variations & add-ins
This particular zucchini bread recipe has a warm cinnamon and baking-spice flavor that can easily accommodate additions like nuts, raisins, and chocolate chips. You can also reduce the sugar in the recipe by ¼ cup if you don't want them to be over sweetened by sugary add-ins. Try any of the following:
Chocolate chips: add in ¾ to 1 cup of chocolate chips and reduce sugar by ¼ cup.
Ginger: increase ground ginger to ½ teaspoon and add in ½ cup of crystallized ginger (also called candied ginger). Reduce sugar by ¼ cup.
Raisins: add ¾ cup raisins, increase cinnamon by ½ tsp, and reduce sugar by ¼ cup.
Nuts: add in ¾ to 1 cup of your favorite nut, walnuts work particularly well. You can also replace some (or all!) of the vegetable oil with walnut oil (although pricey).
I highly recommend trying out walnut oil in your baking recipes if you are looking for a splurge (or gift!). I use La Tourangelle's walnut oil in banana bread, brownies, and cookies and they are all delicious. It's worth noting that nut oils don't last as long as other oils, so if you buy it, use it up. (It's also great for roasting winter squash or using in homemade salad dressing).
Doubling and Tripling the recipe
This recipe can easily be doubled or tripled if you want to use up a bunch of zucchini (a problem us gardeners have!). In the recipe box, you can scale it up.
You can also make this in little disposable tins and gift your neighbors homemade mini zucchini loaves, or toss them in the freezer.
I used these 1-pound mini tins that measure 5" x 2.5" (and 2" tall)
Pour ¾ cup of batter into each tin, which fills 4 tins per recipe
Mix ¼ cups of add-ins into each individual tin, if desired
Bake them at 350ºF for 25-30 minutes (mine were done right at 30 minutes when the internal temperature reached 202ºF).
I like small tins with plastic covers, making gifting easy. Plastic wrap doesn't stick to the container and tin foil usually falls right off (or I'm doing it wrong!). That's why the ones with plastic covers are great.
Freezing zucchini bread
To freeze zucchini bread, let it cool completely then prepare it for freezing. Leaving the loaf whole will preserve its texture longer than wrapping individual slices which will dry out faster.
Plastic & foil
First, wrap the loaf (or slices) with a layer of plastic wrap. This helps keep the bread's moisture from escaping. However, thin plastic wrap doesn't hold up to the cold freezer temperatures well by itself.
To stand up to the freezer, you'll want to wrap it again, but with foil this time or placed in a thicker freezer-safe bag or container. The foil alone isn't going to form a tight seal, which is why the plastic wrap was also required. And the freezer-safe plastic bag is decent on its own, but it's hard to get all of the air out, so the extra layer of plastic wrap is still providing protection.
If you baked them in mini tins, you can wrap those in their tins and freeze whole as well. Just follow the same steps.
Vacuum seal
Alternatively, you can vacuum seal the bread to minimize any chance of freezer burn. The trick to vacuum sealing baked goods is to first place them in the freezer until they are hard. Then remove it from the freezer and vacuum seal.
This prevents them from getting squished in the vacuum sealing process. You might think they can be squished and will bounce back when thawed - but that is not the case (as I learned from personal experience).
To eat, thaw in the fridge overnight.
Tips for working with zucchini
Any type of zucchini or summer squash works out perfectly. I've used medium and large sizes and they all turn out great. I do remove the seeds, however.
Both yellow and green varieties will make a great tasting (and pretty) bread. I used green and yellow in the same recipe and as you can see from the photo, the flecks of color are cute.
Zucchini can also be shredded ahead of time and stored, covered, in the fridge for a couple days. It stays surprisingly crisp and doesn't brown. I've made bread using shredded zucchini kept in the fridge for two days and it worked great (or should I say grate?).
Other recipe tips
I have a few things that should help make this recipe even easier. If you have questions or suggestions, leave a comment and I will update this section.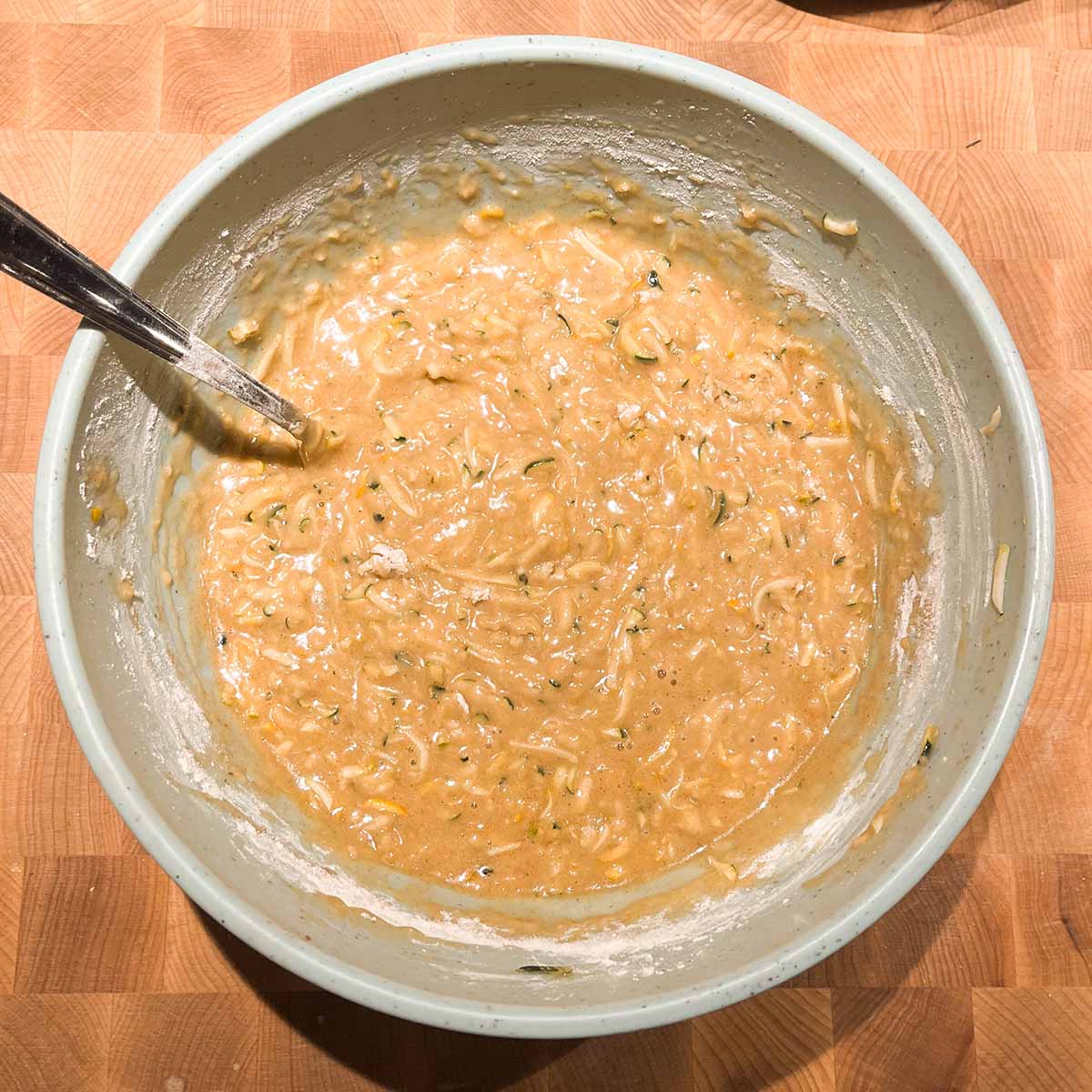 Batter consistency
The batter for this zucchini bread will be similar to other quick breads, like banana or pumpkin bread. It will be runny but have some structure.
Don't overmix the batter, or the bread can turn out tough or might not rise well.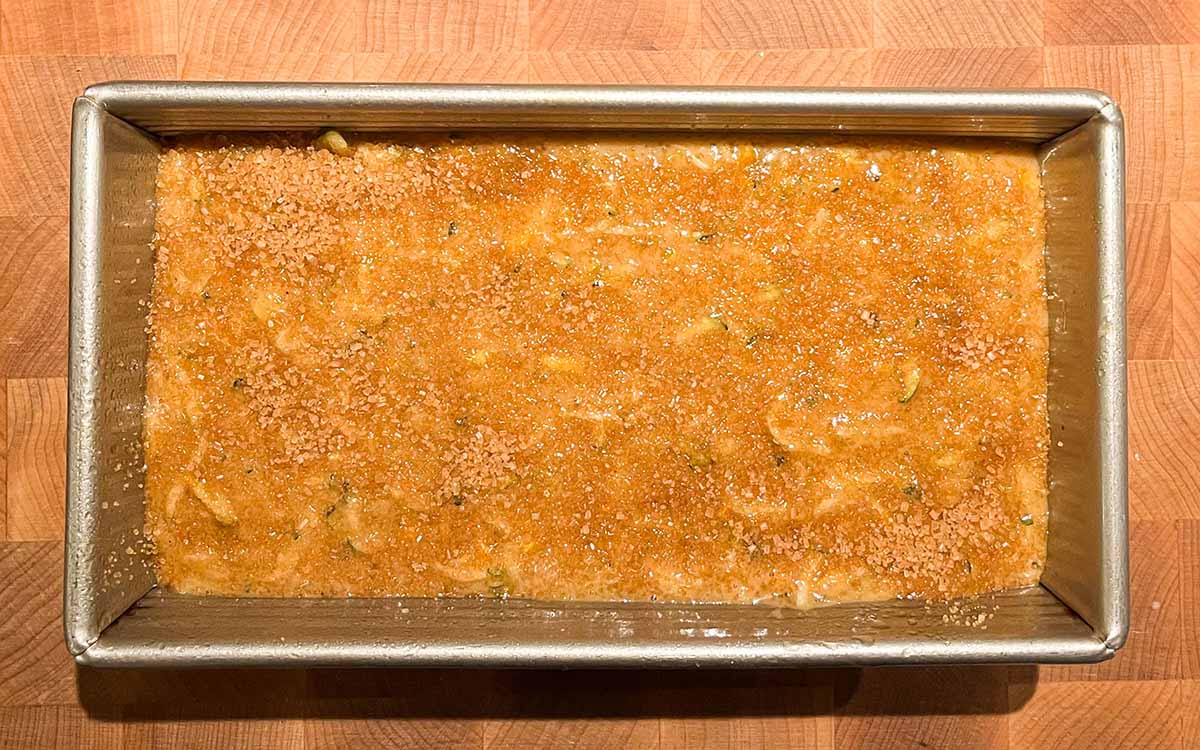 Baking temperature & other settings
I used a USA Pan brand aluminum 9x5 pan. The batter filled it about half way. During baking the middle rose to about 1 inch above the top - it was perfectly light, fluffy, and moist.
I use my oven's bake setting, not convection bake. Quick breads can dry out when the convection fan circulates the hot air around, so it's best to use the regular bake option. This is true for muffins and cakes as well (but cookies benefit from the even heat distribution of convection).
Cooking times can vary by 10 or even 20 minutes depending on your oven, how well it retains heat, how well it is calibrated, and so on. Because of this it's important to check for doneness earlier in the baking process.
I find the toothpick test unreliable - I'm still not sure how to make a toothpick come out clean but without drying out the zucchini bread. Instead, I use an instant read thermometer.
If you have checked the doneness with a thermometer yet, you are in for a treat. Once you do it, you won't go back. The quick breads are perfect every single time. No more under baked gummy breads or loafs that dry out.
Zucchini bread (and other quick breads) are done when their internal temperature reaches 200ºF and up to 205ºF. This is true for any quick bread recipe.
Check the internal temperature starting at 45 minutes. If it's around 130-150ºF, add another 10-15 minutes and check again. I usually have to bake this for just over an hour. I have a modern Miele electric oven (installed in 2022) that holds heat incredibly well. This also bakes well in a large toaster oven (like my Breville Smart Oven), on the bottom rack.
More recipes
Some of the links I provided are affiliate links to Amazon (like the bread pan and toaster oven). I earn a small commission if you end up buying something. This post only links to items I personally use and hope you enjoy them too.