It's hard to beat bakery-style blueberry muffins. You can make them at home, but a few problems might pop up. I'm here to address those problems so you can make the best muffins in your own kitchen.
Why do blueberries sink to the bottom of muffins, and what to do about it
This has been a problem for as long as people have been adding blueberries to muffins. The age-old wisdom to coat blueberries in flour, unfortunately, does nothing to stop them from sinking.
Blueberries can sink if the batter is too thin, but I don't remember that last time I used a recipe that resulted in a thin batter. They are all quite thick, which made me question if the problem isn't actually caused by gravity.
I am not a scientist and don't have tools to measure blueberry movement through batter as it bakes, but I have a theory anyway: when scooping batter into the muffin tins, we are unknowingly placing blueberries directly into the bottom of the cups.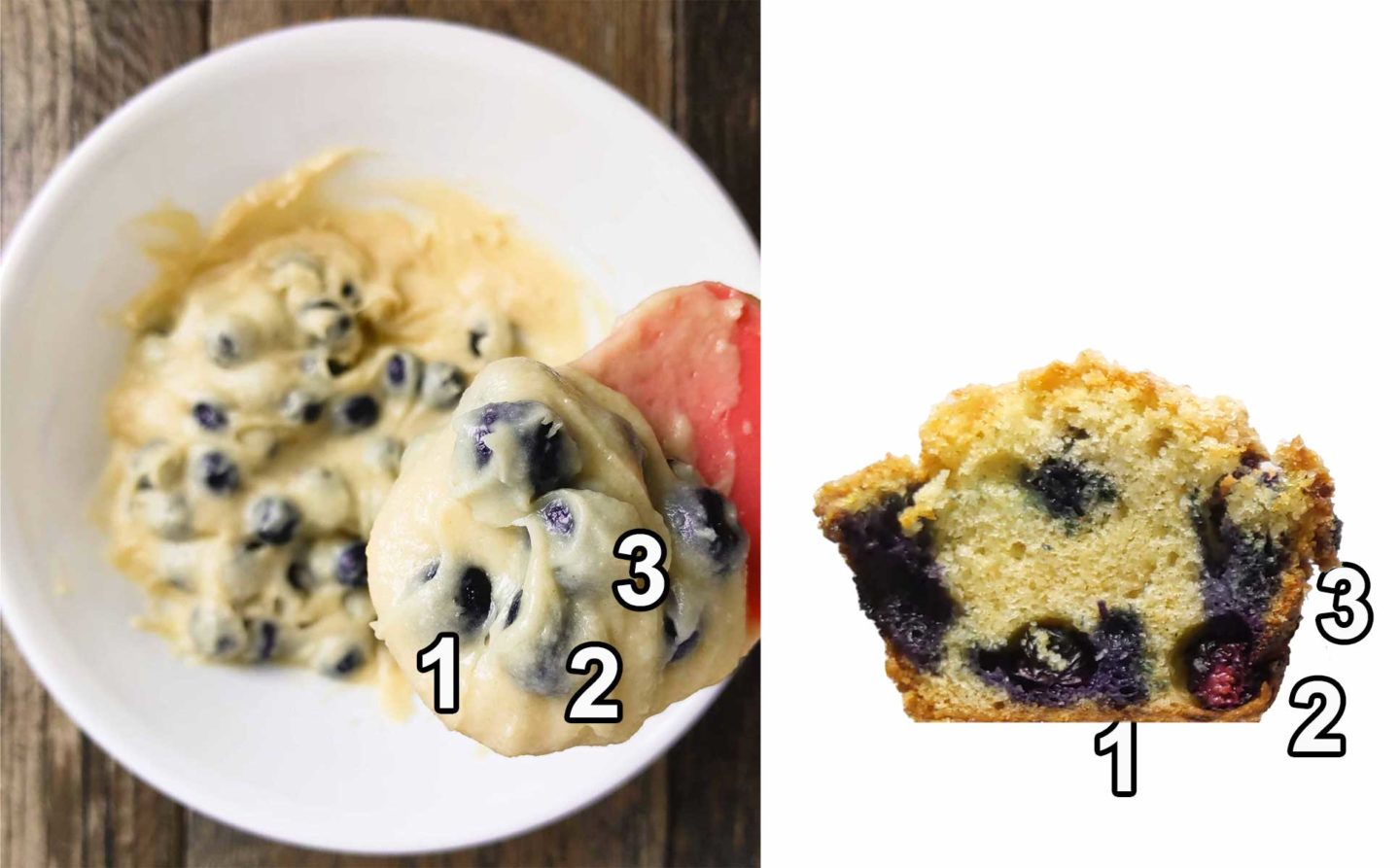 In the above picture, I loaded up a spatula, and plopped it into a muffin tin. Those numbered blueberries (which were coated in flour) all ended up on the bottom of the tin - not from sinking, but from my own careless placement.
How to keep blueberries off the bottom of muffins
My tests confirm coating blueberries in flour doesn't work, as do several test-based cooking sites like Serious Eats.
But that's ok, because there's an even easier, and very reliable trick to fix this: line the bottom of the muffin tins with 'plain' batter before adding in the blueberries.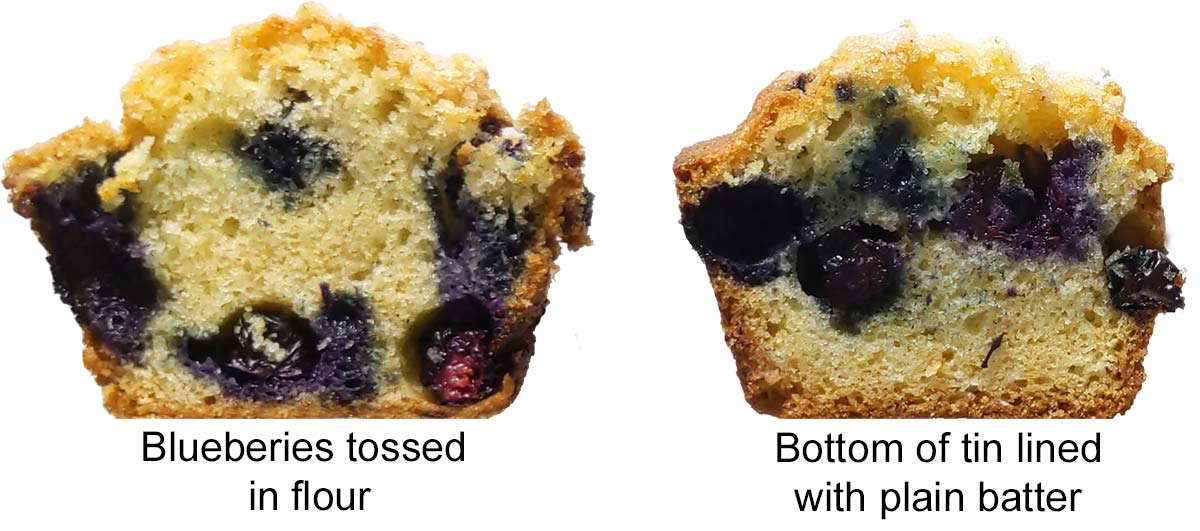 Here's how to do this:
Make your favorite blueberry batter recipe, but don't add in the blueberries yet (which are always the last step anyway).
Place a little of the plain batter (about 1 TBSP) in each muffin tin - just enough to provide a layer on the bottom.
Add blueberries into the remaining batter, and fill the muffin cups the rest of the way up (which is usually ¾ full).
Fresh vs frozen blueberries
Both fresh and frozen blueberries work great in muffins. In fact, when testing them side-by-side, I had a really hard time telling a difference in flavor. However, there are some differences in how they interact with the batter.
Fresh blueberries are very easy to work with - you just fold them into the batter and you're done. They are sturdy and don't break (which would lead to a blue-dyed batter). Peak-season berries also taste wonderful and I encourage you to use them in everything.
However, off-peak blueberries can be lacking in flavor. You can fix this by making a syrup that you add to the batter (more on this later). Alternatively, frozen blueberries are usually packed with flavor, as they are picked at peak ripeness and immediately frozen.
Frozen blueberries are best when added to the batter completely frozen. They will cook up perfectly during the baking process. On the flip side, if the berries thaw before being added to the batter, they will release a lot of juice and bleed blue into the entire batter (see the section about the batter turning colors).
Blueberries can turn red or blue-green
An alkaline (basic) environment can turn blueberries a bluish green color. The opposite, an acidic environment, can turn them reddish.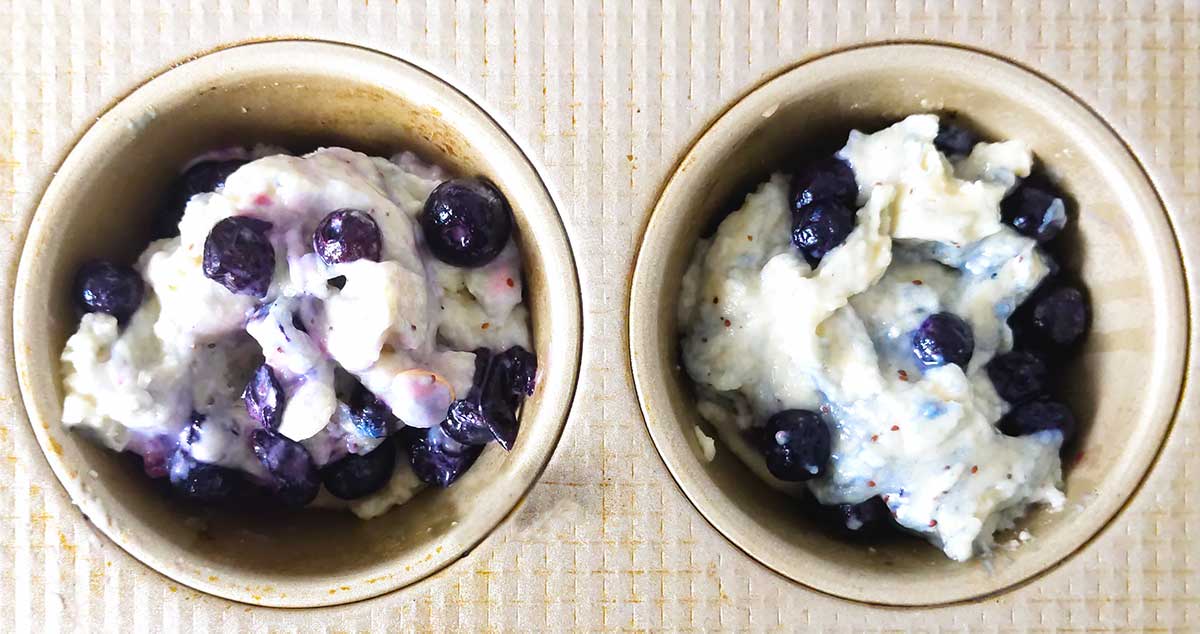 Baking soda is alkaline and baking powder has both alkaline and acidic components. Don't swap them in recipes though, as they have different properties. Chowhound has a great article explaining the difference between the two, along with buttermilk's acidic role in recipes.
The amount of alkaline ingredients in a muffin recipe aren't enough to cause a problem. Instead, the color-changing reaction happens when baking soda or powder isn't evenly mixed in, creating little alkaline pockets that turn nearby blueberries green. So be sure to whisk your dry ingredients together to prevent this from happening.
Some people toss blueberries with lemon juice to get that deeper red-purple color (shown on the left in above picture). This is often done in pies but can also be done in muffins.
Realistically, it doesn't matter unless you expect the people who eat your baked goods to be scrutinizing them.
Blueberries can turn your batter blue
Not only can the batter's acidic or alkaline environment change the color of your blueberries, the blueberries can bleed into your entire batch of batter. You might not care, since it has no effect on the flavor.
When the batter turns blue, the muffin tops are more brown and look like they were made with whole wheat flour. The interior is a blue or blue-green color.
As noted above, I filled each muffin tin with plain batter to keep blueberries off the bottom. Since I didn't add the blueberries in that step, the batter wasn't dyed yet. But you can see how the top half is a blueish green color from the blue batter (muffin on the left).
How to prevent this?
First of all, this only seems to be a problem when using frozen blueberries, as any thawing will release juices that bleed into the batter on contact. Fresh blueberries are sturdy enough that they don't cause problems.
I've noticed some bags of frozen blueberries have thawed at some point in transit (including my own time getting them home). When this happens, the berries might be coated in some juice, dying everything, including your measuring cup or your hands.
If you want to keep the dye out of the batter, pat them dry with a paper towel, then toss in flour to absorb any die. When you fold them into the batter, the color transfer will be minimal.
Getting a higher rise
Muffins that rise properly have a good texture and crumb. If they don't rise enough, they are disappointingly small and dense.
When testing different types of berries, I noticed a pattern in how high they were rising. It seemed that smaller blueberries, or batter that had less berries, rose better. So I tested another batch to isolate these variables.

I made another batch of batter and separated it into thirds. One had no blueberries, another had large blueberries, and the last had small blueberries. I precisely measured the batter that I put into each muffin tin.
I expected the no-blueberry batter (left) to rise higher, but it didn't - it was about the same as the small-blueberry version (right). The large berry muffins (center) were all noticeably smaller and had a denser texture that was a bit disappointing.
I'm still not a scientist, but if I had to guess, the larger berries make it harder for the batter to rise around them. The smaller berries create more space and are lighter, possibly allowing the berries to rise with the batter.
For smaller blueberries, go wild
There are two categories of blueberries: cultivated and wild.
Cultivated blueberries are planted and cared for by farmers or home gardeners. These are almost always what you find in the fresh produce department at grocery stores as well as farmers markets.
Wild blueberries are a plant native to North America that are harvested where they grow. They are quite a bit smaller than cultivated ones. You can usually find them frozen.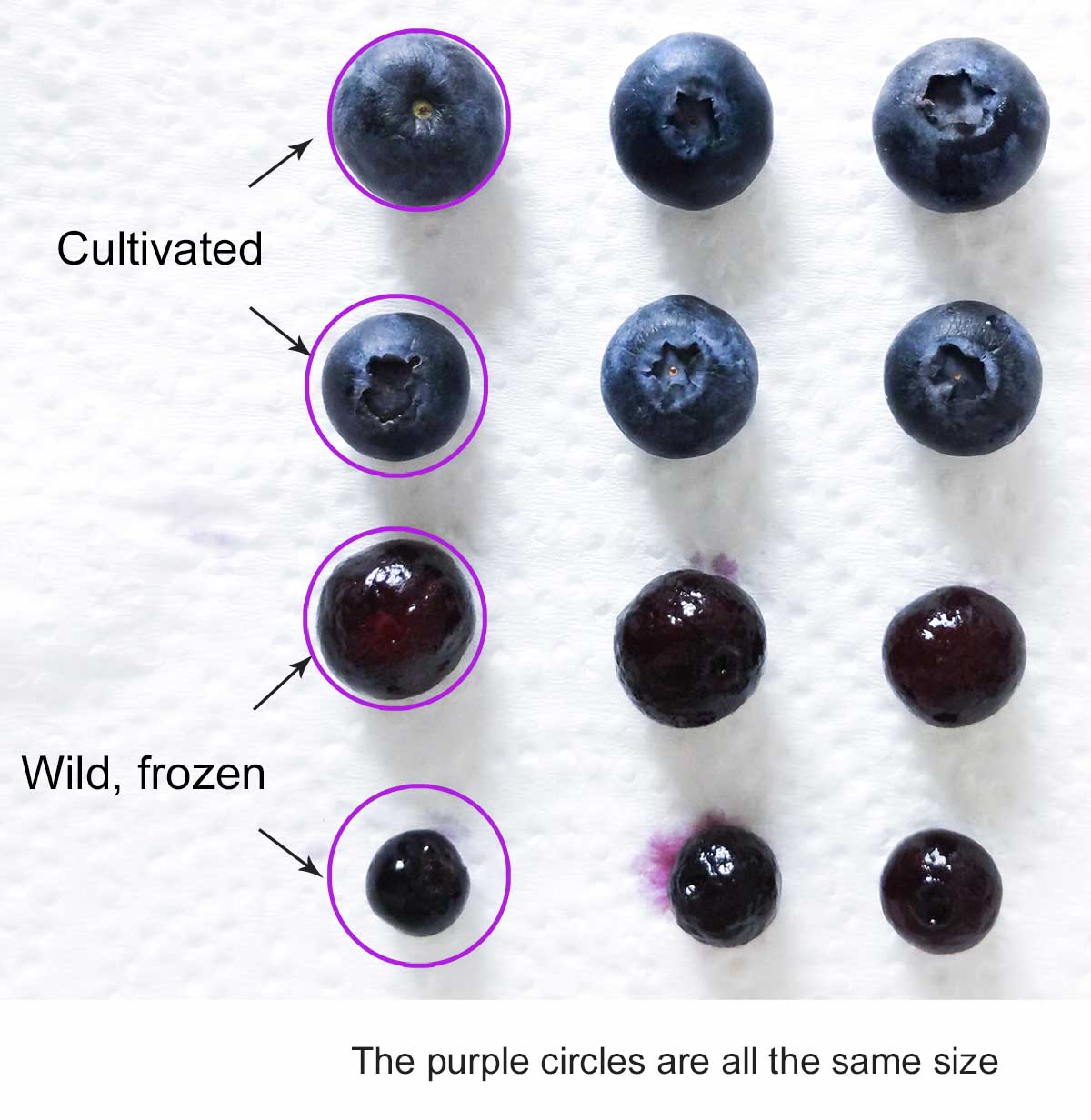 This picture shows the size difference between cultivated and wild blueberries, as well as the variance within their respective types.
The majority of wild blueberries in frozen bags are significantly smaller in size than cultivated berries, as shown in the last row of the above picture. However, about 10% were larger in size (as shown in row three). Whereas cultivated blueberries are actually pretty uniform in size and on the larger end of the scale.
Since wild blueberries are smaller, on average, they are perfect for muffins. It's rare to find them in the grocery store fresh produce section or at a farmers market. However, you should be able to find them frozen is most grocery stores, but they are usually twice the price (or more) than cultivated berries.
Fresh blueberries work as well, but be sure to not overload the batter - in this case, more is not better.
Getting the most flavorful muffins
For a more blueberry-flavored muffin, the first solution that comes to mind is adding more blueberries. Sadly, that doesn't work - too many can make the muffins fall apart and inhibit the rise. However, adding a blueberry syrupy-jam does work. This is also a great solution if your fresh blueberries are lacking in flavor.
It's actually quite simple to do. Cook 1 cup of blueberries with 1 teaspoon of sugar in a saucepan and simmer until it reduces to about ¼ cup of sauce. That leaves you with 1 teaspoon of blueberry sauce per muffin (there are 12 teaspoon in ¼ cup).
After you fill the muffin tins with the blueberry-studded batter, swirl this sauce in on the top using a chopstick, a straw, or whatever is lying around.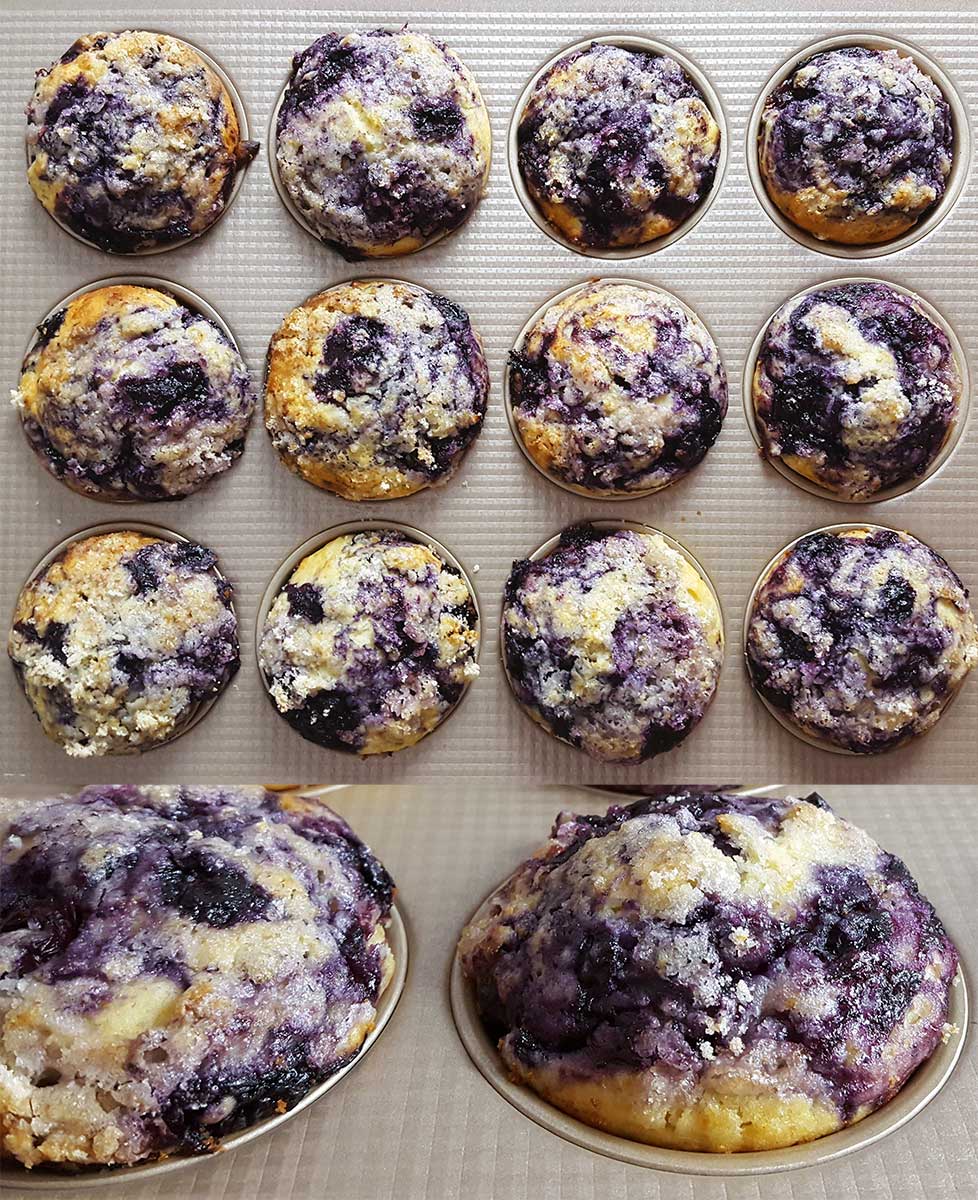 Sugar toppings
Some muffins are meant to be healthy and can be eaten for breakfast, guilt free. But blueberry muffins are best with a full cup of sugar and a sugar topping. Sometimes life needs a little indulgence.
Three sugar topping options:
Lemon-sugar - in my opinion, the best option. You mix lemon zest with granulated sugar and add it to the top before baking. It cooks up to that classic crackled-sugar top and adds and nice brightness to the flavor. (See note below if you use this).
Cinnamon sugar - after baking, dip the muffin tops in melted butter, then into a bowl of cinnamon-sugar. It actually gives them a noticeable extra buttery flavor, along with a hint of cinnamon.
Streusel topping - another good option, although if you aren't in love with streusel toppings, I'd suggest the other two for more flavor.
Lemon-sugar topping tips
This topping can caramelize if the sugar spills over onto the pan. It's not going to affect the muffin quality in any way, but can create a mess.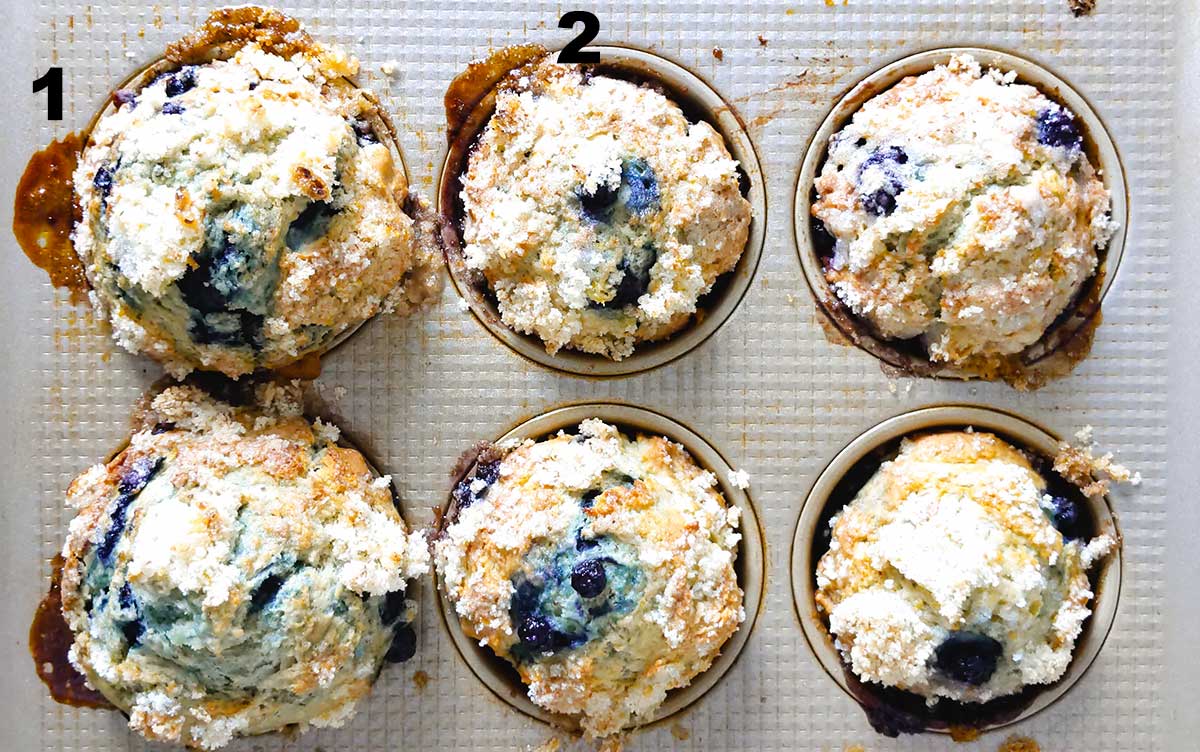 To prevent it you can do the following:
Don't fill the muffin cups to the top. Most batter recipes make enough to fill the tins ¾ full anyway, but if were trying to be clever to fill them to the top to get a larger muffin, the sugar topping might spill over onto the pan as it rises.
Be careful to keep the sugar away from the edges of the muffin cup, even when filling it ¾ of the way full.
If this happens, I have a few tips for you:
Be careful not to touch it with your fingers. It will stick to you and burn (it's caramel now).
Do try to separate the muffin edge from the caramel with a knife, or the muffin will stick to the pan and you'll have to tear it out.
Soak your pan. I have a good non-stick pan and it wasn't too much of a hassle to clean.
My recipe recommendations
After all of my tests, I've settled on the best recipe. It's a combination of the "Famous Jordan Marsh department store blueberry muffin" recipe published by King Arthur Flour and the berry-swirl technique from Cook's Illustrated.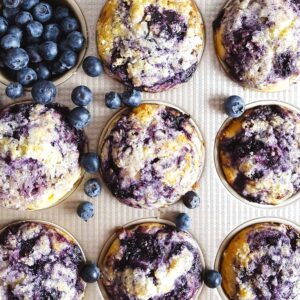 The batter from the Jordan Marsh / King Arthur recipe turns out better. It uses a mixer to beat the butter with sugar, and it also has twice the amount of butter. The Cook's Illustrated recipe uses melted butter (no need for a mixer), buttermilk, and vegetable oil.
However, the Cook's Illustrated recipe's use of the blueberry syrup/sauce is a great idea. They also add lemon to the sugar topping, another addition I prefer. When I incorporate those into the Jordan Marsh / King Arthur recipe, it was the best of both worlds.
If you are looking for a healthier blueberry muffin, try the whole wheat version from Cookie + Kate. It adds some subtle flavors with cinnamon, honey, and coconut oil (unrefined will taste slightly more coconutty).