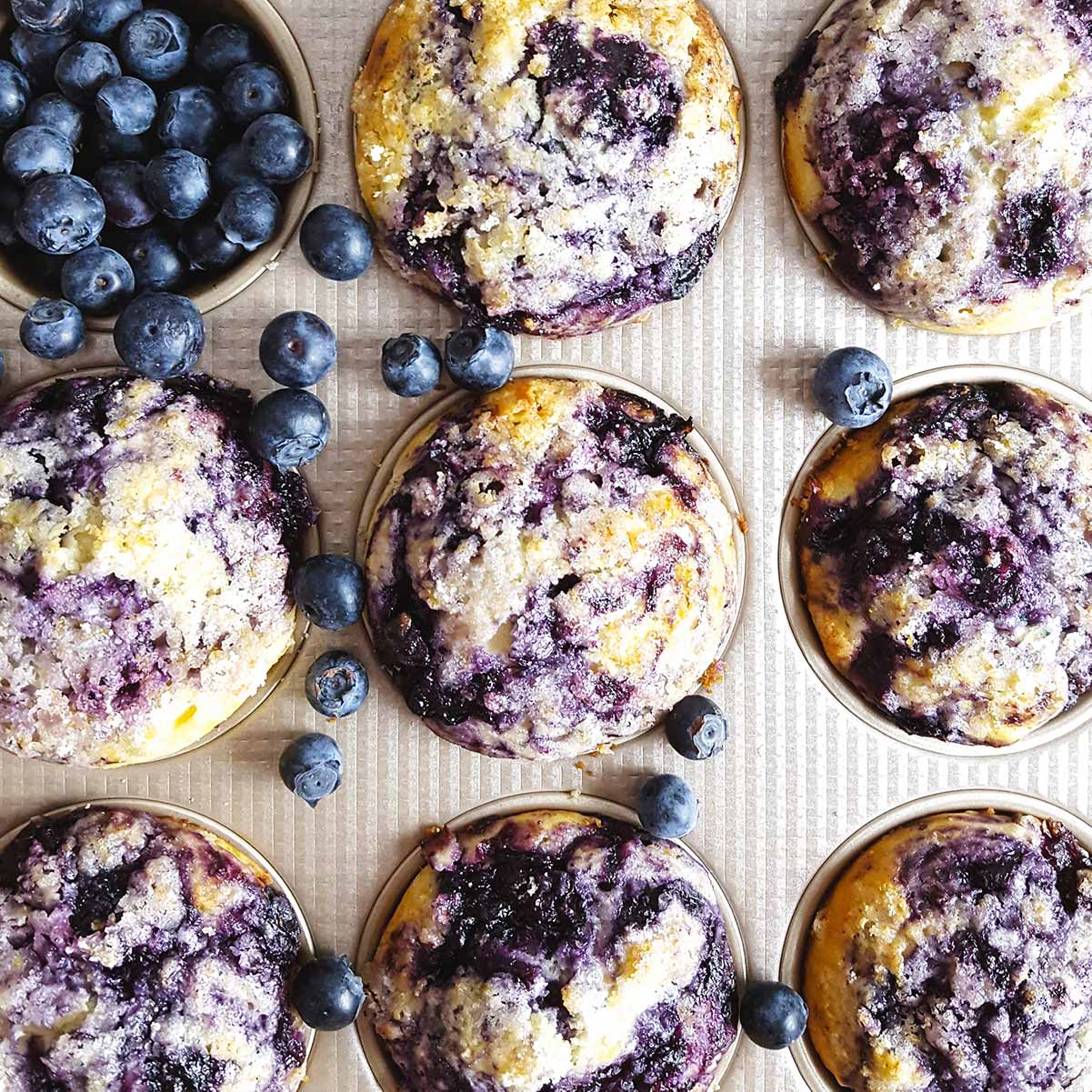 After testing numerous recipes and techniques across dozens and dozens of muffins, I have settled on the best recipe.
It's actually a combination of two recipes, taking the best from each one: the famous Department Store recipe and the one from Cook's Illustrated.
The "Jordan Marsh department store" recipe published on King Arthur Flour has the best batter, resulting in the fluffiest muffins. The recipe creams butter with sugar instead of using melted butter or oil like other recipes.
The recipe by Cook's Illustrated packs in extra flavor by cooking 1 cup of blueberries down into a syrup and swirling that into the muffins. They also top it with lemon-sugar, adding a nice brightness to every bite.
Lastly, I also used a reliable method to keep blueberries off the bottom of the muffins as mentioned in "Blueberry muffins, what could go wrong?" The trick is to fill the tins ¼ full with plain batter first. Unfortunately, tossing them in flour doesn't actually stop them from sinking.
This recipe is optimized for mobile screens by including ingredient measurements in the instructions so you don't have to continuously scroll up to the ingredient list to check quantities.
Recipe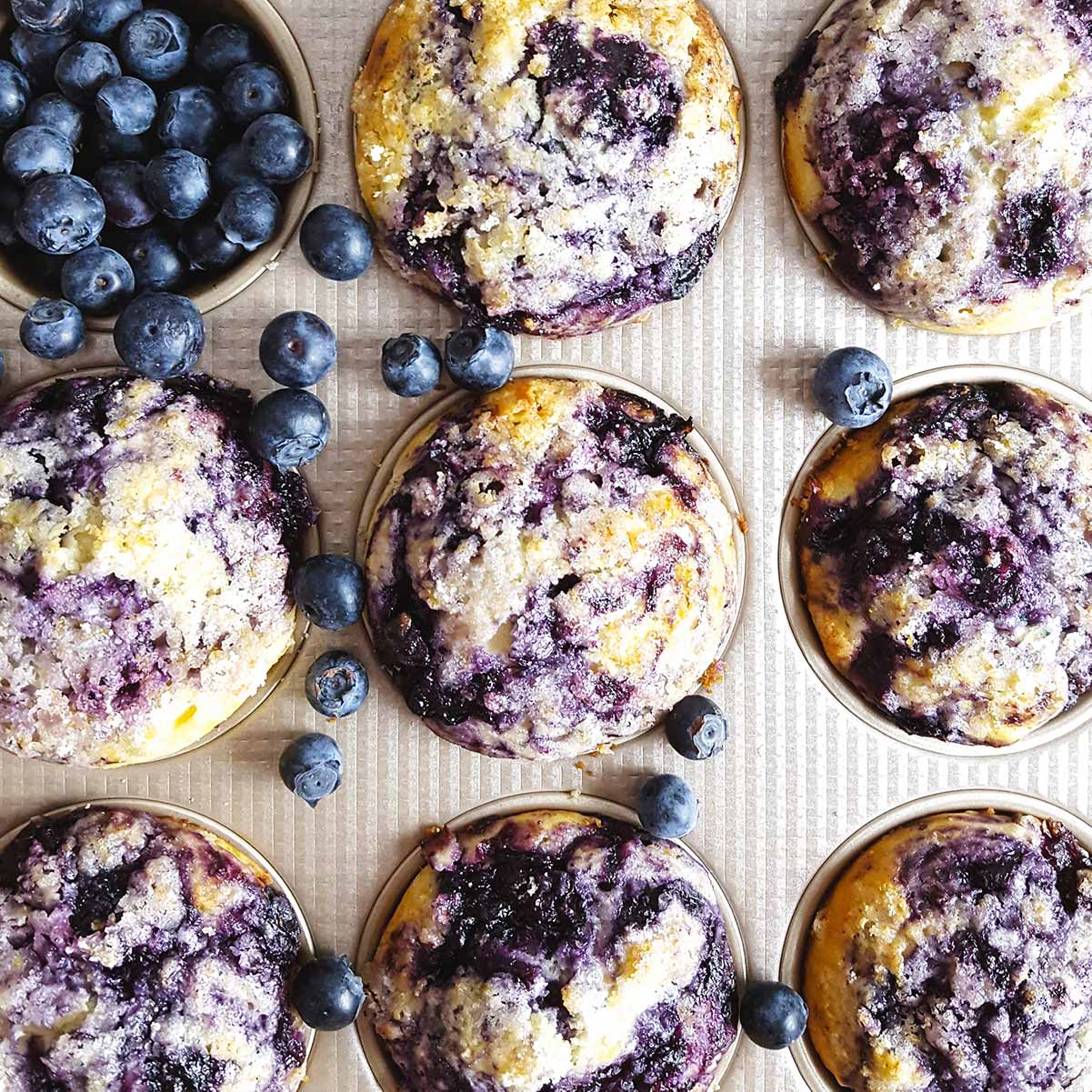 Equipment
muffin tin

stand mixer or hand mixer
Ingredients
Muffins
8

tablespoon

butter

room temperature

1

cup

granulated sugar

2

large eggs

2

teaspoon

baking powder

½

teaspoon

salt

1

teaspoon

vanilla extract

2

cups

all-purpose flour

241 grams

½

cup

milk

1.5

cups

fresh blueberries

1 ¼ cup if using frozen
Blueberry syrup swirl
1

cup

blueberries

1

teaspoon

granulated sugar
Sugar topping
¼

cup

granulated sugar

1

teaspoon

lemon zest

from 1 lemon
Instructions
Prepare
Lightly grease your muffin tins. If using paper cups, lightly grease those as well.
Make the blueberry syrup & lemon sugar
In a small saucepan, add

1

cup of blueberries and

1

teaspoon sugar. Cook over medium heat until reduced to about

¼

of a cup. This should take 5-10 minutes.

While the syrup simmers, zest the lemon and mix with

¼

cup sugar, stirring until the zest is evenly distributed.
Muffin batter
In a large bowl, or in the bowl of a stand mixer, beat

8

tablespoon butter and

1 cup

sugar until combined. (If not using a stand mixer, a hand mixer works too).

Add

2

eggs, one at a time and beat until well incorporated.

Add

2

teaspoon baking powder,

½

teaspoon salt, and

1

teaspoon vanilla to the bowl and beat well.

Gently mix in the flour and milk (over beating at this point will make a denser muffin): Mix in half of the flour (

1

cup), then add the milk (

½

cup) and stir. Scrape the sides and bottom of the bowl to incorporate any stuff not mixed in. Then add remaining flour (

1

cup) and mix until just combined.

Do not add blueberries yet!

Line the bottom of the muffin tins with a little of the blueberry-less batter, about 1 Tbsp. This layer keeps blueberries off the bottom of the muffins and doesn't have to be exact.
Finish assembling the muffins
Once the bottom of the tins are lined with the 'plain' batter, gently fold

1½

cups of blueberries into the batter. No need to toss berries with flour *1 (see note). Fill the muffins tins to about ¾ full (just under ¼ cup of batter).

Swirl in 1 teaspoon of blueberry syrup into the top of each muffin using a chopstick or straw. Using more than 1 teaspoon might create a mess.

Lastly, top each muffin with 1 teaspoon of lemon sugar.
Bake
Bake in your 375°F oven for about 30 minutes. Check after 25 minutes since every oven is very different. The top should be golden brown.

When removing from the oven, losen the edges of the muffins from the tin, as the sugar topping can make them stick. Doing this while warm makes it easy, but don't touch any caramelized areas with bare hands, it will burn. Let the muffins cool for 5-10 minutes before removing them entirely from the tins.
Notes
1 - If using frozen blueberries, toss them in flour to prevent their juice from dying the batter blue. It does nothing to stop them from sinking, however.
Nutrition
Nutrition Facts
The best blueberry muffins
Amount per Serving
% Daily Value*
* Percent Daily Values are based on a 2000 calorie diet.
Common problems with muffins
I not only tested various recipes, I also put different techniques to the test and addressed common problems.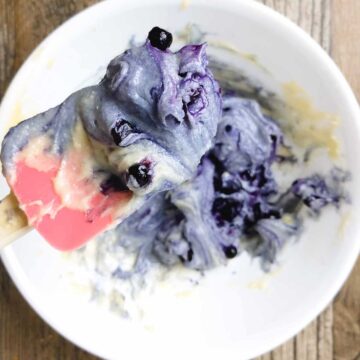 The article linked above addresses all of these problems:
Sinking blueberries
Using fresh vs frozen berries
Blueberries that turn red or green-blue
Frozen blueberries dying the batter
Cultivated vs wild blueberries
Muffins that don't rise well
Sugar toppings that caramelize
Buying fresh blueberries
Blueberries are in season from about May until August. They grow well in all climates across the US so you should be able to find great-tasting ones at a farmers market near you.
As mentioned in the seasonal blueberry guide, you should store them in your refrigerator, spread out on a plate or tray lined with a paper towel. The paper towel helps absorb moisture and also lets you see any berries that go bad. Berries that start to go bad will ooze juice that is clearly visible on the paper towel, allowing you to easily find them for removal.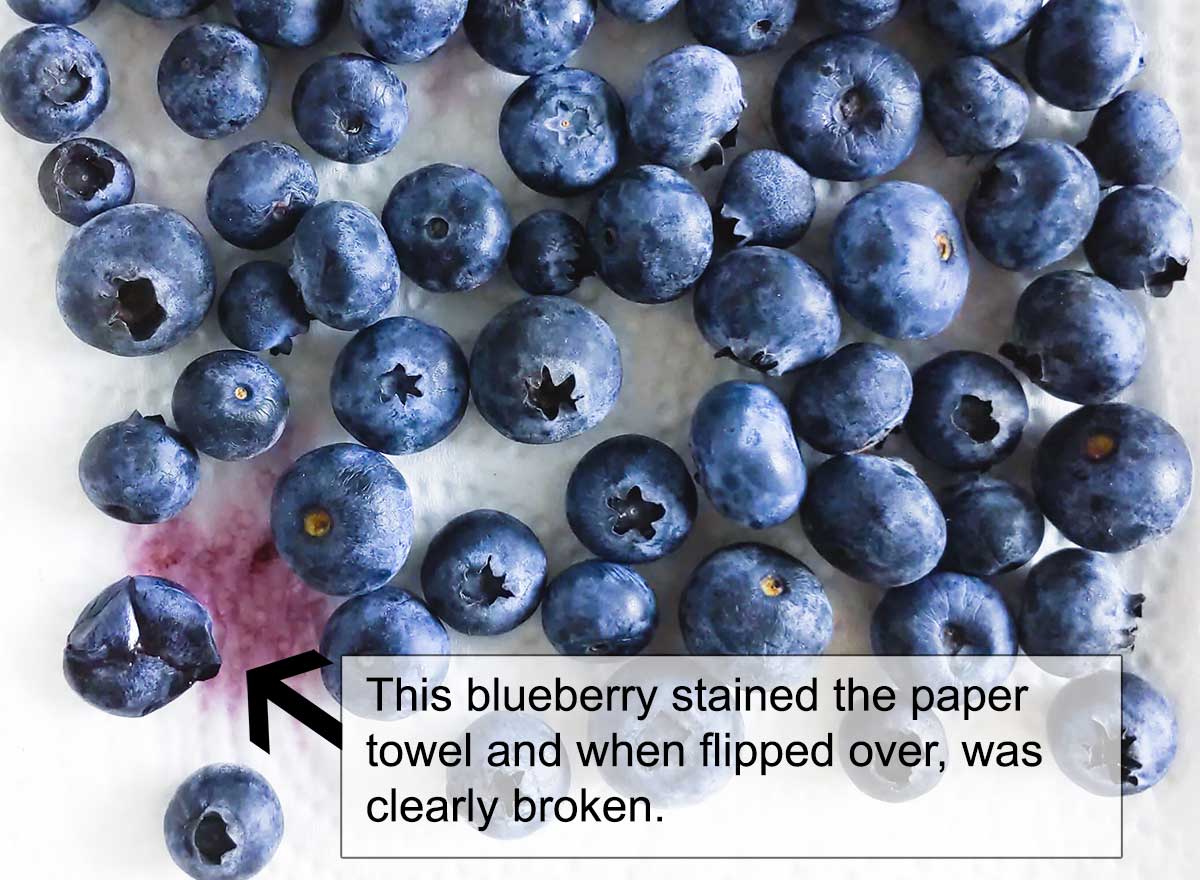 They should last a few days to a week in the fridge.
A note on sugar reduction
These muffins each have 25 grams of sugar - 22g from granulated sugar and 3g from the blueberries. I admit, it's a lot.
I actively try to reduce sugar in my baked goods without sacrificing flavor. To do this, I test recipes with different amounts of sugar and compare, in order to find the sweet spot (pun intended).
Most muffins can reduce added sugar to about ½ a cup, which amounts to 9 grams per muffin (35 calories). This peanut butter banana nut muffin recipe is a great example of reducing sugar (it also has a breakdown of sugar and calories per ingredient).
However, when trying to reduce the sugar in blueberry muffins, I was disappointed. I believe it's because the batter itself is pretty plain - it doesn't have any spices, at all. Banana muffins have cinnamon or peanut butter mixed in, apple muffins use apple pie spices, even whole grain muffins have a lot of flavors added to the batter. But not blueberry muffins.
I don't think this is a bad thing - in fact, the opposite. The absence of other flavorings gives them their characteristic charm. Blueberries in a sweet fluffy muffin. You just have to be willing to throw your sugar goals out the window.
Here's a breakdown of sugar levels:
1 cup (best option): most recipes call for 1 cup of sugar and those muffins turned out best, even with an extra ¼ cup lemon-sugar topping.
¾ cup (2nd best): you can get away with reducing the sugar to ¾ cup, especially if you are using another ¼ cup with a lemon-sugar topping.
½ cup (not good): The muffins I baked with ½ a cup of sugar were too bland.
You might also be tempted to skip the lemon-sugar topping, which you can do without sacrificing too much. But before you make that decision, I wanted to point out that each muffin gets 1 teaspoon of the sugar topping, which is 16 calories.
Other blueberry recipes
I encourage experimentation to find the recipe that you like best. Here's a few I recommend: