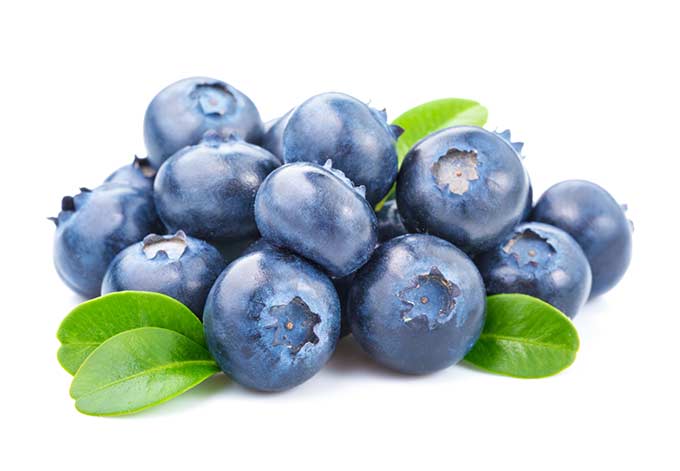 Blueberries are one of the easiest fruits to incorporate into any recipe, since you don't have to cut them or remove stems or seeds.
When are blueberries in season?
They have a shorter season than other summer berries, starting around May and ending in August. On the west coast, you might be able to find berries in April that have been grown in covered areas that increase the heat.
Ripe blueberries are highly perishable, so you are unlikely to find the best ones at a supermarket. Unripe berries have hints of red or green, however after a few days they will turn blue (but not get sweeter). This makes the quality hard to determine without a taste test. Luckily, they grow well in most parts of the US, so you can usually find them at a nearby farmers' market in summer.
What else is in season?
See what else is in season at the same time as blueberries: May, June, July, and August. Or get produce guides for what's in season right now:
How to pick
To pick the best blueberries, look for ones that are plump with no wrinkles on the skin (which indicate they are past their prime or going bad). They should be fully blue, however if they have red parts they can ripen a little more after you take them home. If they have white or green parts, they will not continue to ripen.
How to store
Store them unwashed, in a single layer on a plate or other open container in the fridge. You might pick them up from the farmers market in a paper bag - remove them from the bag as it will trap in the ethylene gas with will ripen them (assuming they are already ripe). Do not store them in a closed plastic container or bag.
They will last a few days to just over a week in the fridge.
Should I buy organic?
Blueberries are actually quite hardy and don't have many pest or mildew problems. This means it is easier for farmers to grow organically, or at least, use very little pesticide.
The Environmental Protection Agency (EPA) tests show that conventional (non-organic) blueberries have very little pesticide in them, and are near organic levels. So if you are trying to save money, conventionally grown blueberries aren't a high health risk.
The data collected by the EPA looks at the toxicity and amount of each pesticide found in the edible portions of the fruit (not including zest). The full details can be found over on the Consumer Reports website.
Blueberry problems in baked goods
There are a lot of common problems when baking with blueberries, from sinking to the bottom, using fresh vs frozen, to dying the batter blue. This is all discussed in the article, Blueberry muffins,what could go wrong?

Baking with frozen blueberries
Frozen fruits and up releasing more juices than their fresh counterparts. That means their juice leeches into the batter, discoloring the muffins (or scones, etc).
To prevent this, toss frozen blueberries in flour to absorb any juice on the outside. Then fold the frozen blueberries into the batter while they are still frozen. They will bake up nice and soft, without leeching much of their color.
Recipes
Each recipe below only uses ingredients that are in season at the same time as blueberries, or ingredients that have a year-round season. Since their season overlaps with the beginning or end of other fruits and vegetables, the recipes are grouped into early season, late season, or anytime they are available.
... For late summer
Orange-herb chicken kabobs with blueberry balsamic sauce - recipe by Plating Pixels
The recipe calls for pickled jalapenos, but if you use fresh ones, you'll want to make this later in summer, when both blueberries and jalapenos are in season, usually around July.
...For late spring
Believe it or not, celery has a season and it ends before it gets hot. Shallots start getting harvested in spring and then store well into winter. This is perfect to make when blueberries start showing up in spring.
...For anytime blueberries are in season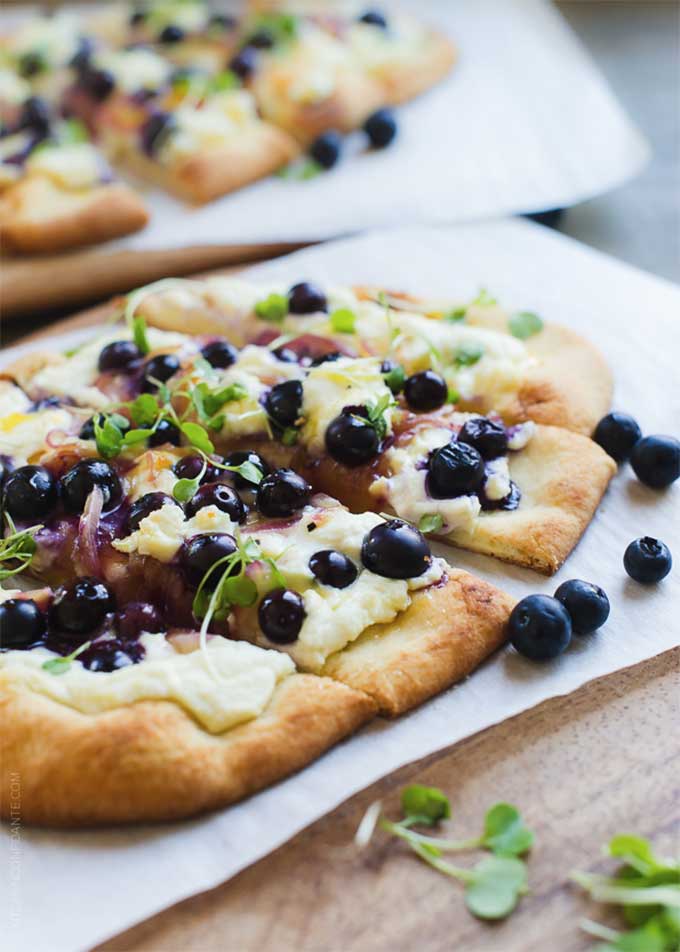 Blueberry, feta, and honey-carmelized onion naan pizza - recipe by Kitchen Confidante
Blueberry lemon curd hanpies - recipe by Vanilla and Bean