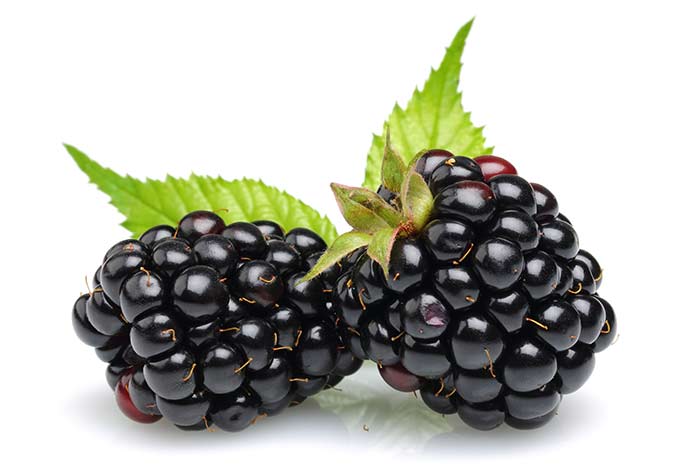 Blackberries need to be picked fully ripe to get the best flavor, bursting with tartness. Ripe berries don't store or ship well, so buy them locally and in-season, to make sure you aren't getting ones picked half-ripe (which turn out bitter).
When are blackberries in season?
Blackberries are in season from about May through October. They only get sweet while ripening on the vine, and can end up quite bitter when picked unripe. Most places in the country grow blackberries, so you should be able to find them at a farmers market or U-pick near you.
Why a farmers market or U-pick is worth the trip
Ripe berries present a problem: they are very soft and highly perishable, making them difficult to ship to a grocery store. Because of this, farmers often prioritize shipping and storage over flavor in several ways:
Plant varieties where berries are easily pulled off the vine at earlier stages, when they are still harder
Plant varieties that are firmer in general, to withstand shipping
Pick berries before they are fully ripe to withstand shipping and store longer
On the other hand, sellers at farmers markets are catering to an audience that prioritizes flavor. They know that selling flavorless or bitter blackberries won't go over well with customers, especially when allowed to taste the berries before purchase. Varieties sold at farmers markets are more often selected for flavor and picked at a fairly ripe stage.
Even farmers market blackberries won't have been left on the vine until fully ripe. While I'm sure they'd love to offer that to you, the berries won't make it to the market without turning to mush. I grow blackberries and can tell you that I carefully put them on a paper-towel lined plate when I pick them, or they get crush. But the flavor is incredible.
This brings me to U-picks - farms that let you pick the fruit yourself. It's worth doing at least once a season. Look for blackberries that are slightly dull (not shiny), a sign they are riper. Be prepared to eat or preserve what you buy within a few days as they mold quickly. See if blackberries are available at a U-Pick near you (and be ready for thorns).
What else is currently season
See what else is in season at the same time: May, June, July, August, September, and October. Or check out what is currently in season.
How to pick & store
To buy the best blackberries look for ones that are plump and show no sign of shriveling. They should also be very dark in color, indicating ripeness. Blackberries do not ripen after being picked.
To store, place them in a paper towel-lined container (unwashed) to absorb any moisture. Remove any bruised or bad berries, and then place the container in the fridge. They should last a few days, or up to a week if you're really lucky.
You can also try dipping them for 30 seconds into 125 F degree water (boiling is 212F so get out your thermometers). Harold McGee, a food science author, tested various methods of briefly heating delicate berries to reduce mold growth. He found it dramatically reduce mold growth and increased storage duration of blackberries, raspberries, strawberries, and blueberries.
Why are blackberries bitter?
You may have noticed that blackberries sometimes have that extra bitter taste, where other summer berries like raspberries or blueberries don't. The stem end and core in the blackberries contains the bitter compounds.
As mentioned in "Why blackberries are bitter & how to fix it," both sugar and fat balance out bitterness, and salt reduces our ability to taste it. The bitter compounds also break down with heat, so a pork tenderloin simmered with blackberries loses its bitterness, and so does a blackberry pie.
Recipes
Use blackberries in everything from cocktails to BBQs. Their tartness can balance out overly sweet desserts, and bitter ones can even help complement fatty meats. Check out the seasonal recipe collection.