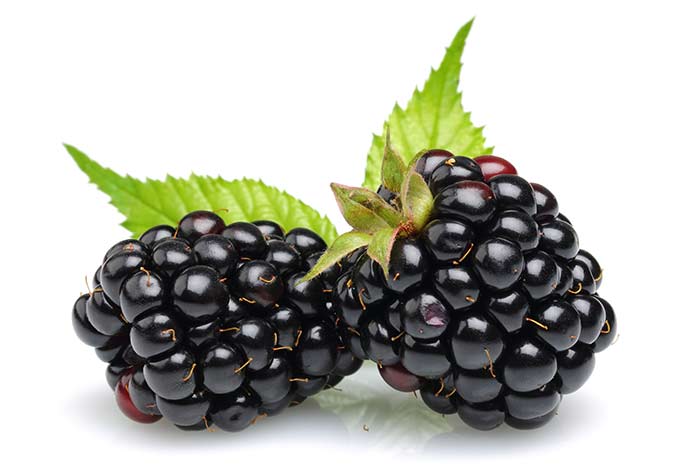 Blackberries need to be picked fully ripe to get the best flavor, bursting with tartness. Ripe berries don't store or ship well, so buy them locally and in-season, to make sure you aren't getting ones picked half-ripe.
When are blackberries in season?
Blackberries are in season from about May through October. They only get sweet while ripening on the vine, since they don't have an internal storage of starch (like root vegetables do). They are also highly perishable when ripe, so berries in the supermarket are often picked too early. NC State University published some specific information on blackberry harvesting practices.
They grow well across the entire US, so you should be able to find them at a nearby farmers market or even at a U-Pick farm to ensure they are super fresh (just be ready for thorns). See if they are available at a U-Pick near you.
See what else is in season
See what else is in season at the same time: May, June, July, August, September, and October.
Or check out what is currently in season.
How to pick
To buy the best blackberries look for ones that are plump and show no sign of shriveling. They should also be very dark in color, indicating ripeness. Blackberries do not ripen after being picked.
How to store
To store, place them in a paper towel-lined container (unwashed) to absorb any moisture. Remove any bruised or bad berries, and then place the container in the fridge. They should last a few days, or up to a week if you're lucky.
Should I buy organic?
I couldn't find testing data from the EPA on the pesticide levels found in blackberries. Raspberries, which are similar plants and grown in similar climates have a low level of pesticides in the EPA reports, which means they are near organic levels.
For more information on the EPA data, visit the Consumer Reports website.
Why are blackberries bitter?
You may have noticed that blackberries sometimes have that extra bitter taste, where other summer berries like raspberries or blueberries don't. The stem end and core in the blackberries contains the bitter compounds.
Adding sugar or fat (like heavy cream / whipped cream) balanced out the bitterness. It also breaks down with heat, so a pork tenderloin simmered with blackberries would lose its bitterness, and so would a blackberry pie.
Seasonal recipes
Each recipe below only uses ingredients that are in season at the same time as blackberries, or ingredients that have a year-round season. Since their season overlaps with the beginning or end of other fruits and vegetables, the recipes are grouped into early season, late season, or anytime they are available.
…For early season
Smashed blackberry and goat cheese toasts – recipe from Wry Toast
These toasts also use blueberries which have a shorter season. They start about the same time as blackberries but end sooner, usually around late summer, and then blackberries continue into fall.
…For late season
Sweet potatoes are in season in fall, usually around September. So this is perfect for fall when blackberries are winding down, but still in season.
…For anytime blackberries are in season
Blackberry balsamic chicken with fried goat cheese – recipe by Closet Cooking
Pork tenderloin with blackberry, mint, and port sauce – recipe from Nutmeg Nanny
Ohio pork tenderloin sliders with a Blackberry BBQ sauce and Herbs de Provence – recipe by Home and Plate
Blackberry lime oatmeal muffins with a coconut glaze – recipe by Simply Quinoa