This zucchini soup recipe is unique, yet warm and comforting. It takes on a slightly complex flavor from the walnuts and thyme, while the zucchini adds creaminess without the need for dairy.
The real standout feature, however, is the drizzle of honey that perfectly complements the nutty undertones. If you love a good, local honey, this soup's for you.
Jump to:
Recipe
Ingredients
1

cup

walnut halves

3

oz

1

Tbs

olive oil

1

yellow onion

4

cloves

garlic

2

bay leaves

½

teaspoon

salt

1

teaspoon

fresh thyme leaves*

2

lbs

zucchini

2

medium-large

3

cups

vegetable broth

1

teaspoon

lemon zest

optional

4

teaspoon

honey
Instructions
PREP
Toast the walnuts in a pan over medium-high heat, stirring occasionally. It will take 3-7 minutes.

Chop onions & smash garlic: Chop the onions now, and really, consider doing this next to the toasting walnuts so you can keep an eye on them. Smash the garlic, then pull them out of their skins.
MAKE THE SOUP
Saute onions: Heat olive oil in your favorite soup pot over medium heat. Add onions and saute until they start to soften, 5-7 minutes.

Meanwhile, chop the zucchini. Cut it in half or quarters, length wise, then chop into ½ inch thick pieces.

Add in the garlic, saute for a couple more minutes.

Add other stuff & simmer: Add in the walnuts, zucchini, bay leaves, salt, thyme and broth. Bring to a boil, then simmer for 20-30 minutes.

Puree the soup.
Serve
Scoop into bowls, and drizzle with honey (1 teaspoon per bowl). Garnish with zest and extra thyme leaves.
Notes
*Dried thyme works if needed. Taste the soup as you go to see if you should add more.
* Yellow zucchini makes for a slightly prettier soup, if that's your thing.
Nutrition
Nutrition Facts
Zucchini soup with toasted walnuts & honey
Amount per Serving
% Daily Value*
* Percent Daily Values are based on a 2000 calorie diet.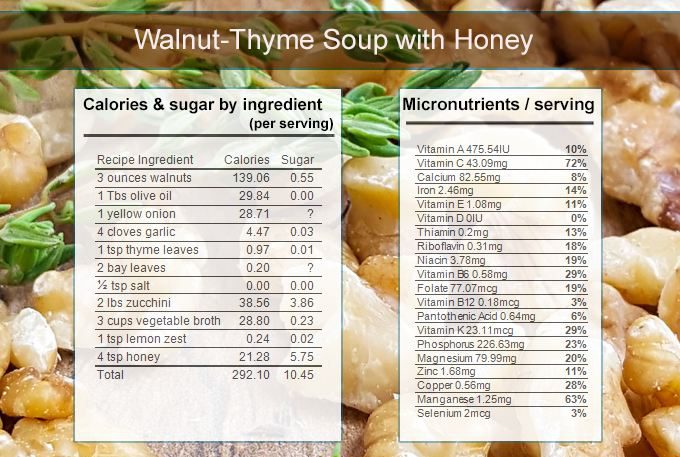 Calories & nutrition
Zucchini soups are often healthy and low in calories, and this one is no exception. The walnuts make up almost half of the calories, but as one of the healthiest nuts, they are worth the addition.
The only added sugar is from honey, at 1 teaspoon per bowl when it is drizzled on for serving. It really makes the soup unique and I encourage you to include it unless you need a very low sugar diet.
Ingredients
This is a great soup for summer and fall, when zucchini and summer squash are in season.
Zucchini & summer squash
I used a yellow summer squash in this soup for a prettier presentation. Any variety of zucchini or summer squash works - the flavor isn't affected, only the color.
Soups are also a great way to use up large, overgrown zucchini that you may have growing in your garden, which can weigh 2 pounds on their own. If they are oversized, just scoop out the seeds before adding them to the soup.
Nuts
Walnuts pair best with the zucchini in this soup. Taste a walnut before using them, however, as nuts can go rancid with long term storage or if they are stored in warm conditions.
Keep a watchful eye out when you toast the nuts, as they can quickly turn from golden brown to burnt. Set a timer, I can't stress that enough!
Don't use burnt walnuts - they will add a very off flavor. If they burn, start over and toast more.
Thyme
Fresh thyme imparts a great flavor. You can strip the leaves off by running your fingers from the top of the stem downward. If you have trouble, throw entire (washed) sprigs into the pot, then remove them before you puree the soup.
Though I prefer fresh thyme, using dried herbs can save time and money. If using dried, use half of the amount listed in the recipe.
Make it quick
This soup can come together really quickly, if you're focused and methodical.
As noted in the recipe instructions, chop the onion and smash the garlic while the nuts toast. Then while the onion simmers, you can chop the zucchini and pick the leaves off the thyme stems. You can get this as low as 15 minutes of active time, including all of the prepping and sauteing.
Make ahead & storing
This soup stores well for several days in the fridge and reheats on the stovetop like new. Use this to your advantage to make it ahead for an easy meal later in the week, double the batch, and freeze leftovers.
This soup recipe doubles easily and freezes well. To reheat, thaw in the fridge overnight then heat on the stovetop. It will remain creamy and delicious.
More recipes & resources
Try one of these soup recipes next, or look for ways to use up more zucchini below.