The point of this minestrone soup is to make use of your favorite fall & winter veggies, or just use up what you have on-hand. It's very flexible, letting you use any of the following:
Butternut squash, or your favorite winter squash
Carrots or parsnips
Sweet potatoes, regular potatoes, or celeriac
Spinach, kale, or shredded brussels sprouts
The amount of each vegetable is also very flexible. The recipe provides some guidelines, but you can easily stray from them. Below the recipe is a guide on the different vegetables you can choose from, how to make ahead, store leftovers, and additional nutrition info.
Recipe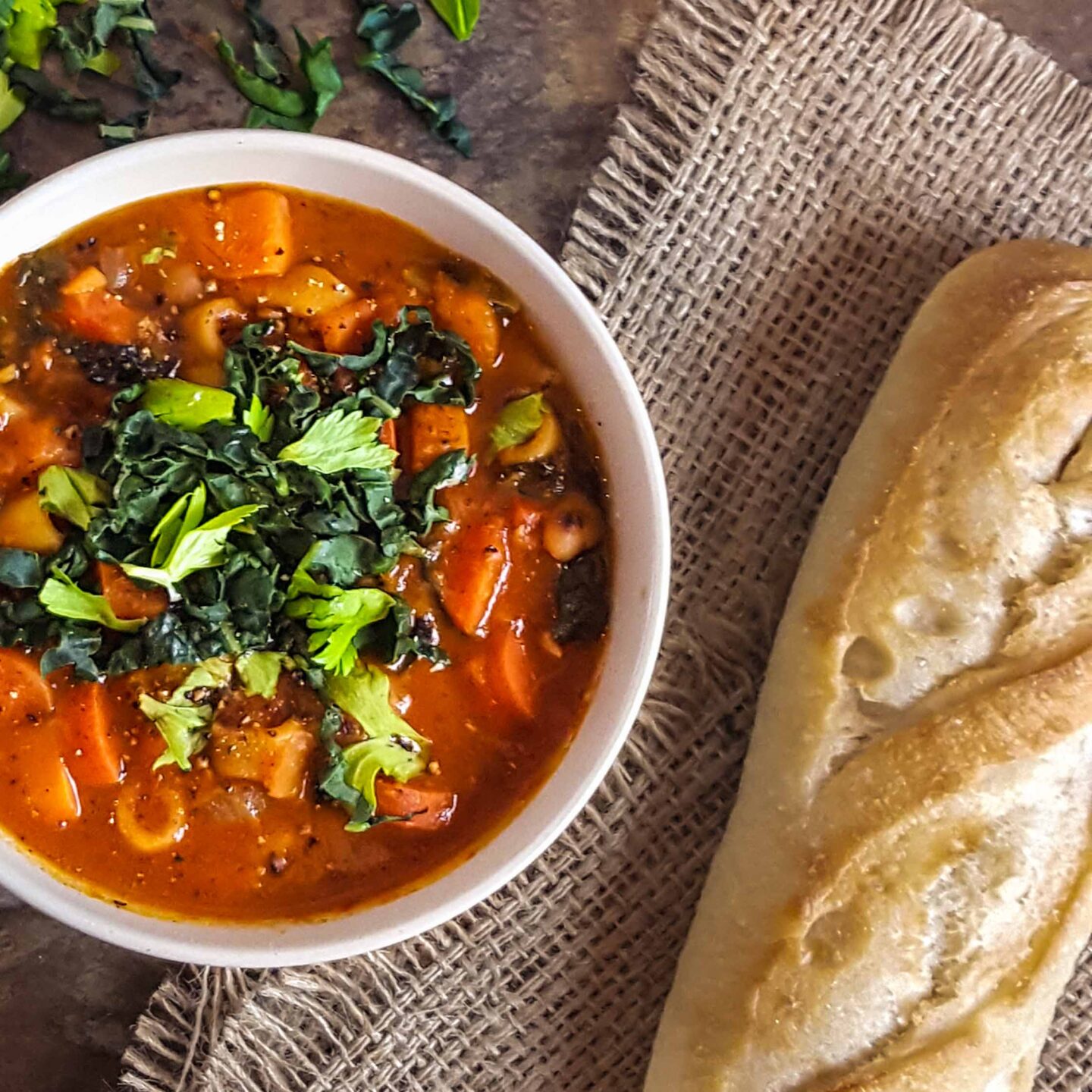 Ingredients
Aromatics
2

tablespoon

bacon fat

(or butter, see note)

1

yellow onion

3

stalks

celery

4

cloves

garlic
Soup ingredients
6

medium carrots

(or parsnips)

½

butternut squash, peeled

(or about 1 lb of any winter squash)

1

medium sweet potato, peeled

(or regular potato, or celeriac)

4

sprigs

fresh thyme

(or substitute 1½ teaspoon dried)

1

teaspoon

salt

(more or less depening on sodium level of broth)

1

teaspoon

black pepper

(or red pepper if preferred)

1

parmesan rind

(optional)

2

bay leaves

26

oz

can of diced tomatoes

6-8

cups

chicken broth

15

oz

can of cannellini beans

rinsed and drained

½ - ¾

cups

dry small pasta, like ditalini

(see note for small pasta types and measurements)
Finishing touches
8

oz

spinach

(or kale or shredded brussels sprouts)

½

cup

dry white wine

(any non-sweet white wine or vermouth you would drink)

2-3

tablespoon

pesto
Instructions
Prep produce
Cut the onion and celery into a small dice, and finely chop the garlic. Cut the carrots, butternut squash, and sweet potato into bite-sized pieces for soup. Roughly chop spinach (or kale, stems and ribs removed).
Make the soup
Cook aromatics, about 10 minutes: Heat

2

tablespoon bacon grease (or butter) in a large soup pot (minimum of 6 quarts, see note). Add the diced onion and celery, cook until it smells good and the onions turn translucent (about 6-8 minutes). Add the garlic, thyme, and

1

teaspoon salt and

1

teaspoon pepper. Cook 2-3 more minutes until it smells good. (The oils in thyme are fat soluable, so cooking them in fat before broth is added intensifies the flavor).

Add more vegetables & broth, cook 20 minutes: Add the diced carrots, butternut squash, sweet potato, can of diced tomatoes,

6

cups of broth, Parmesan rind (optional), and bay leaves. Bring to a boil, reduce heat and simmer for 20 minutes, or until the vegetables are almost soft (they will continue to cook after adding the pasta).

Taste, add salt as needed, remove herbs & Parmesan. At this point, give it a taste and add salt if needed. Remove the thyme sprigs, bay leaves, and Parmesan rind.

Add beans & pasta, cook 8-10 minutes: Add the can of beans and dry pasta. Cook as long as pasta package indicates.

Thick vs thin soup: at this point, the soup is probably pretty thick. Add more broth if you want a thinner soup.
Almost done! Add finishing touches
Add spinach & wine: cook until the spinach is wilted, about 2 minutes.

Add pesto to the pot or add about 1 teaspoon to each bowl when served.
Notes
Butter or bacon grease: I usually buy bacon and cook it the night before, saving the bacon fat for this soup. It adds depth but doesn't add a noticeable bacon flavor. If you don't want the fuss, butter is a good substitute, followed by olive oil.
Pasta: you want about 2 cups of cooked pasta in the end (give or take, based on your preferences). You can cook the pasta in a separate pot if you're worried about measurements. I like to cook it in one pot to save on dishes. Below is a list of the approximate amount of dried pasta needed to make 2 cups cooked.
Ditalini or tubetti (my favorite for this soup): ½ cup dry
Elbows: just shy of 1 cup dry
Orzo: about ¾ cup dry
Soup pot: the standard dutch oven size is 6 quarts. This recipe will fill it to about 1-2 inches from the top, so anything smaller won't work.
Nutrition
Nutrition Facts
Winter minestrone soup with pesto
Amount per Serving
% Daily Value*
* Percent Daily Values are based on a 2000 calorie diet.
Which vegetables should you use?
Whatever vegetables taste best to you will make a soup that you really enjoy. That said, the vegetables do impart flavor (or lack of flavor) into the minestrone.
Butternut squash has a classic winter squash flavor (and one of my favorites for this soup)
Kabocha squash and any winter squash is also delicious (avoid spaghetti squash since the texture won't quite work out).
Sweet potatoes lend their slightly sweet and earthly flavor to the soup.
Yellow waxy and russet potatoes add nice substance, but not a lot of flavor. This is ok, however, if your other vegetables carry the flavor.
Celeriac (also called celery root) can be used in place of potatoes (or in addition to). They taste like a cross between potatoes and celery, lending a great flavor to this soup.
Parsnips are slightly nutty - it doesn't make the soup taste nutty, but it is noticeably more 'complex.' You can also try roasting parsnips in the oven before adding them to the soup for a caramelized sweetness. (If you do this, add them toward the end (after the pasta is almost done cooking), so they don't get mushy.
Carrots are a classic minestrone addition. No need to peel before adding to the soup, just be sure to scrub them clean.
Finishing touches: spinach, kale, or brussels sprouts
If you have any on hand, use them. Otherwise, take your pick based on your favorite flavor.
Spinach wilts quite a bit and adds a very subtle flavor.
Kale holds it shape and retains a very slight crunch. Any time of flat-leaf or curly kale work.
Brussels sprouts are a great option as well. You can even pan-fry them in some bacon grease or olive oil, sprinkled with salt and pepper, before adding to the soup. If you do pan-fry, add them to each individual bowl for a fun garnish, instead of wilting them into the big pot of soup.
Winter produce guides you might like
These produce guides help you pick out the best produce, how to store them for a longer shelf life, along with other tips & recipes.
More nutritional information
While calories are not a perfect measure, I like to use them for their relative value. A soup with 600 calories is very different than a soup with 300 calories. I also find it helpful to put specific ingredients into perspective, like 'how many calories does the pasta add to this soup?' (39 calories, by the way).
Knowing these things lets you customize the recipe to meet your dietary goals. To help with this, I've listed the calories for each ingredient, per serving (a 1.5 cup bowl).
Calories by ingredient (per serving of soup)
| Ingredient | Calories per bowl |
| --- | --- |
| Bacon fat | 31 |
| Onion, celery, and garlic | 10 |
| Carrots | 19 |
| Butternut squash | 25 |
| Sweet potato | 24 |
| Parmesan rind | 3 |
| Diced tomatoes | 16 |
| Chicken broth | 9 |
| Cannellini beans | 38 |
| Pasta | 39 |
| Spinach | 6 |
| Wine | 12 |
| Pesto | 15 |
Calories per ingredient for Minestrone
Calories for substitutions
Since this minestrone is pretty flexible, I also wanted to provide calorie information for other vegetables & ingredients you might swap in. I used the same quantity of the vegetable as the one you might swap it with, then calculated the calories per bowl (for a fair comparison).
| Other vegetables (swap) | Calories per bowl |
| --- | --- |
| Celeriac (for sweet potato) | 5 |
| Russet potato (for sweet potato) | 14 |
| Parsnips (for carrots) | 34 |
| Brussels sprouts (for spinach) | 11 |
| Kale (for spinach) | 14 |
| Butter (for bacon fat) | 25 |
| Olive oil (for bacon fat) | 30 |
Calorie information for ingredient substitutions
Make ahead & leftovers
All of the vegetables can be cut in advance and stored for several days in the fridge in an airtight container.
Store diced onion and celery together (garlic needs to be separate), since they are added in the same step.
Store the rest of the veggies that simmer in the soup together: carrots, sweet potatoes, butternut squash, parsnips, celeriac, etc in another container together
Spinach, kale, and brussels sprouts are best washed the day you make the soup, so they don't get moldy in the fridge. However, if using kale, you can destem them and chop it ahead of time. Brussels sprouts can be shredded ahead of time.
Leftovers
I eat this soup leftover all of the time, but mostly because I have a night off from cooking. Here is the reality with minestrone leftovers:
The flavor doesn't get better with time (like it does with chili and some stews)
The greens can get a bit wilty
The noodles get much bigger as they sit and soak up the extra liquid
The soup is thicker and sometimes needs to be watered down with extra stock (and diluting the flavor as a result)
When reheated, the leftovers are good, but not great. But there are ways to make the leftovers as good as the first day.
How to have better leftovers
There are a few things you can do to fix these problems if you plan on leftovers. Let's assume you want to save half for another day:
At step 4, under "Make the Soup" - add the beans, but not the pasta. Stir in the beans (no need to cook them).
Ladle half of the soup into another pot / container. Set aside to cool, store in the fridge.
Continue making the soup that's still on the stove:

Add half of the noodles.
Add half of the "Finishing Touches"
Serve

To reheat your leftover soup the next day(s):

Reheat the soup on the stove until boiling, reduce to a simmer
Add the remaining half of the noodles and cook
Add the remaining half of the "Finishing Touches"
Serve
Did you make it? What veggies did you use?
Leave a comment and let us know what vegetables you used and how it turned out. Others will come across them and really enjoy the extra opinions.