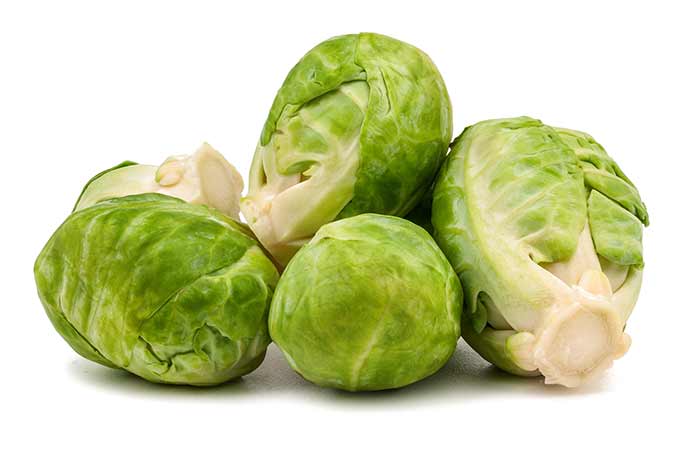 The longer brussels sprouts are stored, the stronger their flavor gets. For that delicate, nutty flavor, seek out fresh sprouts.
When are brussels sprouts in season?
They can be found in farmers markets from September through March.
See what else is in season at the same time: January, February, March, and in September, October, November, and December.
How to pick
Look for sprouts that are bright green and the leaves aren't wilted. If they are still attached to the stem, they will last longer.
How to store
Store loose brussels sprouts in an open container in the crisper drawer and they will last 2-3 weeks. However their flavor gets stronger the longer they are stored, so experts suggest eating them in about 4 or 5 days.
Sometimes during the Thanksgiving and Winter holiday season, you can find sprouts attached to the stalk. They can be stored in a glass of water in the fridge, if you have a space tall enough to accommodate that setup. If not, store the entire stalk in a plastic bag if possible.
Brussels sprouts can be prepped a day or two in advance and stored in an airtight container in the fridge. This includes sprouts that have been cut in half as well as shredded.
Time saving tip:
Peeling the outer leaves off can be time consuming, but Tasting Table shared a fast trick on Instagram
Other common questions
Can I eat them raw?
Yes, like other cruciferous vegetables (broccoli, cabbage), they can be eaten raw. However, it can some cause gas and bloating for people who have a hard time digesting sugars found in these types of vegetables. Cooking breaks those sugars down, making them easier to digest.
What's the difference between green and purple brussels sprouts?
Flavor: the purple variety tastes slightly sweeter, a little less bitter, and has an earthier or nuttier flavor than the green ones.
Nutrition: the nutrition is nearly identical, except the purple variety has more antioxidants
Color: when cooked, the purple color will fade a little but still remains purple (unlike purple asparagus, which tends to lose nearly all of its purple color when cooked).
Recipes
Each recipe below only uses ingredients that are in season at the same time as brussels sprouts, or ingredients that have a year-round season. Since their season overlaps with the beginning or end of other fruits and vegetables, the recipes are grouped into early season, late season, or anytime they are available.
...For anytime they are in season
...For fall & early winter
Grass-fed burgers with roasted brussels sprouts and crispy shallots - recipe by Bev Cooks
Shallots are harvested in late spring and early summer, then store well into early winter.
Brussels sprouts salad with pomegranates and pan-fried goat cheese - recipe by Love & Olive Oil
Pomegranates show up later in fall, so keep your eyes open for them in the market to make this recipe.
Roasted brussels sprouts, cinnamon butternut squash, pecans and cranberries - recipe by Julia's Album
Caramelized brussels sprouts with maple-orange glaze - recipe by Pinch of Yum
This recipe uses shallots, which are harvested from May-July and store well for up to 6 months. If good shallots aren't available try using leeks. The recipe calls for navel oranges which are available in winter and spring, then Valencia are available in summer and fall.