Brussels sprouts are having a moment, thanks to several chefs and famous restaurants enticing customers to give the vegetable a second chance (as opposed to the bitter, mushy sprouts of their past). Good brussels sprout recipes are essential in the home kitchen too.
Recipes with bacon are always popular, along with maple syrup, honey, parmesan, and lemon. All of these flavors actually counteract the bitterness in brussels sprouts, which will be explained in each section.
I picked out over 50 recipes to make the best brussels sprouts while they are in season.
Jump to: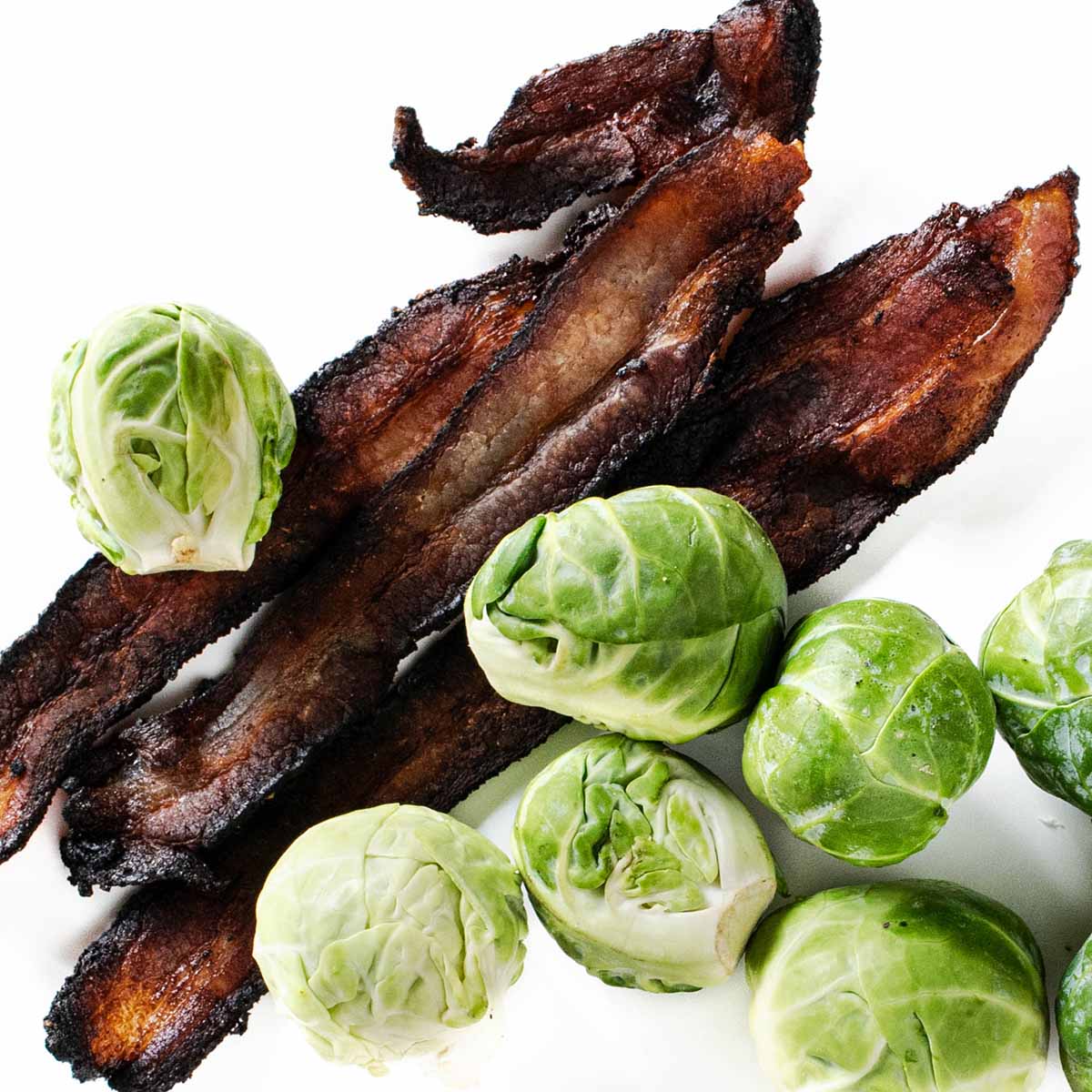 With bacon
The most popular brussels sprouts recipes are made with bacon. It makes everything better, so this likely doesn't surprise anyone.
But the bacon is doing more than adding flavor.
Brussels sprouts can be bitter, which is balanced out by fat. Think of green bell peppers on a cheesy pizza or how milk makes coffee taste less bitter. Not many foods are fattier than bacon, which is why brussels sprout recipes with bacon actually taste better.
To make the most of the bacon, some recipes use the bacon grease to roast or saute the brussels sprouts. Olive oil is also a fat and works well if you are trying to eat a bit healthier.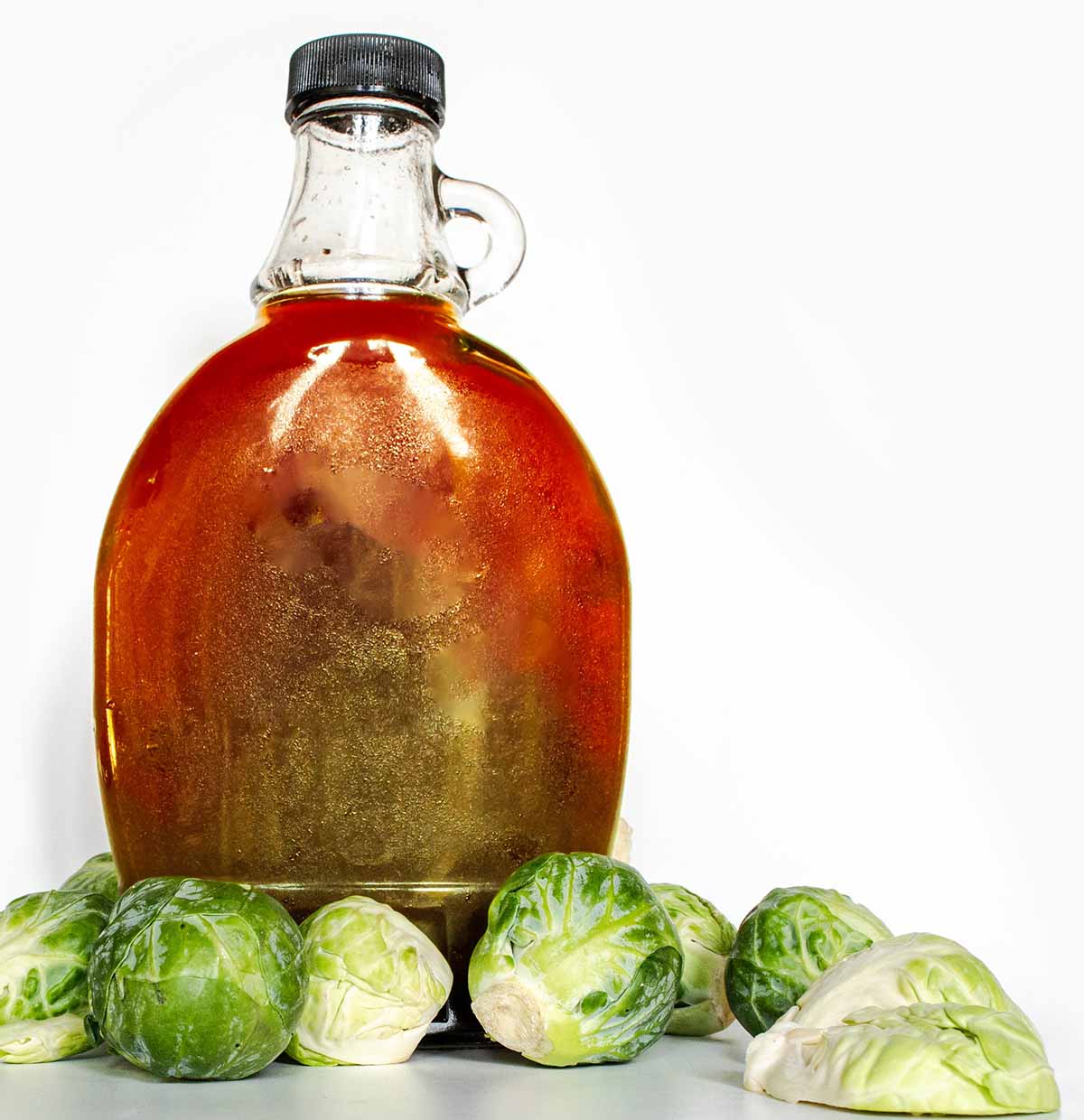 With maple syrup
Brussels sprouts can turn sweet and nutty when roasted or sauteed on high heat. Recipes with maple syrup enhance that flavor, but they also balance out bitterness.
Sugar and bitter flavors inhibit each other. Think of a how adding sugar to a grapefruit makes it taste less bitter. If you are sensitive to bitter flavors, try any of these brussels sprout recipes with maple syrup.
With honey
Honey serves the same purpose as maple syrup, just with a different flavor profile. Honey can be used in any cooking method as well, from raw salad to roasted sheet pan recipes.
With lemon
Brussels sprouts recipes with lemon add a lighter and brighter flavor. It's a nice change of pace in the middle of winter when you've been living off stews and roasted vegetables.
Lemon and other citrus also reduce bitterness as the acidic flavors mask bitter ones. That's why lemon based dressings are often used on bitter greens. It's no coincidence that all of these flavor pairings that address bitter flavors are so popular.
With parmesan & other cheese
Cheese, like bacon, is full of fat and balances out any bitter flavors. Brussels sprouts recipes with cheese might not be the first thing that comes to mind, but are really quite good.
Brussels sprouts are related to broccoli, as both are cruciferous vegetables. If you like roasted broccoli with cheese or broccoli-cheese soup, you'll like these cheese-focused recipes.
Many of the recipes in the salad section also use cheese, but I limited the recipes in this section to ones that feature cheese as a main flavor.
Salad recipes
Raw brussels sprout salad recipes are delicious but can cause digestive issues for some people. If you are fine eating raw broccoli, kale, or cabbage-based slaws, you'll probably be fine eating raw brussels sprouts too.
Alternatively, salad recipes that roast or saute the vegetables first can be a good option like the caeser brussels sprouts salad below.
A majority of brussels sprout salad recipes use nuts, from pecans to pistachios. They are adding more than just a crunchy texture, however. They are complementing the natural nuttiness of brussels sprouts, which is very, very subtle when raw, and much more pronounced when roasted.
Pasta & rice recipes
Pasta recipes are a great way to use up seasonal brussels sprouts. They can be added raw or roasted while the pasta cooks (pan frying works too).
A light lemony sauce makes for a bright almost-spring like dish in the middle of winter. Whereas a roasted cream or butter sauce is perfect for a cozy night in.
At the pub
I love a good pub menu, so I found some recipes to make at home with brussels sprouts. Try buffalo sprouts instead of wings, or a cheesy brussels sprouts dip instead of artichoke dip.
Breakfast hash recipes
Any vegetable can be turned into a hash in my opinion. These recipes are each a little different, from including mushrooms to sweet potatoes. Some are made on the stovetop while others are roasted.
Roasted brussels sprouts
The most popular method for making brussels sprouts is roasting. It's the easiest way to make them sweet, nutty, and crispy. Roasting brussels sprouts also produces the least-bitter results (boiling is often the most bitter and even sulfurous).
"If you think you don't like Brussels sprouts, think again! Roasting this vegetable is completely transformative, and removes the bitterness that you may be thinking of." -Deanne from This Farm Girl Cooks, with the roasted brussels sprouts with maple balsamic glaze recipe below.
Brussels sprouts on the stovetop
Cooking brussels sprouts in a pan on the stovetop can also turn out sweet and caramelized by searing on high heat or pan frying.
It's also a convenient way to make a sauce, like a honey mustard or creamy cheese sauce. If you are looking for extra crispy brussels sprouts, add the sauce at the very end, or try a recipe for roasting instead.
Other cooking methods
Brussels sprouts can also be smoked or grilled, both of which I highly recommend. You can also try making them in the air frying (which I haven't done yet). They can also be microwaved if you're short on time (or patience!) and you won't get any judgement from me.
More recipes & resources
Looking for more recipes this fall and winter season? Check out the collections below or look through the monthly seasonal guides.