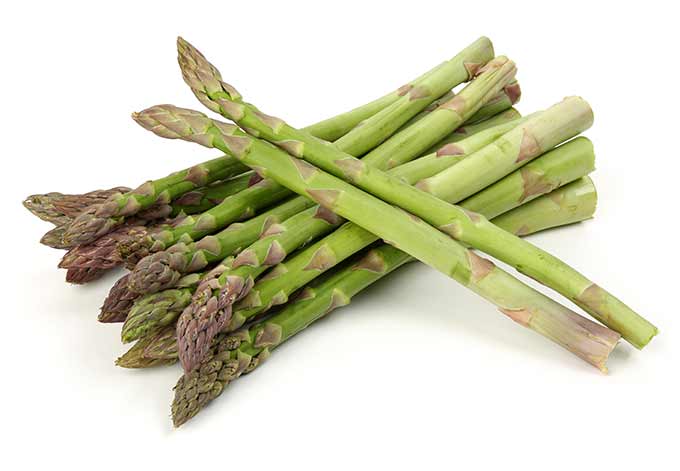 Jump to:
When is asparagus in season?
Asparagus is the quintessential spring vegetable, locally available from March until June. In warmer climates, it might even be harvested in late February. April is a very reliable month to find it at farmers markets across the country.
But you might have also noticed asparagus has become available year-round. That's because import tariffs were discontinued, allowing for affordable options to be brought into the US. In fact, even during spring, asparagus might be an import at the grocery store since California produces 75% less than they did 10 years ago.
Local, fresh asparagus really does taste better. After it is picked, the sugars decline and the spears turn fibrous and stringy. So the fresher you can find them, the better they will be. Farmers markets usually picked asparagus the morning of the market.
See what else is in season at the same time: March, April, May, and June.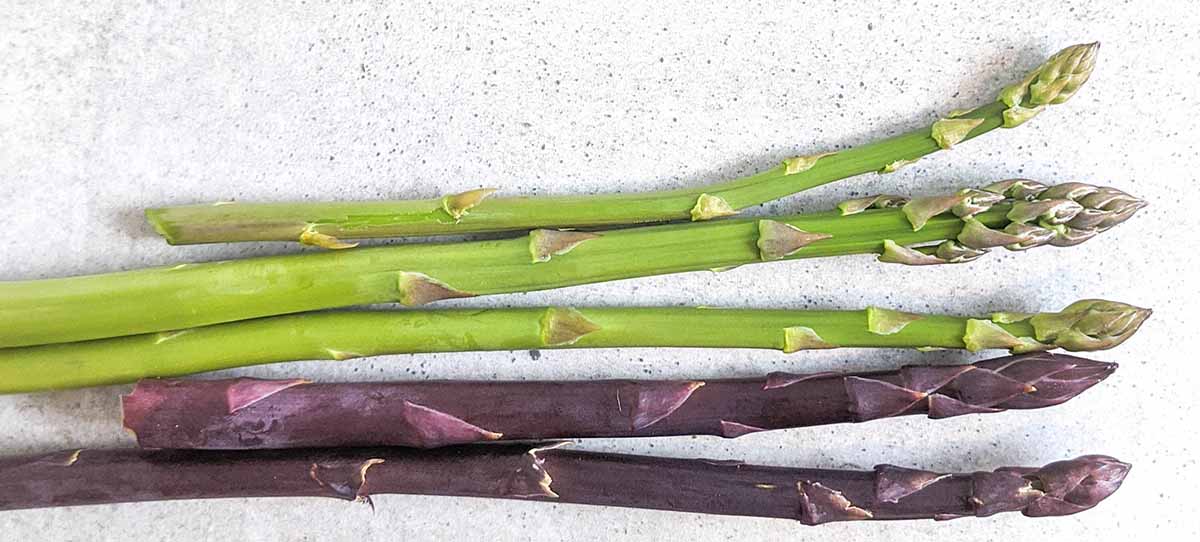 Varieties
Asparagus comes in 3 colors: green, purple, and white. They have only very subtle differences.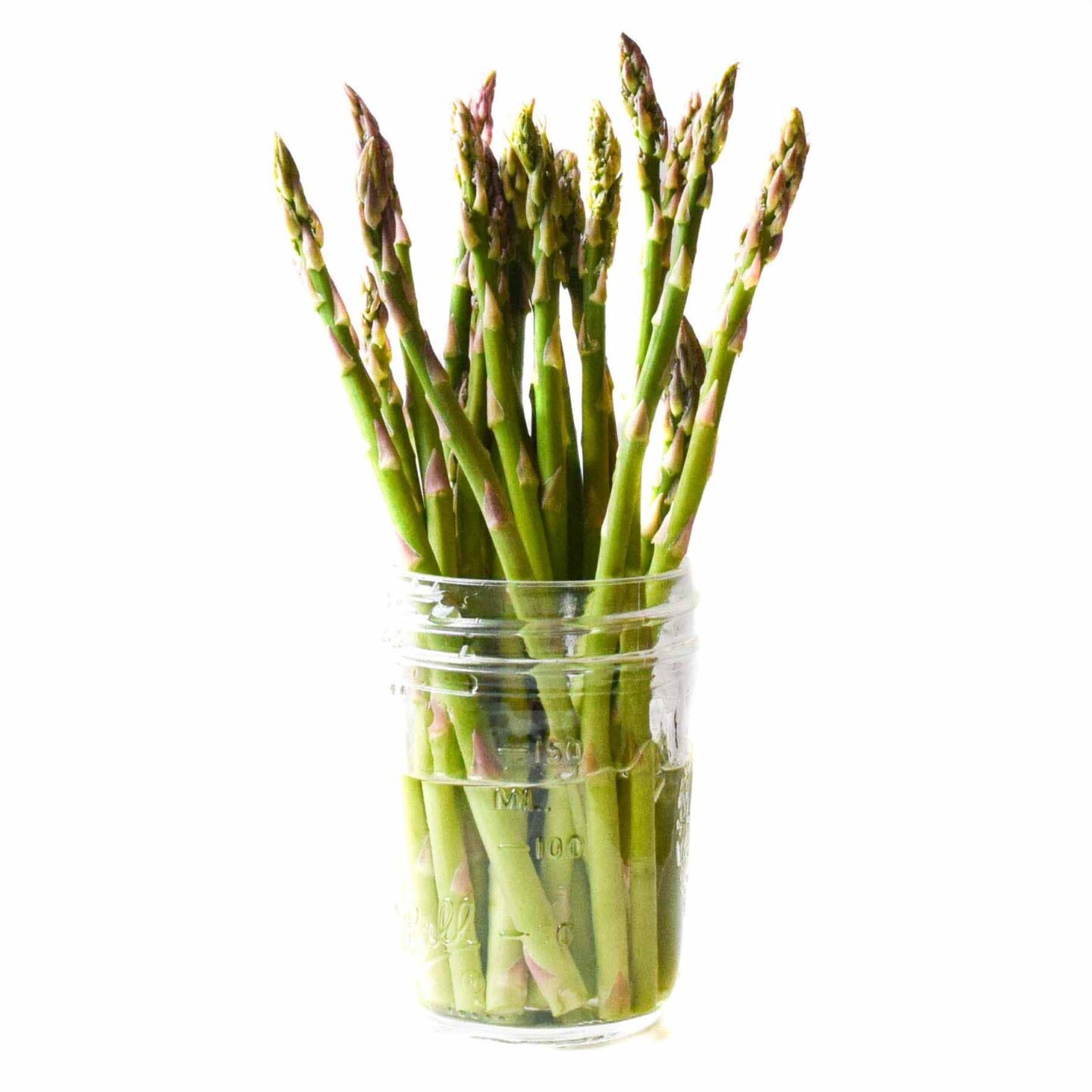 Green
The most commonly found green varieties have the characteristic grassy asparagus flavor. The spears range from thin to thick, and are widely available.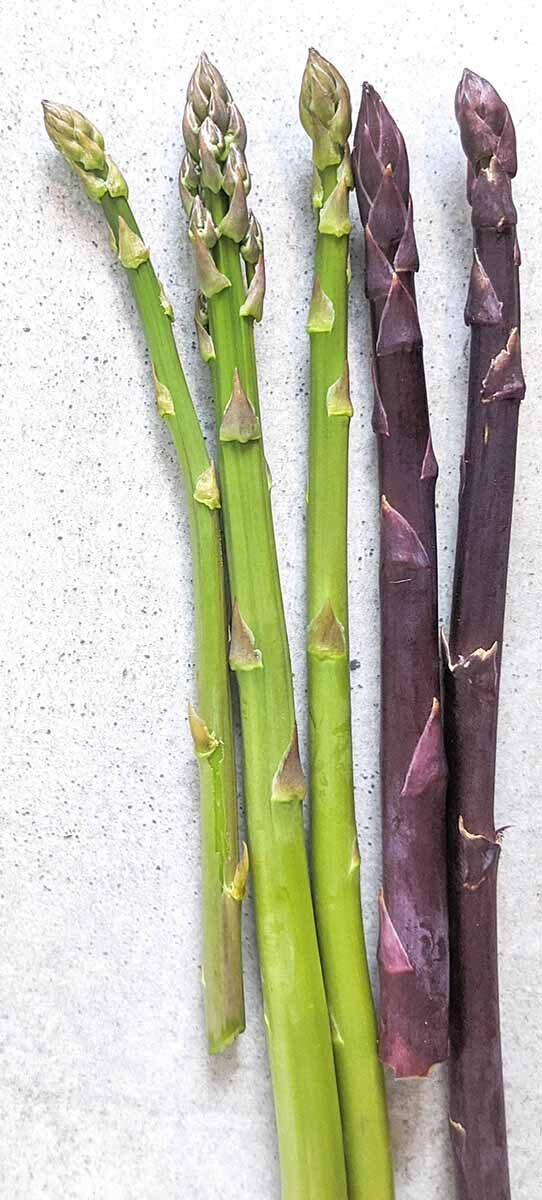 Purple
Purple asparagus varieties are gaining popularity and their color is due to the red, purple, and blue anthocyanins pigments.
The purple color disappears with prolonged cooking, as the water-soluble pigments break down. You are then left with green asparagus, due to the fact that the chlorophyll pigment did not break down.
Acid helps maintain the purple color (just like with blueberries), so you can toss your purple asparagus with lemon juice before a quick saute in the pan with some oil.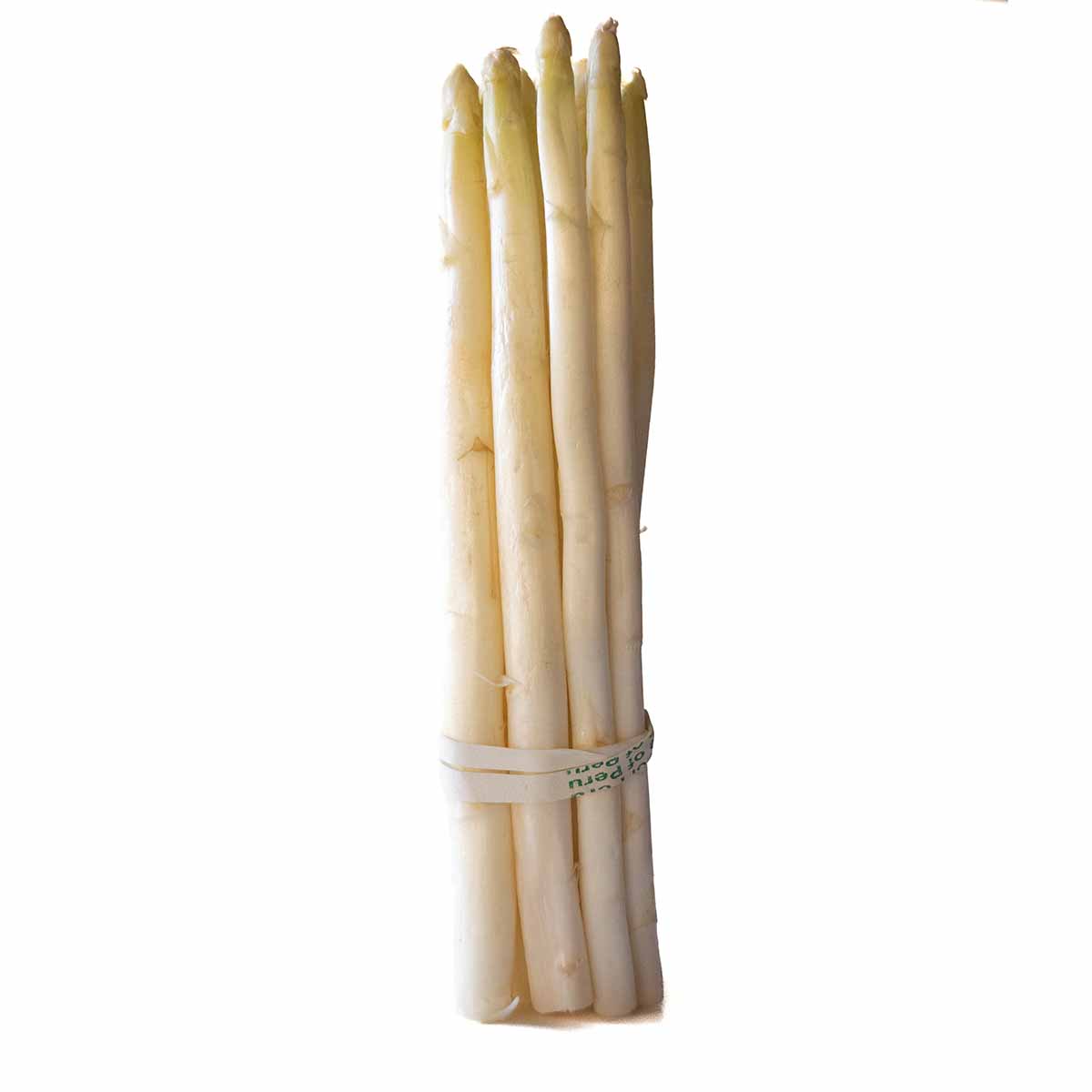 White
White asparagus isn't a different variety, rather it's green asparagus the gets covered up with dirt as it grows. This stops the chlorophyll production, so the vegetable doesn't turn green.
This variety is prized in Europe and costs quite a bit more than green asparagus.
I found the texture slightly more tender when raw, but almost indistinguishable when sauteed. The flavor isn't as strong, and has slight citrus or jicama flavors.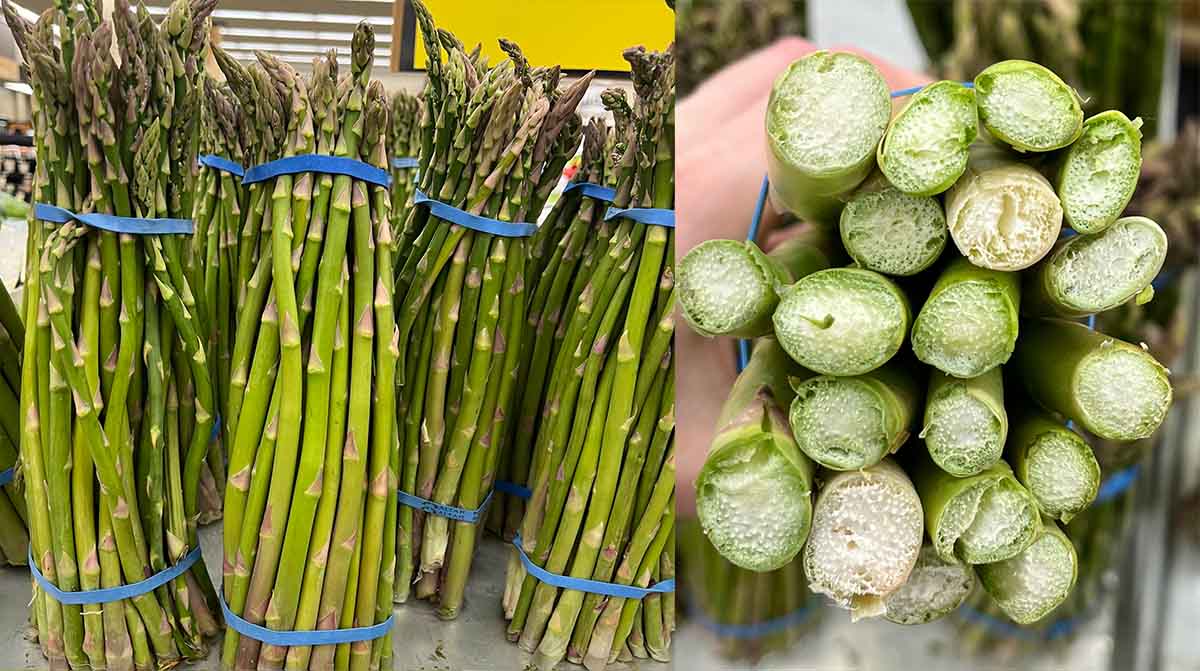 How to pick
Fresher asparagus will have tightly closed buds with stalks that are not woody or fibrous looking at the ends. Also, size has nothing to do with their quality, as confirmed by multiple sources. Serious Eats has some good advice on choosing size based on your cooking method:
Choose thinner stalks for boiling, snacking or sauteing
Buy thicker ones for roasting or grilling. The larger stalks have more water content and can stand up to those high heat cooking methods.
How to store
Use asparagus as soon as you can, as they get tougher and more fibrous the longer you store them. Cold temperatures slow down the negative effects of storage, so be sure to put them in the fridge.
You can also store asparagus in the fridge, in a glass with a small amount of water (like you'd store flowers). Some suggest to then cover it with a plastic bag to keep in the moisture. An alternative method is to wrap the bottoms in a damp paper towel and store in an open plastic bag in the crisper drawer.
How long will it last?
Best eaten right away as flavor deteriorates over time and they get woody, but they can last up to 4 days when properly stored. Over time, they can dry out and get limp.
Don't snap spears
It used to be common advice to bend asparagus spears until the ends snap off. The idea was that they will naturally break where the woodiness ends.
However, that doesn't quite work in practice. It turns out they break where we put the most pressure. This causes an unnecessary waste of food and money. Oregon Live has a full article about it, encouraging you to not snap those spears.
It's better to simply cut the ends off with a knife (it's faster too) to get rid of the fibrous and dried-out ends.
Why some asparagus is stringy & what to do about it
Asparagus gets woody, or sometimes described as stringy, from several things:
The base is more fibrous than the tips
White spear bottoms will be more fibrous and should be cut off.
After harvest, cells can turn more fibrous. This happens in two places: at the cut end, and throughout the inside of the spear.
When the spears are cut for harvest, they try to heal themselves, and this causes woodiness at the end of the stem. This isn't a huge problem since you can just cut the ends off.
The more difficult problem is when it gets stringy throughout the entire spear. This happens because the spears continuously convert their sugars into a substance (called lignin) that causes woodiness. The longer asparagus is stored, the more sugars they convert. Cooking doesn't make them less stringy.
The best solution is to buy the freshest asparagus you can find and use it right away. That isn't always practical, but refrigeration slows down this sugar-to-woodiness conversion. This means you should not only buy the most recently cut asparagus, but ones that have been kept cold as well. Then once you get home, keep them cold in the fridge.
If you get stringy asparagus, you can cut them into round and eat them fresh or cooked. The stringy texture won't be noticed in a recipe like this picnic sandwich.
Resources:
Asparagus smells
It's common that your urine smells after eating asparagus and it's nothing to worry about. It's been called the "distinctive springtime smell," which is often described as cooked cabbage.
It's caused by the body breaking down asparagusic acid into sulfur-containing chemicals. Those chemicals are volatile, meaning they vaporize into the air at room temperature, quickly reaching our noses.
The smell can be generated fairly quickly - in just 15-30 minutes after eating asparagus, and can last up to 14 hours.
Most people generate the smell, but research suggests that a small number of people break things down differently, lessening or eliminating the smell altogether. That said, a good portion (roughly 60%) of the population can't smell it due to genetics.
Grow your own
Asparagus grows well around the entire country, and lasts 20-50 years or more. It's fairly maintenance free and fun to pick spears every few days in spring.
Recipes
Asparagus flavor changes based on the cooking method. Raw asparagus is grassy, slightly bitter, and barely sweet. Gentle cooking methods (like steaming or boiling) preserve that flavor while removing some of the bitterness. Whereas more intense cooking methods (roasting or grilling) can caramelize the sugars and transform the flavor.
How to cook asparagus: 10 methods & 50 recipes
Early in the season, asparagus pairs well with peas, citrus, and strawberries. As summer nears, pair asparagus with early summer tomatoes and bell peppers.