Asparagus will last 20+ years in your garden, with some people still harvesting from plots 50 years or older. This guide helps you choose an appropriate variety and the number of crowns to plant.
Jump to:
Asparagus can be grown throughout most of the United States (and even into Canada and Mexico). It grows in zones 2-9, but some varieties are better suited for the colder northern growing regions, and others for the hot southern regions.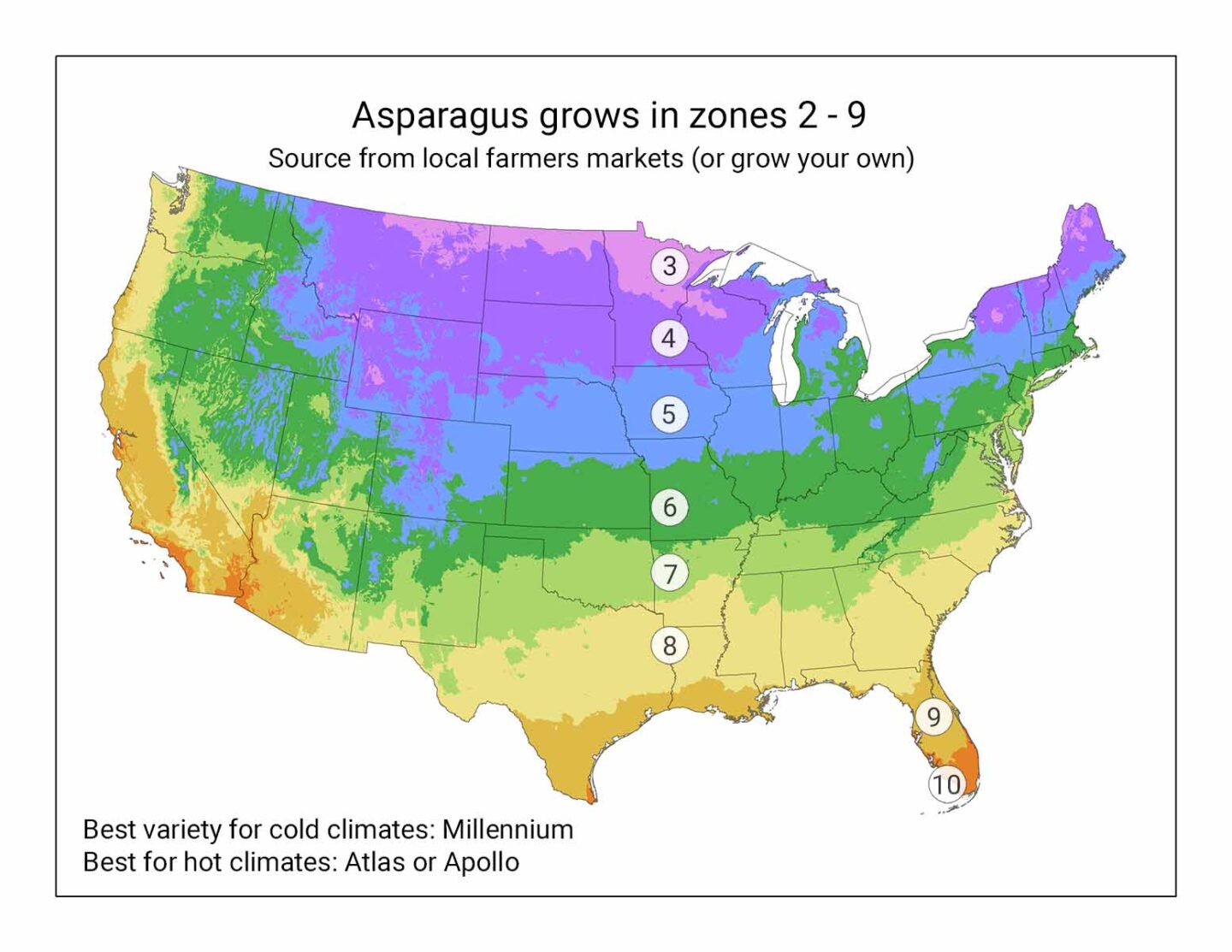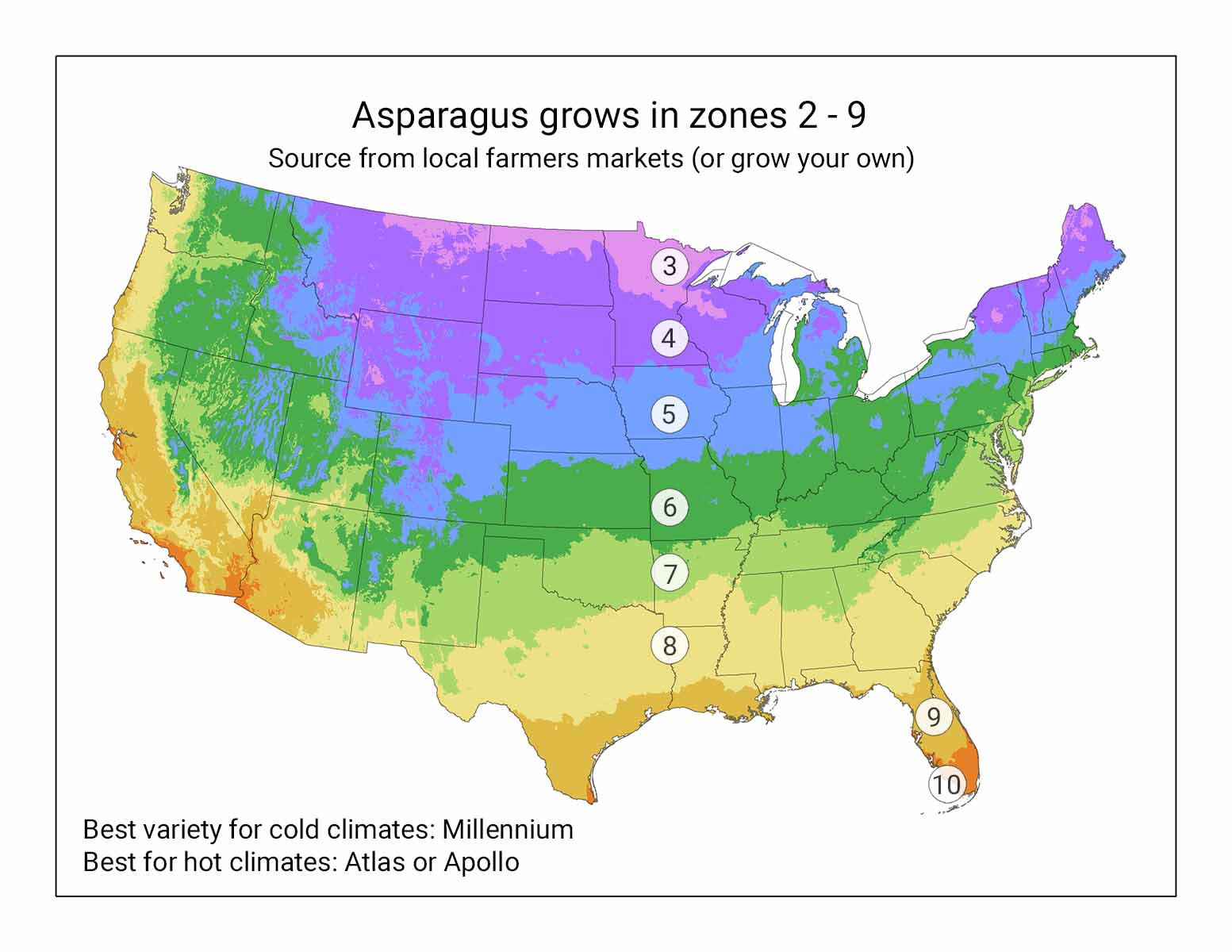 How climate affects asparagus
When the soil reaches 50ºF, spears start growing. They perform best when the daytime temperatures are between 70-85ºF. Under these conditions, the spears will grow 3 or more inches a day.
Asparagus also needs a dormancy period, which is signaled by cold temperatures or drought.
Hot climates
Hotter weather causes spears to 'fern out' faster, which also causes woodiness. Some varieties perform better in warmer climates because they are slow to fern out under heat stress.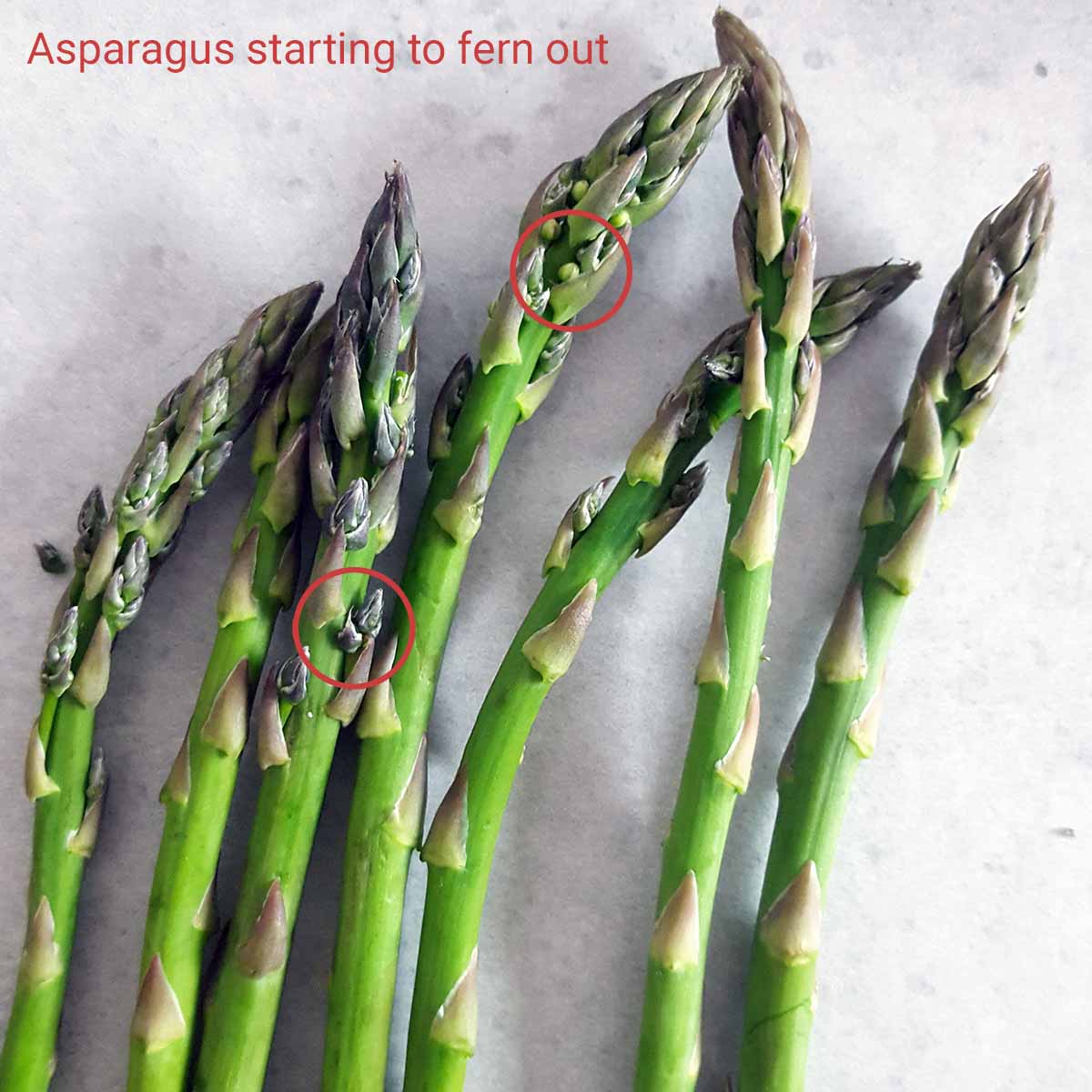 In warmer areas like the Southwest, some gardeners induce dormancy by simply no longer watering the asparagus. However, warm and wet regions like Florida can have a little more difficulty. The plants sometimes continue to grow, producing weak and spindly spears, although other gardeners have success even in south Florida.
Cold climates
Asparagus crowns are very cold hardy, down to -40ºF. However, the spears are not cold hardy and will be damaged by late frosts (but new spears will emerge). If frost is in the forecast, harvest all spears regardless of height so you can still make good use of them.
A newer variety out of Canada (Millennium) emerges later in the season, usually avoiding the late frosts. Trials for Millennium in Ontario, Minnesota, and Michigan have all performed very well.
Varieties
Asparagus is dioecious, which means it has male and female plants. Male plants produce more spears and live longer, whereas female plants produce thicker spears and eventually flowers.
Many of the popular green asparagus varieties are all-male hybrids, producing more spears. In fact, they can produce significantly more, according to asparagus expert, Carl Cantaluppi:
"Male hybrids can out-yield the old open pollinated, male/female varieties by 3 to 1. These male hybrids are not technically all male, but about 93% males, having about 7% female plants mixed in." (source: pdf)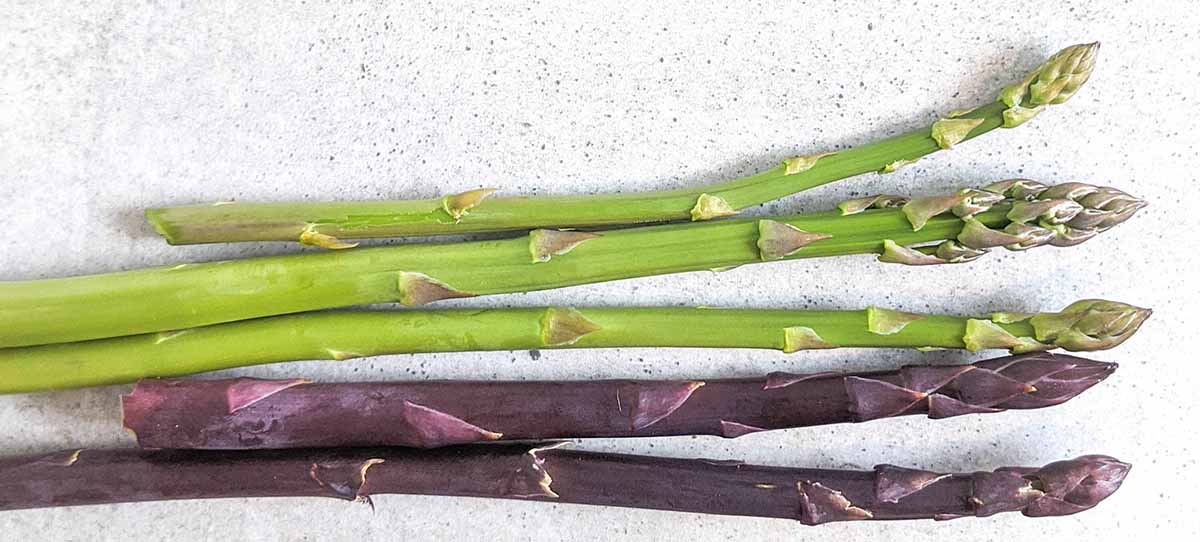 Best for cold climates: Millennium
Developed at University of Guelph in Canada, this variety performs exceptionally in cold climates. It emerges later, avoiding late frosts, and goes dormant earlier.
Universities in Minnesota, Michigan, and North Dakota all report excellent yields and survivability in their field trials. In fact, North Dakota State University claims, "Millennium is the new leader in asparagus."
It's an all-male hybrid that produces more spears than nearly every other variety. It also tolerates heavier soils, which is good news for those of us with clay soil. It's also resistant to rust and Fusarium rot.
Best for warm climates: Atlas & Apollo
California developed several varieties that handle heat well, including Atlas, Apollo, and Grande. They perform well in warmer climates, including trials in North Carolina, Hawaii (pdf), and Ohio (pdf). However, they don't perform as well in the colder, northern climates.
What makes these varieties better in warmer climates? When temperatures rise, spears open up (or "fern out"), which you don't want during harvest. To combat that, gardeners in warmer areas of the country have to pick spears when they are just 4-5 inches tall, before they have a chance to fern out.
Atlas, Apollo, and Grande asparagus fern out later than other varieties during warm weather. This allows the spears to grow to a more standard height of 8-9 inches.
These varieties include male and female plants.
The variety called UC-157 is sold as seeds and also perform well for warm climates, as it is grown throughout much of the hot California farming regions. This variety appears to not be sold commercially as crowns.
Best heirloom variety: Mary Washington
This is an open-pollinated, green asparagus variety that produces male and female plants. The spears are sturdy, thick, and of good quality. Yield will be lower than the all-male hybrid varieties.
This variety performs well across all climates.
Sweetest variety: Purple Passion
Purple asparagus like Purple Passion have about 20% more sugar than their green counterparts. This variety includes both male and female plants, and produces about 30% less than other open-polinated types (with both male and female plants). Trials in both warm and cold climates prove to be productive. It is also resistant to Fusarium Rot.
The spears also tend to be thicker than most green varieties (which doesn't indicate a quality difference, necessarily).
Pacific Purple is another good option, with similar sugar levels and performance.
Discontinued: Jersey series
The Jersey series, including Jersey Knight and Jersey Giant, was an all-male hybrid that's been discontinued by the grower. Nurseries still have some supplies of them this year (2023) and are expected to run out in the next year or two.
How many plants per person?
Since it depends on how much you and your household like asparagus, let's start with some basic consumption information. A bundle of asparagus at the store is about 1 pound.
How much of a bundle do you go through for a meal?
How many bundles do you buy over an 8 week period?
Most recommendations suggest 25-50 crowns per family of four. During your asparagus bed's most productive years (around year 7), harvest will last about 8 weeks and yield the following amount:
25 crowns: 12-18 pounds over 8 weeks (1.5-2 bundles / week)
50 crowns: 24-36 pounds over 8 weeks (3-4.5 bundles / week)
Most modern green varieties of asparagus fall within these yields. Millennium is on the higher end of the range (or slightly exceeding it), and open pollinated varieties like Mary Washington are on the lower end. Purple varieties (Purple Passion) are less productive as well.
Yields will be low in the early years, but around year four you start to see real results.
Year 2: (first time you can harvest), has minimal yields
Year 3: produces about 33% of peak (4-5 lbs per 25 crowns)
Year 4-5: production continues to increase to 45-55% of peak
Year 6: production is at about 66% of peak (8-10 lbs per 25 crowns)
Year 7-8: peak production is reached
Year 10 and later: production declines about 5% per year, according to farmers
More asparagus guides