Buying vegetable seeds for your garden takes a lot of planning and can get expensive. There are a lot of seed companies with vastly different prices, selection, guarantees, and shipping costs.
I purchased garden seeds (and plants) from numerous places over the past two decades, including over 20 places online last year. I now know which places have the best selection, cheap prices, and free shipping.
Jump to:
Where to buy vegetable seeds
I organized the best vegetable seed companies into a top 12 list. This infographic summarizes why each one earns a spot as a good place to buy seeds online.
I also evaluated the price and selection for each vendor later in the article. In order to compare the selection, I picked 4 popular seeds people plant in the garden: tomatoes, peppers, peas, and watermelons. I tallied up the number of varieties of each of those plants that each place sells.
Keep reading for full explanations and my own personal experiences with each website.
Burpee, Territorial, and Gurney's have affiliate programs, which I have joined. That means I get a small commission if you buy from them after clicking on their links. I have tried to not let that influence my recommendations, but thought it was only fair to point out.
When to buy garden seeds online
Catalogues usually ship out in November and December and the majority of gardeners purchase vegetable seeds in January. After January, inventory might be harder, but not impossible to find if you're looking for something specific.
Starting in March, specific garden seeds can be hard to find, but more common vegetable sees should still be available. In March of 2023, I had to order from several different vendors to cobble together my wish list based on which seed companies still had stock available. This added quite a bit of cost, as I no longer had the luxury to price-shop and accumulated shipping costs across several different vendors.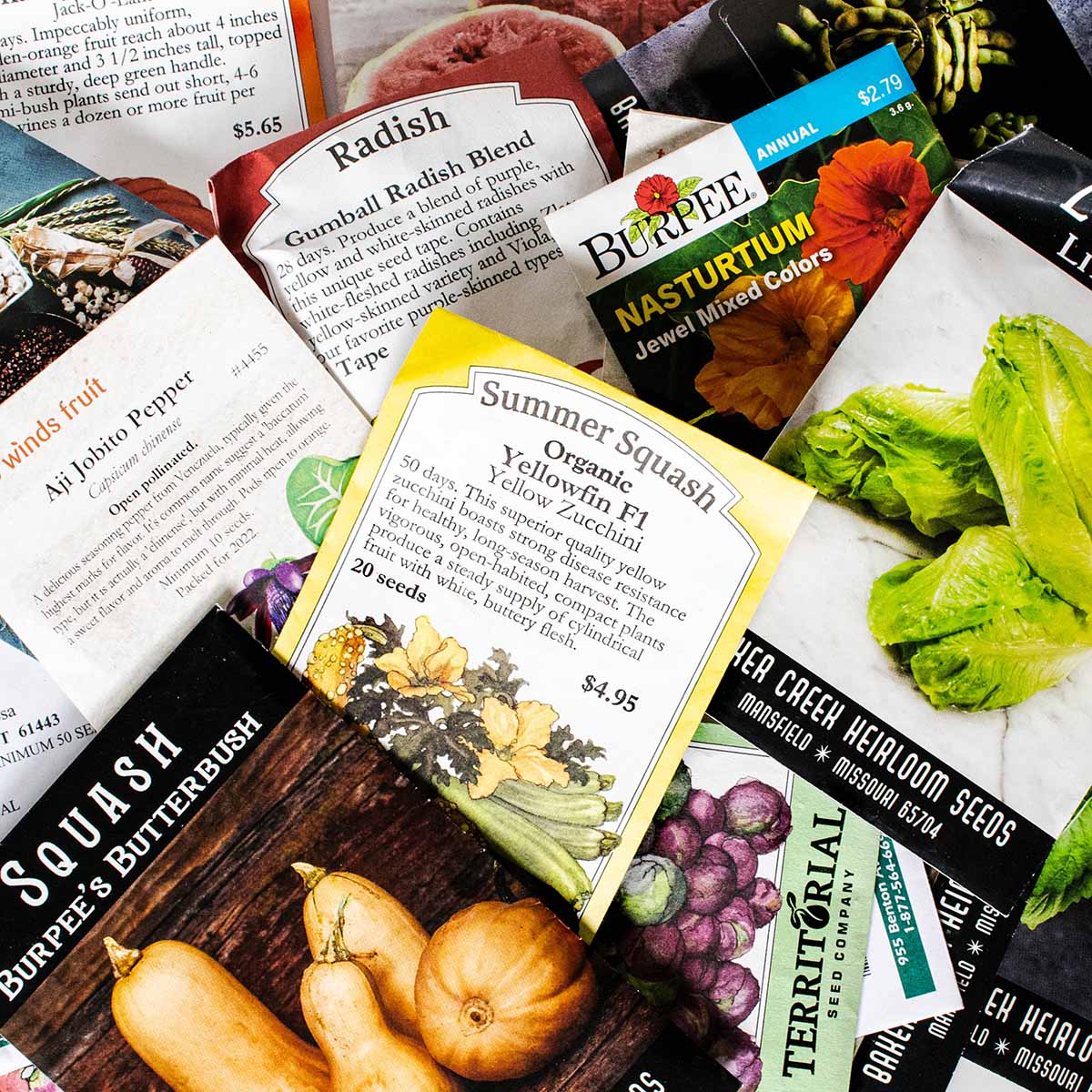 Price comparison
Vegetable seeds and other seeds for your garden can get expensive. The cost of garden seeds varies, shipping can add up, and coupons can be hard to find or nonexistent.
Cost of vegetable seed packets
For the seed vendors I evaluated, seeds packets range from $0.45 for sample packs up to $8 (or even $9) from other websites. I calculated the cost of buying 10 tomato seed packets from each vendor, including shipping (but not tax). I selected the same basic seeds for a fair comparison, and the totals are wild - ranging from $17 to $85.
Sometimes a high price is worth it to secure your favorite seeds or a unique vegetable variety. But other times you can price shop to keep costs down.
Shipping costs (and free shipping!)
Shipping costs can also add a surprising amount to the order total, which is incredibly frustrating after spending hours thoughtfully putting seeds into your cart. You're left with the decision to accept the cost or to start a new time-consuming seed order on another site.
Several websites sell vegetable seeds with free shipping, either for all orders or if you meet an affordable minimum spend (like $30). A couple more websites offer free shipping with $75 spends, but reasonable shipping costs if you don't meet those minimums.
Several vendors calculate shipping as a percentage of your spend, which I am not a fan of. I know it doesn't cost that much to ship seeds in the mail! For example, it doesn't cost $12 to ship $35 worth of seed packets via USPS. That shipping cost example is 30% of the order total.
Coupons
Most vendors don't offer coupons during the busiest months, like January and February. Some offer discounts closer to summer and early fall to sell their leftover inventory.
One exception to this rule is Gurney's who seems to have a fairly constant coupon program that's about 50% off. The coupons are $25 off $50, $50 off $100, and $250 off $500. To ensure you get a coupon, sign up for their catalog.
Burpee also often runs promotions for 20-30% off, or discounts for mix & matching herbs plants (for example). In fall you can sometimes find promotions for 50% off seeds. However, their coupons are not as consistent as Gurney's.
Price comparison
I compiled the cost per seed packet and shipping for various seed companies. I also included the total cost of ordering 10 seed packets to more accurately illustrate the actual cost of ordering your garden seeds this year.
Source
Seed price
Cost to ship
Cost for 10 packets
Artistic Gardens
$0.45 -1.25
$5 flat rate
$17
MI Gardener
$2
free for $20+
$20
Trade Winds
$3
free for $30+
$30
Baker Creek
$3-4
free
$35
Victory Seeds
$3
free for $75+,
or $5-ish
$35
Kitazawa
(specialty)
$3-4
Free for $75+,
or flat rate $5-9
$40
Territorial Seeds
$5
$9 flat rate
$59
Seeds from Italy
(specialty)
$6
$6.50 flat rate
$67
Burpee
$5-7
Based on order
~20-30%
$74
($54 w coupon)
Gurney's
$3-8
Based on order
~20-30%
$75
($46 w coupon)
Johnny's Selected
Seeds
$6-8
Based on order
~20-30%
$85
Cost to order vegetables from different seed companies
There are also a few seed companies that focus on providing vegetables and garden seeds for a specific climate.
Source
Seed price
Cost to ship
Cost for 10 packets
Southern Exposure
(hot & humid)
$3
based on order,
~10-20%
$36
Fedco
(cold climates)
$3-5
free for $50+,
or $6 flat fee
$46
Native Seeds
(hot & arid desert)
$4
based on order,
~10-15%
$46
Adaptive Seeds
(Pacific Northwest)
$4.15
based on order,
~15-20%
$48
Where to buy vegetable seeds and plants
Some seed companies offer a good selection of both seeds and plants. Other vendors in this article also sell plants, but the selection is not nearly as complete (for example, they may sell asparagus and potatoes, but not pepper or tomato plants).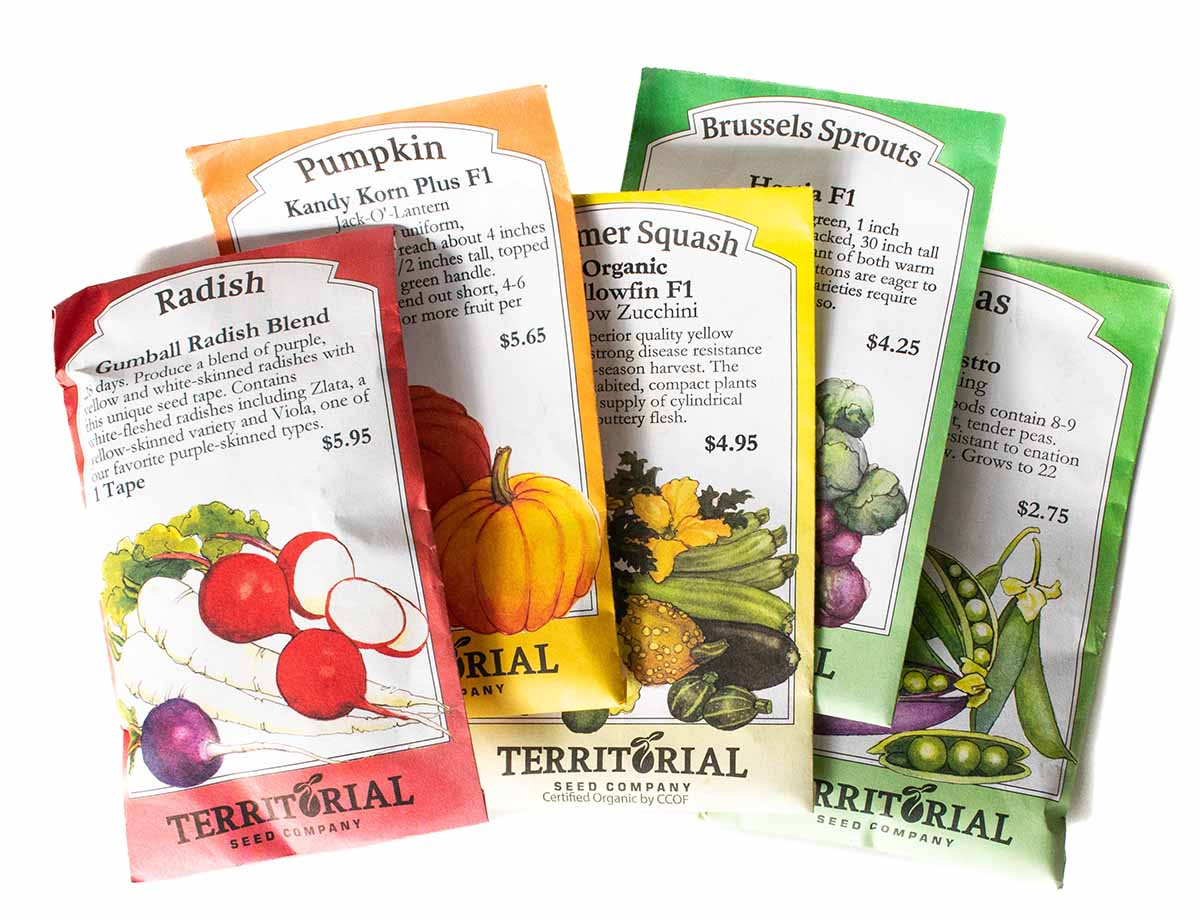 Territorial seed company
Territorial seed is my favorite source for buying vegetable plants with fair pricing and affordable shipping. They also have very useful filters to browse plants easier than other sites.
The seeds from Territorial are on the pricier side, averaging around $5 per packet, but I can sometimes find sales for 20% off. Their pricing for larger quantities is pretty decent if you are looking to buy in bulk.
I routinely buy tomato and pepper plants from Territorial because they have a large selection of unique varieties that nurseries don't always carry. For twice the price of a packet of seeds, I get a plant shipped to my home. They also let you pick the time frame for shipping plants, something other vendors don't offer. Their packing is top-notch and plants arrive healthy every time I place an order.
Website: territorialseed.com
Location: Oregon
Selection: Over 75 tomatoes, 50 peppers, 20 peas, 10 watermelon
Cost per seed packet: $5
Shipping: $8.95 flat fee for seeds (for live plants, see shipping rate page)
Cost to buy 10 packets: $50 + $8.95 shipping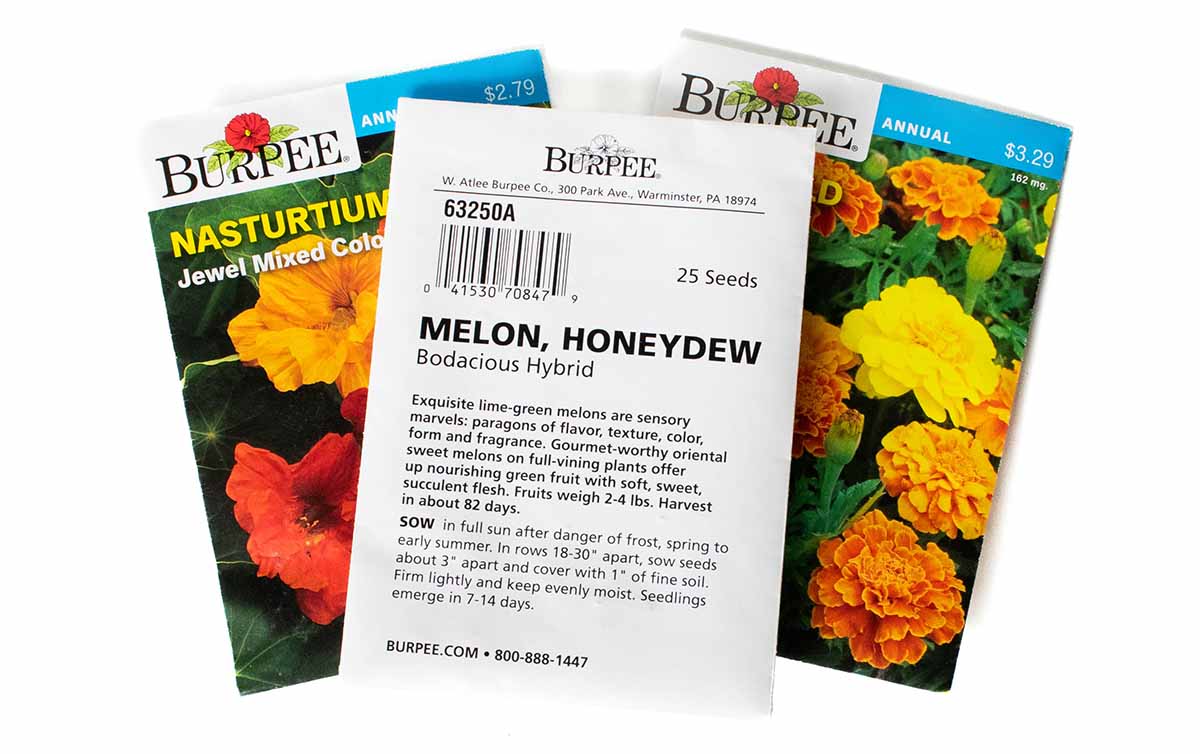 Burpee
Burpee is one of the oldest seed companies and known for their plant breeding programs that introduce new seed varieties to the public.
Founded in the late 1800s, Burpee is known for creating several household vegetable varieties, including Iceberg lettuce, the first stringless green bean, and the first golden beet.
This company probably carries the largest inventory of seeds out of the companies listed (not to be confused with the largest number of varieties). They're one of the last vendors to sell out (but they DO still sell out of stock) and their seeds can sometimes be found in local nurseries and other stores.
Burpee seed packets cost more, averaging $5-7 each, but many of them contain 50-100 seeds per packet compared to 20-25 for other websites (using tomatoes and peppers as an example). If there's a variety you know you will grow every year, these can actually be a good value for seeds that save for several years, like tomatoes.
Burpee also carries pretty much every type of plant you might want to order. They have a good selection of asparagus crowns, seed potatoes, fruit trees, tomato and even herb plants.
I ordered melon seeds, Purple Wonder and Mara De Bois strawberry plants, herb plants, and the patio-sized Fignomenal fig tree that I can bring indoors in winter. Everything arrived in excellent condition, although the Purple Wonder strawberries died sometime after transplanting. I can't rule out that it wasn't my fault, but when I contact them to troubleshoot, they happily refunded the cost as a store credit.
Website: Burpee.com
Location: Pennsylvania, but has farms nationwide and worldwide
Selection: over 100 tomatoes, 70 peppers, 25 peas, 15 watermelon
Cost per seed packet: $5-7 (often has coupons)
Shipping: Based on spend, usually 20-30% of order (see shipping rates)
Cost to buy 10 seed packets: $60 + $13.95 shipping.
Best tomato & pepper seed selections
Many gardeners go down the rabbit hole to find unique tomato and pepper seeds, often growing more than needed for the sheer delight of trying new things.
Almost all seed vendors in this article have a fairly large selection of both tomato and pepper seeds. However, a few stand out above the the rest.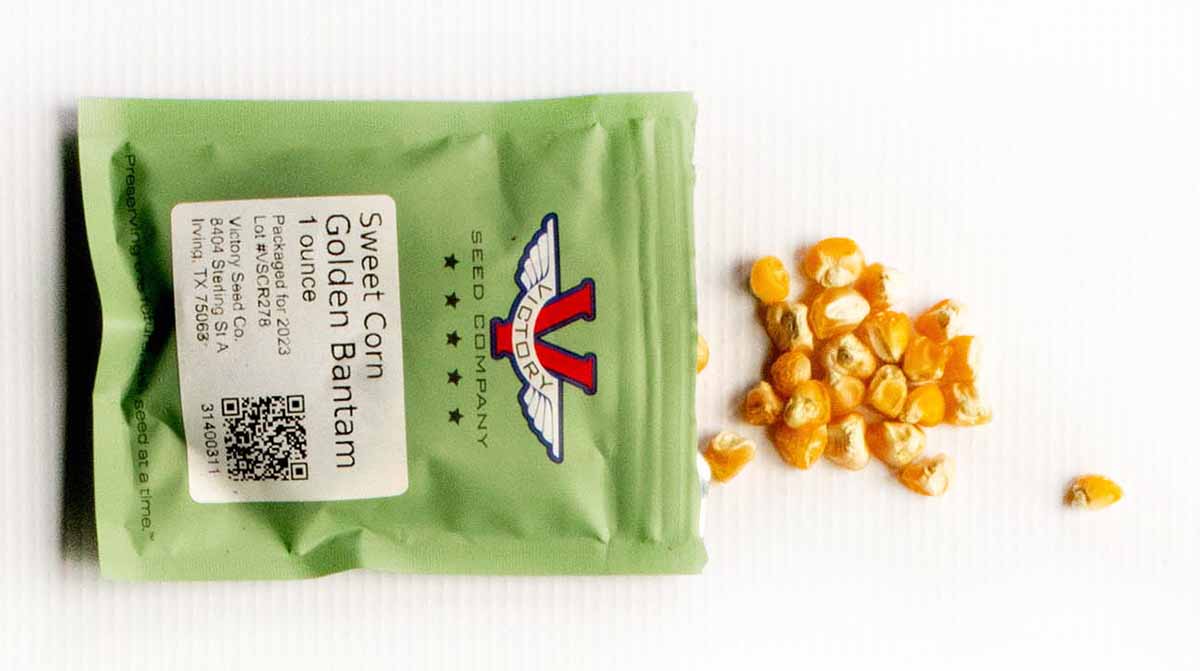 Victory Seeds
This lesser known seed company is a great find. Victory Seeds is family owned in Texas and provides great customer service. I left a little thank you note in the online checkout 'notes' box and they sent my order with a hand written note back.
They sell all types of vegetable seeds, but it's their tomato seed selection that truly stands out. They have over 500 tomato varieties and are involved in a dwarf tomato project where volunteers helped create over a hundred new, compact varieties.
Victory Seeds is one of the few places growing these dwarf tomatoes and making the seeds available to the public. If you have a small space or want to grow tomatoes in containers, I highly recommend some of their dwarf tomato varieties.
Website: victoryseeds.com
Location: Texas
Selection: Over 500 tomatoes, 25 peppers, 20 peas, 15 watermelons
Cost per seed packet: $3 for 25-30 seeds
Shipping: free over $75, otherwise reasonable USPS rates
Cost to buy 10 packets: $34.50 + $5.00 shipping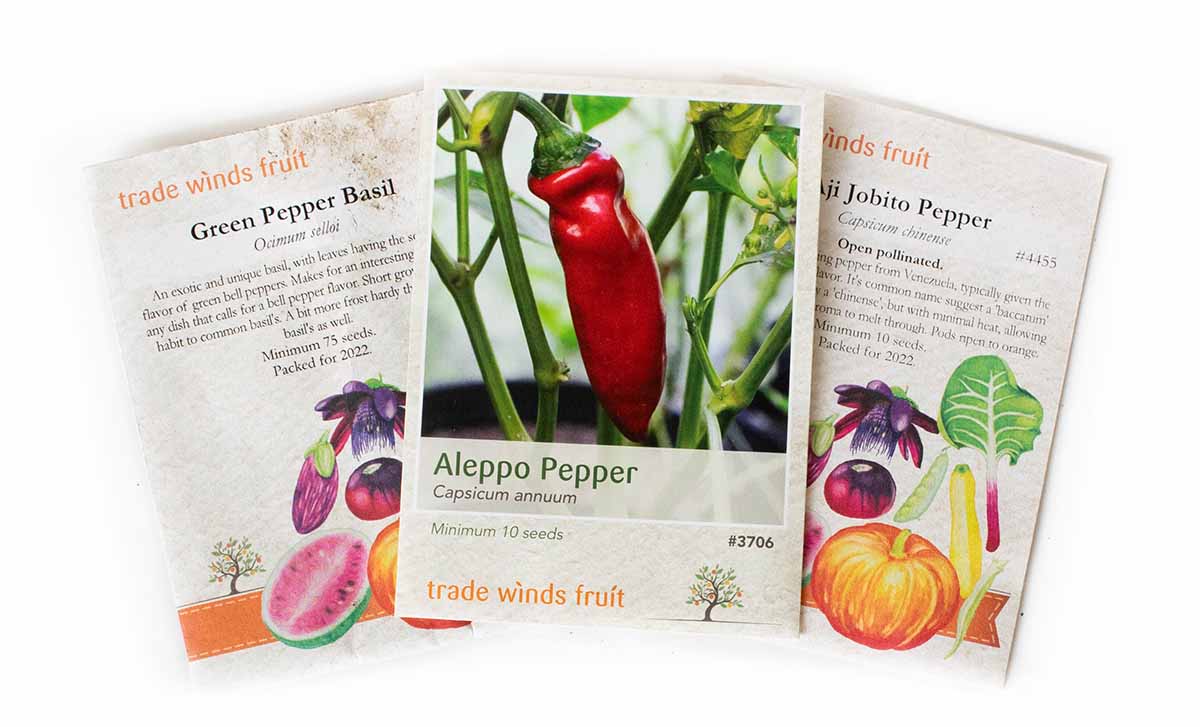 Trade Winds Fruit
This seed vendor is a hidden gem. Their extensive vegetable seed collection is impressive on its own, with almost 200 tomato varieties and another 175 pepper varieties.
But wait, they keep getting better! If you are interested in fruit, you're in for a treat. They sell fruit seeds for everything from kiwi berries and passion fruit to pawpaws and giant yellow mulberries.
I found them when looking to buy Aleppo pepper seeds in an attempt to make my own aleppo pepper seasoning. They are only vendor in this list that sold them. Ordering was easy, and pricing was fair.
Website: Tradewindsfruit.com
Location: California
Selection: Almost 200 tomatoes, 175 peppers, 12 peas, 15 watermelons
Average cost per seed packet: $3
Shipping: Free over $30
Cost to buy 10 seed packets: $30 + free shipping
Honorable mentions
MI Gardener has a "Tomato Grab Bag" collection of 30 varieties for a discounted price of $22.50 (see below for details).
Wild Boar Farms is run by Brad Gates, a well known tomato breeder. He's responsible for the blue tomato varieties you see around. Seed packets cost around $5. It's also worth noting a lot of his seeds can be found at Baker Creek.
Cheap garden seeds!
Two vendors really stood out on price: Artistic Gardens and MI Gardener.
Artistic Gardens
Artistic Gardens doesn't have a large selection by any means, but they offer sample size seed packets for $0.45 that contain 3-5 seeds. Their large seed packets contain 10-25 seeds for $1.25.
If you want to try all of the basics for a low price, check out two of their seed packet collections: 50 herb seeds for $22.50 and 50 vegetable seeds for $24.50 (shipping included!) which has 3 tomatoes, 4 peppers, 3 summer squash, 2 winter squash, 2 pumpkins, carrots, peas, and the list goes on.
I highly recommend the 50 vegetable seed collection for first-time gardeners. It keeps the cost way down and lets you try to grow different things and see what performs well in your climate.
Lastly, they also sell and ship wreaths for Christmas - a fun twist!
Website: ArtisticGardens.com
Location: Vermont
Selection: 16 tomatoes, 12 peppers, 3 peas, 1 watermelon (5 melons)
Average cost of seeds: $0.45 for sample size and $1.25 for regular size
Shipping: appears to be $5.00 flat rate no matter the order size
Average cost to buy 10 seed packets: $12.50 for regular size + $5 shipping
MI Gardener
This is another great source for cheap seeds, but with a large selection.
MIGardener has over 700 heirloom seeds, and everything they sell can be harvested for seed saving (like Baker Creek). Their tomato selection is extensive with over 125 varieties.
It's worth checking out their "Tomato Grab Bag" which includes 30 random varieties for $24.50 (which would normally cost $60). Tomato seeds can last 5 years or more, so even if you can't grow all 30 varieties this year, you can plant some for the next several years.
I have not purchased seeds from MIGardener, but plan to do so for the 2024 growing season and will report back. I've been following them on YouTube and Instagram for years now and I can tell you they sell out quickly because of their loyal fan base.
Website: MIGardener.com
Location: Michigan
Selection: Over 125 tomatoes, 50 peppers, 15 peas, 12 watermelons
Cost per seed packet: $2, for 10-20 seeds
Shipping: free for seed packet orders over $19.99
Cost to buy 10 packets (including shipping): $20
Specialty vegetable seeds
With so many seed vendors out there, it's nice to find some that serve a specific niche. If you've come across specialty seed vendors not on this list, leave a comment to share!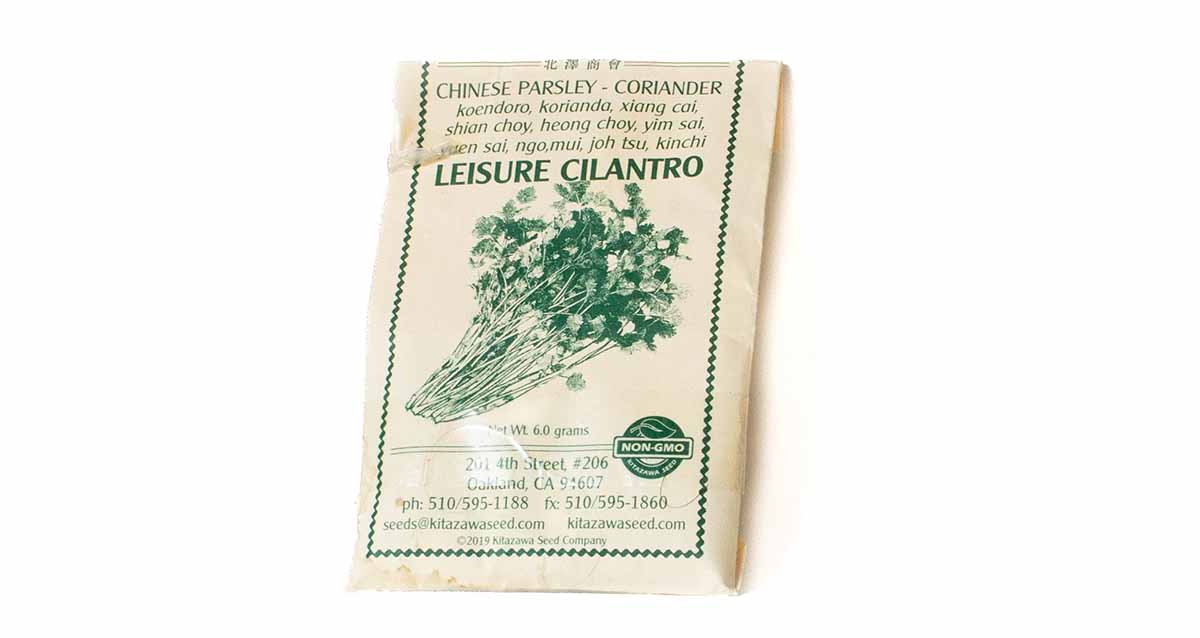 Kitazawa Seeds
Kitazawa sells over 500 traditional heirloom varieties from Japan, targeting Asian American gardeners and farmers that supply to restaurants. They offer a great selection of seed kits as well. If you're new to Asian vegetables, try their Stir Fry kit or Indian Cuisine garden kit, among others.
I've been happy with the seeds I've purchased from Kitazawa - they have good germination rates helpful planting tips on each packet. I particularly enjoyed the Chinese Parsley (Cilantro) I ordered that was slow to bolt in hot weather.
Website: Kitazawaseed.com
Location: Oakland, California
Selection: large Asian seed selection
Cost of seeds: $3-4
Shipping: Free over $75, otherwise cost is flat rate at $5.55 or $8.95 depending on weight.
Cost to buy 10 packets: $35 + $5.55 shipping
Seeds from Italy
If you love old world Italian vegetables, look no further. Seeds from Italy imports Italian-grown seeds from Franchi Seeds, a family owned seed company in Italy.
Browse through Italian varieties of tomatoes like Principe Borghese (great for sun dried tomatoes), eggplants or summer squash. Zucchini, which actually originated in Italy, has a decent selection with suggestions to help you pick a new favorite.
I have not purchased seeds from this company yet, but plan to for the 2024 garden season and will report back.
Website: GrowItalian.com
Location: US, but importing from Italy
Selection: 15 tomatoes, 11 peppers, 6 peas, 3 watermelon (12 melons)
Cost of seeds: $6
Shipping: $6.50 flat fee, free over $200
Cost to buy 10 packets: $60 + $6.50 shipping
Seeds based on your climate
Seed companies list the USDA growing zones on each vegetable seed page, and that's a great way to get started. However, those growing zones are based on first and last frost dates and that's it.
High and low temperatures, as well as humidity can dramatically affect the vigor of plants. If you've had trouble with certain varieties in the past, try one of these seed companies focused specifically on your climate.
I have not personally purchased from any of these three seed companies. My current climate (midwest) should allow me to plant seeds from Southern Exposure and Fedco for the 2024 growing season (I will report back!).
Southern Exposure Seed Exchange - hot & humid
Southern gardeners are fans of Southern Exposure for their seeds that perform well in the hot & humid climates. Many varieties can't handle the heat, even peppers will wither and die.
But Southern Exposure is dedicated to providing seed varieties for those hot climates of the Mid-Atlantic and Southeast. They also mention their vegetable seeds generally perform well in the Midwest (which is humid and can also get hot spells).
Website: Southern Exposure
Location: Virginia
Selection: 100 tomatoes, 50 peppers, 8 peas, 18 watermelons
Average cost of seeds: $3
Shipping: based on order amount, averaging 10-20% of order
Cost to buy 10 seed packets: $30 + $5.50 shipping
Fedco - cold climates
This seed company is actually a cooperative, where employees get a voice in operations. They are based in Maine and specialize in cold-hardy varieties for areas with shorter growing seasons that can also get hit with late frosts.
Fedco also sells berries and fruit trees, which I highly recommend for Northern gardeners. It can be challenging to find cold-hardy varieties that bloom late (to avoid late frosts) or survive the harsh winters. The USDA growing zone doesn't provide enough information to successfully grow a fruiting berry plant, bush, or tree.
They have some hard to find cold-hardy varieties I've looked into myself, like the Black Tartarian sweet cherry, several table grapes, peaches that bloom late, raspberries, blueberries, and more. The prices are also very fair - for example, a 3-6' peach tree is $38.
Website: Fedco.com
Location: Maine
Selection: 65 tomatoes, 30 peppers, 15 peas, 15 watermelon
Average cost of seeds: $3-5
Shipping: free over $50, otherwise $6.
Cost to buy 10 seed packets: $40 + 6 shipping
Native Seeds - hot & arid
This seed company specializes in vegetables for hot, arid climates of the Southwest, including the dry higher elevations. They are also preserving Native American seeds, working with over 50 tribes.
Their website explains further, "Preserved in our seed bank today are nearly 2,000 varieties of crops adapted to arid landscapes extending from southern Colorado to central Mexico, many of them rare or endangered. The collection represents the cultural heritage and farming knowledge of over 50 indigenous communities, as well as recent immigrants like Spanish missionaries and Mormon homesteaders."
Website: Nativeseeds.com
Location: Arizona
Selection: 7 tomatoes, 17 peppers, 6 peas, 8 watermelon
Average cost of seeds: $4
Shipping: Based on order, about 15% of order
Cost to buy 10 packets: $40 + $6 shipping
Adaptive Seeds - Pacific Northwest
This seed company specializes in seeds adapted to the Pacific Northwest climate. They explain, "Our seed is adapted to the Pacific Northwest and other short season northern climates. We sell only public domain, open pollinated (OP) seed, as well as diverse gene pool mixes."
When I gardened in the Bay Area of California, I know I had to look for seeds that didn't need super hot summers. I haven't ordered from Adaptive seeds before, since I live in a different climate now. However, this source comes as a recommendation from a reader in Washington who was kind enough to share her go-to resource.
Website: AdaptiveSeeds.com
Location: Oregon
Selection: 100 tomatoes, 30 peppers, 8 peas, 5 watermelon
Average cost of seeds: $4.15
Shipping: Based on order, about 15-20% of order
Cost to buy 10 packets: $41.50 + $6.50 shipping
Best all around winner: Baker Creek
It's hard to pick a favorite vendor, since each one is great for their own reasons. But when friends, family, and people I meet ask me where to buy vegetable seeds, Baker Creek Heirloom is always a go-to recommendation.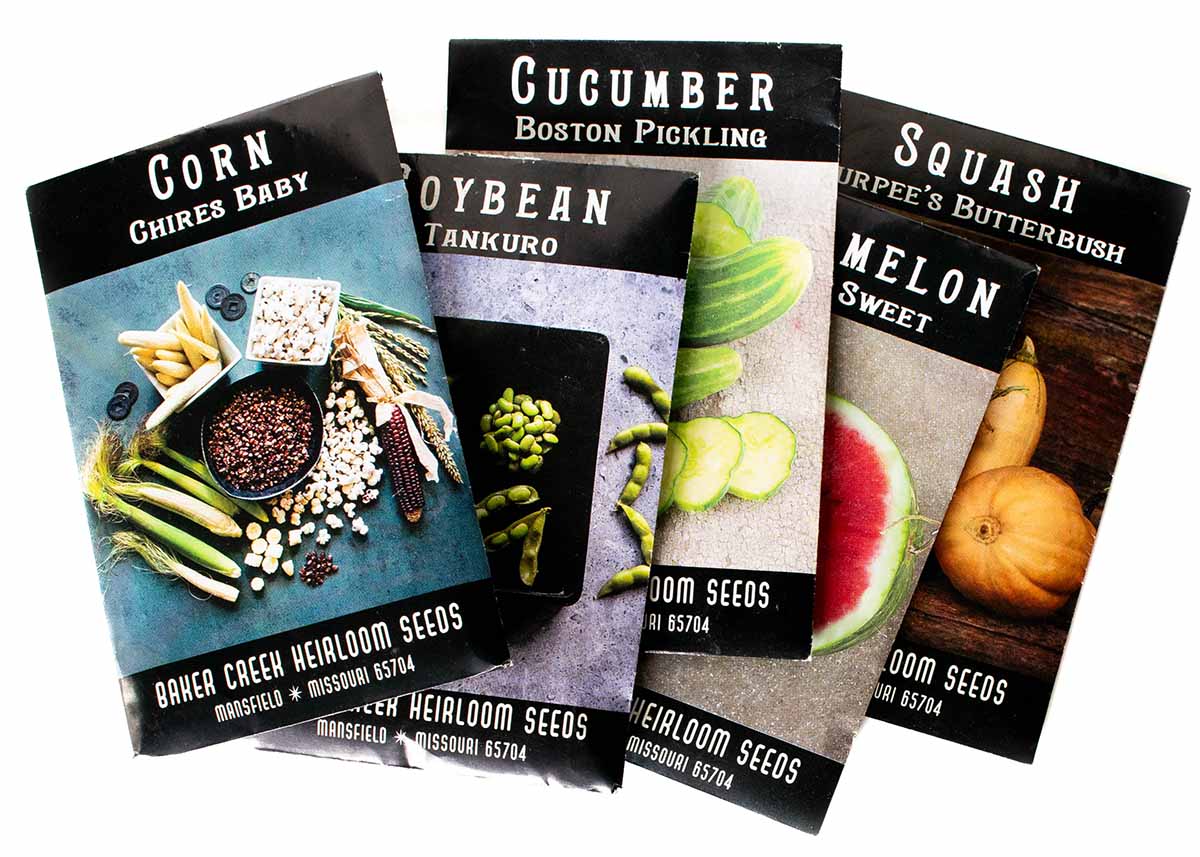 Baker creek heirloom
This is the best place to buy seeds if you enjoy growing unique varieties and can't resist a pretty vegetable and intriguing description! Their prices are reasonable and free shipping is a welcomed perk.
Baker creek heirloom (rareseeds.com) is a fan favorite for a reason. They have a large selection of unique, heirloom seeds with stunning pictures and detailed descriptions. They are also known for their 500-page full-color catalogue for $15. It seems silly, but it's worth it (and more fun than scrolling through Instagram for a few hours!)
They are also a great heirloom seed source for those of you who enjoy saving seeds from plants you grow. As explained by Baker Creek, "All the seeds we sell can be saved, shared, and traded, and we encourage people to save their own seeds."
Every order comes with free shipping and a random free seed packet (my free seeds have usually been a flower mix or a lettuce variety). I've been happy with every order from Baker Creek Heirloom over the past 10 years.
Website: rareseeds.com
Location: Missouri
Selection: over 75 tomatoes, 75 peppers, 15 peas, 25 watermelons
Average cost per packet: $3-4, for about 25 vegetable seeds
Shipping: free, plus a free seed packet in every order
Cost to buy 10 packets (including shipping): $35
Other seed vendors
There are other large seed vendors worth mentioning because they might be familiar to you. I've purchased from them and wanted to include their selection and pricing for a fair comparison. However, their costs are much more expensive.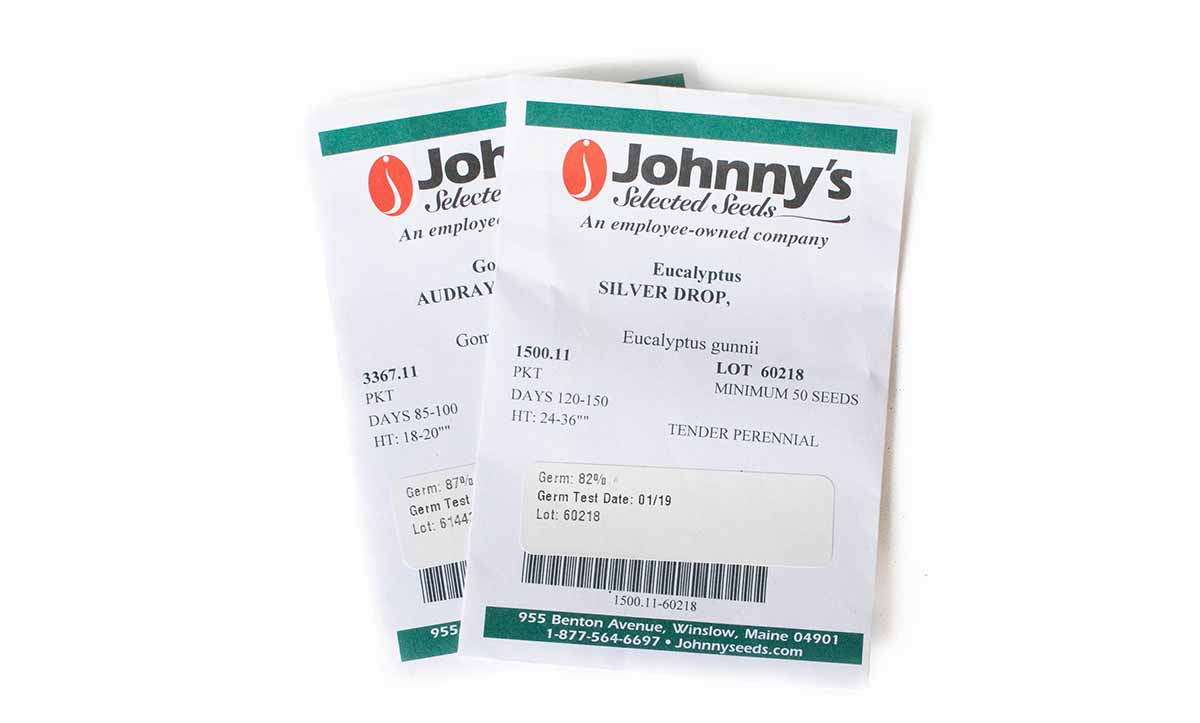 Johnny's Selected Seeds
Johnny's offers a good selection of quality seeds, often the preferred vendor for university research trials. However, they are also the most expensive vendor on this list, especially when shipping is included.
This seed company is a favorite among home gardeners for their selection and reliability. They also have a 100% satisfaction guarantee, with refunds going back to your credit card (not a store credit!).
I've ordered some hard to find seeds from Johnny's in the past, as well as indoor seeds like Silver Drop Eucalyptus. I like to browse their "Easy Choice" collection of seeds that have a winning combination of flavor, productivity, and disease resistance.
Website: Johnnyseeds.com
Location: Maine
Selection: over 120 tomatoes, 90 peppers, 25 peas, 20 watermelons
Cost per seed packet: $6-8
Shipping: cost based on order amount, adding about 20-30% of total order
Cost to buy 10 packets: $70 + $15 shipping
Gurney's
They offer a little bit of everything from popular tomato seeds to disease resistant hybrids, and a decent selection of live and dormant plants as well. Only shop with one of their coupons that's basically 50% off ($25 of $50, and up to $250 off $500), otherwise you are grossly overpaying.
The prices at Gurney's vary quite a bit for seeds, ranging from $3-$8. However, I've found many of their dormant root crops to be affordable, especially with one of the coupons. They also sell asparagus crowns in bunches of 10 instead of 25, making it easier to buy several different varieties without being overwhelmed.
Unfortunately, Gurney's quality can be really hit or miss. Seeds sometimes have low germination rates, other times they are great. The plants can arrive in poor condition, other times they thrive.
That said, their warranty is outstanding and easy to use. All plants, seeds, and other products are guaranteed for a year. I've used this guarantee - their customer service was very pleasant and gave me a store credit (unfortunately, they don't offer a refund to the original payment).
I purchased some seeds, potatoes, sweet potatoes, and peanuts from Gurneys in 2023. The seeds germinated well and both potato varieties grew into healthy and vigorous plants.
The sweet potato slips arrived 1 month before my last spring frost date, but they can't be planted until all frost has passed (often waiting 2-4 weeks after the last frost date to be safe). I tried to keep them alive but only a few survived. Gurney's was quick to give me a store credit for the price of the sweet potatoes, however it was too late to order more and that was disappointing.
Website: gurneys.com
Location: Indiana
Selection: 50 tomatoes, 35 peppers, 15 peas, 10 watermelons
Cost per seed packet: $3-8 (before coupons)
Shipping: cost based on order amount, adding about 20-30% of total order (see shipping rates).
Cost to buy 10 packets: $60 + $15 shipping (or $35 + $11 for shipping with $25 of $50 coupon)
Catalogs & other resources
Some of us can't resist browsing paper catalogs while sipping a cup of coffee on a cold winter day. So order a few catalogs from the links below and start planning your garden!
A favorite garden blogger of mine, Garden Betty, has an entire article about the best garden catalogs. She talks about a few vendors I haven't ordered from before that might be worth checking out.
More resources
I built out a giant herb garden this year, ordering from several different vendors. Get my recommendations of where to buy herb plants, along with pricing and shipping comparisons.
The Infographic icons are from FlatIcon, created by SmashIcons, FreePik, Umeicon, and Justicon under the creative commons license.