Want to grow fun herbs like banana mint, lime basil, or caraway thyme? Or maybe you want to grow everyday herbs because they are fresher (and cheaper) than buying them at the grocery store.
I ordered herb plants from three different online vendors and wanted to share my experience to help you find the right retailer for you.
Jump to:
Overview
Buying a lot of herbs can be expensive, so the price per plant and cost of shipping are important considerations. That said, each plant is about the same price as buying packaged herbs at the grocery store.
After spending an embarrassing amount of time picking out herb plants online, I ordered from Burpee, Richters, and Mountain Valley Growers. Normally I would have only purchased from a single source, but I wanted to evaluate the packaging and health upon arrival from several resources.
This analysis compares the selection, cost, and shipping of herb plants, unless otherwise noted where I talk about seeds. I also placed the orders anonymously (they didn't know it was associated with this site, which could lead to better plants & customer service).
Below are screenshots of the orders I placed from each vendor.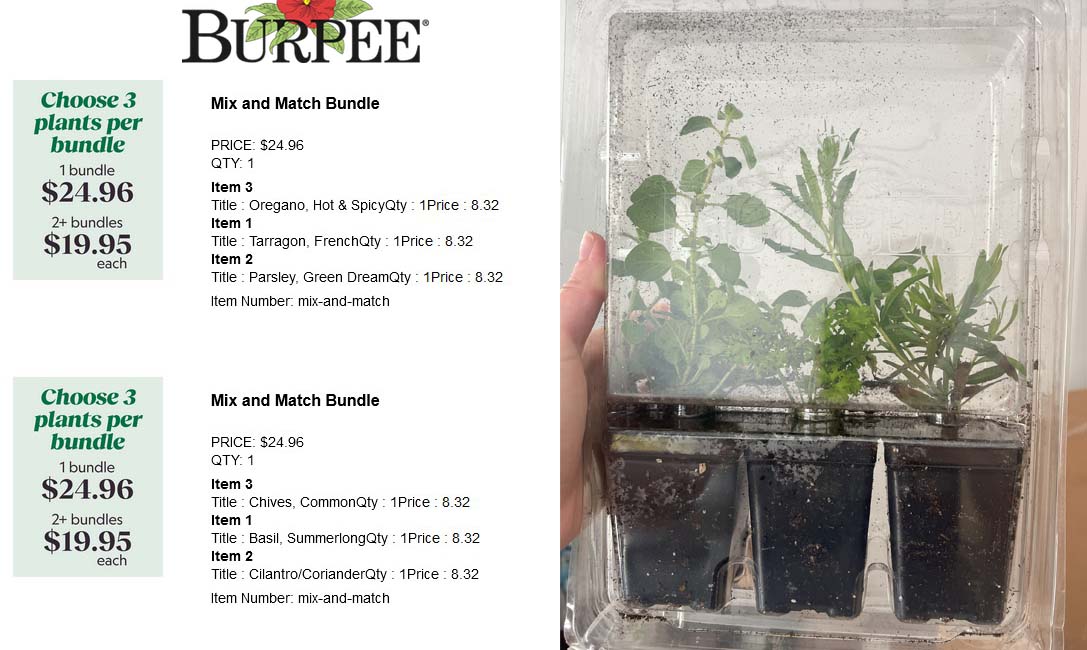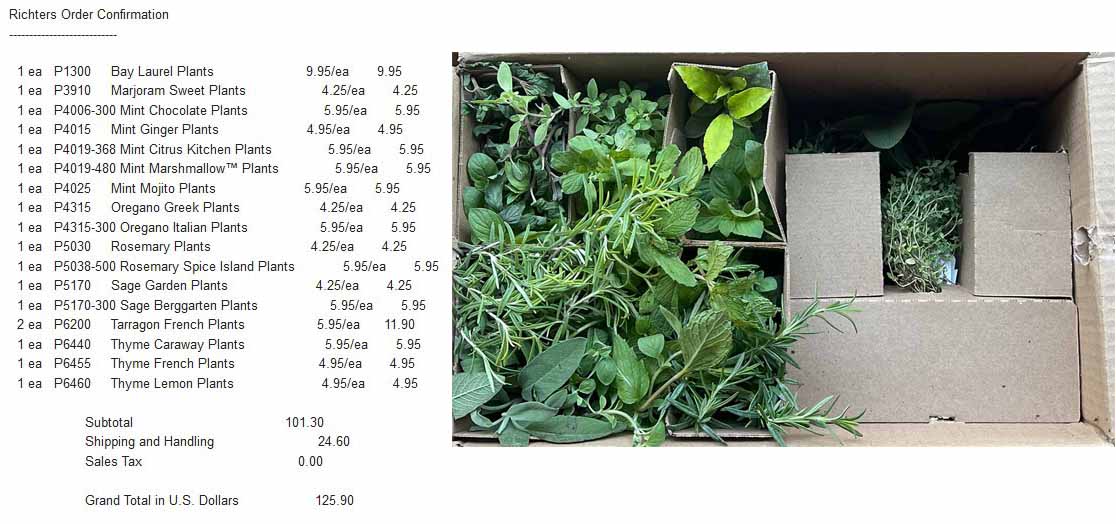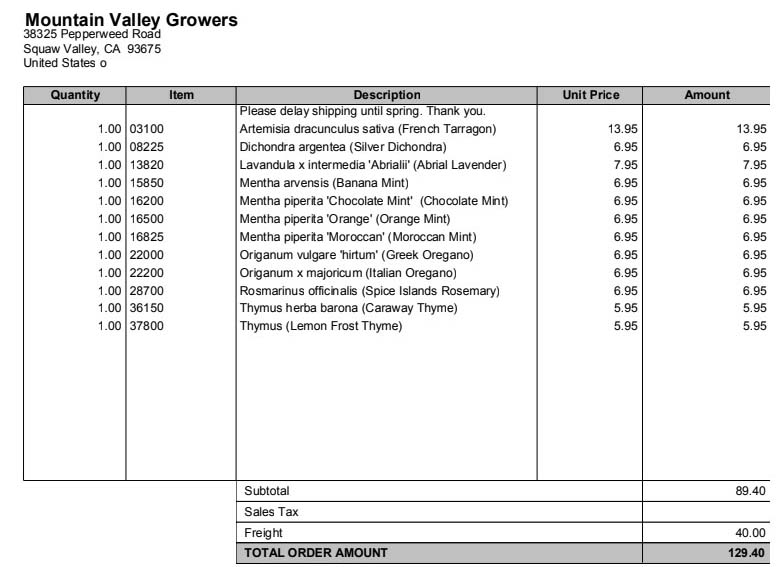 The best selection: Richters
The selection of potted herbs plants at Richters is what really drives their fan base. I've yet to find a vendor online, or in person, with a larger variety. They sell both plants and seeds for most all of their varieties. Here are some examples:
Mint: 36 varieties like banana mint, chocolate, or citrus kitchen
Thyme: 29 varieties like caraway thyme, lemon, lime, or nutmeg
Sage: 25 varieties like purple sage, Lowry's peach, and pineapple
They also sell most other herbs (tarragon, rosemary, oregano, etc)
Figs: over 30 fig varieties sold in small pots for about $10 each (but they sell no other fruit trees).
Mountain Valley Growers comes in as a close second for selection which is almost as extensive as Richters. They do not sell seeds, if that is of interest to you.
Burpee offers a handful of varieties of each type of herb, in addition to a wide selection of other types of plants and seeds (they have a little bit of everything).
Vendor
# of mint
varieties
# of basil
varieties
# of oregano
varieties
Richters
36
10
16
Mountain Valley
18
7
15
Burpee
4
4
2
Example selection of herb plants
The best price: Richters
Richters has great pricing on their plants as well as affordable shipping. Burpee was priced out with their 'mix and match' herb packs at 3 for $19.95 without a coupon (which they often offer).
Mountain Valley Growers charges $1-2 more per plant than Richters and their shipping is incredibly expensive, making an order of 12 plants costs $50 more than the same order from Richters.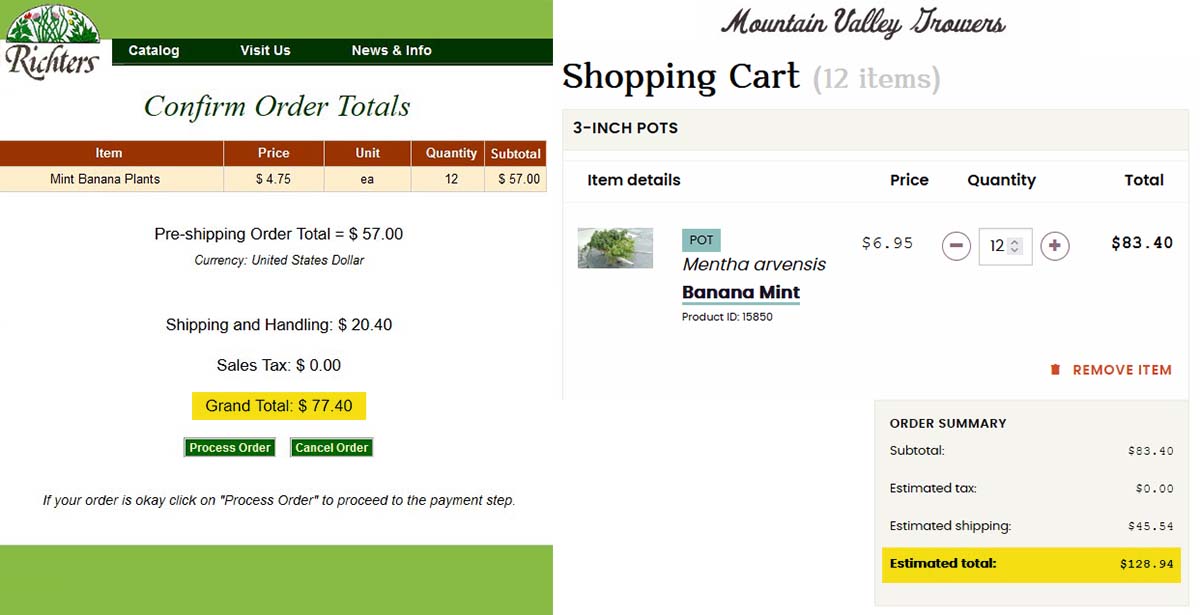 To compare pricing, I added 12 mint plants to my cart for each of the vendors, and entered the same shipping address. Here's how they compare:
Source
Cost / plant
Cost to ship
12 plants
Total
(w/o tax)
Richters
$4.75
$20
$77.40
Burpee
$6.65
$16
$95.75
Mountain Valley
$6.95
$45
$128.94
Vendor comparison for buying 12 herb plants, plus shipping
Note: Mountain Valley shipping is cheaper if you live in AZ, CA, ID, NV, OR, UT, and WA.
Best shipping timelines: Mountain Valley
All three vendors ship the plants based on your last frost date. Most herb plants should be transplanted after your last frost date, which is May 15th for my area.
Mountain Valley and Burpee both shipped it shortly after my last frost date on May 23 and May 24 respectively. Richters shipped them 2 weeks early on May 1, so I had to keep them happy and healthy indoors.
Mountain Valley Growers did a better job of informing me of the shipping date up front. I placed my order in January, and the confirmation email mentioned the ship date was set for the week of May 16th. It shipped on May 23rd and arrived 2 days later.
Mountain Valley also lets you request a specific ship date by making a note in the comment box at checkout - and if appropriate (based on weather), they will try to accommodate you.
Neither Burpee or Richters informed me ahead of time - instead I received emails notifying me the packages shipped, along with UPS tracking numbers.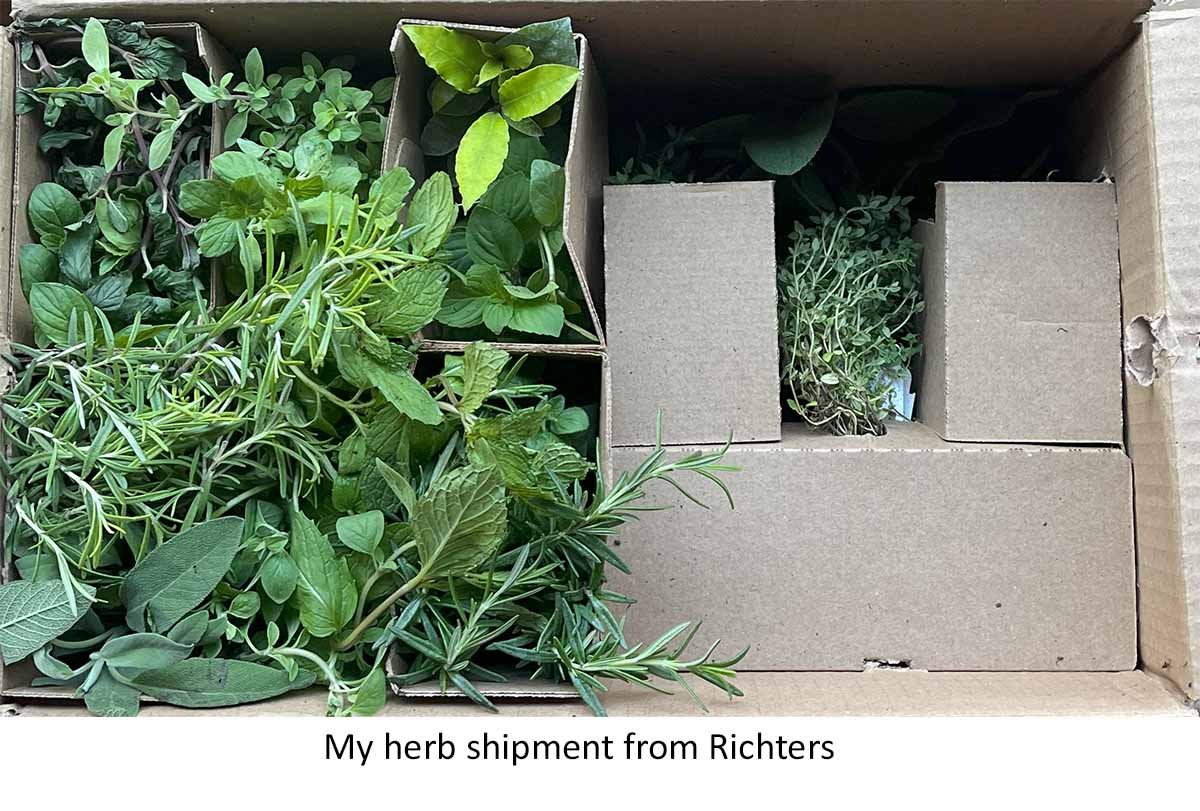 Packaging & health upon arrival: 3-way tie
All three vendors packaged the herbs very well, one didn't stand out above the rest. Richters and Mountain Valley had similar packaging in cardboard and Burpee enclosed their herb plants in a plastic container that acted like a little greenhouse (see below).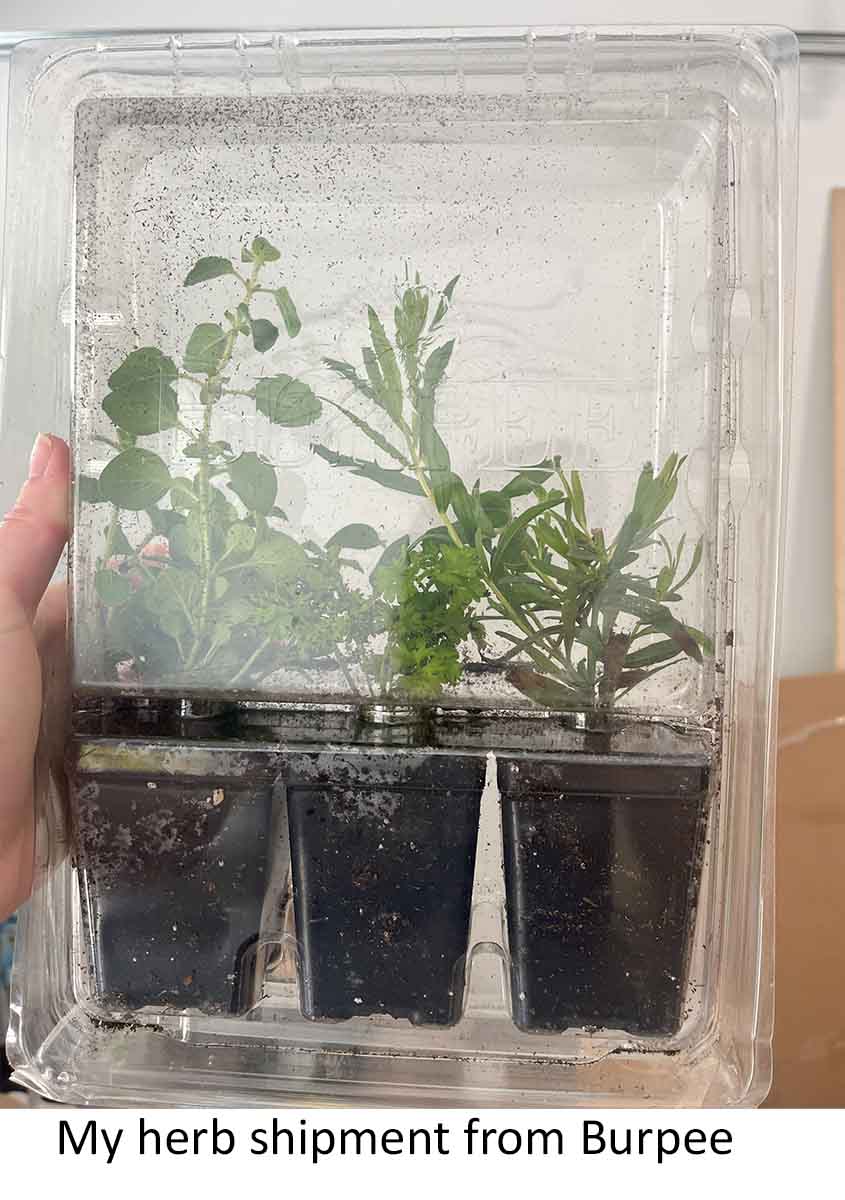 Plants from each vendor arrived healthy with moist soil. They all transplanted well and flourished in the garden. 5 stars for each vendor on this section.
The best warranty: Burpee
Burpee guarantees their herb plants for 90 days, starting from when the plants arrive on your doorstep (not the order date). If a plant dies, you can contact them for a replacement, credit, or refund.
All of my herbs lived, but the Purple Wonder strawberry I ordered didn't live. I contacted them and the refund process was easy. I had a coupon which they fairly prorated for the return, and they also refunded the shipping charge (even though other items were on that order). I don't know if that is standard, but it was much appreciated!
Richters and Mountain Valley warranty the plants will be healthy upon arrival, and that's all. That said, it seems fair since caring for herb plants is really in the hands of the gardener (unlike bareroot fruits that might not break dormancy).
The winner: Richters
Richters is my go-to resource for offering a giant selection along with great pricing. Both of those factors outweigh the early shipping date and the mediocre website experience (it needs updating and isn't great on mobile!!) I also like supporting a family-owned business (and Conrad Richter has a Masters in Botany).
Burpee is another great resource. Their prices are higher, but they often offer coupons in their free catalogue. If I am only ordering a few more common herbs along with other types of plants, Burpee is a good option. I can save on shipping when bundling them together in a larger order. They also offer a 90-day guarantee on herbs (1 year on most other plants).
Mountain Valley Growers has wide selection, easy-to-browse website, and plants ship well-packaged. However, it's hard to justify the significantly higher costs to buy & ship.
Since I continue to buy plants from Richters and Burpee, I signed up for their affiliate programs which means I get a small commission if click on my links and place an order.